Foreigners are required to be with a guide or on a guided tour when in Bhutan. Independent travelers might cringe at the idea—we know we did—but the reality of being on a guided tour in Bhutan wasn't quite what we expected.
Pothole. Swerve. Bump! Pothole. Swerve. Thump!
The final road to the Bhutanese border from Assam was wretched at best, and the endless bumping and swerving didn't do much to quell my nerves. Our mandatory tour guide for the next few weeks, "Mr. Karma", was waiting for us at the end of the road… and I was dreading the fact.
I imagined Mr. Karma as a wrinkly old man with hairy warts, clad in white trainers and a green plastic sun visor. Mental images of him droning factoids into a tour bus microphone flashed through my mind, and to say I was unenthusiastic would be a gross understatement. Sebastiaan and I pride ourselves on being independent travelers, and the idea of having a tour guide/babysitter for several weeks was, admittedly, not one we relished.
With a final bump, our car pulled up to the busy Gelephu border gate between India and Bhutan. As we pulled our backpacks out of the trunk, my dread turned to surprise when a young man in black Nike trainers and a slate gray Bhutanese gho emerged from the crowd to greet us.
"Hello, I am Karma. Welcome to Bhutan!" he smiled, before taking our bags and flitting off to arrange our visas.
Two minutes in the country, and my expectations were already unraveling. If only I'd known that, over the coming three weeks, Karma would become the highlight of our trip to Bhutan.
A different direction
How exactly did a tour guide win over two stubbornly independent travelers?
Well, let's start with the facts: Karma and the group tour guides all did an excellent job throughout our 3+ weeks in Bhutan. A guide's primary job in Bhutan is to ensure guests are having the best time possible, and that played out in a variety of ways.
Take trekking as an example. As we hiked up to Laya for the Royal Highlander Festival, Karma and the group's other guides constantly scrambled up and down the mountain, making sure everyone was happy and safe. Some of us had already settled at the night's camp when word reached our guides' ears that someone further back was struggling. Karma dashed back down the mountain to find and help them without a moment's hesitation. No mean feat at 3,000 meters above sea level.
Another morning, the group visited a historical dzong, or fortress. Karma knows we like avoiding crowds and seeking out alternative photo angles, so while the masses snapped photos of the main entrance, he sidled up to Sebastiaan and I.
"If you go over there, there are less people and nice views," he murmured before returning to accompany the rest of the group.
Our first weekend exploring Thimphu, Bhutan's capital, we were interested in experiencing Bhutanese nightlife. Karma and Peldon, another guide, arrived in Saturday night threads to take us to one of Thimphu's clubs for a night of drinks and dancing to pop remixes. Contrary to the droning historical tour bus lectures I anticipated, we had shouted conversations over blasting beats in a club filled with flashing lights, hazy smoke, and hip Bhutanese youth.
Not exactly what I expected!
The human element
Those moments were important, but our satisfaction stems from more than guides showing us a good time or keeping everyone safe. The beauty of our time in Bhutan with Karma and the other guides lies in the details, not the grand picture.
To us, travel is more than just showing up and snapping photos in pretty places. When we visit a destination, we want to meet new people, see how they live, and learn a bit about their lives. You can learn so much more from speaking with others than from any museum or exhibition, and our fondest memories of traveling are of people we met along the way.
Sebastiaan and I were afraid having a guide would mean missing out on this human element of travel. If we were to be constantly accompanied by someone on a schedule, how would we meet anyone except our guide, driver, and hotel receptionists?
Our fears were unfounded. Traveling with Karma for more than three weeks turned out to be a chance to travel Bhutan with a Bhutanese friend. Not only was it nice to have a local friend joining us on our adventures, it was also an opportunity to delve deeper into Bhutan than we ever could on our own. Karma understood we were interested in talking with people and experiencing normal life in Bhutan, and did everything in his power to make that happen.
Now, when I think back to Bhutan, memories of towering dzongs or cultural shows are far from the forefront of my mind.
Instead, I think back to traipsing down narrow paths through Kuengarabten village, Karma's childhood home for several years. One golden morning, he took me to the local school, where he introduced me to a crowd of curious schoolchildren waiting for school to start. They were initially shy, but Karma made jokes with them and asked them questions, and the shy stares were eventually replaced with grins and giggles.
Memories of warm afternoons come to mind, like when we sipped homemade rice wine on a total stranger's porch in a village in southern Bhutan. That afternoon, Karma was hunting for the caretaker of a locked temple. After a shouted conversation over terraced rice paddies with a boy living near the temple, we ended up with an invitation to lunch. One hour later, we were lounging in the family's house, waiting for a homemade lunch as Karma translated the curious questions of the eldest son.
I'll never forget the afternoon on a balcony in Trongsa, a town in central Bhutan, when we were shooting the moon with Karma, an ex-tour guide, and our host from the previous night. The juxtaposition of the ex-guide pulling up his traditional clothing to show a sleeve of tattoos on his arm and the sprawling Trongsa dzong in the background was utterly surreal.
Then there was our final night in Bhutan, when I cruised the capital's smooth roads with Karma and one of his friends. Laughter filled the car as we rambled about how cool it was to hang out so casually with each other despite coming from opposite ends of the world, and my being a tourist to Karma's guide.
Far from being cut off from the people of Bhutan, Karma introduced us to new people everywhere we went.
Is that normal?
Of course, everyone's experience is different.
I'd choose a good chat over a pretty sight any day, but you might not feel the same. Karma was great at reading people and striking up conversations, but he wouldn't win prizes for memorizing obscure historical facts. We had a grand old time with all of our guides, but we were generally similar in age, and all flexible people. Can you expect such a candid tour guide experience when you visit Bhutan?
I say: why not?
Our anecdotes from on the road don't seem to be isolated incidents. Others on our group tour much older than us shared stories of their previous visits to Bhutan. They told us of guides showing them around bars in Thimphu, taking them up to secret view points, and going out for late night conversations over snooker tables. They said these were some of their favorite memories from Bhutan.
In our own experience, we watched our tour group get along swimmingly with the group guides. There were plenty of hours of laughter, songs, and jokes throughout our two-week group excursion. Despite almost everyone in the group having extensive travel experience—and preferring independent travel—everyone agreed the guides were the heroes of Bhutan's show.
Keep an open mind
So take it from this independent traveler—tour guides in Bhutan are something to look forward to, not dread. Bhutan is incredible in and of itself, but exploring it with Karma was like icing on the already decadent cake.
I know the guide requirement is a sticking point for some of you, but I urge you to approach the need for a guided tour in Bhutan with an open mind and heart. At the very least, your guide(s) will teach you a more about Bhutan than you could ever learn from a book or TV show. At the very best, you'll find a new friend on your trip to Bhutan.
How to get the most out of your guide or guided tour in Bhutan
Not all guides and tour companies are made equal. Unfortunately, there are plenty of tour companies in Bhutan who cut corners and secretly undercut the country's minimum tourist fee. When cutting costs, the quality of guides and the care they receive is the first thing to go.
When planning your visit to Bhutan, choose a reputable tour company who looks out for their guides. Trust me, it will show in your tour!
During the planning stages, don't be afraid to ask the company questions about your guide. If you love history and need a walking encyclopedia, that can be arranged. If flora and fauna tickle your fancy, tour companies can provide a guide who knows their Jasminum auriculatum from their Jasminum multiflorum. All you need to do is ask.
Once in Bhutan, don't be afraid to speak up to your guide(s)… and to let them know if you want time to yourself! One of the biggest misconceptions about guided tours in Bhutan is that a guide must accompany you at all times. Though many people opt to stick with their guide while roaming about, you're totally at liberty to wander around on your own. Hanging out with Karma was a blast, but there were plenty of times when we parted ways and wandered around by ourselves for a few hours. If we were happy, he was happy.
Our recommended tour agency for your Bhutan trip
We traveled to Bhutan on a sponsored trip with Gray Langur Tours, and it was a blast. Gray Langur makes an effort to take care of all their guides, and match them with the right guests based on short interviews with potential customers. We were matched with Karma because we're all flexible people more interested in ad hoc exploration than historical lectures, and we were obviously satisfied with the match.
We can highly recommend Gray Langur Tours—and, more importantly, their guides—for your trip to Bhutan.
Want to know more about tours in Bhutan and what they include? Check out my guide to the tourism fee for Bhutan!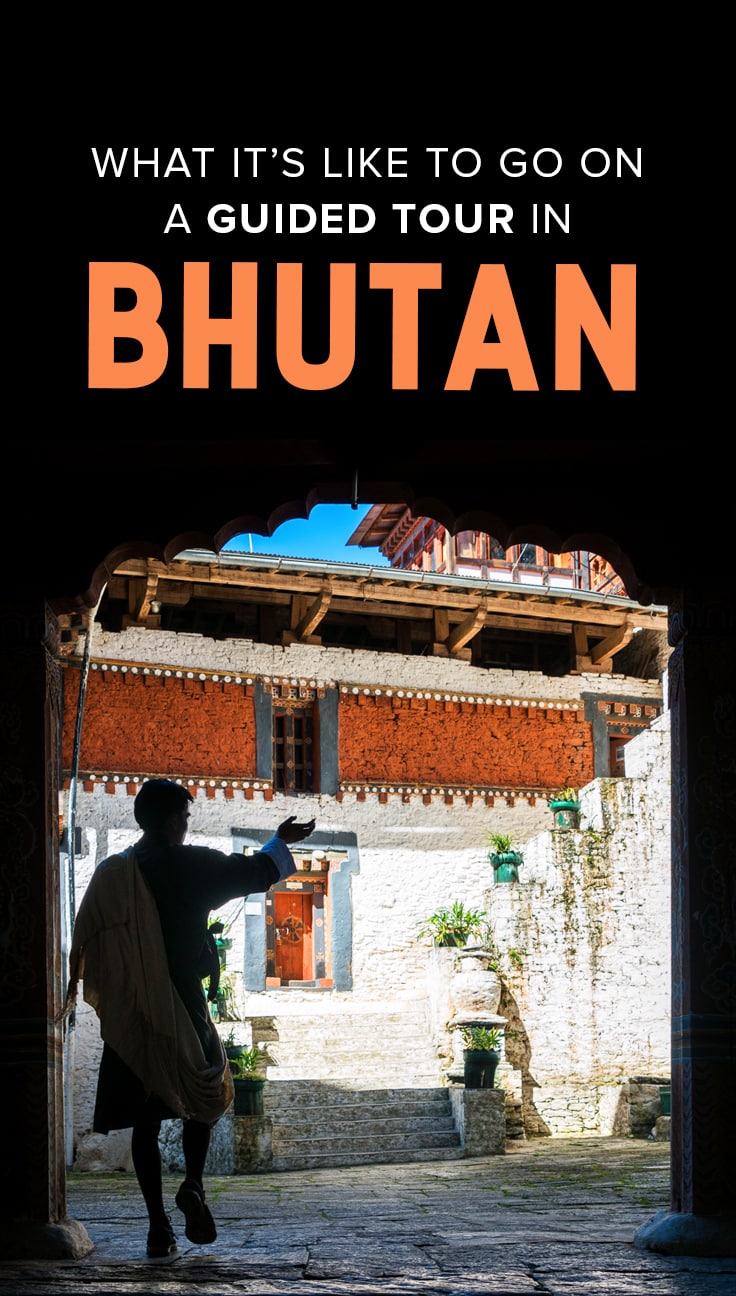 Yay transparency! Gray Langur Tours covered the costs of our trip to Bhutan. However, all thoughts, photos, and love for Bhutan and its guides are assuredly our own.