Want to cross from Bangladesh to India by train? Here's how to travel from Dhaka to Kolkata by train on the Maitree Express. Includes an extra section on the process and punishment of overstaying your Bangladesh visa (oops).
Though there are multiple ways to cross overland from Kolkata to Dhaka, it's no secret that traveling by train is the chillest—and most scenic—option.
The Maitree Express train line connects Dhaka with Kolkata, reviving the rail link that used to exist before partition in 1947. Opened in 2008, the train is a popular mode of travel for Bangladeshis visiting India. If you're looking for a fun way to finish off your travel in Bangladesh—or you're looking for a good start to your Indian adventure—taking the train from Dhaka to Kolkata is the way to go.
After a little bit of confusion and a lot of chaos (of my own accord), I took the Maitree Express in March of 2018. Following is my guide to taking the Maitree Express from Dhaka to Kolkata… with an extra bit at the end about overstaying a Bangladesh visa. Because, heh, I may have enjoyed my time in Bangladesh a bit too much to leave. 11 days too much.
How to take the Maitree Express from Dhaka to Kolkata
Note: This post is specifically about the process going from Dhaka to Kolkata. If you're looking for information on the journey starting from India, see this post from Railyatri.
Schedule, time, and fares for the Dhaka to Kolkata train
Running days: Trains from Dhaka Cantonment to Kolkata station (Chitpur) run on Wednesdays, Fridays, Saturdays, and Sundays.
Departure time: Same time each day, 8:15 local time from Dhaka Cantonment station.
Travel time: Officially, the train journey should take 10 hours, 12 if you include immigration. Know that trains are not always on time—this ain't Switzerland!
Maitree Express train ticket price:
2,500 Tk for AC Chair class
3,400 Tk for a first class cabin
Price includes 500 Tk Bangladesh travel tax (for exiting the country).
Heading to Kolkata? Check out my article on why Kolkata is my favorite Indian megacity!
Buying a train ticket in Dhaka
Buying a train ticket for the Maitree Express isn't too complicated, but try to book several days in advance to ensure you have a seat.
I admittedly bought my train ticket the day before my departure… but that could be because foreigners get some preference when allotting tickets.
Unfortunately, you cannot buy tickets online; they must be bought in person. You need to present your passport to buy the tickets, or give your passport to whomever will buy them for you.
Where to buy the Dhaka – Kolkata train ticket
Your journey begins at Dhaka Kamalapur train station. Make sure to bring your passport with a valid Indian visa. You cannot get visas on arrival for India if arriving by train.
Massive concrete archways visible from the street signal your arrival at the station… which is good, because there will almost certainly be a thick swarm of rickshaws and buses blocking the way outside of it! Weave your way through the crowd and past the tea sellers to enter the station.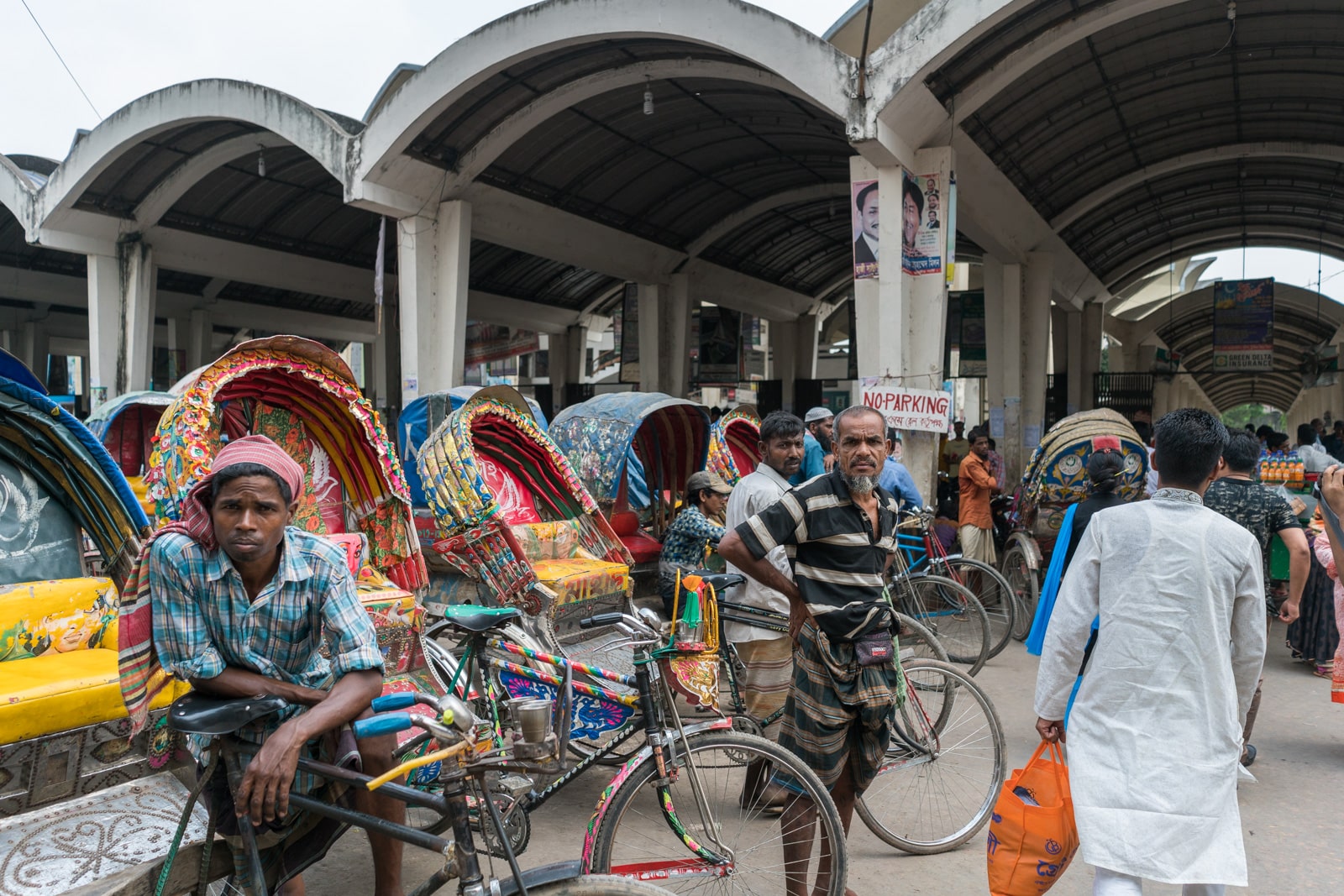 There are several layers of station when you come off of the street; the ticketing area is first, and the only one you need to deal with.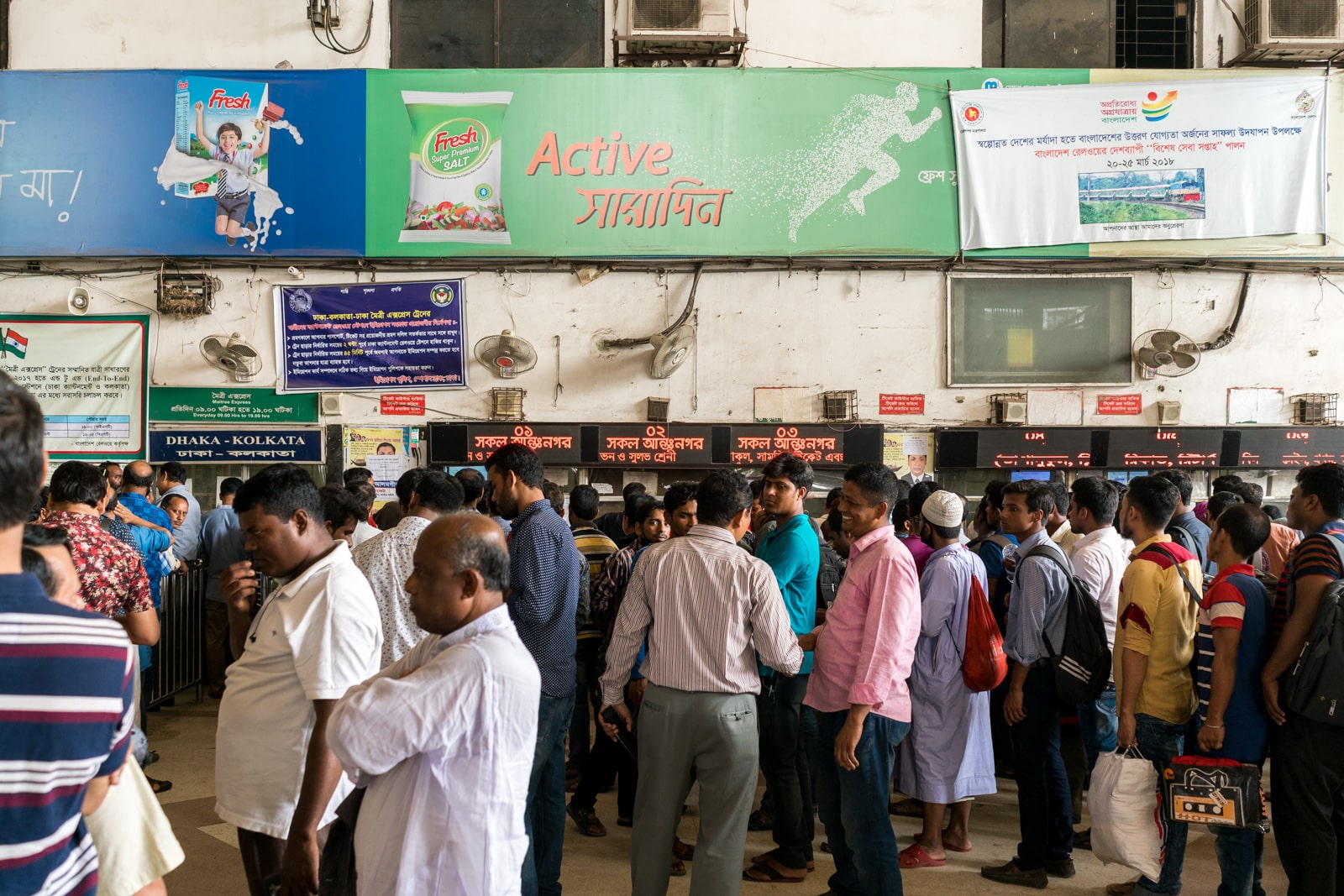 The separate ticketing window for the train from Dhaka to Kolkata is on the leftmost side of the line of windows. It's marked by a blue placard, not an electronic sign.
There was only one line for the two windows, though many people tried to cut the line and make a second when I was there. All were sternly put into place by both police and other passengers to-be.
Ticketing occurs from 9:00 to 19:00, with a lunch break from 13:00 to 14:30. If you're in line once the lunch break occurs, no worries—a piece of paper will be set out where you can write down your name to hold your place, then get back in line once the lunch break is over.
Buying the ticket and train classes
Once your time has come, present your passport and ask for the ticket. When I was there, only two fares were available:
AC First/Cabin for 3,400 Tk: Cabins which can seat 4 people, the highest class.
AC Chair for 2,500 Tk: Cushioned seats in a 3-2 arrangement throughout the car, with tables for the center rows. The first photo in this post is of my AC Chair car.
Tickets for children under 5 are 50% of the full fare.
Note: Older websites mention prices for non-AC second sitting (2S), however I did not have that as an option, and the train I took only had AC cars. This recent document from Bangladesh Railway also only mentions two classes. Feel free to ask about non-AC when you book the ticket, and let me know what you find!
The man at the window will check your Indian visa, and issue you your ticket if all is well. Success!
Taking the train from Dhaka to Kolkata
Reaching Dhaka Cantonment station
Ah, the painful part. If you look at your new ticket, you'll see that you need to be at Dhaka Cantonment railway station at…. 6:15 AM?! Okay, you don't have to be there at exactly 6:15, but it's better to show up with enough time to go through immigration.
Dhaka Cantonment station is in the faaaaaar north of the city, close to the airport. It's a decent distance from Old Dhaka, but on the bright side, Dhaka's infamous traffic is nowhere to be found at that time of day. It should take you around 30-40 minutes to drive from Old Dhaka to the station, or a pithy 10 minutes from anywhere in North Dhaka.
On the way, pull out a pen from your bag – you're going to need it throughout the rest of the day.
Immigration procedure at Dhaka Cantonment railway station
Once you're at the station bright and early, you'll see a small crowd gathering at the entrance. Grab a departure card, and fill it out in line. Nothing out of the ordinary on it.
After a quick bag scan, you'll be directed to a series of immigration desks, where you'll hand over your ticket and passport, and be asked the standard customs questions.
If all is well, you'll be stamped out of Bangladesh, and you can get onto the train. Don't worry, there are men in white t-shirts at hand to direct you to your car and seat.
If you're a wretched rule breaker/overstayer like myself, you'll have more issues which I'll discuss later on.
Train ride from Dhaka to Kolkata
The train leaves at 8:15 sharp. Or it should, anyway.
Hold on to your ticket once on the train, as it'll be checked twice more en route: once towards the start, and once when you're nearing Kolkata.
The train ride is slow and pleasant, going through lots of green rice fields and passing many small stations. Though the train will stop, you won't be able to disembark at stations. Go crazy with the photos if you so choose—there are outlets for charging on the train.
Throughout the train ride, men will come through offering tea/coffee and snacks for sale. Tea is 10 Tk, and snack prices vary.
Breakfast and lunch are also available. I'm not sure how much breakfast ("nasta") is, but lunch was 100 Tk/meal. Orders are taken in advance, and lunch is served around 14:30 or 15:00. Vegetarians beware: the only options I heard were chicken or fish. Welcome to Bengal!
You won't cross the border until 14:00 or 15:00, near Gede. You'll know you've crossed once Indian army personnel switch places with the Bangladesh police patrolling the train; they'll also walk bomb-sniffing dogs through the train near the border. Remember that once you cross, the time changes—India is 30 minutes behind Bangladesh.
Immigration procedure at Kolkata station
Immigration cards will be handed out on the train before reaching Kolkata station in Chitpur. Fill it out, and keep that pen out, as you'll receive another form once you're off the train.
When the train arrives at Kolkata, there will be a mad rush to get off and form a line. It's a free for all fight that runs all the way down the train, and there will be plenty of cutting and line jumping. Don't feel bad about stepping into line right where you exit the train. If you're visibly foreign, work that shit.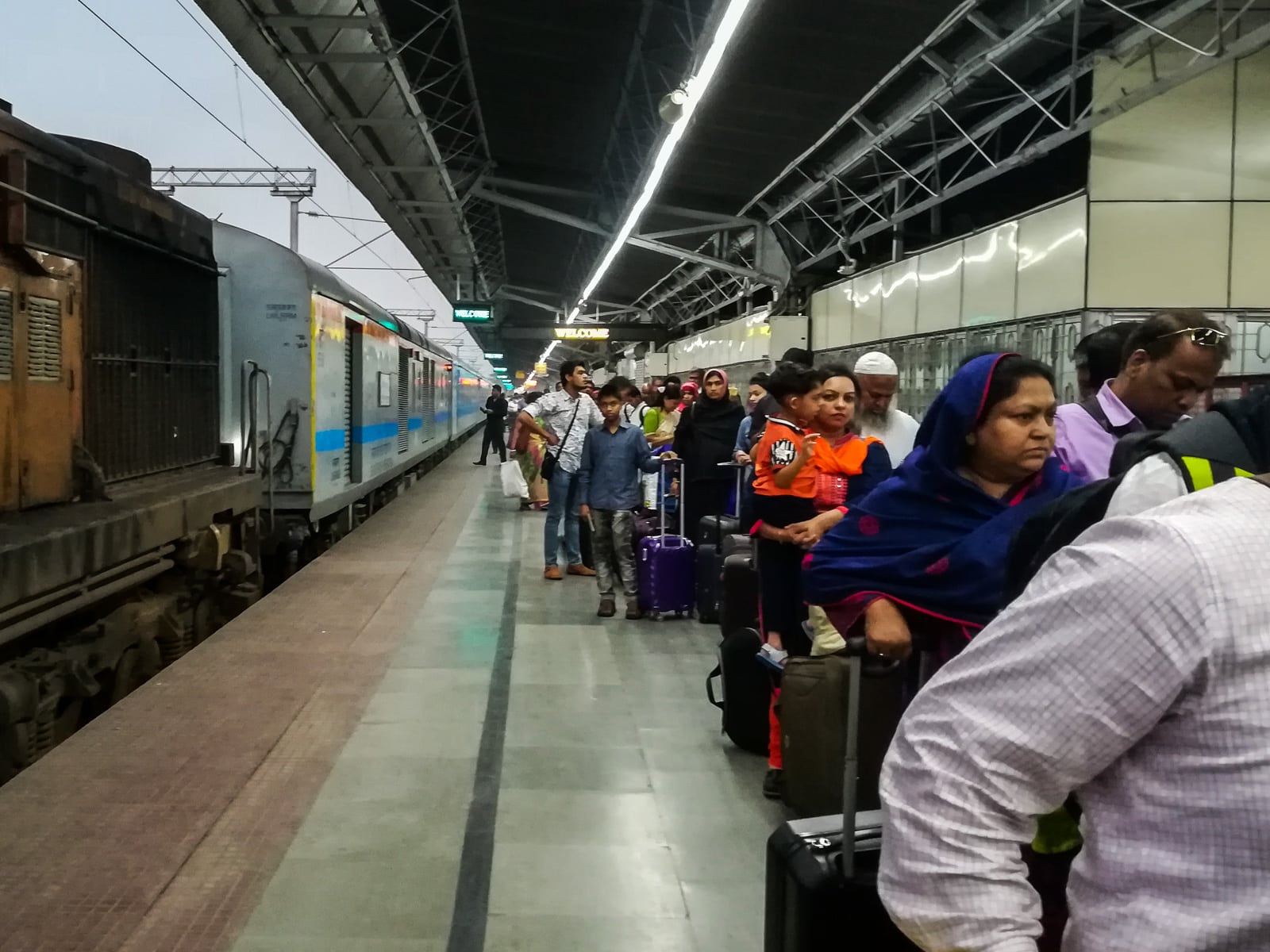 Another customs form will be handed out while in line. Train tickets officially only include two bags—not that anyone really checks—so write "2" on the form when it asks how many bags you have, even if you have more.
The form also asks about bringing in Indian or foreign currency. I circled no and one customs official challenged me about carrying dollars (admittedly true), but another one said it didn't matter because I was American. No one was motivated enough to check my pockets, so just pretend you're cashless.
You'll go through a basic customs and immigration questioning, walk past a lonely bag scanner not in use, then you're out and free in Kolkata! The station area is strangely quiet and lacking in transportation hawkers, so consider downloading Ola (more popular in Kolkata) or Uber to use to get a taxi away from the station to your destination. It took me about 20 minutes to drive from Chitpur to my guesthouse in the Sudder area of Kolkata.
Congrats, you've made it!
Overstaying a Bangladesh visa
Ah, the less pleasant part of the process.
There's a bit of variation in information about overstaying Bangladesh visas online. So long as I only overstayed by 15 days or less, I expected to only have to pay 200 Tk per day of overstay in fines… but the reality was different.
Following is my tale of financial woes, to dissuade you from doing the same in the future. Note that you'll receive a bit more leniency if you only overstay by a day or two, and things may vary at other border crossings in Bangladesh.
How much does it cost to overstay a Bangladesh visa?
Officially, the cost of overstaying is 200 Tk per day, plus the cost of a new Bangladesh visa. And no, that's not the $50 of a visa on arrival, that's the cost of a full visa.
In total, I had to pay 200 Tk x 11 days + $164 for a visa for USA citizens = more than $180! Ack!
Visa costs vary by citizenship, so you'll have to look up how much Bangladesh visas are for citizens of your country.
Note: I was told Indians don't have to pay the visa fee, just the 200 Tk/day overstay fine.
Paying overstay fees at the railway station
Officially, you're supposed to pay this fee at a Sonari Bank before exiting the country, and bring the receipt to immigration. However, I was trying to leave in a rush over the weekend (Friday and Saturday), when all banks are closed.
The officers wanted me to leave and go pay the fee to a bank and fly out of Bangladesh instead. I explained my weekend woes to the immigration officers (with a little sob story *IAMLONEWOMANHALP* thrown in) and they relented, saying they would take the fees and make a receipt and deposit the money on Sunday.
No matter what I tried (coughbaksheeshcough) they would not budge on the visa fee.
I could pay in taka or dollars—I used both—the exchange rates calculated on the spot. After a lot of scribbling numbers and shouted input from myself and the multiple border guards involved, I handed the money over, and one of the officials wrote out a neat receipt for the transaction. If you receive one, hang on to it, as they asked me for my receipt when checking tickets on the train.
All in all, it ended well, but you never know with things like this. Better to be cautious and exit when you're supposed to than push your luck like I did.
Whatever you choose, best of luck, and bon voyage!