This border crossing report contains information on crossing overland from Iran to Iraqi Kurdistan. Note this does not apply to crossing between Iran and southern Iraq.

Lost with Purpose is blocked in Iran. To access Lost with Purposen in Iran, use a VPN. We recommend ExpressVPN. Read more about accessing blocked websites in Iran here.
The overland Iran-Iraq border at Bashmaq and Penjwen is open 24 hours a day, only closing for Eid al-Fitr and Eid al-Adha.  This border is best reached from Sanandaj or Kermanshah on the Iran side, or Sulemani (Sulaymaniyah) on the Iraqi side. If coming from Erbil or northern Iran, take the border crossing at Piranshahr (Iran) and Haji Omeran (Iraqi Kurdistan) instead.
Getting to the border from Sanandaj, on the Iran side, takes about 3.5 hours. Getting to the border from Sulemani, on the Iraq side, takes about 1.5 hours. Customs formalities are easy, but things are a bit confusing on the Iraq side.
Here you'll find all the information you need on getting to the border, crossing without hassle, and finding onwards transport.
Getting to the Iran-Iraq border from Sanandaj in Iran
The most logical starting point for this border crossing is Sanandaj, about 3 hours from the border.
After Sanandaj, your first stop is Marivan, where you could also spend the night if desired. To get to Marivan go to the bus terminal north of Sanandaj, called Terminal Sanandaj to Saqqez on Google Maps. A taxi to here from the Sanandaj city center should be 70,000 – 100,000 IRR (US$0.50 – 0.80). A shared taxi from Sanandaj to Marivan costs 300,000 IRR ($2.50) per person and takes about 3 hours. Shared taxis depart when full.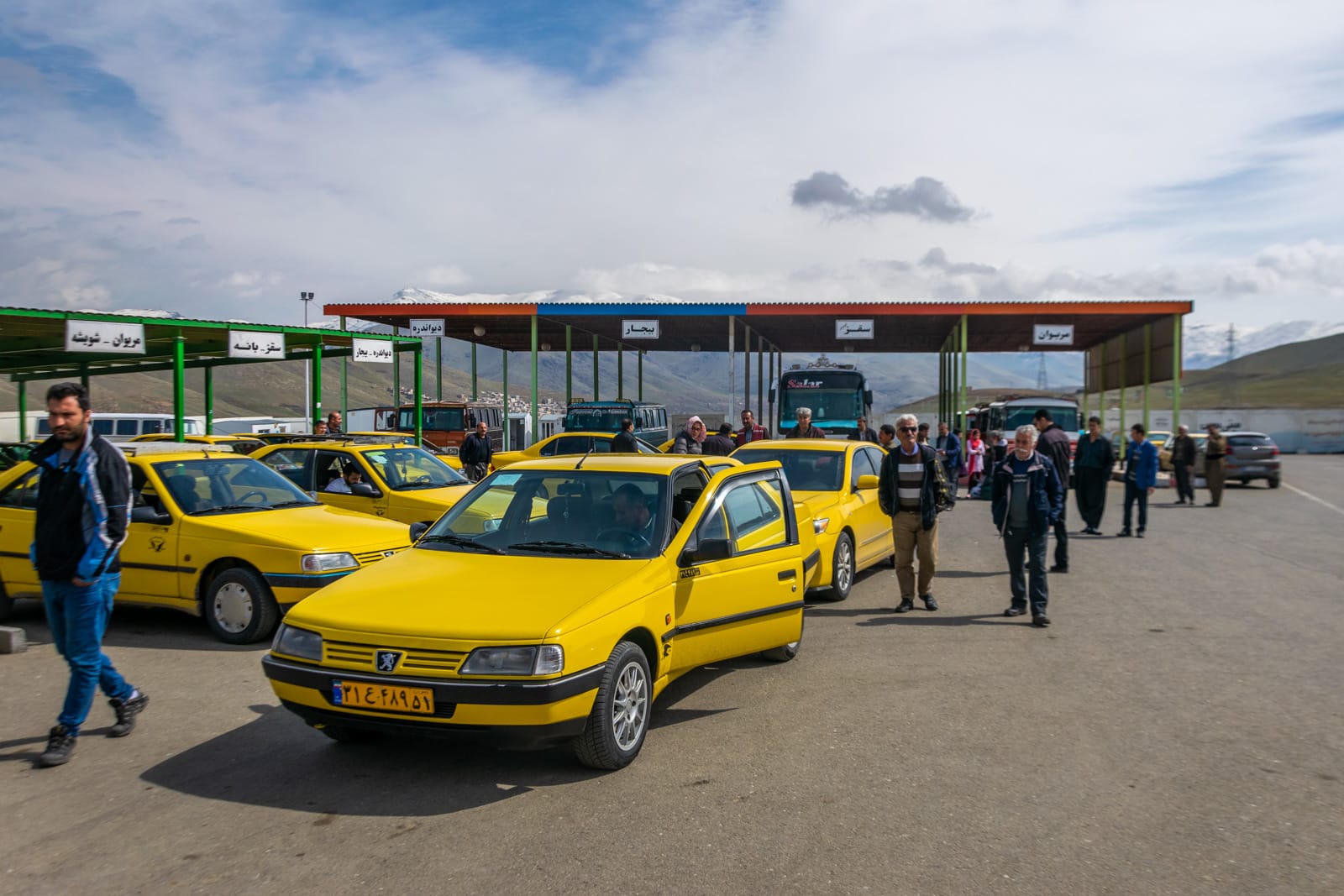 If you tell the shared taxi driver you're going to the Iran-Iraqi Kurdistan border, he'll drop you off at the bus terminal where you can get a taxi. A shared taxi to the border costs around 50,000 IRR ($0.30), but you might have to wait a while for it to fill up. You can hire the entire car for 200,000 IRR ($1.50). If you decided to stay in Marivan for the night, you can find a taxi from Zingheh Square in Marivan. Taxis from there will drop you off about a kilometer from the actual border. You'll have to walk the last part.
If planning to come from Kermanshah, first take a shared taxi from Kermanshah's bus terminal to Sanandaj, which costs 250,000 IRR per person ($2.00), then follow the above steps.
Where to stay in Sanandaj
Sanandaj offers several places to sleep, ranging from cheap motels to luxury hotels. At the moment, it's not possible to book hotels in Sanandaj online. If you're looking for a place to sleep in Sanandaj, check out the following spots:
Budget: Hedayat Hotel. Basic motel in the center of town on Ferdowsi Street. Good for budget travelers in Iran.
Mid-range: Sanandaj Tourist Hotel. Decent hotel aimed at local tourists. It's a bit out of town but offers good amenities.
High-end: Sanandaj Shadi Hotel. Not really worth the money, but probably the most upscale hotel in town.
Visiting Sanandaj? Make sure to check out the stepped village of Palangan. Check this offbeat Iran guide to see how!
Getting to the Iran – Iraq border from Sulemani in Iraqi Kurdistan
Sulemani, also called Sulaymaniyah or Suly, is about 100 km from the border. It takes approximately 1.5 hours to get from Sulemani to the Iran border by shared taxi or bus, and costs 4,000-7,000 Iraqi Dinar ($3.30-5.80). The taxi won't bring you right to the border, but instead to the town of Penjwen which is about 8 km from the border.
From here you could take another taxi, but it's very easy to hitchhike the last few kilometers. If you don't feel comfortable, you can get a taxi from Penjwen to the border for about 2,000 Iraqi Dinar ($1.80). If taking a private taxi from Sulemani, it should bring you all the way to the border. Once you've crossed the border, walk for about 15 minutes to leave the border compound, then get a taxi to Marivan for 200,000 IRR ($1.50) and follow the route mentioned above, but in reverse.
Where to stay in Sulemani
Sulemani has plenty of places to stay, but most travelers end up in Dolphin Hotel. Dolphin is sometimes advertised as a hostel, but there are no dorm beds; it's just a basic hotel. However, it's the best bet in town if you want to meet other travelers.
Budget: Dolphin Hotel. Basic hotel close to the bazaar and the best place to find other travelers. Book Dolphin Hotel here.
Mid-range: Khan Saray. Good value mid-range hotel with friendly staff and convenient location. Check out Khan Saray here.
High-end: Titanic Hotel. Probably the most famous hotel in Sulemani. It has a bar, restaurant, spa, and everything else you'd expect of a luxury hotel. Book Titanic Hotel here.
Crossing the Iran-Iraq border at Bashmaq and Penjwen
If you're coming from Iran, citizens of the EU and several other countries can get a 30-day visa on arrival for Iraqi Kurdistan.
When coming from Iraq, you need to have a visa for Iran to enter. If you need help getting a visa for Iran, contact 1stQuest. Use the code LWP-QST to get a 5% discount.
Things are smooth on the Iranian side of the border. Follow the signs until you're in the big immigration hall. Here your bags will be scanned, and your passport and visa will be checked. You can also change money here (at poor rates). When I was there, there was hardly anyone crossing and the whole process took 5 minutes. There is no exit fee, and the immigration officer didn't ask me any questions. However, if you're entering Iran you might be asked a few questions about the purpose of your visit and where you want to go.
On the Iran side of the border
On the Iraq side, things are a bit more confusing, mostly because it's not clear where you need to go. Basically, you need to walk straight for a bit, then go left towards a building with some posters on it and a few containers in front of it. There are usually taxis hanging around this building.
First go to one of the containers where a guy will fill out a form for you containing standard information such as your name, nationality, date of birth, etc. You can't fill out the form yourself, and they charge 3,000 Iraqi Dinar ($2.50) to do it for you. However, I didn't have local currency and told them I wasn't carrying any dollars either. After a bit of back and forth banter they let me go without paying.
After this, you have to bring the form you just got to the main immigration office next door. When I was there, there were many Iranians waiting about to get their passport stamped, but they have to go through an extra process. Just enter the room at the second door to your right, and they will stamp your passport with a 30-day Iraqi Kurdistan visa.
Onwards travel from the Iran-Iraqi Kurdistan border
Iran: going to Sanandaj
If you came from Iraq and are traveling to Iran, the first logical stop is Sanandaj. Sanandaj is about 3.5 hours from the border. You can follow the steps described above, but then do them in reverse order. You might have to pay a bit more for a taxi from the border to Marivan, but the rest should be the same.
Iraq: going to Sulemani
There are taxis waiting for you right after the border, but these charge 50,000 – 60,000 Iraqi Dinar to get to Sulemani ($41-50). If you want to do it cheaper you have two options:
Walk for about 1 km to exit the immigration compound. From here you can get a shared taxi to Penjwen for about 2,000 IQD ($1.60). From Penjwen you can take either a bus (4,000 IQD/$3,20) or a shared taxi (7,000 IQD/$5,80) to Sulemani.
Hitchhike from the border to Sulemani. I hitchhiked to Sulemani and it was easy. The first car I hailed brought be to Penjwen and dropped me off on the highway at the edge of town. From there the third car that passed by picked me up and drove me all the way to Sulemani. Most people that drive here will drive to Sulemani, so if you have time and feel adventurous it's easy to hitchhike.
There you have it, a complete guide on crossing the Iran-Iraq border at Bashmaq and Penjwen. Give a shout in the comments if anything has changed.