A visit to the Alamut Castle in the Alamut Valley in photos, and some information on how to get to the Alamut Castle from Qazvin, Iran.
Lost with Purpose is blocked in Iran. If you want to read our amazing stories while traveling in Iran, make sure to use a VPN that works in Iran.
A long, long time ago, in a valley far, far away, there lived a mysterious band of mercenaries atop a mountain.
The mercenaries would occasionally descend into the towns below, kidnapping and/or murdering important people of their day and age. Their leader, Hassan-e Sabah, motivated his merry band of mercenaries with promises of future paradise.
To trick even the most suspicious of minds into believing his claims of paradise, Sabbah would bring his followers to lush gardens filled with dazzling young virgin girls… while they were high as balls on hashish.
Thus, his followers became known as the hashish-iyun, assassins.
The Castles of the Assassins
So the story goes, anyway. Though it's likely just a myth, these days the Alamut Castle (also called Castles of the Assassins) are mostly dilapidated ruins scattered throughout the Alamut Valley in northern Iran.
Don't let the lack of remaining splendor deter you, though—the Castles' architects had a serious eye for real estate, and the ruins are located among some of the most epic landscapes in northern Iran. If you're staying in the city of Qazvin or Rasht, the Alamut Valley is well worth a day (or three) of hiking.
The road from Qazvin to and through the Avalley and towards to Alamut Castle twists and turns, traversing mountains blanketed with cherry trees and winding through stark gorges of red rocks.
Small, sleepy towns make periodic appearances along the road, and the occasional farmer could be seen picking at the ground, preparing for the planting season.
Otherwise, there were not many people in sight as we wove our way through shrubbery and sparse trees to explore the gorges lining the road.
After a longer and snowier winter than usual, it was refreshing to see signs of spring blossoming from the tree branches.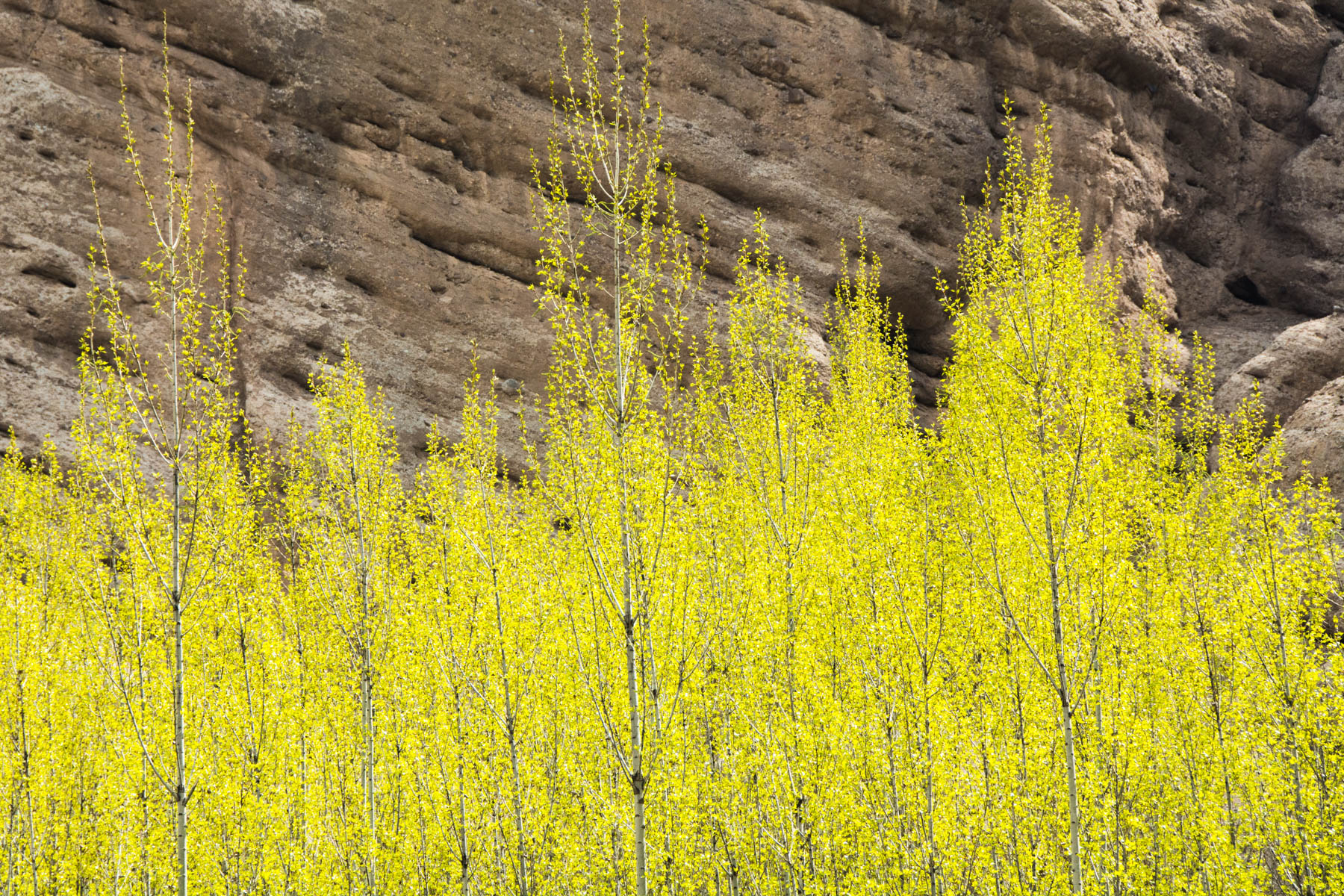 Eventually, the road led out of the canyon of gorges up to the base of a mountain–the foundation for the ruins of Alamut Castle.  The steep pathway to the top zigzags up a side of the mountain invisible to the road. It's quite fitting for an Assassins' haven.
Though the remnants of the Alamut Castle are covered in scaffolding for restoration (estimated completion date: who knows when?)…
… the views from the top of the Alamut Castle assuredly make up for it.
We can't say that we endorse killing and kidnapping for money, but we've got to hand it to the assassins–they have excellent taste in real estate. The location of the Alamut Castle is absolutely out of this world.
If you're ever in Iran, don't miss the Alamut Valley and the Castle of the Assasins. It's 4-5 hours of driving from Tehran, and it's so, so worth it.
How to get to Alamut Castle?
Public transportation and shared taxis
It's possible to visit the Alamut Valley from Qazvin using a mixture of public transportation and taxis, but if you want to visit multiple sites in the valley in one day, it'll take a lot of luck with timing and/or a lot of money for shared taxis. NomadExpress has a good post on exploring the Alamut Valley using a combination of shared taxis and hitchhiking.
Hiring a taxi and local guide
If you're with a group of people, it's better to pool resources and hire a taxi for the day. We went with a group of 4, and it cost $70 in total, or about $18 a person–not bad for a day that involved several hundred kilometers of driving and lasts nearly 12 hours!
Our guide, Yousef, was incredibly friendly, an excellent conversationalist and his English was superb. We enjoyed the conversation too much to notice how much time we had to spend in the car. Needless to say, we can't recommend him enough. If you're interested in getting a ride out to the Alamut Valley, you can:
Let him know we recommended him, so he understands why he's being emailed by random foreigners.
Where to sleep?
Qazvin is the main base from where to explore the Alamut area. There are several budget hotels in Qazvin, such as the Telighani Inn and the Alborz Hotel, but it's also possible to stay in a converted traditional Iranian house. If you plan to hike in the valley it's possible to camp. There are also a handful of guesthouses in the valley.
You can book hotels in Qazvin and the Alamut Valley online using 1StQuest (use the code LWP-QST to get a 5% discount).
And there it is, a complete guide on visiting the Alamut Valley and Alamut Castle. Let us know in the comments if you had any additions.
Disclaimer: This post and recommendation is based on personal experience, and every traveler's experience is different.  Always use caution and discretion when organizing travels and interacting with locals.