A guest post from Kristin of Adventures With Ensuite with her recs for easy day trips from Tbilisi, Georgia. Look forward to monasteries in the mountains, valleys of vineyards, and some Martian landscapes in between. With potential add-ons and side trips because… why not?
Tbilisi is not at all what tourists might expect from an Eastern European city. Georgia's charming capital offers a fascinating mixture of old and new architecture, housing lots of cosy cafés, hearty restaurants, and a vibrant nightlife.
Attractive as it is, one thing that makes a trip to the capital stand out is how easy it is to leave Tbilisi to see a completely different side to the country. Day trips from the capital to the snow-covered Caucasus mountains, charming villages surrounded by vineyards, communist culture or rock-hewn monasteries should be included in any Georgia itinerary.
4 easy day trips from Tbilisi, Georgia
1. Hike to one of the best views in Georgia: Stepantsminda (Kazbegi) and Gergeti Trinity Church
Time from Tbilisi to Stepantsminda: 3 to 4 hours by minibus
Things to do in Stepantsminda:

Hike to Gergeti Trinity Church
Hike for views of Mount Kazbek and Gergeti from the other side of Stepantsminda
One of the best day trips from Tbilisi is to see the fantastic scenery of the Caucasus mountains that stretch across Georgia, Azerbaijan, and Russia. Though not the highest in the country, one of Georgia's most famous peaks is Mount Kazbek. 5,054 metres high, Georgia's third tallest mountain towers over the tiny village of Stepantsminda (also known as Kazbegi).
Mt. Kazbek's summit is often covered in cloud, but Stepantsminda is worth visiting even without a view of the peak; the cloud cover rarely stretches as far down as Gergeti Trinity Church.
Balancing atop a steep cliff, the Gergeti Trinity church has fantastic views of the valley and village below. The path up to the church is steep, but easy to follow. It takes 1.5-2 hours to climb up to Gergeti church from Stepantsminda. If hiking isn't your cup of tea, the town square is full of taxis waiting to shuttle tourists to the top.
Read: Spirit dogs and snowy slogs: Hiking in Georgia
Though the views from the church are excellent, almost all churches and monasteries in Georgia are most scenic when viewed from a distance. Their locations make them remarkable, rather than the interiors.
For amazing views, follow the path from the church towards Gergeti Glacier for 15 – 20 minutes. The views of the church and the towering mountain cliffs at the other side of the valley are breathtaking from this vantage point.
How to get to Stepantsminda (Kazbegi) from Tbilisi by public transport
Both mashrutkas and shared taxis make the 3-4-hour journey between Stepantsminda and Didube bus station in Tbilisi. Marshrutkas have a loose schedule, leaving roughly every hour, but make sure you turn up at least 30 minutes early to ensure you get a seat. When day tripping from Tbilisi, it's best to leave early—the first minibus leaves at 8:00.
Check the return times when you arrive in Stepantsminda, but know the marshrutkas don't always stick to a fixed schedule.
Day tours from Tbilisi to Stepantsminda (Kazbegi)
If you don't want to deal with irregular marshrutka schedules, there are a variety of affordable tour options from Tbilisi. This one-day tour includes a stop at a UNESCO-listed medieval castle as well as a visit to the monastery.
2. Sample Georgia's finest at a wine tasting in Kakheti
Time from Tbilisi to Sighnaghi: 2 – 2.5 hours by minibus
Things to do in Sighnagi and Kakheti:

Walk along the old city wall
Try Georgia's famous amber wine in Sighnagi
Wine tasting at a vineyard in the valleys
It might be controversial, but I've found that smaller villages in Georgia aren't that pretty to walk around. Sighnagi is one of the exceptions.
With its cobblestoned streets and colourful overhanging balconies, the location high on a hill overlooking Alazani valley and the Caucasus mountains could fool you into thinking you're in the Italian Alps.
Surrounding the village are remnants of the old city wall, once 4 km long. Today, only fractions of Sighnagi's wall remain. One of the prettiest sections to walk along is accessed opposite Guesthouse Marani, located in the lower part of Sighnaghi. The panoramic scenery of the valley below and the mountains in the distance is well worth the climb back up. On a clear day you can see as far as Azerbaijan!
One of the best things to do in Sighnagi is go for a wine tasting. There are plenty of options in Sighnaghi, but one of the best is Cradle of Wine. It might be less atmospheric than the vineyards in the valley below, but it's a good place to try Georgia's famous amber wine. None of the vineyards we visited had amber wine available for tastings.
For a tour and tasting at one of the many vineyards in Kakheti, try one of the smaller, less touristy options such as Shilda Winery and Chubini Wine Cellar in Shilda, or Friend's Cellar close to Nelkarisi.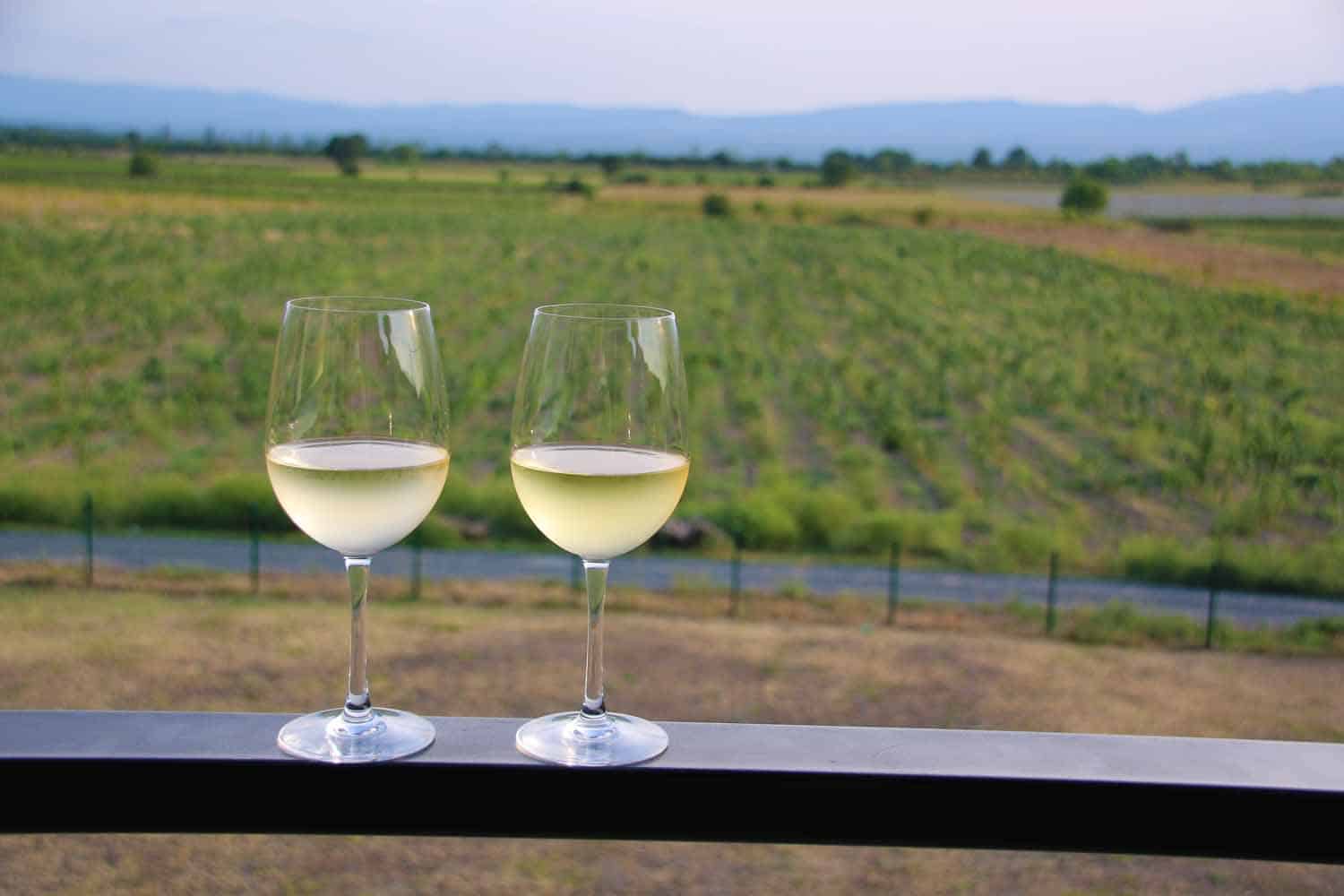 How to get from Tbilisi to Sighnagi by public transport
Marshrutkas depart Tbilisi roughly every hour for the 2-2.5-hour journey to Sighnaghi. Buy tickets in advance—especially for the return journey—since these minibuses are often full. If you can't get a seat, an alternative is to travel via Tsnori to return to Tbilisi.
Unfortunately, there is no public transport to the more remote areas of the Kakheti valley. Experiencing the vineyards in the region is only possible by joining a group tour or renting a taxi in Sighnagi.
Day tours from Tbilisi to Sighnagi
If you want to experience the Kakheti wine region in full, this tour to Sighnagi from Tbilisi gets rave reviews thanks to tour guides willing to go above and beyond, and covers both wineries and the nearby David Gareja monastery.
3. See where it all began in Gori, hometown of Stalin
Time from Tbilisi to Gori: 1.5 hours by train or minibus
Things to do in Gori and nearby:

Visit the Stalin Museum
Hike to Jvari monastery near Mtskheta
Cave city near Uplistikhe
Stalin was born in a small town in Southern Georgia called Gori, which now hosts a large museum dedicated to his life. The city itself has few other sights, but it's worth the trip for the museum alone. Stalin is still seen as a hero by many locals, and that view is thoroughly communicated through the exhibits.
All descriptions are in Russian, so the best way to visit the museum is to join a guided tour. Tours are included in the museum's ticket price, but there's a small extra charge to see Stalin's armoured train; apparently it weighs 83 tons!
In front of the museum is the house where Stalin was born. It can be entered on a guided tour, but otherwise it's locked. Even when viewed from the outside, the small dwelling really contextualizes the meteoric rise the shoemaker's son from Gori made to become a world leader.
Possible add-ons when visiting Gori on a day trip
On every street corner in Tbilisi there seems to be someone selling group tours. By joining one of these, a trip to Gori will also include Mtskheta or Uplistsikhe. Joining a tour can be useful, as when travelling by public transport to Gori these destinations are challenging to add to your itinerary. Mtskheta can be visited as a separate day trip from Tbilisi, and Uplistsikhe by taking a taxi from Gori.
Mtskheta is the capital of the ancient Eastern Georgian Kingdom. Little remains from these times, but the city has an interesting cathedral, Svetitiskhoveli, and hilltop monastery, Jvari.
Uplistsikhe is a cave city from the Iron Age. It can be difficult to fully appreciate the many caves and rock-cut dwellings and what life must once have been like here, but if Vardzia is not on your Georgia itinerary Uplistsikhe is worth a visit.
How to get from Tbilisi to Gori by public transport
Gori is easily accessible from Tbilisi by train or marshrutka. The journey takes 1.5 hours with frequent departures.
Day tours from Tbilisi to Gori, Mtskheta, and Uplistikhe
If you want to see all three towns in one day, going with a tour is your best option. This day tour is affordable, covers all the sights mentioned above, and includes a homemade lunch in a local home.
4. Get lost in Martian landscapes around David Gareja monastery
Time from Tbilisi to David Gareja monastery: 3 hours
Things to do in David Gareja:

Visit the David Gareja monastery
Explore the rainbow hills around David Gareja
In a desert landscape on the border with Azerbaijan lies Davit Gareja (or David Gareja or David Gareji), an ancient monastery. There are 15 buildings in total, but the Lavra and Ubadno monasteries are of most interest to visitors.
During Soviet times, the area was used for military exercises. Now, monks once again live in Lavra, the monastery building. Ubadno is further up the hill and comprises a series of caves and churches with colourful frescoes cut into the rock.
Bring your passport when visiting since the border demarcations with Azerbaijan have never been fully agreed upon. It's safe to visit David Gareja, but this concern is particularly relevant today with the ongoing border conflict between Armenia and Azerbaijan.
How to get from Tbilisi to David Gareja by public transport
There are only two ways to get to David Gareja from Tbilisi: the Gareji line bus or private transport.
Gareji line departs at 11am from the Pushkin Statue by Pushkin Park next Liberty Square in Tbilisi. Driving time to the monastery is 3 hours one-way, and the bus returns at 8pm with stops for lunch and dinner.
Tours to David Gareja from Tbilisi
If you want to go deeper into the desert (without getting into trouble with border officials), going with a tour is your best option. This tour to David Gareja includes a jeep ride into the rainbow mountains as well as a trip to the monastery.
More tales and travel guides from Georgia