A quick guide to travel in Signagi, a charming town in Georgia's Kakheti region. Includes information on how to get to Signagi, what to do in Signagi, and where to stay if you travel to Signagi.
Signagi (also spelled Sighnaghi), is a tiny town atop a hill in the easternmost region of Georgia called Kakheti. One of the prettiest towns in Georgia, the hilltop hideout is sometimes referred to as the City of Love.
Understandably so; the town has cute cobblestone streets, a (mostly) intact old city wall with a whopping 23 towers, charming houses, and views to die for. Add the fact that wine flows freely (it's in the Kakheti region after all), and it's clear that you should travel to Signagi. Forget vineyards in France and villas in Tuscany–a summer holiday home in Signagi is officially on my wish list.
(Too bad I don't have casual cashmonies lying around.)
Keep reading for my quick guide to travel in Signagi, including a little background about Signagi, things to do in Signagi, recommendations for places to stay and places to eat in Signagi, and how to travel to Signagi. In short: all the basics you need to know before traveling to one of Georgia's most beautiful towns.
Travel in Signagi, Georgia: a quick guide
Signagi's background
Signagi is sometimes called Sighnaghi, which means shelter or trench in Turkic language. The first mention of Signagi as a settlement was recorded in the 18th century when a Georgian king sponsored the construction of the town and fort as a defense against tribesmen from Dagestan.
Signagi became an important agricultural hub during Soviet times, but in post-Soviet Georgia, the town suffered. Luckily, with the efforts of the Georgian government, the town was largely reconstructed and is now a great place for tourism in Georgia. Read further if you want to find out what there is to do in Signagi.
Things to do when you travel in Signagi
Walk around the city center of Signagi
One of the main joys of visiting Signagi is simply walking around to sample the atmosphere. Signagi oozes old-world charm, with cobblestone streets, several orthodox churches, and a Museum of History and Ethnography.
You can easily spend a day or two just strolling around, drinking some wine, and buying some souvenirs from the local ladies. There's an old city wall to circumnavigate (with awesome views), several small churches, and plenty of viewpoints to marvel at the Caucasus mountain range from.
Visit a winery
No visit to Signagi is complete without a visit to a winery. Of course, you'll be able to taste homemade wine in your guesthouse or homestay, but visiting a winery makes for a great way to familiarize yourself with one of Georgia's main exports.
There are two well-known wineries around Signagi. Pheasant's Tears Winery and Cradle of Wine. Pheasant's Tears has a nice website where you can book tours, check out special events, or make a reservation at the lovely Pheasant's Tears restaurant. For Cradle of Wine, it's better to just walk in, or send them an email or give them a call.
Visit Bodbe convent
Once you're done ogling the picturesque town center, you can venture out to the significant sites around Signagi, the most notable being Bodbe convent, also known as Bodbe monastery. The active convent is dedicated to St. Nino, who is (supposedly) buried there.
The walk to the convent is pretty straightforward–it should only take about half an hour, and the views of Signagi along the way are grand. Just follow the road going south (uphill) out of Signagi, until you see the church buildings peeking through the trees. Several road signs are indicating the way to Bodbe monastery.
Roughly 100 meters before the convent's entrance, there is a fork in the road with a sign with an arrow pointing left. Normally, you would be able to clearly see the church at this point, and realize that this sign is pointing at something else (it's an asphalted road to the spring below). But the first time I visited it was so foggy, and I couldn't see anything except the sign. If you're here while it's foggy, don't follow the arrow, go right instead.
The buildings of the convent have recently been renovated, and the garden is immaculately kept by the nuns. For those searching for enlightenment/repentance /freedom from sins/guilt-free livin', 800 meters down the hill from the church is a small place of worship housing St. Nino's spring, which is thought to have holy, healing properties. You can bathe in the water for 10 lari, and you get to keep the towel as a souvenir/holy artifact.
Visit the surrounding wine country
The Kakheti region is famous for its wine, and Signagi is a great place to base yourself to explore the region. The Alazani Valley houses several historic and important monasteries, and you can easily spend a day driving around visiting all the sites.
It's best to ask your guesthouse to arrange a private car for you or check out some of the tour options in and around Signagi to make the most of your trip.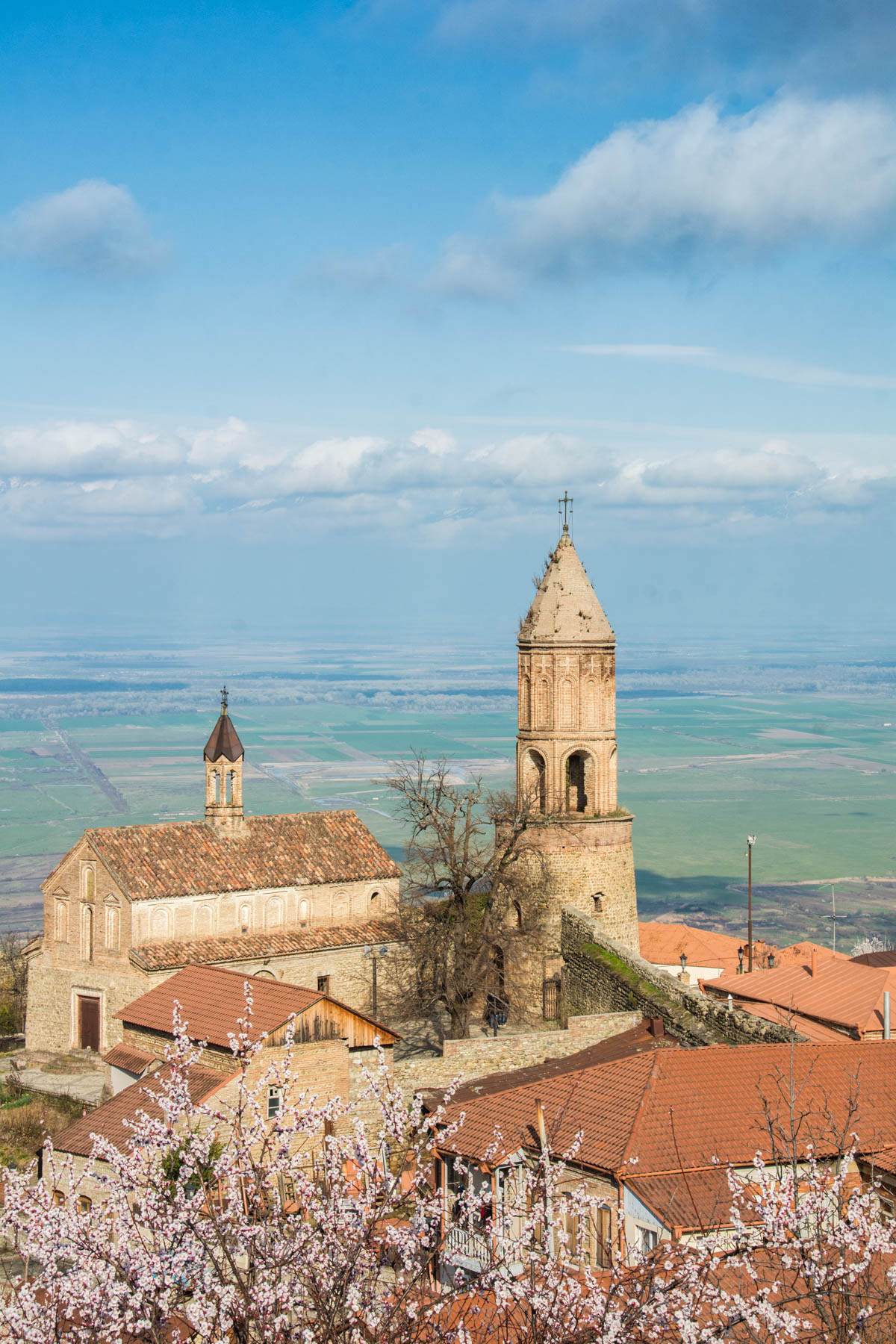 Where to stay in Signagi
There is no shortage of accommodation in Signagi, so you'll find something regardless of your budget. There are small guesthouses, hostels, and homestays, traditional homes, and even luxury estates that you can choose from. In the off-season, it's possible to just show up, walk around, and find a place you fancy, but with Signagi being as popular as it is, it's generally recommended to book ahead.
Some recommended places include:
Cherqe Guest House: Cheap, cheerful, and run by a lovely family, budget travelers could do worse. The patio has a nice view, the rooms are spotless, and the breakfast comes highly recommended – Book Cherqe Guest House here.
Apartment Giorgi: Overlooking the historical town, with a nice garden full of fruit trees, the owners of Apartment Giori are super kind and will make you feel right at home. Come hungry, as they'll stuff you – Book Apartment Giorgi here.
Guest House Alazani Valley: This midrange guest house is a bit out of town, but offers superb views of Signagi and the surrounding region – Book Guest House Alazani Valley here.
Click here for more sleeping options in Signagi
Where to eat in Signagi
The restaurant scene in Signagi reflects its popular tourist destination status, in a somewhat disappointing fashion. Most places have more or less the same menu of standard Georgian fare, and the quality is hit and miss. Due to the Covid pandemic, many places had to close down or reduce their menu. Expect things to pick up when tourism returns to Georgia. Below are the restaurants that I think are ahead of the pack.
The Terrace Signagni
With views to die for, this place is worth the 10-minute walk from the main square. The menu is pretty basic,  but you get solid portions and it's all very tasty. Their mushrooms are delicious.
Amo
This place is a bit of a hike, but boy is it worth it. About 15 minutes out of town (uphill), or a 5-minute taxi ride, this place offers gorgeous views of Signagi and a rustic atmosphere.  The food is delicious, the house wine tasty and affordable, and the staff friendly.
Honorable mention: Pheasant's Tear
Pheasant's Tear winery has a restaurant in the heart of Signagi. Usually, this is one of the most popular places in town, so it pays to make a reservation. However, due to the Covid pandemic, they drastically had to cut their menu, and business has been slow. Prices are also a bit high for Signagi standards (18 lari for smoked vegetables). It's still a nice place to eat, and their wine is top-notch, but it wouldn't be my number one recommendation.
How to travel to and from Signagi
To/from Telavi
There is one marshrutka per day from Signagi to Telavi, leaving at 09.00 in the morning from the bus station in the center of town. Make sure to check out my guide to Telavi for more info.
To get to Signagi from Telavi, there's one marshrutka leaving around 15.00 from the Telavi bus stand.
To/from Tbilisi
To get from Tbilisi to Signagi. head to the bus station next to the Samgori metro station. There are seven marshrutkas per day, starting from 09.00 in the morning and leaving roughly every two hours until 18.00. The trip is 7 lari per person and takes about 1.5/2 hours.
It's also possible to take s shared taxi from Tbilisi to Signagi. Shared taxis leave from Isani metro station when full, and cost about 10 lari per person (price might fluctuate based on gas prices). They leave when there are four people.
From Signagi to Tbilisi there are six daily marshrutkas. The first one leaves at 07.00 and the last one leaves around 18.00.
More posts from Georgia
Still have questions about travel to Signagi? Ask them in the comments!