It's super easy to visit Tbilisi on a budget. With insanely cheap food and drinks, a great public transport system that costs mere pennies, and budget accommodation galore, Tbilisi, Georgia is a budget traveler's dream.
Tbilisi, the capital of the small country of Georgia, is a most excellent city for those looking to travel on a budget. Food and drinks are cheap, public transport costs are negligible, the city is most definitely walkable, and there are cheap sleeping options to be found. Below you can find our travel guide on how to spend three days in Tbilisi on a budget.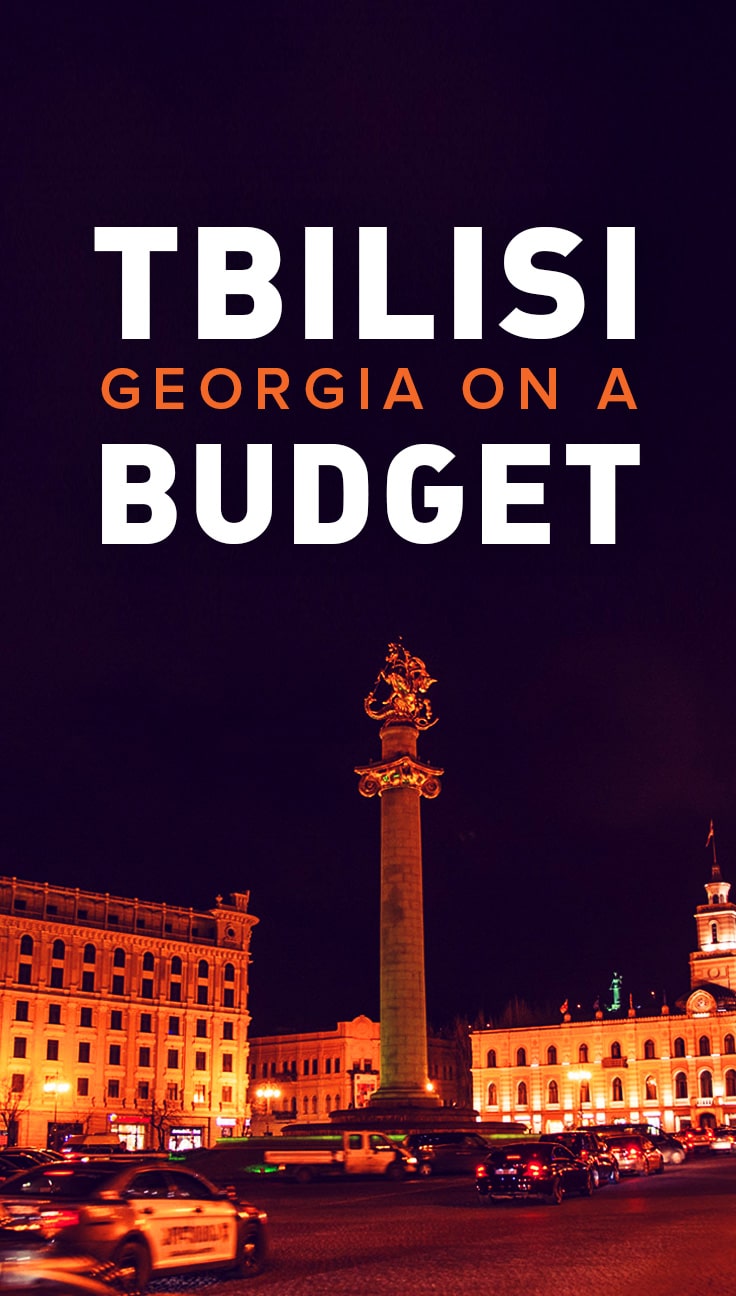 Why it's easy to visit Tbilisi on a budget
Sweet sights (fo' free)
Amongst the million and one things to do in Tbilisi, there are a plethora of sights and sites that you can enter for free.
To be fair, we're not museum-going types, but in our humble opinions, why forego all of the rich cultures on the streets for something carefully crafted and very contrived inside?
(But, that's an argument for another day.)
Below you can find a list of some of our favorite free sites to visit when you travel to Tbilisi.
The Dezerter Bazaar
A little bit of market madness right outside Tbilisi Central railway station. Known as the Dezerter Bazaar, it's a massive outdoor market occupying a metric fuckton (scientific, I know) of city blocks. It's filled with people of all sorts, from farmers squatting at stands selling their chicken's last week's worth of eggs to people peddling the local liquor known as chacha.
There's not so much in the way of fresh street eats, mostly just the standard pastries/carbobombs, but it's well worth a few hours of getting lost amongst the maze of market lanes. You never know what you might find in the depths of the market, and we definitely didn't see it all!
Pro tip: be sure to check out the Underground Clothing Kingdom (name totally made up by me, not actual name). There's an entrance across the street from the train station. It looks like a metro station entrance stuffed to the brim with clothes.
It's like someone took an entire Amazon warehouse's worth of clothing and crammed everything into several underground bunkers. Unless you have a secret burning passion for generic clothing, it's not necessarily the most thrilling shopping you'll ever do, but we assure you–it's the scale that's mind-boggling.
Tbilisi from above: Mtatsminda park and the Funicular
Tbilisi is surrounded by mountains, which makes for stunning outlooks/great locations for power tripping all around the city. There's a couple of main sights that you can walk up to for free. One is Mtatsminda park, which houses a marginally run down theme park. Ignore the rusty creaks of the rides and the absolutely wretched music coming out of the tin can loudspeakers–the view of the city from there is incredible.
For those less athletically motivated (coughSebastiaancough), you can also ride the Funicular incline railcar up the mountain. Tickets are 5 GEL per person for a round trip, and the car runs from 9:00 to 4:00 in the morning. You can also pay less and get off at the halfway station and walk, but the car doesn't stop at the halfway station after 19:00 hours.
Sameba cathedral
This Georgian Orthodox cathedral is in the center of the city, and pretty hard to miss–we just kept walking towards the shiny golden roof (how's that for pro navigation skillz?). The church is quite recent, having only been completed in 2004, and signifies the revival of Georgia's spirituality after decades of oppression from the party people commonly known as the Soviets.
It was actually kind of fascinating to see such a young church: most churches you see in this day and age are centuries old, classical, and often crumbling. All of the art inside the church is relatively recent, the oldest dating back a couple hundred years. It's refreshing to see that spirituality is alive and well and the art of icon painting is not dead.
Entrance to the cathedral is free, just like all of the other cathedrals in Tbilisi.
Note: Ladies, if you're visiting, no bare shoulders or short shorts, and bring a scarf so that you can cover your head. They may let you in sans-head covering, but it's quite disrespectful, and you'll get lots of stink eyes and scowls.
Prefer a more organized visit? Check out some of the best tours for Tbilisi and Georgia!
What else?
Looking for more inspiration? Bewildered Slavica has some great ideas about things to do in Tbilisi in 48 hours.
Cheap places to sleep
When flying into Tbilisi from Amsterdam/Kiev, we had two options for arrival time: midnight or 3 in the morning. In our humble opinions, whoever planned the airport's flight schedule is a sadist and should be fired should be alerted to the fact that one does not simply fly in at 3 in the morning and live.
Alas, it was out of our control, so midnight it was! Because we were getting in at such a wretched time, we decided to go ahead and book a hostel online, so that we wouldn't have to wander around sleep-deprived and seeking out hostels at 2 in the morning. We're glad we did!
We stayed at BHM Hostel for 3 days, and it was the perfect start to our voyage. At €7 a night for a private room, it was one of the cheapest options in town, yet it's smack in the middle of the city center. There's plenty of foodstuffs around, and good bars just down the street. Click here to book BHM Hostel now.
What really made the difference, though, was the man running the hostel, Bahman. An Iranian "ex"-backpacker, he was a walking talking human guidebook, filled to the brim with useful information. I think he has every public transport schedule between here and Iran memorized, and he's filled with stories and life advice. For more sleeping options in Tbilisi, check out this overview on booking.com.
Transport on a shoestring
We stuck to using the metro system while traveling in Tbilisi. Figuring out where different buses stopped/departed from was far too much effort for our lazy souls, and our hostel was quite close to a metro station. So, metro it was!
To use the metro, you need to purchase a metro card for 2 GEL. You can use one card for multiple people, so no need to buy several. You can also return your metro card once you're done using it, and receive the 2 GEL back. Such a sensible system.
When buying your card, you load money on it to use for travel. One ride on the metro is around 0.5 GEL regardless of distance, so plan accordingly. We loaded about 3 GEL per person and were totally chilling for the whole visit.
The platforms themselves are delightfully intuitive. All of the signs are in both English and Georgian, and each station name has an arrow next to it, indicating which side of the platform you need to be on. My inner usability nerd was so titillated. You can find more info plus a map of the metro here.
Cheap eats and drinks
Georgia is a great country for eating on a budget… so long as you're not too health conscious or on a gluten-free diet. Georgians love all things breaded and then breaded again, preferably with healthy doses of cheese or meat or potatoes or all of the above involved. They even have "Flour" sections on some menus in restaurants.
Forget your diet, screw thoughts of all gluten-free, low-carb crap, and embrace the fact that you can chow down and actually be full for less than 1 GEL.
On average, we spent $10/25 GEL per person on food and drinks each day. That includes water, coffee, meals, and beers.
Cue the "say whaaaat?!" track.
We'd eat a pastry for breakfast, another for lunch–if necessary–and then something ideally-not-breaded-and-including-a-semblance-of-vegetables for dinner. Breakfast + lunch, including multiple coffees, is never more than a couple of GEL. Dinner racks up the (trivial) costs, but that's okay, stewed meat and dumplings filled with soup are always worth it. For more information on costs, check out our travel in Georgia budget report.
The only downsides:
You may contract scurvy at some point from eating only bread and cheese for days on end.
Our intestines did not appreciate the amount of bread we consumed. Even Sebastiaan, a citizen of the Land of Sandwiches, is suffering from the bread count. Surely significant.
I'll leave you on this happy gastronomical and gastroenteric note. Stay tuned for more tales of moving experiences and unmoving bowels!
Best budget accommodation in Tbilisi, Georgia
Safety in Tbilisi
Until relatively recently, Tbilisi, and Georgia, in general, had a bad reputation among travelers, mostly due to corruption. Luckily the government has really cleaned house in recent years, and Georgia is very safe to travel in. Few travelers report coming into contact with corrupt police or other officials.
The biggest danger in Tbilisi is drunk drivers. Alcohol use is very common in Georgia, and most drivers see nothing wrong with getting behind the wheel while drunk. Keep an eye out on swerving cars late at night (or at any time of day, really).
Other useful information
Below you can find other useful articles for when you're traveling to Georgia:
So there you have it, our guide on visiting Tbilisi on a budget. Let us know in the comments if you want to add anything!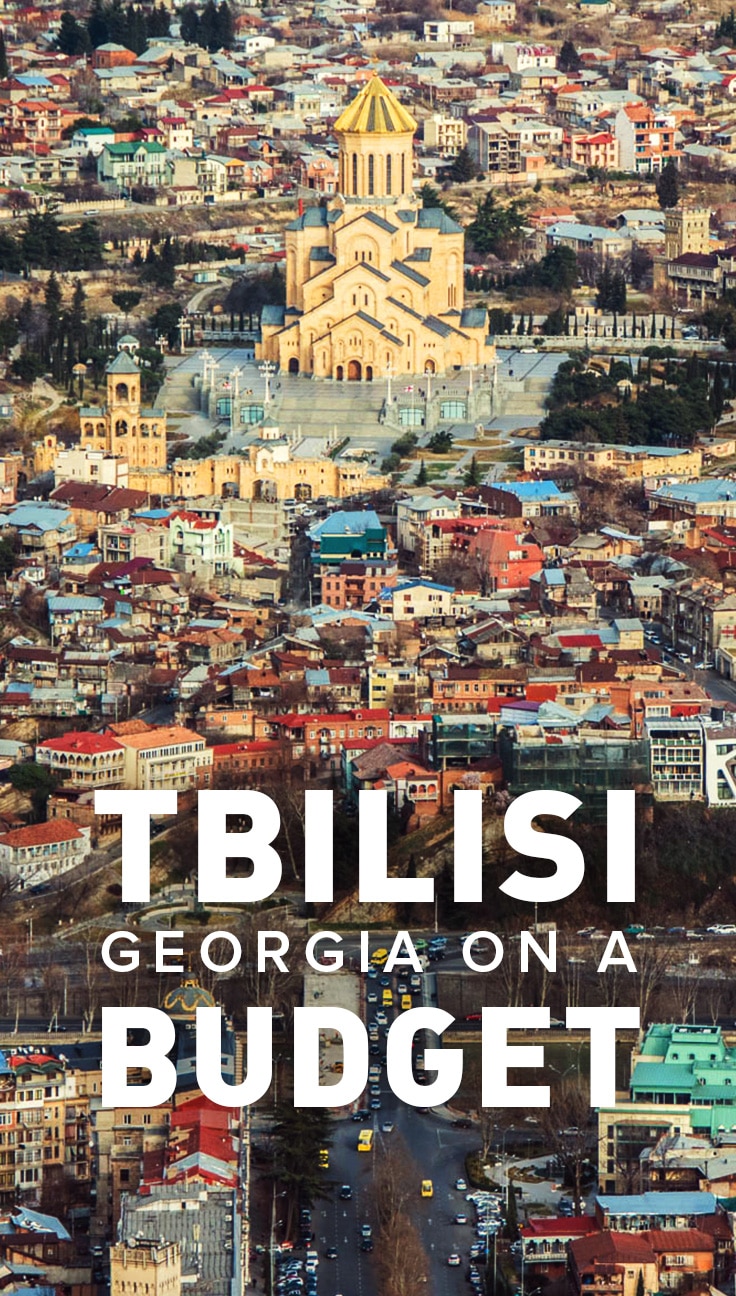 Yay transparency! There are affiliate links in this post. If you book a stay after clicking on one of the links, we get a small commission, at no extra cost to you. Never fear, we'd only recommend places we'd actually stay at. What kind of people do you think we are?