The Bam Citadel was one of the major tourist draws in Iran. Unfortunately, a 2003 earthquake destroyed much of it to ruins. Below is our opinion on whether the Arg-e Bam is still worth the visit. 
The Citadel of Bam, also know as Arg-e Bam, was once one of the greatest tourist sights in Iran. It was added to UNESCO's World Heritage list in 2004. Alas, in December of 2003, a major earthquake in Bam destroyed the citadel and much of the surrounding city, killing about 26,000 people, and injuring 30,000 more. These days, the citadel is rubble compared to its previous state. However, it's still impressive in size, and reconstruction efforts are being funded by several countries.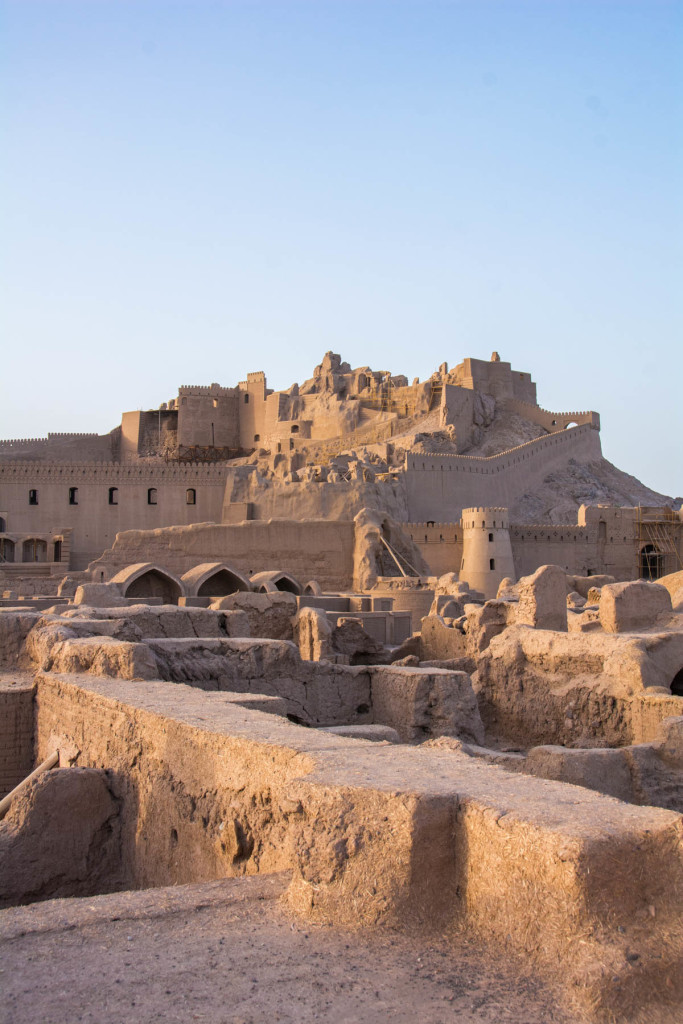 Our take: is the Arg-e Bam worth visiting?
If you're limited in time or traveling only in Iran: no. The Citadel of Bam is very far out of the way from the central tourist track, and you'd be better off spending your time visiting one of the billion other beautiful sights that Iran has to offer. The citadel is covered with a lot of scaffolding, you can't enter the governor's palace (the fancy bit up at the top), and access is restricted to set paths through the site. The tickets are also still $6, despite there being less to see. Not worth it, in our opinion.
If you're traveling overland to/from Pakistan: yes, you should make a pit stop in Bam and check it out. Mister Akbar, the owner of Akbar's Guesthouse in Bam, is worth a visit alone, and he can provide you with a lot of good advice, along with excellent stories and copious amounts of tea.
What's a good alternative to the Bam Citadel?
For those making their way to Kerman, the Arg-e Rayen is a decent alternative to Bam. Inhabited until 150 years ago, it's much smaller than Bam's citadel, but its reconstruction efforts are further along. Parts of the site have been reconstructed for stability and to give people a better idea of how it looked, and the other parts have been left bare. It provides a nice contrast.
You're also much more free to wander around through the remnants of the city in Rayen than you are in Bam.
Looking for more alternatives? Check out our off the beaten track Iran itinerary!
However, we'd only recommend visiting if you're already in Kerman. Otherwise, it's not really worth the voyage out.
How to get to the Arg-e Rayen
Kerman is the best city from which to visit Rayen. There are regular buses to Rayen from the Kerman bus terminal, and you can take a taxi to the Arg once you're in Rayen city. We're not sure about ticket costs, but Rayen is only 45 minutes from Kerman, so it shouldn't be more than $1 or 2. Entrance to Rayen is 150,000 IRR, about $5.
We visited Rayen with a driver as part of a tour of things around Kerman and the Kaluts desert. We arranged the drive at the Akhavan hotel in Kerman, and we recommend it for anyone traveling with 2 or more people.
For about $90, we had a driver for two days, visited Rayen, Mahan, and the colored mountains, were driven to the Kaluts for sunset and sunrise, and slept and had dinner in a lodge in the small desert town of Shafieh Abad. Not bad, eh?
Aside from a driver/guide being mandatory for the region, it's worth it to see the sunrise in the Kaluts, as we're not sure how you would get a taxi to the area otherwise. You don't need to be a guest at the hotel to have them organize your trip.