Written in 2016, expanded after a second independent visit in late 2018, and updated in mid-2019 after local input, this is the most complete and up-to-date Afghanistan travel guide available online. Regularly updated based on the situation on the ground, and with input from local contacts. Brace yourself!
Grab yourself a cup of tea (you'll be drinking a lot of chai in Afghanistan), get comfortable, and prepare to read, 'cause this is a long one. Everything we learned during three weeks of independent travel in Afghanistan in October 2016, and two weeks of independent travel in Afghanistan in November 2018, is right here in our Afghanistan travel guide.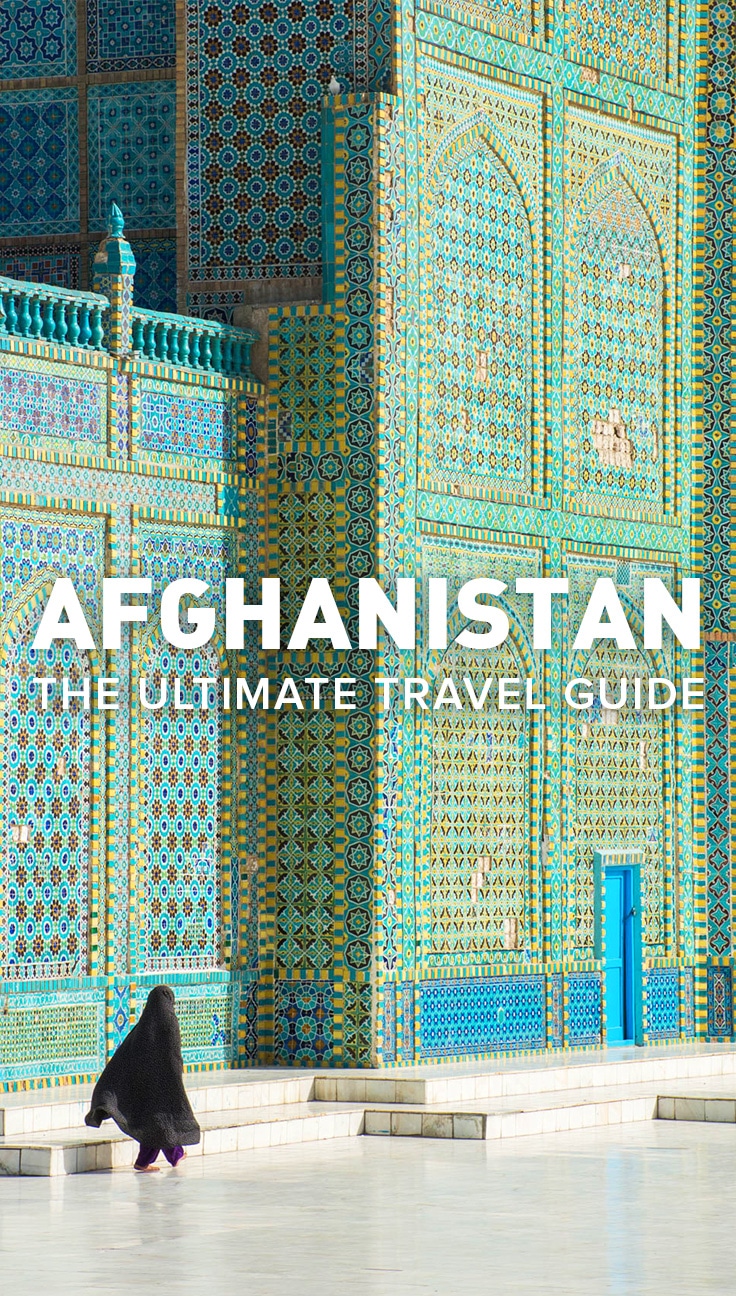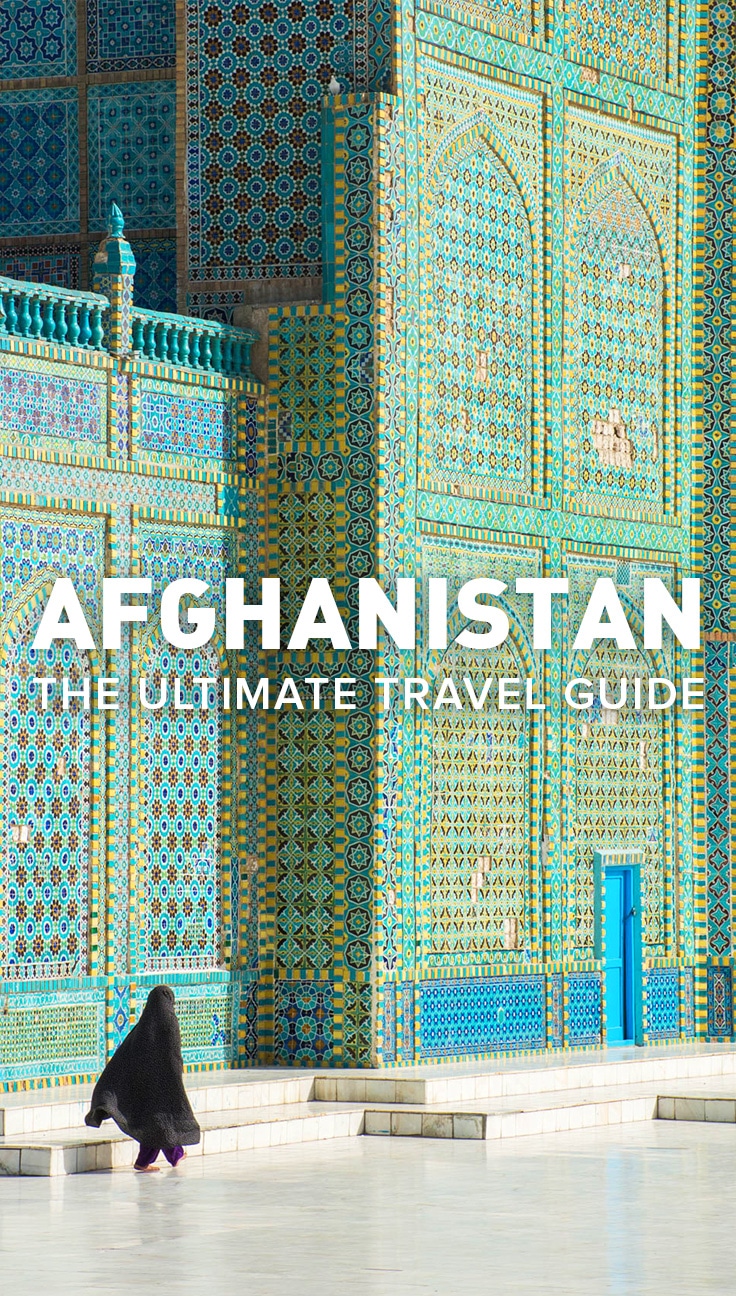 A Complete Afghanistan Travel Guide
Index
Latest update
Before you go
Getting to Afghanistan
While there
Everything else
Is Afghanistan safe for travel in 2020?
Although the security situation is bad in many areas of the country, the places covered in this guide are relativly safe… for Afghan standards.
Always be careful— a false sense of security doesn't mean a place is secure. The US and the Taliban are currently in the last phase of negotiating a peace deal between the two parties, after which the US army is supposed to leave Afghanistan. When this happens, there is a chance the Taliban will try to overrun the Afghan government. Keep an eye out on the news to follow the situation.
Realize this before traveling to Afghanistan
Afghanistan is a gorgeous country. It housed many religions and been the heart of many empires. Hospitality flows in Afghans' blood, and the food is a mouthwatering mix of Persian, Central Asian, and South Asian influences. It's easy to see why one would want to travel there.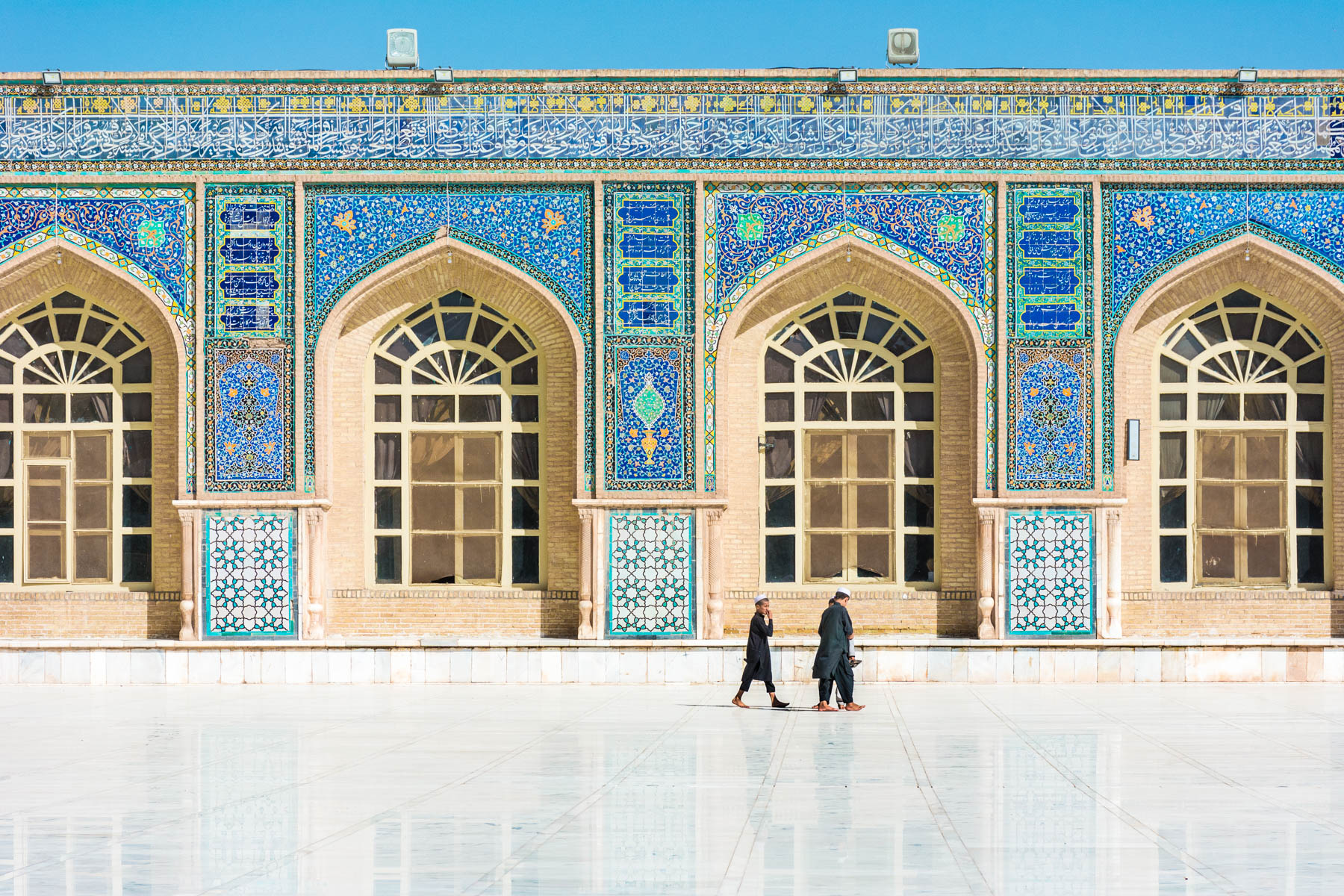 But Afghanistan is a dangerous country for travel. All governments strongly advise against travel to Afghanistan.
It has been for decades, and unfortunately, it probably will be for some time to come. If you choose to travel to Afghanistan, you choose to put yourself at risk.
That's not to say that you shouldn't go—just be aware of what you're getting into. Afghanistan is not just a place to cross off your bucket list. It's not the next step after your month of backpacking in Bali. It's not a good place to take your first solo trip, regardless of gender.
We recommend that only experienced travelers head to Afghanistan, and even then, be careful.
As of early 2019, the Taliban, US, and the Afghan government are holding a series of peace talks to establish long-lasting peace in the region. Many of our Afghan friends are hopeful, but the Taliban often uses violence to improve its bargaining position. If you plan to travel to Afghanistan, make sure to inform yourself of the current situation.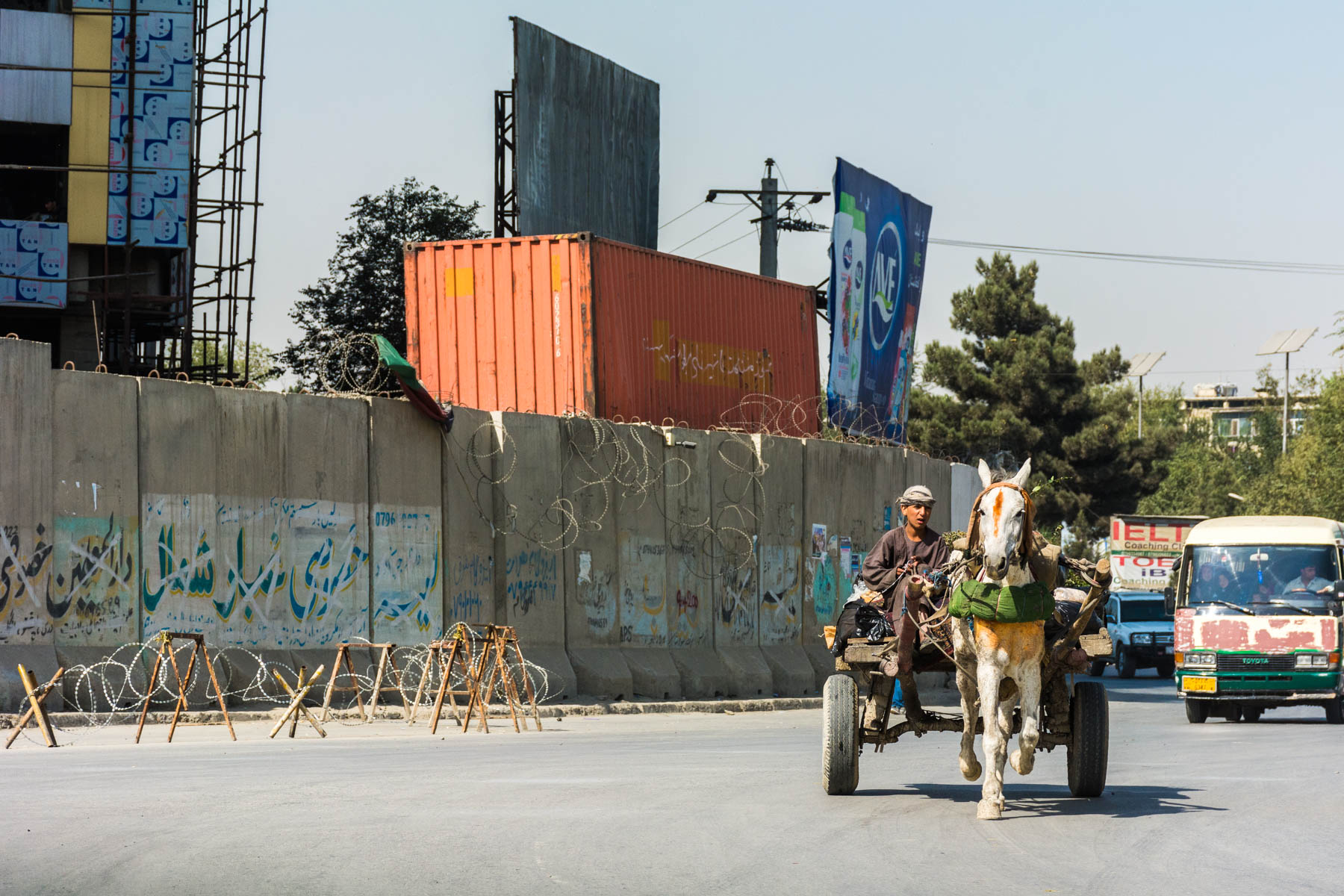 Where is "safe" to travel in Afghanistan?
"Safety" is relative in Afghanistan. Everything can change at the drop of a hat.
While we were there in 2016, Kunduz was captured by the Taliban… then recaptured by the government, all in the span of a few days. Be sure to research the current state of things when planning your trip—see the Safety section for more details.
The only officially "safe" place in Afghanistan is the Wakhan Corridor in the Pamirs, and even then, Taliban control is moving in that direction.
But in terms of relatively safe places in Afghanistan, currently (as of July 2019) the following cities and neighboring areas are safe enough to travel to:
Herat
Mazar-i-Sharif
Kabul

Panjshir Valley
Istalif
Paghman

Bamiyan
Kandahar
Wakhan Corridor
If you stick to the information provided in this Afghanistan travel guide, the above cities should be safe enough to visit.
The city of Kandahar is safe to travel to. However, the areas surrounding it are extremely dangerous. We don't recommend going here unless you have contacts that speak Pashto who can accompany you while out and about.
Language in Afghanistan
Afghanistan has two official languages: Dari (Afghan Farsi) and Pashto.
People will generally call Dari "Farsi", though it's slightly different from its Iranian counterpart. Dari is more commonly spoken in the north and west, while Pashto, the language of the Pashtun people, is spoken in the south and in the regions close to the Pakistan border. However, many Pashtuns also speak Dari.
English is not commonly spoken in Afghanistan outside of Kabul, and even there, it's limited. It would behoove you to learn to read and pronounce Persian numerals, and ask basic questions in Farsi/Dari such as "How much?" and "Where is…?"
Religion in Afghanistan
Afghanistan is an Islamic Republic, and Islam is practiced by 99% of its population. The majority of people follow Sunni Islam. A notable exception is the Hazara population, who are Shia. There are sectarian tensions between the two groups, and Hazara's are often the target of attacks. It's advised to steer clear of any religious gatherings, especially when large groups of Shia Muslims congregate (such as the Ashura commemorations). During our second visit, a bomb exploded at a Hazara demonstration near Shahr-e Now in Kabul, and a week later a large Shia gathering was attacked.
Most Afghans are very conservative, so make sure to dress and behave appropriately.
Currency in Afghanistan
Afghanistan operates in Afghanis. At the time of writing, USD$1 ≈ 78 Afs.
There are ATMs in the major cities, some of which dispense US dollars. However, they do occasionally run out of money. Bank Azizi and Afghan International Bank take international debit and credit cards and dispense both Afghani and USD. If you go to the ATM, it is better to take out Afs than to take out USD and convert them to Afs on the street. There is also an ATM at the airport where you can get USD and Afs.
However, it's a good idea to bring in some large denomination US dollars. You can use them for large expenses such as guesthouses and hotels, and they're easily changed wherever you go.
Where to find more Afghanistan travel information
You mean you want to find resources other than our Afghanistan travel guide? You traitor!
Nah, we kid. You should read as much as possible before you go, not just our Afghanistan travel guide! (Though ours is the best.)
Couchsurfing
Couchsurfing is a gold mine of Afghanistan travel connects. Search for hosts in the cities you plan on visiting and send the more reputable ones (those with the most reviews from foreigners) a message. Plenty of them are happy to provide you with advice—they encounter travelers with questions more often than you think!
Don't restrict yourself to messaging hosts, though. Look through hosts' references to find other travelers that have recently passed through. Why not send them a message asking for advice as well?
Lonely Planet's Thorn Tree forums
A one-stop-shop when it comes to destination-specific questions, the Thorn Tree forums are a great place to ask questions and find recent information. Though the crowd is small in the Afghanistan section, there are some helpful souls amongst the naysayers, including some tour guides for the country.
Facebook groups
We joined two Facebook groups before leaving: Kabulians and Kabul Security Now. They're filled with expats and locals that can answer some of the questions you might have. Don't publicly post actual dates of your travels—instead, ask a vague question, or pick someone seemingly reputable and send them a message asking for advice.
Remember, however, that many expats live a vastly different life from travelers. Most foreign aid workers live with constant security, and their perspective might be biased or limited as a result.
Travel insurance for Afghanistan
As you could've guessed, it's not easy to find insurance companies willing to cover travel in Afghanistan. Despite the difficulty, it's not a bad idea to get travel insurance when traveling through a third world war zone. Just sayin'.
There's an incredibly thorough guide to insurance options for Afghanistan (and other war zone areas) on Lonely Planet's Thorn Tree travel forums.
Our first taxi ride in Afghanistan, coming from the Uzbek border.
Getting to Afghanistan
Visas & permits for Afghanistan and the Wakhan Corridor
It's notoriously difficult to get an Afghanistan visa in many countries. Some don't even issue visas anymore, others demand a lot of waiting time.
We applied for our Afghanistan visa in Bishkek, Kyrgyzstan, which used to be the easiest place to get an Afghan visa in Central Asia. However, since August 2017 the embassy in Bishkek doesn't issue tourist visas anymore.
Right now, the best options to get a visa for Afghanistan are the Afghan embassy in Islamabad or the Consulate in Karachi, or the Afghan embassy in Dubai. It's reportedly also possible to obtain an Afghan visa in Kuala Lumpur. Some embassies require an invitation letter. There are several people in the Kabulians Facebook group who can help you with this if necessary.
For reports from other embassies around the world, check out Caravanistan's Afghan visa guide.
Permits for the Wakhan corridor
A permit is necessary for trekking in the Wakhan corridor, which can be obtained in Ishkashim, Afghanistan. More information can be found in Caravanistan's Afghan visa guide.
Border crossings in Afghanistan
If coming in by land, you have a limited number of options. At the time of writing, the only border crossings open to foreigners are:

Flying to Afghanistan
If you prefer to fly into Afghanistan, there are multiple international carriers (of varying quality) that operate flights into Afghanistan.
Turkish Airlines operates flights from Istanbul to Kabul.
Kam Air operates flights from several international destinations. These include Delhi (India), Dubai (United Arab Emirates), and Dushanbe (Tajikistan).
Ariana Afghan Airlines operates flights from several international destinations, including Ankara (Turkey), Delhi (India), Dubai (United Arab Emirates), Istanbul (Turkey), Moscow (Russia), and Urumqi (China).
Practical Afghanistan travel info
Places to visit in Afghanistan
Kabul
The most common starting point for travel in Afghanistan. Kabul, Afghanistan's capital, is an intense introduction to the country. Expect concrete walls, barbed wire, police galore, and a tense atmosphere in many places. The center city is more like a big fortress than a city.
But that's not to put you off your appetite! You can just as easily find places filled with happy families picnicking, or groups of teens relaxing and smoking some hashish. The city is ringed by beautiful mountains blanketed by stepped houses and offers plenty of excellent panoramic views. Kabul has something for everyone, from old shrines and cramped bazaars to chic hotels and secret bars where you can find a rare drink (or three).
If you go to Kabul, realize that kidnappings are a problem, and it's best to stay as low-key as possible.
Where to stay in Kabul
There are several budget and mid-range options in the Shahr-e Naw area of Kabul. This area is relatively safe and is home to the famous Chicken Street. We stayed in Salsal Guesthouse during both of our visits.
Things to do in Kabul
Kabul is an ancient city with many things to do. From wandering through the bird market and the old city to finding tranquil peace in Babur's Mughal Garden, Kabul has the ability to stun and perplex. Below are some of our favorite places to visit in Kabul.
Murad Khani – The old city of Kabul has partly been restored by Turquoise Mountain, and can be visited if you have the right contacts. Send them a mail for more information or try showing up for an impromptu tour.
Shrine of Sakhi
Gardens of Babur – A peaceful oasis in a chaotic city
Bibi Mahro Hill (behind Wazir Akbar Khan) – views over the center city
View from the T.V. tower hill
Ka Feroshi bird market and surrounding bazaar
Kabul Museum
OMAR Landmine Museum
Chicken Street – old tourist gift shops from the Hippy Trail days
Shah-do-Shamshira Mosque
Panjshir Valley (day trip) – Nature, destroyed tanks, Massoud's tomb
Istalif – a small town about 2 hours away from Kabul and an excellent day trip
Paghman – a small valley about an hour out of Kabul, another great day trip.
There are also several trendy cafes in Kabul where the young urbanites of Kabul mingle and dream. These include The 14th, Slice Bakery, Afrah Cafe, Nosh Book Cafe, Kora, The Cupcake Cafe, and iCafe. These cafes can be found on Google Maps.
Note: The destroyed Darulaman palace, once a popular tourist stop, is now being renovated and is no longer visible nor accessible.
Safety in Kabul
Kabul is probably the least safe city of the places you'll visit in Afghanistan. Though that wasn't always the case, in recent times Kabul has seen regular violence and a slurry of large attacks, most notably the attack on the American University.
Your biggest concern in Kabul is the high prevalence of kidnapping. Not necessarily by the Taliban, but by impoverished people looking for ransom money. To be safe, don't tell people where you're staying, be careful who you trust, and try not to roam too much after dark.
Being caught in some crossfire, though less likely, is another concern. To reduce your chances of the worst happening, avoid:
Spending time near important governmental places such as embassies and ministries
Getting stuck in traffic jams on main roads
Large gatherings of people on the street, especially with lots of police
Religious events, especially events held by minorities such as Shias
For constant updates on activities in Kabul (and to get a sense of how much really goes on there), join the Kabul Security Now Facebook group.
Protip: If you're hungy at night but don't want to leave your hotel, use the app ZootZoot. ZootZoot is the only food delivery app in Afghanistan and has a good selection of restaurants signed up.
Transportation in/out of Kabul
Taxi to the Panjshir Valley: We paid about $45 (3000 Afs) for a taxi to and from the Panjshir Valley, but we've heard it can be done for $40… or less. It's about 100 km to the valley, and the drive takes 2-3 hours with checkpoint stops once you're in the valley.
Bus to Mazar-i-Sharif: There is a bus between Mazar-i-Sharif and Kabul for around 600 Afs/person. Ask around to see if the route is safe before buying a ticket, and make sure to leave early so the bus arrives before dark. If you opt for this route, dress local and keep a low profile. The fewer people know there is a foreigner on the bus, the better. In November 2018 we were told that this route is relatively safe at the moment, but please exercise caution.
Bus to Herat: We highly recommend you do not take this route. It passes through regions controlled by the Taliban, and even Afghans prefer to fly. A Couchsurfing host said he does know foreigners who successfully made the trip, but he suspects they only made it because they could pass as Afghans. If you do take the bus, stay silent.
Bus to Bamiyan: Since flights are still not operating regularly, you have to take a bus to visit Bamiyan. Since the area between Kabul and Bamiyan sees occasional violence, it's important to ask locals about the status of this area before going. If you opt to take the bus, make sure the driver is taking the Ghorband route, which is considered safe. The road through Wardak is not safe.
Flights to Mazar-i-Sharif, Herat, Kandahar, and Bamiyan: Ariana Afghan Airways flies to Kandahar and Herat. Kam Air flies to Mazar-i-Sharif, Herat, Kandahar, and Bamiyan. Note that not all destinations are listed on the airline's respective websites. It's best to go to a ticket office for domestic bookings. One-way tickets are between $50 and $110, depending on the destination. Flights to Bamiyan are still not operating regularly.
Mazar-i-Sharif
One of Afghanistan's most liberal cities, you'll see plenty of people walking around in modern, colorful clothes, and plenty of girls in only hijab, not burqa. Aside from the stunning Shrine of Ali and the bazaars, there's not so much to see in Mazar's city limits itself, but there are a couple of day trips throughout Balkh province that will definitely be worth your while.
Where to stay in Mazar-i-Sharif
Most accommodation options are clustered around the bazaar and are walking distance from the Shrine of Ali. There are also plenty of cheap eateries around. We stayed in Barg-e-Sabz Guesthouse when we visited.
Things to do in Mazar-i-Sharif
The Shrine of Ali, better know as the Blue Mosque, is one of the highlights of any visits to Afghanistan. Besides that, there are several day trips that can be made from Mazar. For more inspiration, check out our photo essay on Mazar-i-Sharif.
Shrine of Hazrat Ali, AKA the Blue Mosque
Old Balkh (day trip)
Samangan (day trip)
Bazaars around the shrine
Mausoleum of Hazara leader Abdul Ali Mazari
Safety in Mazar-i-Sharif
Mazar-i-Sharif is Afghanistan's safest major city. There are fewer problems with kidnapping here than anywhere else, and the Taliban doesn't operate here often. That being said, there was an attack on the German consulate in the center of Mazar, proving that even the "safest" places in Afghanistan are risky.
Blasts aside, it's safe to walk around until about 8 or 9 at night, especially in the bazaar area where there are lots of police, but try not to stray too far from your guesthouse at night unless with a local.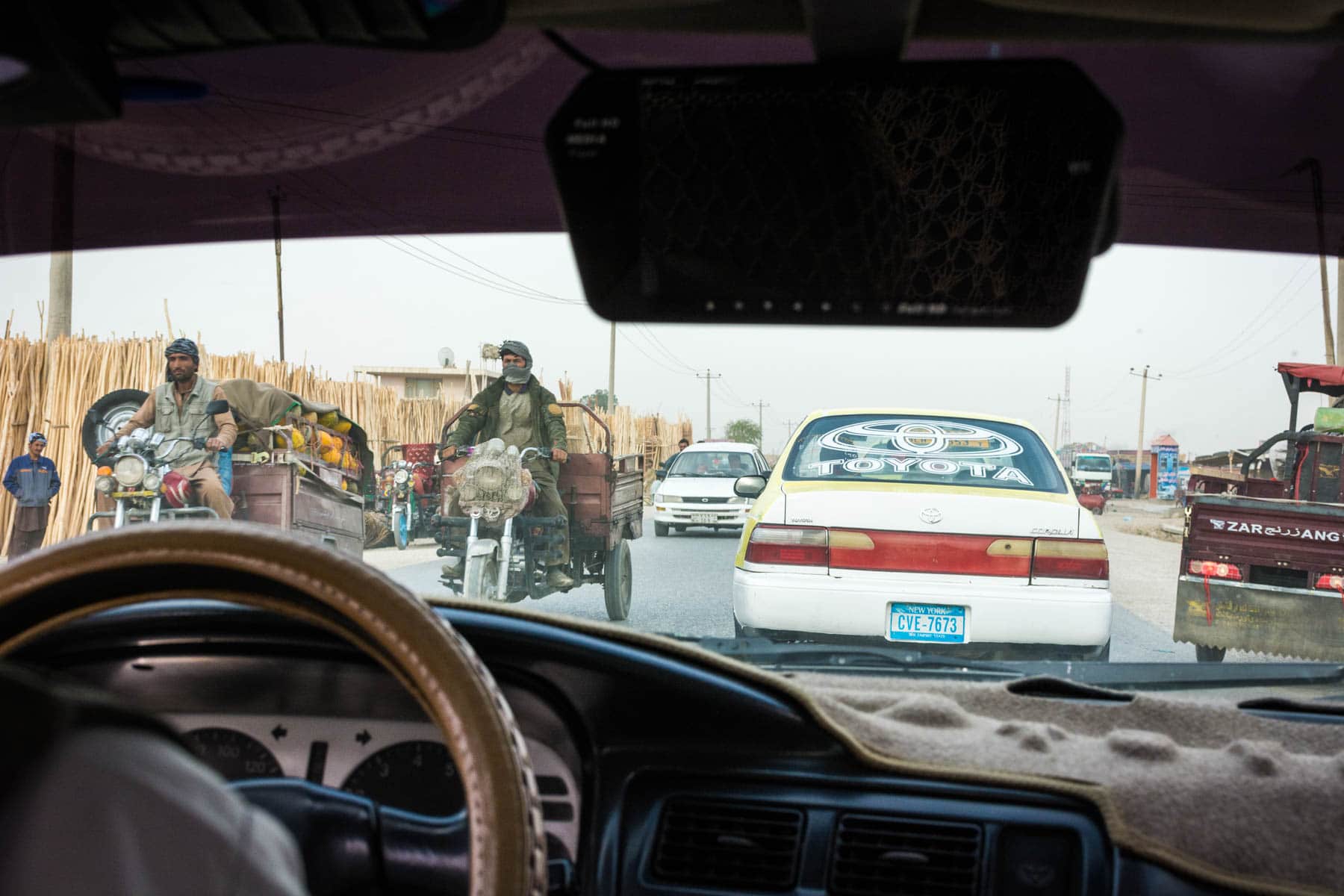 Transportation in/out of Mazar-i-Sharif
Taxi to Old Balkh: A taxi for a day trip around the sights of Old Balkh cost us $20. We stopped at 7 or 8 different places, and the guide didn't speak English (but was kind and patient despite the fact that we were stoned for half of it). We organized the taxi with the help of Barg-e-Sabz Guesthouse.
Bus to Kabul: There is a bus between Mazar-i-Sharif and Kabul for around 600 Afs/person. However, at the time of writing, civilian traffic was stopped on this route due to increased Taliban activity in the area. Ask around to see if the route is safe before buying a ticket, and make sure to leave early so the bus arrives before dark.
Flights to Herat or Kabul: Kam Air offers flights to Herat and Kabul. To save a bit of money on agency fees, you can head to their office on Martyr Masood Boulevard, which leads away from Ali's shrine. Walk down the road for 15 minutes or so, and the agency will be on your right. If that's too much effort, there are plenty of other air ticketing agencies on that road closer to the shrine. All prices mentioned are one-way.

Ticket to Herat: 8,000 Afs/person ($120) – Mondays and Thursdays
Ticket to Kabul: 6,000 Afs/person ($90) – daily
Prices may vary depending on the oil price and the safety situation in Afghanistan

Taxi to Hairatan (Uzbekistan border crossing): A taxi to the border was $15, but can be bargained down to $10 (780 Afs). See our Uzbekistan – Afghanistan border crossing post for more details.
Herat
Walking around in Herat is almost like walking around in Iran… one of the more conservative cities in Iran, that is. You'll be hard-pressed to find a woman not wearing chador or burqa. But despite the dark dress, people in Herat are some of the friendliest you'll meet, and the city is far from dull. Filled with colorful Persian mosques, ancient houses, and caravanserais, and surrounding an epic, recently restored citadel, Herat is one of Afghanistan's prettiest cities.
Where to stay in Herat
Besides the guesthouses we mention below, Herat has a decent CouchSurfing scene for Afghan standards. There are several trusted hosts in Herat, so check it out if you're so inclined.
Budget: Mowafaq Guest House – $20 for a double with shared bathroom or single with private bathroom

Northeast corner of Chawk-e-Golha, next to the Bank Milli. It's famous, taxi drivers will know it.

Mid-range: Marco Polo Hotel – $40 – 50 a night for single with bathroom

Badmurghan street, +93 (40) 221 946 or (40) 221 947, mobile +93 (0) 799 206 192 or +93 0700 436 622, 

[email protected]

High end: Nazary 4 Star Hotel – Rooms for less than $150 a night, Herat's most luxurious hotel
Things to do in Herat
Herat is full of ancient buildings and narrow alleyways to walk around in. We recommend taking at least two days to explore this city and the marvels it has to offer.
Jame Mosque (Friday Mosque)
Herat Citadel
Wander around the old city
Mausoleum of Gowhar Shad – Ask to be let inside!
Shrine of Gazar Gah
Musalla Complex and minarets – the grounds were closed when we visited in 2018 so ask around for a caretaker
Pul-e-Malan arched bridge
Safety in Herat
There is a lot of poverty in Herat, and drug use runs rampant. Herat is growing increasingly dangerous due to poverty, to the point that the police felt the need to let us know that we were not safe and needed to leave certain areas.
Kidnapping is your biggest concern here, so be cautious: don't wander too late at night, try not to walk the same route every day, and don't tell people where you're staying unless you trust them. Try to blend in by wearing a local dress, though female travelers will inevitably get stares if they aren't in chador or burqa.
If you need help with anything in Herat, the men working in the offices of the citadel are extremely friendly and have a good command of English. Meeting them on one of your first days in Herat can be very helpful. There are also several reputable Couchsurfers in Herat.
Transportation in/out of Herat
Bus to Kabul: There is a bus to Kabul from Herat, but we highly recommend you do not take this route. It passes through regions controlled by the Taliban, and even Afghans prefer to fly over these regions. A Couchsurfing host said he does know foreigners that have successfully made the trip, but he suspects they only made it because they could pass as Afghans. If you do take the bus, stay silent so no one knows you're foreign!
Flights to Mazar-i-Sharif or Kabul: Kam Air offers flights to Mazar-i-Sharif and Kabul. All prices mentioned are one-way.

Ticket to Mazar-i-Sharif: 8,000 Afs/person ($120), Mondays and Thursdays
Ticket to Kabul: 7,000 Afs/person with Kam Air ($91), 6,000 Afs/person with Ariana Afghan Airlines ($80), daily
Prices may vary depending on the oil price and the safety situation in Afghanistan
Bamiyan
After the tense, concrete jungle of Kabul, Bamiyan is literally and figuratively a breath of fresh air. A stunningly colorful town in the mountains near Kabul, Bamiyan was once home to thousands of Buddhist monks, and a critical point along several Silk Road trade routes. These days, it's a haven for history buffs and hikers, and it's even possible to ski or board during the winter!
It's easy to spend several days in Bamiyan exploring all of its caves, fortresses, and natural areas. You can do so with ease, as Bamiyan is the safest place for foreigners to visit in "mainland" Afghanistan, and its Hazara population is one of the most hospitable in Afghanistan. Thanks to their growing tourism efforts, there are a decent number of people that can speak English, too.
Where to stay in Bamiyan
Budget: There are several "hostels" along the main bazaar street. This means sleeping on the floor in a room with… whoever else shows up! If a couple, this likely means sharing a room with big Afghan families. A spot in a room is 400 – 500 Afs/person.
Mid-range: Caravanserai Hotel – $30 a night for double with private bathroom (bargained down from $60/night).

Across the street from the base of the large Buddha
They'll assume you want breakfast and dinner here too, for $10 per day/2 people. If you don't want this, make sure to tell them.

High end: Highland Hotel – $70 – 90 for a standard room
Things to do in Bamiyan
Note that a ticket is required to visit certain sights in Bamiyan, which we have marked with an asterisk (*) below. A ticket is 300 Afs and is only valid for one day. The first 3 on the list can be seen in one day. If you ask, the ticketing office has a very informative pamphlet on Bamiyan and its sights.
Buddha enclaves*
Shahr-e-Zohak fortress*
Shahr-e-Gholghola fortress*
Chehel Situn caves*
Dara-e-Azhdahar (Dragon Valley)
Watch the sunset from over the big Buddha or Shahr-e-Gholghola
Go skiing or boarding (winter)
Visit Band-e-Amir (see below)
Foladi ice caves
Safety in Bamiyan
You can walk around in the evenings, stroll to nearby villages, and generally relax. Just be cautious when walking around in nature—the areas around Bamiyan were once heavily mined. Though most mines have since been removed, those that value their legs and/or lives would do good to stick to beaten paths.
Transportation in/out of Bamiyan
Update 2018: As of November 2018, flights between Kabul and Bamiyan are still sporadic. However, the road going through Ghorband is considered relativley safe. Make sure to talk to local contacts for before going overland.
Flights to Kabul: Flying from Kabul is the safest way to get to Bamiyan. Plane tickets are a set 7,500 Afs/person ($110) one-way, regardless of when you buy them. Be sure to buy them a few days in advance, as there's only one flight each day on a 30-passenger plane.

Flight days: Wednesday, Thursday, Saturday, Sunday
Kabul – Bamiyan: 7 AM, arrives 7:30
Bamiyan – Kabul: 8 AM, arrives 8:30

Taxi to Shahr-e-Zohak: The fortress is about 18 kilometers from Bamiyan. A taxi there and back should be around 400 – 500 Afs. Official taxis can be found on the main bazaar street. Shared taxis are 150 Afs one way.
Taxi to Dara-e-Azdahar: About 7 kilometers away from Bamiyan, you can either walk (2-3 hours) or take a taxi. If you're willing to walk a bit out of Bamiyan, you'll eventually encounter unofficial shuttle/shared taxis driving up and down the road between Bamiyan and the village in Dara-e-Azdahar. We were picked up by one on our way back, and the several kilometer ride was only 20 Afs/person.
Taxi to Band-e-Amir: The lakes are about an hour's drive away. We paid 1,500 Afs for a taxi for the day, and he took us to 3 of the 6 lakes (the third required a bit of persuasion). A shared taxi to Band-e-Amir is 250 Afs one way.
Band-e-Amir
Quite possibly the bluest waters in the world, the 6 lakes of Band-e-Amir are absolutely stunning and a highlight of traveling in Afghanistan. The site of Afghanistan's first—and only—National Park, they're a popular summertime destination for Afghan tourists.
Services run around the lakes from March to mid-November. If you visit outside of summer, be sure to bring some extra layers—it gets chilly, especially at night! There was ice on the ground when we visited in October.
Where to stay in Band-e-Amir
Camping: There's free public camping space, and public toilets are available throughout the village. However, locals have advised against camping here, as a few people got kidnapped several years ago.
Budget: The Dir Hotel/chaikhana near Band-e-Haibat, the most popular lake, offers a mat on the floor for 100 Afs.
Mid-range: National Park Guest House

Sign for the property is on the left of the main road through the Band-e-Amir village
Things to do in Band-e-Amir
Sights are free, but you need to pay a 200 Afs park entrance fee when approaching the town.
Walk around the lakes

(… duh)

Take a ride in the tacky swan paddle boats in Band-e-Haibat
Bathe in the waters, which supposedly have healing powers; women can bathe in the small hut near the Band-e-Haibat waterfall
Visit the shrine to Hazrat Ali

Safety in Band-e-Amir
Band-e-Amir, like Bamiyan, is safe. However, the mine issue still applies—stick to paths and marked areas.
Transportation in/out of Band-e-Amir
Bus to Bamiyan: According to Wikitravel, a minibus from Bamiyan to Band-e-Amir runs on Thursday afternoon and Friday mornings in the high season. Ask a local to verify this (and let us know if you find it!).
Taxi to Bamiyan: It's best to arrange a taxi to take you from Bamiyan to Band-e-Amir and back. Ours was 1,500 Afs for a day trip (organized by the friendly owner of Caravanserai), but the price could go as high to 2,000 – 3,000 Afs. If you're lucky you can also get a shared taxi for 250 Afs one way.
Kandahar
The former capital of the Durrani Empire is steeped in history and houses some of the most significant religious sites in Afghanistan. Founded by Alexander the Great, the city plays a significant role in the history of Afghanistan and was the first capital of the Afghan Empire under Ahmad Shah Durrani
Deemed too unsafe for travel until recently, the city itself is now reasonably safe. However, we highly recommend to make locals contacts before you go, as showing up by yourself is not recommended. Between Taliban activity in the surrounding areas and an almost overzealous security apparatus in the city, Kandahar is not a place you should navigate by yourself. Couchsurfing is your friend.
Where to stay in Kandahar
As we said above, you should have a local contact with whom you can stay, or who can make sleeping arrangements for you in Kandahar. Kandahar is not used to seeing foreign tourists, and most hotels or guest houses won't allow you to stay.
However, if you can't find anyone to host you, there are two options you can check out to stay in Kandahar
Budget: Armani Hotel –  Charges $22 for a double. You can email them for more info.
Mid-range: Continental Guest House – Costs $55 for a double and they have a pleasant courtyard.
Things to do in Kandahar
With so much history, there is a lot of ground to cover in Kandahar. Some of these places are a bit outside of the city, so it's recommended you visit them with a local contact.
Mosque of the Cloak of the Prophet
Mosque of the Hair of the Prophet
Tomb of Ahmad Shah Durrani
The 40 Steps (Chilzinia) – a security checkpoint was set up near the entrance when we were there, and our host said they would not let us in
Mausoleum of Mirwas Khan Nika
Orange Palace and Old Kandahar
Shrine of Baba Wali Kandhari
Sarphosa Bazar
Safety in Kandahar
The recently murdered police chief of Kandahar, sometimes referred to as torturer in chief, has done a lot to clean up the city, although as his nickname suggests, through brutal means. So the city itself is relatively safe, and there might be a stronger police presence here than even in Kabul. However, the surrounding areas are still filled with both Taliban and drug cultivators, so make sure to keep a low profile and dress locally.
Transportation in/out of Kandahar
The only viable way to get to Kandahar is by flying. The road between other major cities runs through Taliban controlled areas, and the road between Kabul and Kandahar leads through areas that have seen an increase in violence.
Flights to Kabul: Daily flights by both Kam Air (6,400 Afs/$85) and Ariana Airlines (5,400 Afs/$70).
Wakhan Corridor
The stunning Wakhan corridor is the only certifiably safe place in Afghanistan, and also the country's most visited when it comes to foreign tourism. Far removed from the rest of the country, the little panhandle is filled with Kyrgyz and Wakhi people, who are different from the "mainland" Afghans.
It's an incredibly remote area, to the point that some people in the region don't even know that the Taliban exist. If it's hiking and camping that you're interested in, the Wakhan is the place for you. Note that it can only be accessed by crossing over from Tajikistan unless you're interested in traveling through Taliban-controlled areas. (Hint: don't.)
We didn't go to the Wakhan ourselves, but since it's a (relatively) popular destination, there are plenty of other resources about it on the internet! For more information, check out:
Getting around in Afghanistan
Planes
Airlines in Afghanistan
Kam Air and Ariana Afghan Airlines are Afghanistan's two main carriers. Ariana is generally a little bit cheaper than Kam Air, but Kam Air has a better reputation.
Where to buy tickets
You'll most likely be buying your tickets with cash, so stock up! Domestic tickets can be booked in person with your passport at a travel agency or airline office. Tickets can also be booked online. Try to book several days in advance, especially for Bamiyan (if flights resume), as tickets can sell out fast. International tickets can be purchased on whatever websites you normally use, although it pays to see what local operators charge.
Airports in Afghanistan
Airports in the country are layered in defenses, thanks to a history of attacks targeting airports. Be sure to arrive about two hours before flights, allowing time to go through the multiple levels of security. Each airport has several bag scans, body searches, and bomb-sniffing dogs.
Women have to go through a separate area for body searches. The women's check is usually hidden behind a fluttering curtain off to the side.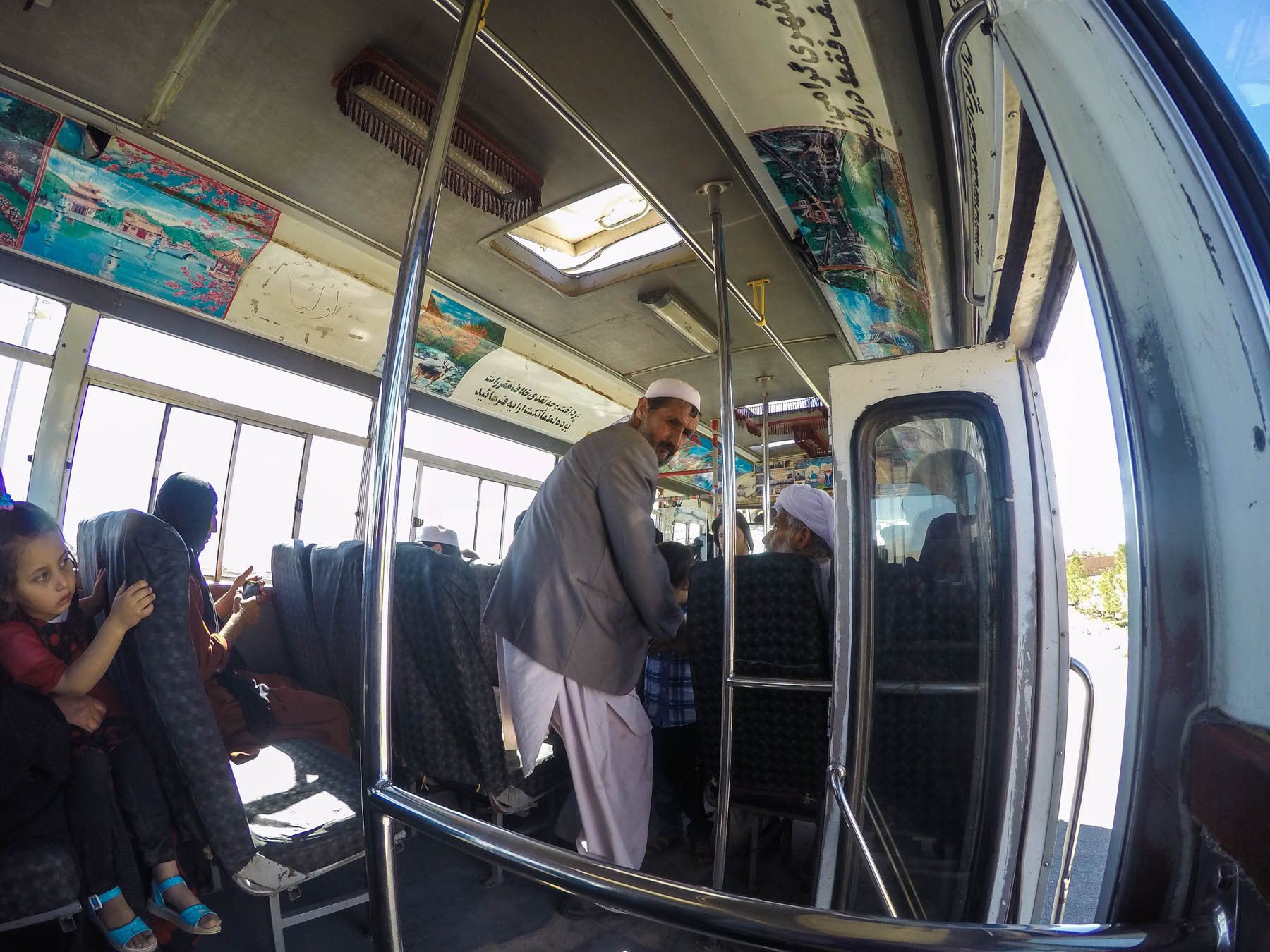 Buses in Afghanistan
Long-distance buses
The only known "safe" long-distance bus route foreigners can take is the Kabul – Mazar-i-Sharif bus. However, during our first visit the road was deemed unsafe for civilian travel. Check with a local to see if the road is safe for transportation while you're there.
Inner-city buses
These buses can get cramped, but at around 5 – 10 Afs per ride, they're cheap transport that can't be beaten. They have set bus stops, though you can always try and hop off in-between. Generally, men sit in the front and women in the back, though couples can sit together in the middle.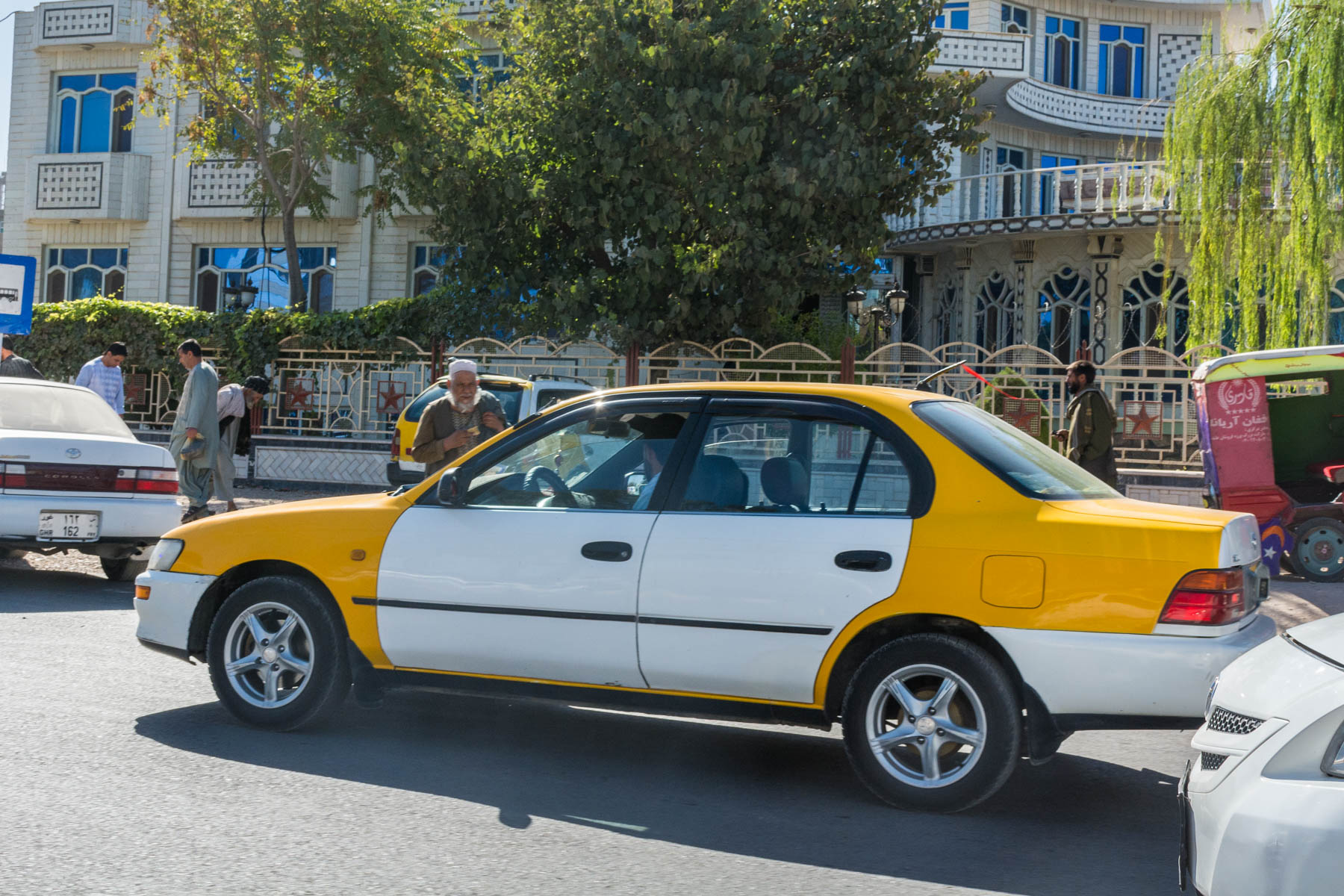 Private taxis
Yellow (ish) taxis can be found in all of the major Afghan cities, and a handful outside of the city limits, too. There are no meters, but an inner-city ride can start at around 50 Afs, and should never be more than 200 Afs, though you might have to bargain hard at times. Always decide on a price upfront! Aim for 2/3 of the quoted price, unless it seems abnormally high.
In practice, any car willing to stop can be a taxi. It's up to you to decide if you want to take the ride—for security reasons, it's a bit safer to stick with the yellow cabs if you're by yourself.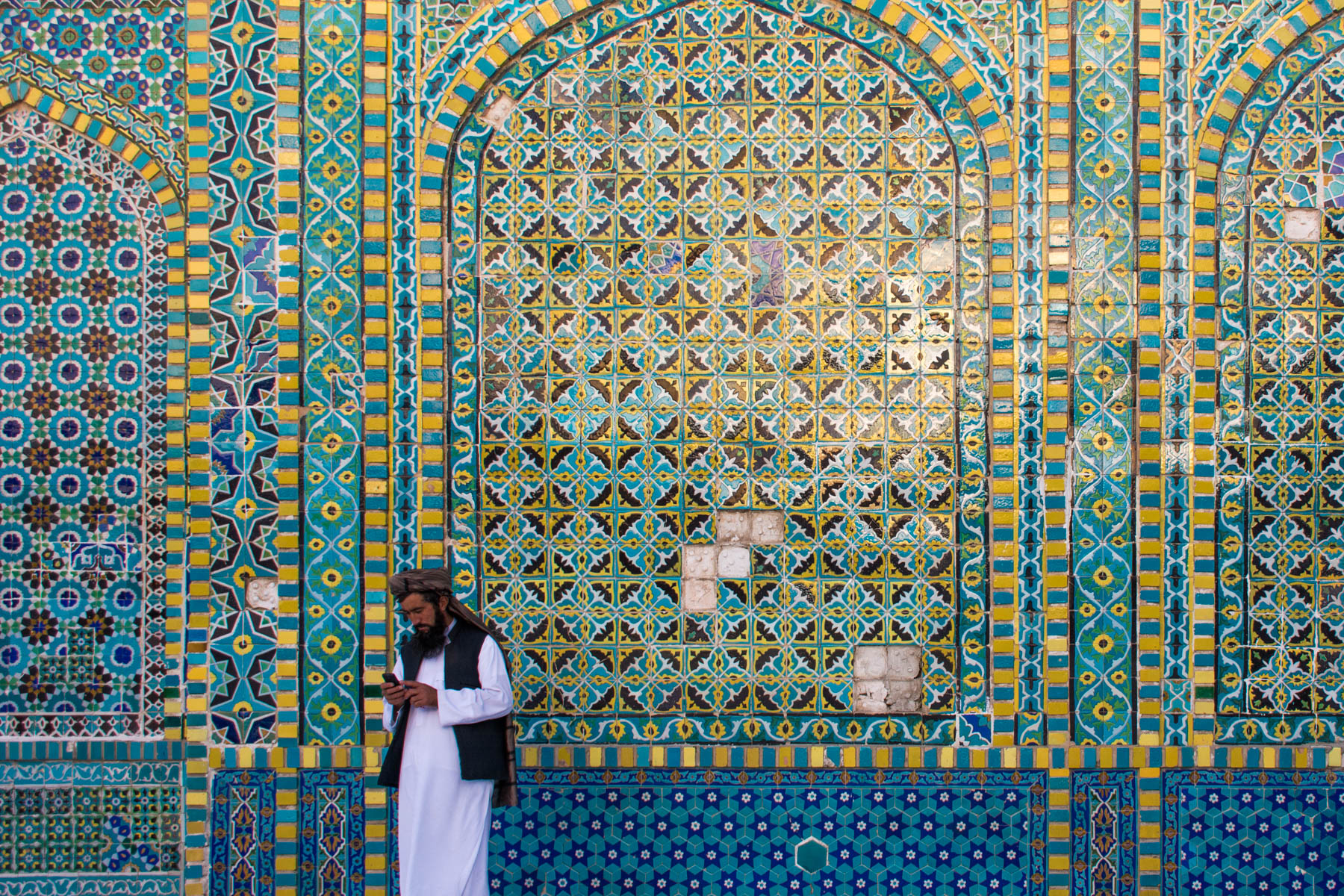 Calling and internet in Afghanistan
If you want to stay connected while in Afghanistan, Roshan or Afghan Wireless (AWCC) are your best bet for phone service. MTN and Etisalat are two other options. Wifi can be found in most hotels, though whether or not it works depends on Allah's mood.
Sim cards can be purchased at any official carrier office. Bring your passport, and prepare to have fingerprints taken. Calling credit top-up/scratch cards can be purchased from vendors on the street, or in mobile stores. Note that street vendors only sell top-up for calling and SMS; you'll have to go to a mobile store for data top-up.
We used MTN (because lazy, ignorant, and the store was right there), and coverage was decent to good in all of the cities we visited, except Kandahar, where AWCC worked much better than MTN.
Prices for Roshan service
Sim card and 25 Afs credit – 50 Afs
3GB/month data – 350 Afs
More prices on the Roshan website
Prices for Afghan Wireless
Prices for MTN
2.5 GB/month data plan + sim card – 500 Afs
1 GB top-up – 350 Afs (must be done at an official MTN store)

Everything else you need to know when traveling to Afghanistan
Culture in Afghanistan
What to wear when traveling in Afghanistan
Dressing in local attire is essential for blending in and reducing the amount of attention you get. It's also a great icebreaker when talking to Afghans! They'll be super amused (and pleased) to see you in local garb.
For the boys
Most men in Afghanistan dress in loose, comfortable shalwar kameez, also known as perahan tunban, which consists of a long shirt and baggy pants. The shirt and pants must be the same color, and it's traditional to wear a vest, sportscoat, or Afghan scarf over it.
It's possible to buy premade shalwar kameez, but for the best effect, pick up some fabric in a store and get one tailored. Fabric should cost around 300 – 800 Afs, and getting an outfit tailored around 300 – 400 Afs.
For full effect, don a pakol, the round, flat, woolen hats favored by Pashtuns. You can buy one for a couple of hundred Afghanis in bazaars.
If you're not interested in being comfortable (… but… why?) some men also wear western clothes, especially in Kabul. Jeans and a shirt are quite a common sight, and short sleeves are acceptable. Avoid shorts.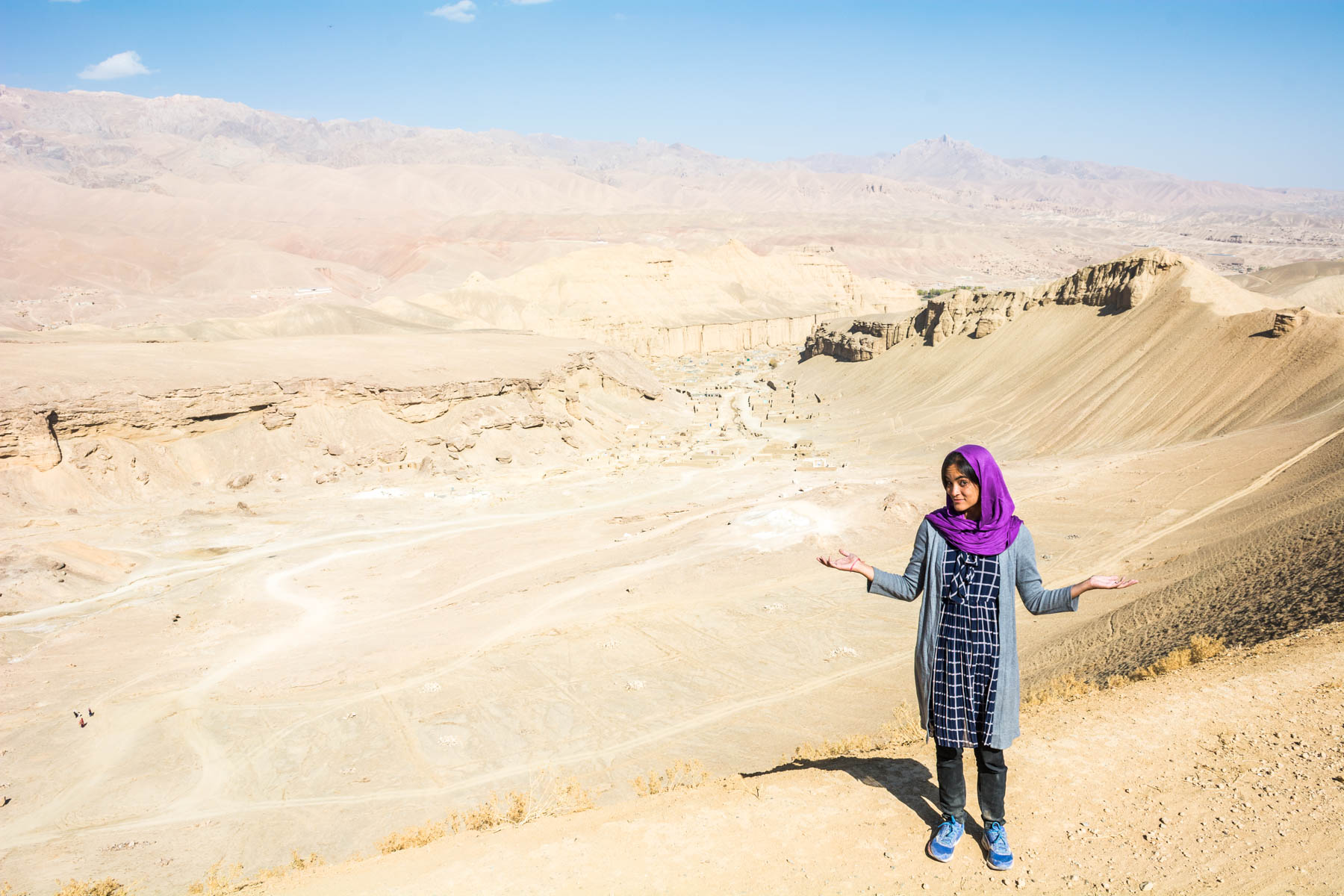 For the girls
As you could've guessed, clothing options are much more restricted for the ladies.
Women in Afghanistan must dress according to hijab, Islamic modest dress. This means:
Long sleeves. 3/4 length sleeves are passable, though not common everywhere.
A long shirt/tunic/dress that covers your bum.
Long pants or skirts. Skinny jeans are okay. Just don't wear any shorts or short skirts.
A headscarf. Head covering isn't required by law, but if you don't wear one, you will be the only woman on the street without a head covering.
Open shoes are okay, though your feet will get quite dusty! Know that it's not very common to see trainers/sneakers on the streets, especially the colorful variety that are popular now. We suggest buying shoes once you get to Afghanistan to help you blend more.
Accessories
Flashy items such as fancy watches and expensive cameras can draw unwanted attention. Your best option is to buy a bag in a bazaar upon arrival and carry your camera in it.
Fancy hiking packs will also draw attention, but plenty of men carry around simple backpacks. Women usually carry generic leather bags, which can also be purchased in bazaars for a dime a dozen.
For more information, check out our guide on female travel in Afghanistan.
How to act in Afghanistan
If you've traveled in Iran, you'll be familiar with the concept of tarof, a form of politeness. A similar practice often occurs in Afghanistan.
People will often try to reject payment for their services or offer you something for free, whether it be a cup of tea or a taxi ride. Politely insist several times that you can't accept it for free and want to pay—they'll usually give in quite quickly.
If not, and you're uncomfortable with accepting what they've provided for you, a handshake with some money in it will often be accepted. Gotta save face!
Photography in Afghanistan
Be wary when snapping photos in Afghanistan. A small camera can fly under the radar, but a big DSLR can attract (too much) attention! When taking photos, keep the following tips in mind:
Ask before photographing anyone, especially women. Just as you shouldn't stare at women in burqa, you shouldn't take photos of them willy-nilly and up close, either.
Carry your camera in a bag. A camera advertises the fact that you have money, and that's not good in a country as poverty-stricken as Afghanistan.
Be subtle about taking photos. If people see you taking photos, they might crowd around you and ask to have their photo taken, or a photo with you instead. Crowds attract attention, and that's the last thing you want as a foreigner.
For a more nuanced explanation, see Chasing the Unexpected's guide to photographing Afghanistan while staying safe.
Women travel in Afghanistan
Afghanistan is one of the worst places in the world to be a woman, and as such, traveling as a woman in Afghanistan requires a bit more consideration. We've put together a post on what it's like to travel as a woman in Afghanistan, but for now, some quick tips:
Always dress in hijab, Islamic modest dress. See the what to wear section for more information.
In restaurants, women and families eat in a separate area. This could be a whole separate seating area or a small area in the back separated by a curtain. You can sit in the men's area, but you'll get a lot of stares and will make people uncomfortable in small restaurants.
Accept that if traveling with a guy, you'll initially be ignored. Men will direct comments and questions to your male companion first, though if you're persistent or they're more liberal, they'll start talking to you eventually.
LGBTQ travel in Afghanistan
We're not gay, so we can't give firsthand accounts. But, as you might have guessed, being gay is not okay in Afghan society. Men, however, are very intimate and touchy with each other, and you'll see men holding hands often.
Same-sex couples, just be discreet and say you're friends. No one will know unless you tell them… or start making out in public (not advised).
Financials in Afghanistan
Once you're on the ground, Afghanistan isn't particularly expensive—it's on par with the rest of Central Asia. It's flying that will strain your wallet, as a one-way ticket between cities will be somewhere around $100 despite a short flying time.
To get a more thorough idea of budget, check out our report on how much it costs to travel in Afghanistan.
Average costs for travel in Afghanistan
Total per day: 3,858 Afs / €54 / $59
Food and drinks per day: 400 – 700 Afs/ €5.55 – 9.70 / $6.15 – 10.80
Accommodation per day: 1,300 – 2,000 Afs / €18 – 28/ $20 – 30
Note: Prices for accommodation are per room. However, solo travelers can bargain for a discount.
Flight between cities: 3,250 – 7,150 Afs/ €45 – 99/ $50 – 110
Taxi for a day trip: 1,300 – 3,250 Afs / €18 – 45 / $20 – 50
Taxi around town: 1,00 – 3,00 Afs/ €1.35 – 4.15/ $1.55 – 4.60
Entrance to tourist sights: 0 – 800 Afs / €0 – 11.10 / $0 – 12.30
Money saving tips for Afghanistan
Haggle at hotels. The price is very often flexible, and it's not unheard of for hotels to mark up prices for foreigners. Make sure to practice your charming foreigner persona.
Use Couchsurfing. It can be tricky to find someone to host you due to security issues, but it's definitely possible.
Aim for 70% of the quoted price for taxis. We found drivers in Afghanistan to be fair (most of the time). A host told us it's offensive to counter with too low an offer, so don't halve the price unless the driver is really ripping you off.
Safety in Afghanistan
Safety is the most essential part of travel in Afghanistan! Like we've said already, "safe" is relative, but there are some measures you can take to reduce the risk of anything happening to you.
After dark
Try to avoid walking around much after dark, unless accompanied by a local. More importantly, avoid traveling between cities after dark, as this is when the Taliban will set up unofficial checkpoints on the roads.
If you need something after dark and aren't comfortable going outside, hotel and guesthouse workers will be happy to get things for you (often for a small fee).
Dress like a local
Anything helping you to blend is a good idea. It might seem fruitless, but Afghans are much more diverse in color than you might expect—even blondes can blend in Afghanistan! See the What to wear section for tips on local dress.
Keep quiet
Don't wander around shouting in your local language—it advertises the fact that you're foreign! Word travels fast in Afghanistan, and the fewer people realize there are foreigners wandering around, the better.
This holds especially true on local buses. If someone realizes there's a foreigner on the bus, they could call ahead to a friend, who could arrange a mishap further down the road. People get money if they turn in others to the Taliban, so beware.
Police
The police in Afghanistan are there to help, so cooperate, and if you need anything or see anything suspicious, let them know.
We had two run-ins with police/intelligence. They accosted us out of nowhere, didn't speak any English, and were a bit aggressive at first, so we were on our guard. Turns out they just wanted to let us know that Afghanistan is dangerous and we should be careful!
Know your consulate
It's always smart to know which embassy or consulate you can turn to in case of an emergency. If your country doesn't have representation in Kabul, look for a neighbor or ally's embassy.
List of diplomatic missions in Afghanistan

Health in Afghanistan
Food and water
Hygiene is important in Afghan culture—you'll see people washing their hands before and after every meal, and you should do the same!
… but this doesn't mean everything is squeaky clean. Food-related illnesses are common in Afghanistan, so use your discretion around feeding time. Tap water is a big no-no, and avoid anything made with ice unless eating at higher-end or family establishments.
Vaccinations
Standard travel vaccines are recommended but not required. See this vaccination list from the CDC for more details.
Clinics
There are plenty of small clinics to be found around the cities, but if looking for top quality medical treatment and/or someone that speaks English, Westex Medical Solutions in Kabul caters to foreigners. They're incredibly friendly, speak excellent English, and will give you a discount if you tell them you're just a traveler, not an aid worker.
Note that their address has changed from what's listed online—they're now found on Sherpoor Road, Street 4 in the Wazir Khan district of Kabul.
News resources
For the best and most thorough news coverage of what's going on in Afghanistan, use these sites:
And of course, don't miss out on other international news sources:
Further Afghanistan tourism resources
Tourist information
Read before you go
Guidebooks
Guidebooks for Afghanistan are painfully outdated. Still, things change slowly in Afghanistan, and guidebooks are handy for getting a bit of background and history about the places you're seeing. If you choose to invest, remember not to take any prices at face value.
Afghanistan travel blogs
Here are some of our favorite travel blogs on Afghanistan. If you know of any more, send them on over!
And there you have it, everything you need to know to travel in Afghanistan. Let us know in the comments if you have any questions.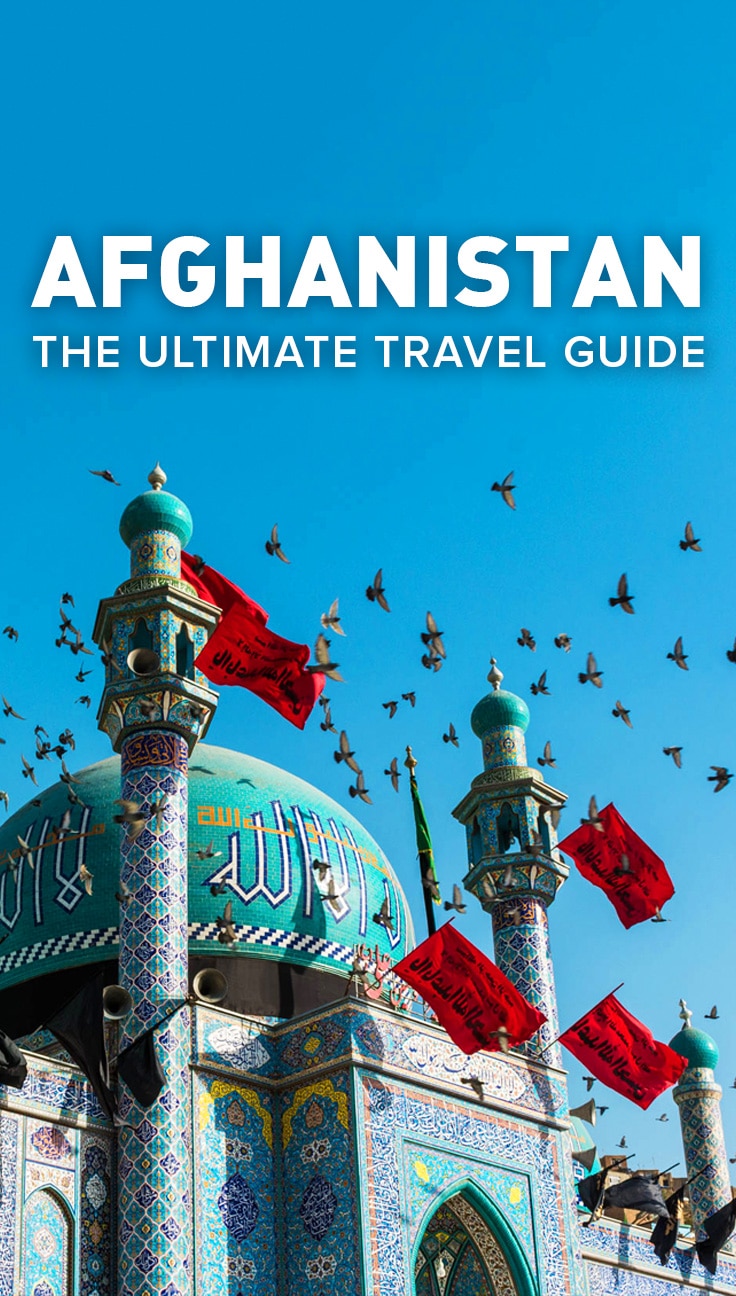 Yay transparency! The book links in this guide are affiliate links. That means if you buy one of those books, we'll make a small amount of money at no extra cost to you. Think of it as a way of saying thanks and helping us to run the blog!