Our report of applying for an Afghanistan visa in Bishkek, Kyrgyzstan, Kyrgyzstan in August 2016. Includes directions to the embassy, requirements, and fees.
Update November 2017: As of August 2017 it is no longer possible to apply for an Afghan visa in Bishkek. The consular officer is adamant that they can't issue tourist visas anymore. We'll update this page if things change.
Getting to the Afghanistan embassy
The hardest part about applying for an Afghanistan visa in Bishkek, Kyrgyzstan, is finding the embassy. The embassy has no website­–handy, right? The address is thus nigh impossible to find online, and the addresses we could find were all outdated.
Important update January 2017: The Afghan embassy has moved yet again. It can now be found on Chehova 28, near the intersection of Gorky St. and Chehova St. The address information below is no longer correct, but the other information is still accurate Good luck applying for an Afghanistan visa in Bishkek, Kyrgyzstan. Thanks to Steven from Caravanistan for the update!
As of August 2016, the embassy is hidden away on Zhukeev Pudovkin (Жукеева Пудовкина) street, close to the intersection with Drujby street.
Thinking of going to Afghanistan? Make sure to check our in-depth Afghanistan travel guide!
Getting to the embassy by taxi
The intersection with more major Gorky (Горький) street is a couple blocks further, so you can tell taxi drivers to take you to the intersection of Pudovkin and Gorky. The taxi ride shouldn't be more than 100 som, 150 if you're coming from really far away.
Getting to the embassy by public transport
You can get there by marshrutka 212, which leaves from Osh Bazaar and stops around the corner of the embassy, at the intersection of Pudovkin and Drujby. The marshrutka will be 20 som per person.
Afghanistan embassy opening times
The embassy's operating hours for visa application are 09:00 – 12:00 on Tuesdays and Thursdays, though we showed up a bit after 12:00 and it wasn't a problem.
Visas can be picked up between 14:00 – 15:00 on Tuesday and Thursday, unless you paid for urgent, next-day turnaround.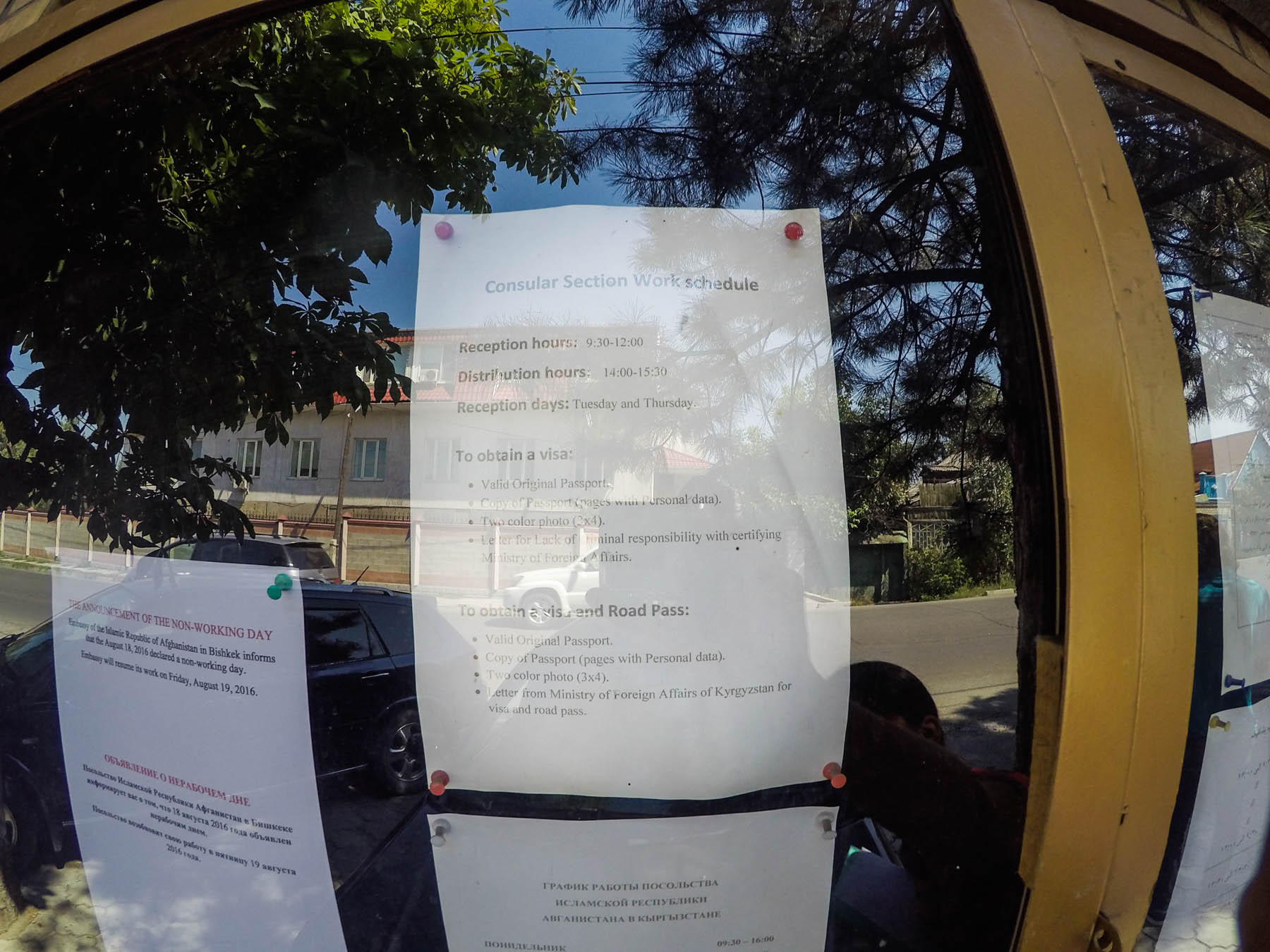 Applying for an Afghanistan visa in Bishkek, Kyrgyzstan
To apply for an Afghanistan visa you need:
A photocopy of your passport
A photocopy of your Kyrgyz entry stamp/visa
A filled-in visa application form (you'll get the form at the embassy)
Two passport size photos (3.5cm x 4.5cm)
A rough itinerary listing places you'll be visiting, and the names and addresses of some hotels you'll be staying in. No booking necessary.
The letter about lack of "original responsibility" (see earlier photo) is not necessary.
When you arrive at the embassy, the consul will come outside. All business will be conducted at the gate–you'll never enter the compound.
The consul will first ask for an itinerary–a sample itinerary is below. Edit it to suit your needs, they're only interested in seeing what cities you'll be visiting/that you've actually thought about plans at some point.
Mazar-i-Sharif: 4 days
Balkh: 1 day
Tashkurgan: 1 day
Heart: 4 days
Kabul: 3 days
Bamiyan: 2 days
Kabul: 2 days
Once satisfied, he'll go inside, get you an application form, and tell you to come back later with the filled in form. We arrived very close to 12:30, so he told us to come back around 15:00 that day. If you arrive early, you might be able to hand in your forms during the morning time slot.
Once you hand in your form and accompanying papers, the consul will ask you whether you want express or regular service. Regular service will take nine business days, while express ("urgent") service will have your visa ready the next business day after you submit your payment. We submitted our applications and payment on Tuesday, and picked up our visas on Wednesday.
Afghanistan visa fees
Visa fees are given in U.S. dollars.
$70 for Dutch (and other EU) nationals
$120 for British nationals
$160 for US nationals
Express service is an extra $50, regardless of nationality.
Payment is done at the National Bank of Pakistan. If you're in a rush, a taxi shouldn't cost more than 50 – 100 som. Walking it would take about half an hour. The bank can be found on Moskovskaya Street (Московская Улица).
The latest you can come back to the embassy with your proof of payment is 16:00. If you miss this deadline, you'll have to come back the next working day, so it pays to go early. Once you've paid and the consul has all your documents, he'll tell you when to come back for your visa. The embassy will keep your passport until you pick it up with visa later on.