A post from Sebastiaan about his favorite city: Kyiv. This three-day Kyiv itinerary leads you through highlights of Kyiv AND off the beaten track places. A great introduction to capital, and the perfect Kyiv itinerary.
As of 24/02/2022 Russia has invaded Ukraine. Ukraine's airspace is closed and there is open armed conflict. We don't recommend anyone to visit right now.
Kyiv, sometimes called Kiev, is the capital of Ukraine and its largest city. It's also one of my favorite cities!
After having lived in Kyiv for about seven months—spread out over three visits—I dare say I know the city pretty well. I think everyone who visits Ukraine should stay in Kyiv for at least three days, ideally more.
To make the most of your three-ish days in Kyiv, here's a three-day Kyiv itinerary to ensure you see the best side of my favorite city.
Quick facts about Kyiv
Official name: Kyiv/

Київ

Population: 2.9 million people… officially. Unofficial estimates put it closer to 4 million.
Main language: Russian and Ukrainian. Most people know both, but Russian is spoken more widely.
Itinerary: three days in Kyiv
This three-day Kyiv itinerary combines some of Kyiv's most famous sights with less common attractions. It includes a decent amount of walking, so make sure to bring comfortable walking shoes!
This itinerary does not include a visit to Chernobyl, which is best visited from Kyiv. If interested in visiting Chernobyl, I suggest you add another day or two to your stay in Kyiv.
Note that it's always possible to cut out an activity or two depending on time and your interests. This itinerary is a guideline, not an end-all plan.
If this is your first visit to Ukraine, make sure to read my guide on everything you need to know before going to Ukraine!
Places to sleep in Kyiv
Headed to Kyiv and looking for a cheap place to sleep? Check out my article on the best hostels in Kyiv for travelers.
There are also plenty of Airbnb's in Kyiv, and prices start around $20 per night (depending on the season and on how long you're staying).
Mid-range
If you want to stay in Podil, the most charming area of Kyiv, check out this lovely place. It's right on Andriyivskyy Descent, which is the most popular tourist street in Kyiv, full of souvenir stalls and close to the historical heart of Kyiv.
Luxury
There are plenty of international and local luxury hotels in Kyiv. It is the capital, after all. Head over to Booking.com to pick the one that's right for you.
Day one: metros, monasteries, and monuments
A visit to the deepest metro station in the world, a cave monastery, a monument to Ukraine's contribution to the Second World War, and one of my favorite walks in the city.
I suggest breakfasting close to your hotel at any place that looks nice. Don't worry, recommendations for lunch and dinner are coming! Once ready to start your first day in Kyiv, head over to Arsenalna Metro Station on the Red Line.
Arsenalna Metro Station
Arsenalna Metro Station is the deepest metro station in the world, at 105.5 meters/346 feet deep. It takes two escalators and about five minutes to reach the exit of Arsenalna. The name "Arsenalna" derives from the Arsenal factory across from the station's entrance.
The factory's front facade, which you can see when standing in front of the metro station, is riddled with bullet holes from WWII. Parts of the factory host an art gallery, Mystetsky Arsenalna, which is worth a detour if there's an interesting exhibition or if the weather isn't working for you.
From Arsenalna, continue to walk to one of Kyiv's most famous monasteries: the cave monastery Kyiv Pechersk Lavra.
Kyiv Pechersk Lavra
The walk from Arsenalna Metro Station to Kyiv Pechersk Lavra is roughly 20 minutes. When exiting the metro station, face the Arsenal Factory and go left. It's also possible to take bus 38 or 470, which stop around 5 minutes away from the monastery.
Tip: I recommend walking, as there's a nice park along the way with great views and several museums and monuments. This includes the Holodomor Genocide Museum, dedicated to Ukrainian famine that was deemed a genocide by several countries.
The Kyiv Pechersk Lavra is one of Kyiv's most famous monasteries—still active to this day—and a UNESCO World Heritage site. It's an important pilgrimage site for many Orthodox Christians, and buzzes with worshippers and tourists at all times of day.
Open to visitors from 09:00 to 18:00, the monastery is divided into two parts. The top part is run by the National Kyiv-Pechersk Historic-Cultural Preserve. The lower part, including caves with buried monks, is run by the Ukrainian Orthodox Church (Moscow Patriarchate). The top is ticketed, but the lower part is free. Tickets are 50 hrn per person.
The Motherland Monument
The Motherland Monument is about a 20-minute walk from the monastery. If you're hungry, there are several small food stalls around… but I suggest you wait until later. There are better places to lunch!
The large monument stands atop the National Museum of the History of Ukraine in the Second World War. It's a very Soviet affair, with displays of Soviet battle tanks and marble plaques depicting Soviet heroes.
You can climb the observation deck for 300 hrn, and there are several museums on-site ranging from 5 to 30 hrn per person.
Lunch on your first day in Kyiv
After all this I'm sure you're hungry. Head to the newly opened Kyiv Food Market, next to the Arsenal building. It contains several food stalls and a bar, so there's sure to be something to your liking.
Walk from Mariinsky Park to Podil
This walk can take one to two hours and is best done in the afternoon when the sun is a bit lower. The entrance to Mariinsky Park is 5 minutes to the right of Arsenalna Metro Station when facing the Arsenal Factory.
Mariinsky Park is around 130 years old, and houses several historic monuments. One is Mariinsky Palace: closed to the public, but beautiful nonetheless. It's next to the Verkhovna Rada (parliament) of Ukraine.
Beyond Mariinsky Palace, stay right along the park until you pass the old Dynamo Kyiv stadium. There are several cool buildings and statues, so feel free to make detours. Try to stay to the right though, otherwise you'll exit the park on the wrong side.
Beyond Mariinsky Park is the Friendship of Nations Arch. It's supposed to symbolize the friendship between Ukraine and Russia; since this friendship has been strained a crack appeared in the arch. There's a nice viewpoint here, and the spot is popular with locals and tourists alike.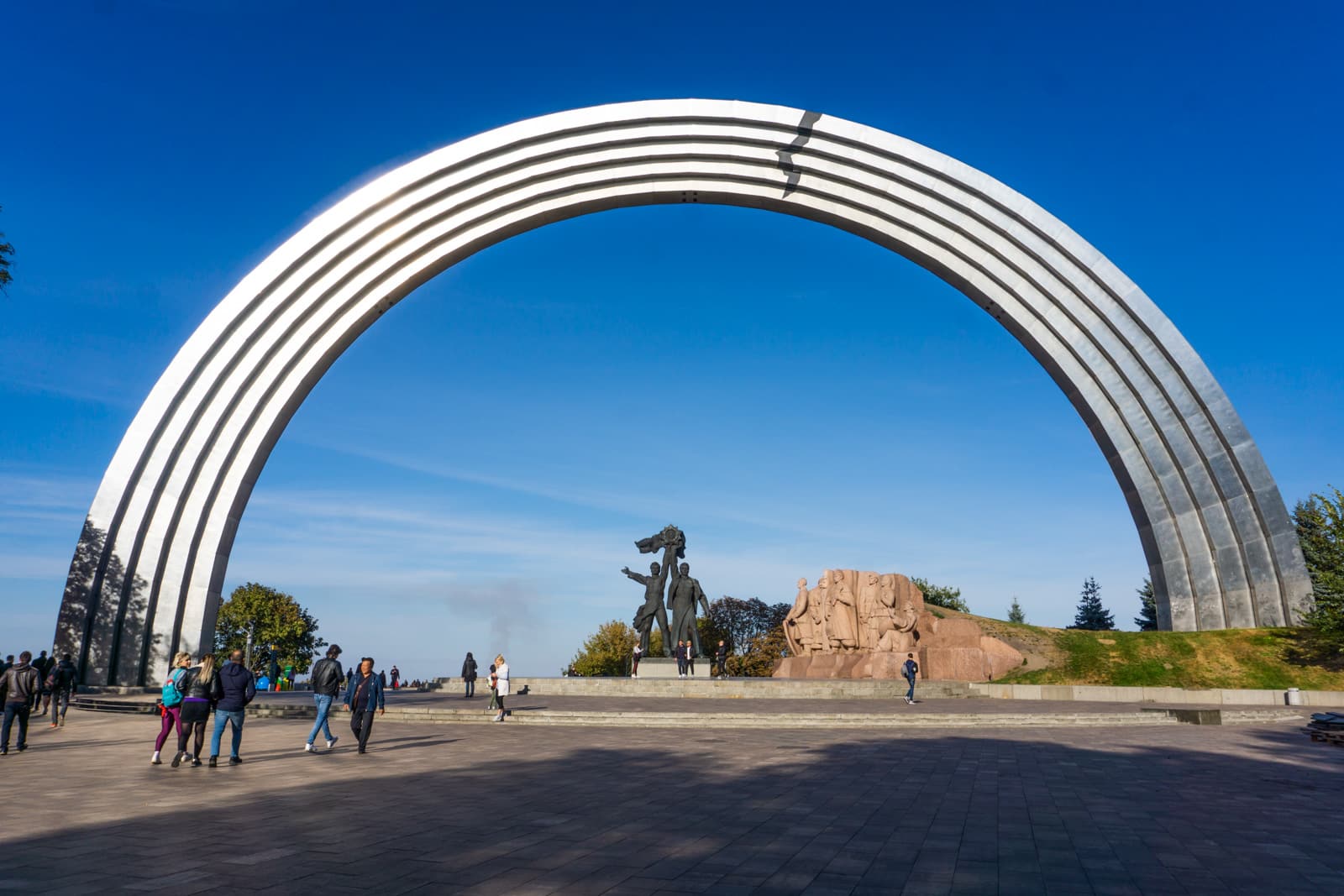 From the arch, continue on the recently built bridge toward Volodymyrska Hill. Go right after the bridge, and enjoy a leisurely stroll along the viewpoint-lined way.
The path ultimately leads to Artist Alley and the Church of Saint Andrew. From here, follow Andriivksy Descent into the historic Podil district.
Andriivsky Descent and the historic district of Podil
Walk down Andriivksy Descent while checking out the many street stalls. By all means buy something, but haggle hard—prices are inflated for tourists. Don't hesitate to sit and have a drink at one of the many bars in the area.
If interested, check out the small Mykhailo Bulgakov Museum or Museum of One Street, both along the Descent.
Andriivsky Descent leads to historic Podil. Here you can wander, get some dinner, and have a drink before heading back home for some well-deserved rest… or heading out to one of Kyiv's bumping nightclubs!
Podil's main metro stop is Kontraktova Ploscha on the Blue Line. You can also Uber back.
Best cafes for dinner in Podil
Some of my favorite cafes in Kyiv are in Podil. I recommend:
Budget: Puzata Hata. Cheap and straightforward, this cafeteria is always a good option.
Mid-range: Hum:Hum. Delicious hummus and other vegan food. One of my favorite places in Kyiv.
Mid-range+: Kanapa. Famous Ukrainian restaurant, reservations necessary.
Day 2 in Kyiv: freaky art and fancy facades
A healthy helping of architecture, a trip to one of Kyiv's best parks, and a reveal of my favorite ice cream places in the city.
Taras Shevchenko National Opera and Ballet Theatre of Ukraine
To start the day off, head over to Teatralna Metro Station. Walk uphill from the metro exit for a quick glance at the National Opera of Ukraine, named after Taras Shevchenko.
Operating since, 1901, the opera house is a beautiful building. Note the two winged women above the entrance, symbolizing the mythical patron spirits who support artists in their ventures.
Interested in going to the opera? Check out this website for tickets and details.
After you've had a good look at the opera, breakfast at Kharms, a charming cafe with delicious breakfast and lunch options. It's in a small courtyard just up the road from the opera house, past the UkrSibbank.
Once done feeding, head to The Golden Gate of Kyiv.
The Golden Gate of Kyiv
The Golden Gate of Kyiv, Zoloti Vorota, was the main gate of Kyiv's fortifications back when it was the capital of the Kyivan' Rus. The original gate dates back to the 11th century, but what you see now was built in 1982 and may or may not resemble the original gate.
There is a museum inside—entrance 50 hrn—and a monument to Yaroslav the Wise, the Grand Prince of Kyiv in the early 11th century.
From the Golden Gate, walk into Yaroslaviv Val Street toward the Park Landscape Alley, one of my favorite parks in Kyiv.
Along the way, you'll find several historical buildings, cafes, and art galleries. Some of the buildings include the House of Baron Steingel and House of Actor.  If you feel like some coffee, head over to Honey or Paul. If in a museum mood, check out Suzir'ya or The Sixties Museum.
Park Landscape Alley
A great ice cream parlor, amazing views of Kyiv, cool art and murals, and the Tithe Church—can you tell why this park is my favorite?
There are several entrances, but I recommend the one marked by a mural of a Cossack Eagle slaughtering a hand dragon (if someone could explain to me what this means, I'd be much obliged). From there, stroll through and enjoy the bizarre artwork and benches. Make sure to stop at AVERCAMP Val de Val for some ice cream. Thank me later.
At this point, it's probably time for lunch. You can walk down Andriivsky Descent and eat at any place that strikes your fancy. Don't walk too far down though, as our next destination is in the other direction: Saint Michael's Golden-Dome Monastery.
Saint Michael's Golden-Dome Monastery
Another famous monastery in Kyiv, this Ukrainian Baroque monastery includes a cathedral, bell tower, several gates, and the Refectory of Saint John the Divine. It's also the headquarters of the Orthodox Church of Ukraine.
The still active monastery is stunning inside and out. It played an important role during the Euromaidan protest, offering food and shelter for protestors as well as a base of operations for volunteers.
The original monastery was founded in in the early 12th century. What you see now is 18th century, except for the cathedral which was destroyed by the Soviets then rebuilt in 1999. Outside the monastery is a mural dedicated to the war in Eastern Ukraine.
After visiting the monastery, move toward Saint Sophia's Cathedral, which you'll spot from the monastery exit.
Saint Sophia's Cathedral
One of Kyiv's most famous landmarks—and a UNESCO World Heritage site—this cathedral's interior might be the most incredible in the city. Many of the original mosaics are early 11th century, and the golden baroque domes are 18th century. Make sure to climb the bell tower for a view of the grounds!
The cathedral, named after Hagia Sophia of Istanbul, housed the first school and library in Kyivan' Rus. Entrance to the cathedral grounds only is 20 UAH per person. A regular ticket to enter the cathedral and bell tower is 100 UAH. When exiting the cathedral grounds, don't miss the statue of Cossack hero Bohdan Khmelnytsky.
To finish the day off right, walk over to Maidan Nezalezhnosti (10 minutes).
Maidan Nezalezhnosti and Khreshchatyk Street
Maidan, also known as Independence Square, is the main square of Kyiv and the main area where the 2014 Euromaidan held place. Khreshchatyk Street is lined with Soviet-era government buildings.
Make sure to check out the Maidan photo exhibition to learn more about the 2014 revolution. If you have time and energy left, walk around the back of Hotel Ukraina to enjoy some beautiful—and weird—architecture. Highlights include the National Bank of Ukraine and the House of Chimeras, but there are several other beautiful buildings in this area.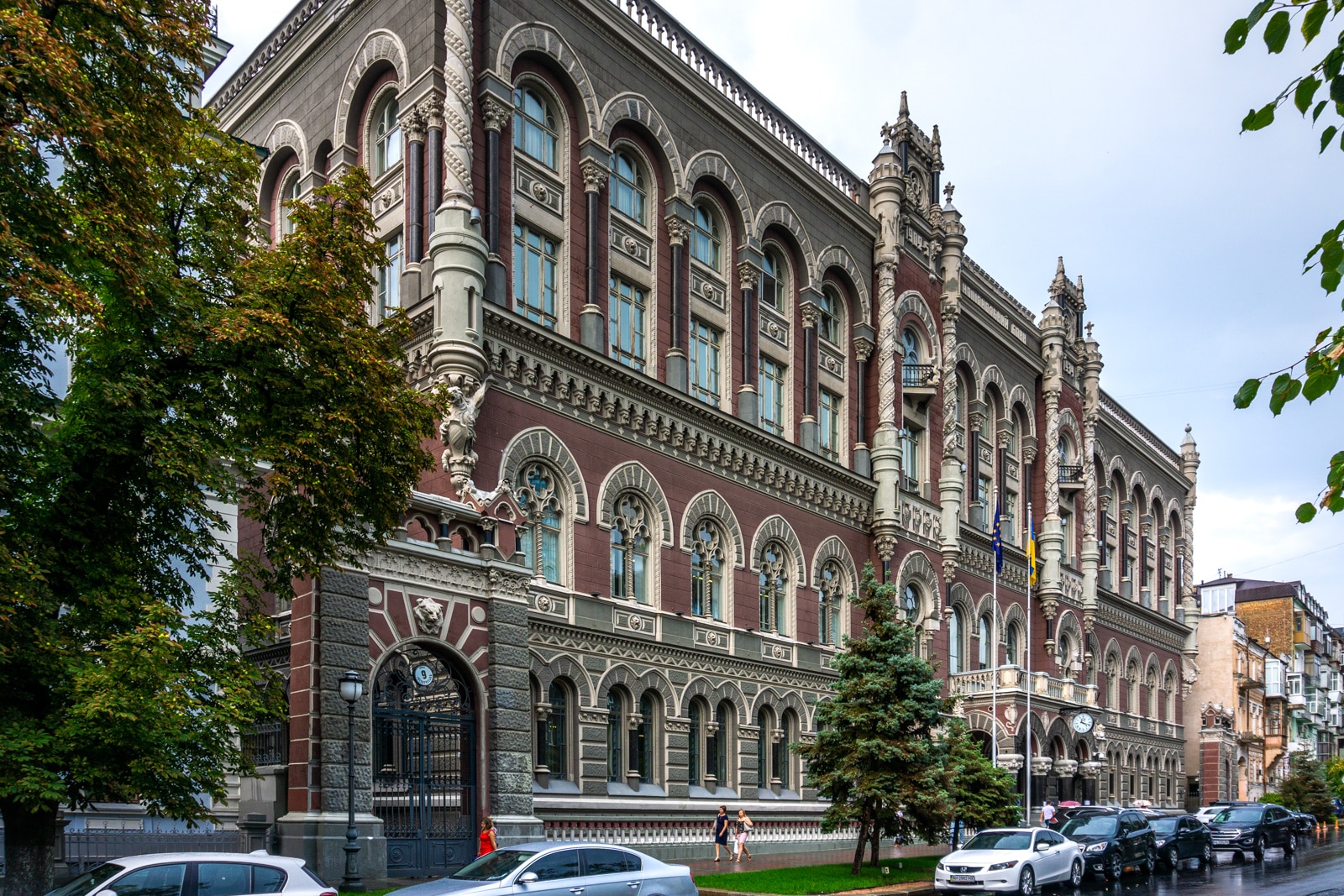 For dinner, I recommend returning to Maidan for The Last Barricade (Ostannya Barykada). This hidden bunker restaurant does amazing Ukrainian cuisine. To find it, go underground at the end of Maidan near the McDonald's then and look for the sign. The password is Boritesy E Poboryte. Try to make a reservation if with a group.
Dinner restaurants near Maidan
Budget: Tsvetochnaya Mafia (Цветочная Мафия). Cheap hotdogs, Aperol, cider, and other snacks and drinks in a cool bar-cum-flower shop.
Mid-range: Neboso Raw and Vegan Food. Self explanatory!
Mid-range: Krim – Crimean Tartar and Ukrainian food. Right on Maidan, it's popular for a reason.
Dinner restaurants on Khreshchatyk Street
Budget: Billy Naliv – Hot dogs, oysters and cider for 29 UAH per pop.
Mid-range: Musafir – Crimean Tartar and Middle Eastern food
If you feel like an after dinner drink, hit up some of the best bars in Kyiv: Barman Dictat, Parovoz SpeakEasy, or Alchemist Bar. If these don't seem like your style, check out my list with some of the coolest bars in Kyiv for inspiration.
Day 3 in Kyiv: roam free!
After two days of walking and sightseeing, day three in Kyiv will be a bit more relaxed. No set walking routes today, just suggestions based on interests.
All good days begin with a good breakfast. I recommend Blue Cup Coffeeshop, close to several museums on pretty Pushinska Street. Another breakfast option is All True East, close to Lva Tolstoho Square.
Art and architecture in Kyiv
If you're into art and/or architecture, this section is for you. These museums will take up the better part of your day, especially if you stop in one of the many cool cafes in Kyiv along the way.
Tip: Make sure to check opening times of the places you want to visit—many aren't open on a daily basis.
Pinchuk Art Centre
Address:

Baseina Street, 1, 3-2

Opening times: Tuesday – Sunday 12:00-21:00
Entrance fee: Free
Thought-provoking exhibitions and regular Ukrainian artists make Pinchuk Art Centre my go-to for art in Kyiv. It's large enough for you to get lost in, but not overwhelmingly big.
On the 6th floor of the same building is One Love Coffee, one of my favorite cafes in Kyiv.
Next to Pinchuk is Bessarabsky Market. Pleasant for a quick look, but if you want to buy something bargain hard—the vendors can smell a foreigner from a mile away.
National Museum of Natural Sciences of Ukraine
Address: Bohdan Khmelnitsky Street, 15
Opening times: Wednesday – Sunday 10:00 – 17:00
Entrance fee: Adults 60 hrn, children 35 hrn
The National Museum of Natural Sciences of Ukraine can easily take hours. It has eight halls showcasing with geological, paleontological, zoological, and botanical themes. Unfortunately, not everything is accompanied by English explanations.
Museum of One Street
Address: Andriivsky Decent, 2B
Opening times: Daily 12:00 – 18:00
Entrance fee: 50 hrn, 200 hrn for English audio tour
Although there's few English explanations in the Museum of One Street (unless you pay for the audio tour), this museum gives an interesting glimpse into the history of one of Kyiv's most famous streets.
The Bohdan and Varvara Khanenko National Museum of Arts
Address:

Vulytsya Tereshchenkivsʹka, 15

Opening times: Wednesday – Sunday 10:30 – 17:30
Entrance fee: 30 hrn
Housed in a stately building across from Tarasa Shevchenko Park, the Bohdan and Varvara Khanenko National Museum of Arts has the largest collection of foreign art in Ukraine, mostly focusing on Western and Oriental art. The 6th – 7th century Byzantine icons alone are worth a visit.
Museum of the History of Kyiv
Address: Bohdana Khmelnytskoho Street, 7
Opening times: Monday 11:00 – 16:00, Tuesday – Sunday 11:00 0 16:00
Entrance fee: Adult 45 hrn, child 30 hrn
Want to learn more about Kyiv's history? Visit the Museum of History of Kyiv. Though small, it gives a decent introduction to the complex history of this city.
It's part of a larger collective of museums dedicated to Kyiv's history, so if interested check out some of the other listed museums.
Murals in Kyiv
If you want to see art but museums aren't your cup of tea, seek out some of the murals found all over Kyiv.
A beach day in Kyiv
You probably already noticed, but Kyiv has several beaches. The Dnipro river is clean enough to swim, and the beaches are quite pleasant on a hot day. The two most conveniently located beaches in Kyiv are…
Trukhaniv Island
Trukhaniv Island is one of the most popular beaches in Kyiv, for good reason. It's easy to reach, has amenities, a large park, and is big enough to not feel too crowded.
To get to Trukhaniv Island, take the Blue Line metro to Poshtova Ploscha, or go to Saint Michael's Golden-Dome Monastery and take the funicular from there. The funicular exit is next to the metro exit.
From there, cross the road to go down to the water, then go right and cross the walking bridge. If you're up to it, you can go rope jumping there!
There are several small places for a bite and a drink on the island, and bicycles are available for rent. For food, you can also return to the other side of the river and go to one of the bars and restaurants at the Kyiv River Port. In the summer you can smoke hookah from the comfort of beanbags there.
Hidropark
Hidropark is fun regardless of whether or not you want to go to the beach. The park houses a large outdoor gym, with equipment made from salvaged debris like destroyed tanks! The gym is run by volunteers, and using the equipment is free.
Hidropark also has a large beach with several places for a bite to eat and multiple beach volleyball courts. The main beach can get crowded, but there are secluded spots if you keep looking.
If you're not feeling beachy, the nearby park is perfectly green and pleasant—bring some wine, food, and go for a picnic. To reach the park, take the Red Line metro to Hidropark Station.
Dinner on your last night in Kyiv
Planning a special dinner for your last night in Kyiv? Check out this restaurant guide from The Wayfarer's Book.
Alternative things to do in Kyiv
There are so many things to do in Kyiv; this itinerary barely scratches the surface! Here are some more places to add to your itinerary.
Soviet Architecture in Kyiv
Expo Center of Ukraine
The Expo Center of Ukraine, or VDNG, was opened in 1958 and houses many Soviet pavilions. It's on the outskirts of a big forest, and quite a pleasant place to walk around in. There are often events around the grounds; check the website before going.
Take the Blue Line metro to VDNG to reach the center.
Kyiv Crematorium
One of the weirdest Soviet structures in Kyiv, this crematorium is in a graveyard. Though uncomfortable, you can't get more Soviet than this—the building is so ugly it's almost beautiful.
To get there, take the Blue Line metro to Palats Ukraina then walk for 30 minutes.
The Institute of Information
This Soviet building is lovingly known as "the flying saucer." You'll see why the moment you lay eyes on it!
To get here, take the Blue Line metro to Lybidska.
Feeling especially Soviet? Here are several other Soviet structures of interest around Kyiv.
Parks in Kyiv
Taras Shevchenko Park
A small park across from the beautiful Taras Shevchenko National University. There's often a small market on Sundays, and buskers at all times of day. Popular with elderly men playing chess and people picnicking.
A.V. Fomin Botanical Garden
The old botanical garden can be reached from the Universytet metro station, or from the backside of Taras Shevchenko University. Entrance is free, and it's a pleasant place to walk around or have a picnic.
Other interesting things to do in Kyiv
Petrivka Market: This large book market is interesting even if you can't read Ukrainian or Russian! Booksellers are friendly and the small bookstalls are photogenic. It's next to Poichaina Metro Station on the Blue Line.
Saint Pokrovsky Monastery: A bit out of the way, but its interior is gorgeous. The grounds are pleasant, and the monastery is differently styled from its more famous counterparts in the city center.
Kyiv Polytechnic Institute: A friend referred to the Kyiv Polytechnic Institute as "Ukrainian Hogwarts", and she wasn't lying. The building is gorgeous and there's a nice park to walk around near the university. Befriend any of the students here, and you might be able to go inside the university. There are also several Soviet murals in the residential area near the university. To reach, take the Red Line metro to Politekhnichnyi Instytut.
Things to know about travel in Kyiv
Clubs in Kyiv
I'm not much of a clubber, and haven't given any recommendations on going clubbing in Kyiv. However, if you're trying to dance the night away…
Closer: The most famous club in Kyiv houses several dancefloors, a courtyard, a record shop, and more.
Caribbean Club: One of the oldest nightclubs in Kyiv is still going strong, with parties almost every day of the week.
Skybar: This place has amazing views and is popular with well-heeled locals… which is reflected in the prices.
Hangover: Super popular but a pain to get into, as the bouncers still think full Soviet face control is necessary. Normal humans, try at your own risk.
Staying connected in Kyiv
Mobiles: SIM cards are always a good idea. Calling and data are cheap, and phones are useful regardless of how short your trip to Kyiv is. Check out my article on things to know before going to Ukraine for more about getting SIM cards.
WiFI: Almost every cafe in Kyiv has high-speed WiFi.
Transport in Kyiv
Kyiv has a good public transport system. The metro is the easiest way to get around, and most places listed here are within walking distance of a metro stop.
Besides the metro, there are buses, trams, and local trains to travel around Kyiv. If you don't like to use public transport you can use the taxi apps Uber, Uklon, or Bolt.
Safety in Kyiv
Kyiv is a safe city. In my four months here, I haven't faced any problems. Being a big metropolis, there is always a chance of something happening; keep your wits about you, and you're unlikely to face trouble. Make sure to keep an eye on your belongings in crowded places, notably in the metro during rush hours.
Money in Kyiv
You can pay almost anywhere with a card, but it helps to have some cash on you just in case. Most ATMs accept international cards, but some come with quirks. Check out my article on things to know before traveling to Ukraine for more information.
And so concludes this Kyiv itinerary. Have a blast in Kyiv! Give a shout in the comments if there's anything else you want to know.
Yay transparency! There are affiliate links in this post. If you book something using one of the links, the blog will make a bit of change at no extra cost to you. Think of it as a way of saying thanks for the free information.