An itinerary for a charming weekend in Lubec, Maine. Lubec is a gorgeous and off the beaten track spot in Maine, and the easternmost town in the contiguous United States. Includes recommendations for accommodation in Lubec, things to do in Lubec, and a useful map of Lubec at the end of the post.
Literally seconds after stepping out of August's heat and into my parents' home, my mother popped the question:
"Do you want to go to Maine?"
Blink. What? "Um… sure?"
I assumed she was just browsing summer vacation destinations since I was visiting the United States during the summer for the first time in years.
Wrong. Less than 24 hours later, my family was packed in a car, speeding up Interstate 1. Our final destination: Lubec, Maine. Clearly my spontaneous travel tendencies are genetic.
Heading up to the Down East
Tucked away in the furthest northeastern corner of the contiguous (mainland) United States, Lubec is a town easily overlooked.
Despite being far north, the town is in a region cheekily and locally known as "Down East". The long drive up from Philadelphia, Pennsylvania to Down East Maine led us through winding ways lined with fragrant pines, small towns with nary a soul in sight, and fields of wild blueberries tinted red.
Unless you're crossing into Canada, you likely wouldn't wander through this part of Maine.
Its out of the way location works in the small town's favor. Though Maine was abuzz with vacationing families when we visited in August—especially the famous Acadia National Park—Lubec was a quiet haven.
Short of chattering birds and the occasional boat puttering past, my family and I spent several relaxing days with only the sound of the lapping waves the Bay of Fundy—which has the highest tides in the world—as background noise.
If you're looking for an off the beaten track place in Maine to get away from it all and have a little one-on-one time with nature, look no further.
A loose itinerary for a perfectly pleasant weekend in Lubec, Maine 
Use this as a rough inspiration for your trip to Lubec, not an end-all itinerary.
Places to stay in Lubec, Maine 
First things first: accommodation. Though Lubec isn't drowning in mass tourism, it's small and accommodation fills up fast in summer. Make sure to book your accommodation in advance to ensure a good spot.
Browse Lubec accommodation here.
Since I booked our stay literally the day before *ahem* a bit last minute, I used a less common vacation rental site, VRBO, and I wasn't disappointed!
My family and I ended up in a two-story wood cabin that could pass as a gingerbread house, right on the edge of the Bay of Fundy. Run by a jolly English/American man who lives in a cottage nearby, it was the perfect size for a family of four, and a bit out of the town close to walking trails.
It was the perfect place for immersing ourselves in nature… and/or escaping people. Let's just say I thoroughly enjoy both.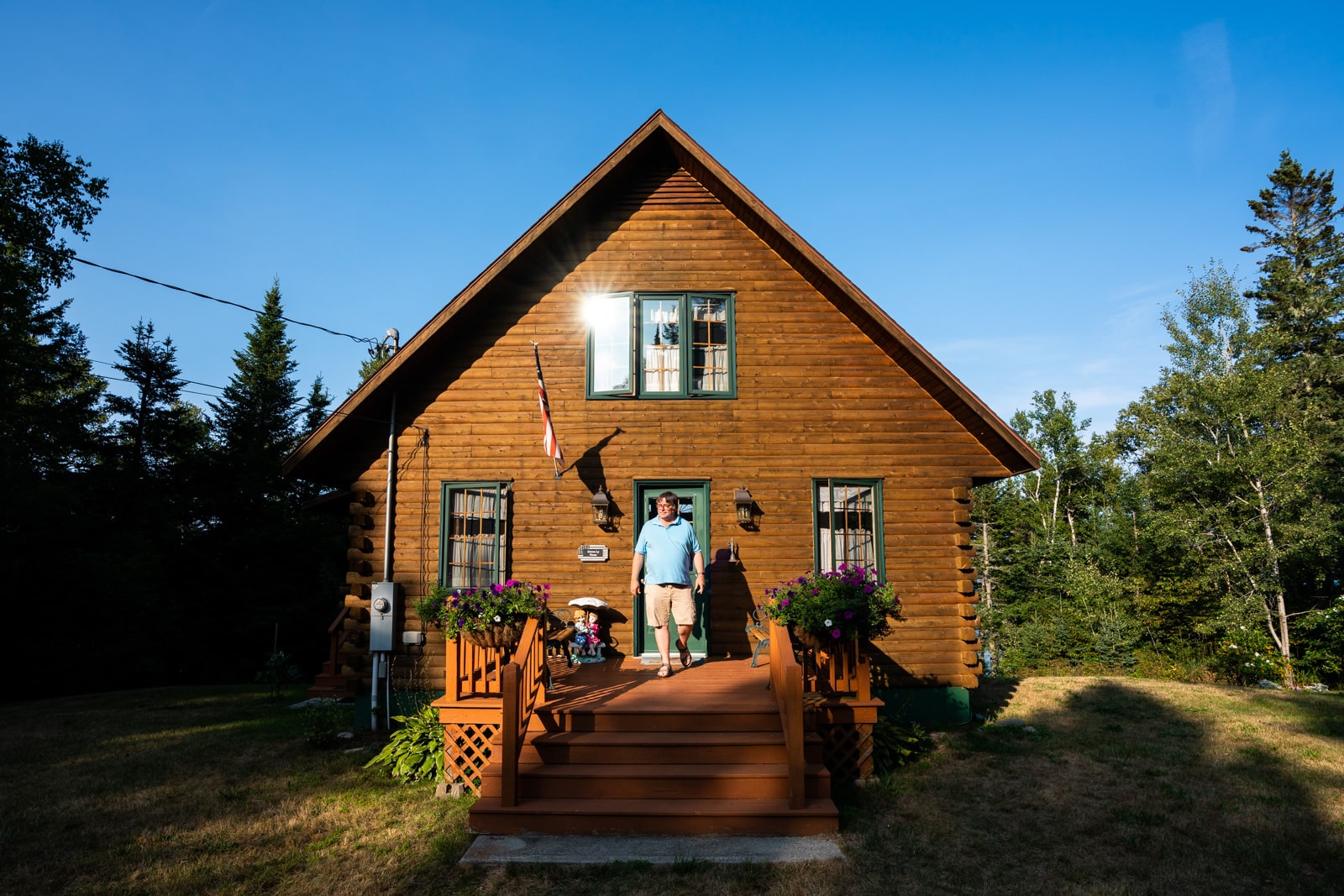 If staying out of town doesn't suit you, there were several picturesque heritage bed and breakfasts in the town center. Peacock House is in a historic home overlooking the Bay of Fundy.
Once your accommodation is booked, we can move on to the fun part: what to do during your weekend in Lubec!
Friday: Lobster rolls, mountain views, and live tunes
Friday is for driving in/up/down/whatever which ways you're coming from.
If driving up from the south, you might as well make a pit stop in Acadia to check out its famous views. Despite overwhelming summer crowds, the park is undeniably gorgeous. Cadillac Mountain has a very accessible viewpoint you can drive up to if short on time.
To offset the strain of engaging with seething masses of vacationing Americans, I added stops for lobster rolls and fresh blueberry ice cream to our Acadia jaunt.
C-Ray Lobster is near the junction for the mainland turnoff to Acadia. It's a charming, modest joint, not too expensive, and damn but those rolls were delicious.
As for blueberry ice cream, once the blueberries are in season (and even if they're not), you'll find it all over the place! One of the more unique places to pick up a scoop or shake is Wild Blueberry Land on US-1 on the way to Lubec. The quirky, family-run blueberry-shaped shop is quintessential Americana. Their ice cream is divine, as is their blueberry pie and other freshly baked goods.
Drive off your food coma—you're almost there—and after a scenic couple of hours you'll finally be in Lubec! Get settled in your accommodation of choice, then hit Lubec town.
If you get in in time (between 6:00 and 8:30 PM), you can venture for dinner at Lubec Brewing Company in time to catch some craft brews and live music with dinner. Make sure to head there early; it gets busy!
Saturday: Tiny towns, bold coastlines
Start your day off right at Lubec's most popular little breakfast joint: Sally Ann's Cafe. They serve up delicious breakfast sandwiches—their bagels are homemade—if you manage to get in an order amongst the crowd of locals and tourists queuing for their morning bite.
Once fueled up and ready to adventure, go for a drive along the Bold Coast running south of Lubec. At high tide, you can wander forest trails thick with conifers. Once the tide descends, poke about in pools along the exposed jagged, rocky coastline.
Cutler Coast Public Reserved Land has a variety of hiking trails ranging from a couple of miles to days' worth of walking, as well as places to camp. As my family and I weren't camping, I preferred wandering around the shore at the hidden Bog Brook Preserve at Moose Cove. There wasn't a soul in sight, and I thought the geological formations were more interesting there.
We also drove down through Cutler, a tiny town on the water's edge. There isn't much to do per se, but the view of the harbor was stunning, and we could watch men bringing in the day's lobster catch. If motivated, you can ask to buy some live lobster from them. Nothing like getting your dinner straight from the source!
Once done adventuring along the Boldest of Coasts, return to sleepy Lubec for a sumptuous and well-deserved dinner. Water Street Tavern and Inn didn't disappoint with their comforting seafood dishes.
Sunday: Last day, first sunrise
What better way to start your last day than with an epic sunrise—one of the first on the United States mainland?
About five miles away from Lubec, West Quoddy Head lighthouse is the easternmost point on the United States mainland, and thus one of the first places in the United States to see the sun rise. Unlike the crowded sunrise point in Acadia, there were only a handful of people present to watch the sun rise at the lighthouse. It was undeniably peaceful, and man, what a spot!
To congratulate yourself on waking up early enough to see the sunrise, head to The Inn on the Wharf's restaurant, one of the few places already open for breakfast at the early hour. It's on the water, and the dock behind it is an interesting place to see just how drastic the Bay of Fundy's tidal shift is.
Check out of your hotel or rental before checkout time. Then, if you have time to spare—and your passport—you can use the rest of the day to drive into Canada and visit scenic Campobello Island, the world's only international national park. You can also take a ferry to the island once you cross into Canada.
No passport? Never fear! There are plenty of other things to do on this side of the border, such as seeking out minke whales on a whale watching tour, wandering through the small but charming town center, or a visit to the studios of some local artists. Or, you know, you could just romp around in the wild blueberry fields and stuff yourself silly. I wouldn't judge you.
Alas, all good things must come to an end, the weekend included. Whether you're carrying on to another destination or heading home, hopefully by this point you've fallen in love with little Lubec, and are already planning your trip back next year.
… or, like my parents, you've begun scouring Lubec real estate ads.
You never know, right?
Things to keep in mind when visiting Lubec, Maine
The most important thing to do in Lubec is relaaaaax—that's what you're there for, after all!
But I digress; there are two little things to keep in mind when there.
Firstly, know everything in Lubec closes early. Despite late sunsets, restaurants in Lubec stop serving around 8:30 or 9:00 in the evening. Shops close even earlier. Don't be late if you don't want to go hungry!
Secondly, know that even in summer, Lubec gets cold in the evenings. Pack warm clothes. If the weather's nice, it's still pleasant to sit outside in the evenings.
Map of things to do for your weekend in Lubec, Maine
And thus concludes my guide to a weekend in Lubec, Maine. Let me know in the comments if you liked visiting Lubec, or if you think I missed anything.
Yay transparency! This post contains some affiliate links. If you book something using one of my links, I'll make a bit of money at no extra cost to you. No worries, I'd never recommend something I wouldn't do or use myself.