In the name of helping other travelers do more during Mardi Gras than roam Bourbon Street and eat at Café du Monde, here's a unique first timer's guide to Mardi Gras in New Orleans to immerse you in New Orleans' craziest season. Includes practical advice, offbeat tips, and plenty of planning resources.
What's in this post?
What is Mardi Gras in New Orleans like?
Beads! Boobs! Booze!
That's generally what tourists assume Mardi Gras (and New Orleans) is all about. Hardly! Over my last months of living in New Orleans, I've learned there's so much more to Mardi Gras than flashing breasticles on Bourbon Street.
Mardi Gras in New Orleans isn't just a day or two of debauchery: it's an entire season of celebrations, camaraderie, and community. Think of it as a massive citywide festival that goes on for weeks.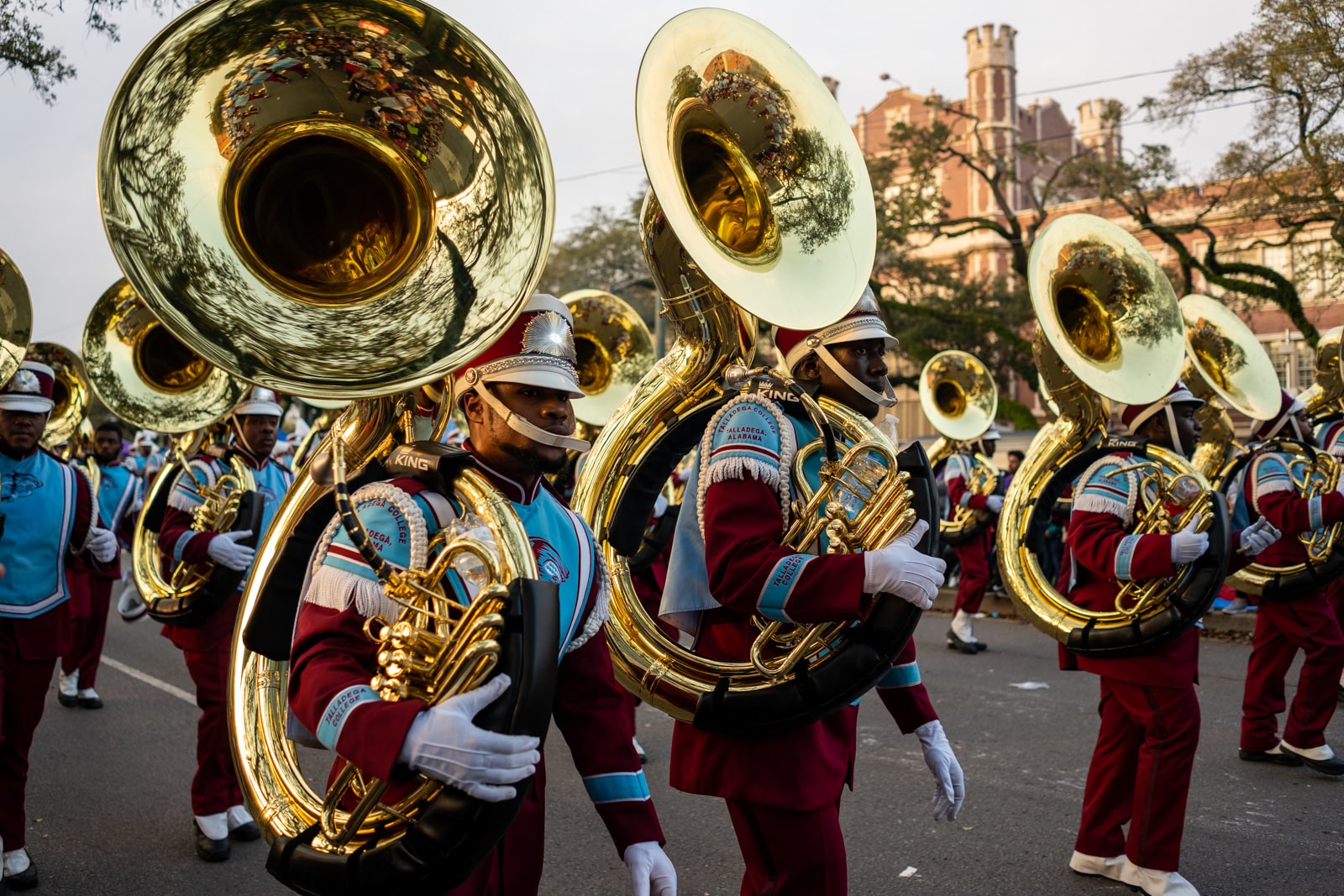 Okay, the stereotypes aren't entirely wrong. Beads do fly willy-nilly, the city drinks enough alcohol to fill the Gulf of Mexico, and you can find boobies on Bourbon Street. But there are also backyard barbecues and bumping block parties, fantastical costumes of all shapes and sizes, and countless parades far more bizarre than the massive ones broadcast by mass media.
Mardi Gras in New Orleans is a work of art, an experience like no other. After spending the entirety of the Mardi Gras season in New Orleans, I'm sharing this guide with you to help you get as much out of it as I did… and more.
When and how long is Mardi Gras?
Most people know Mardi Gras as the Tuesday before Lent… but in reality, Mardi Gras season is about a month long!
January 6, known as Epiphany, marks the start of the Carnival season each year. King cakes go on sale, Mardi Gras décor blossoms outside houses, and livers begin to quiver.
In the weeks leading up to Mardi Gras day, at least one or two larger parades take place every weekend. If you want to experience some of Mardi Gras but can't afford or don't want to come during the final days, come earlier.
Parades occur more frequently as the holiday draws closer. From the Wednesday before Mardi Gras up to and including Mardi Gras day, multiple parades roll daily!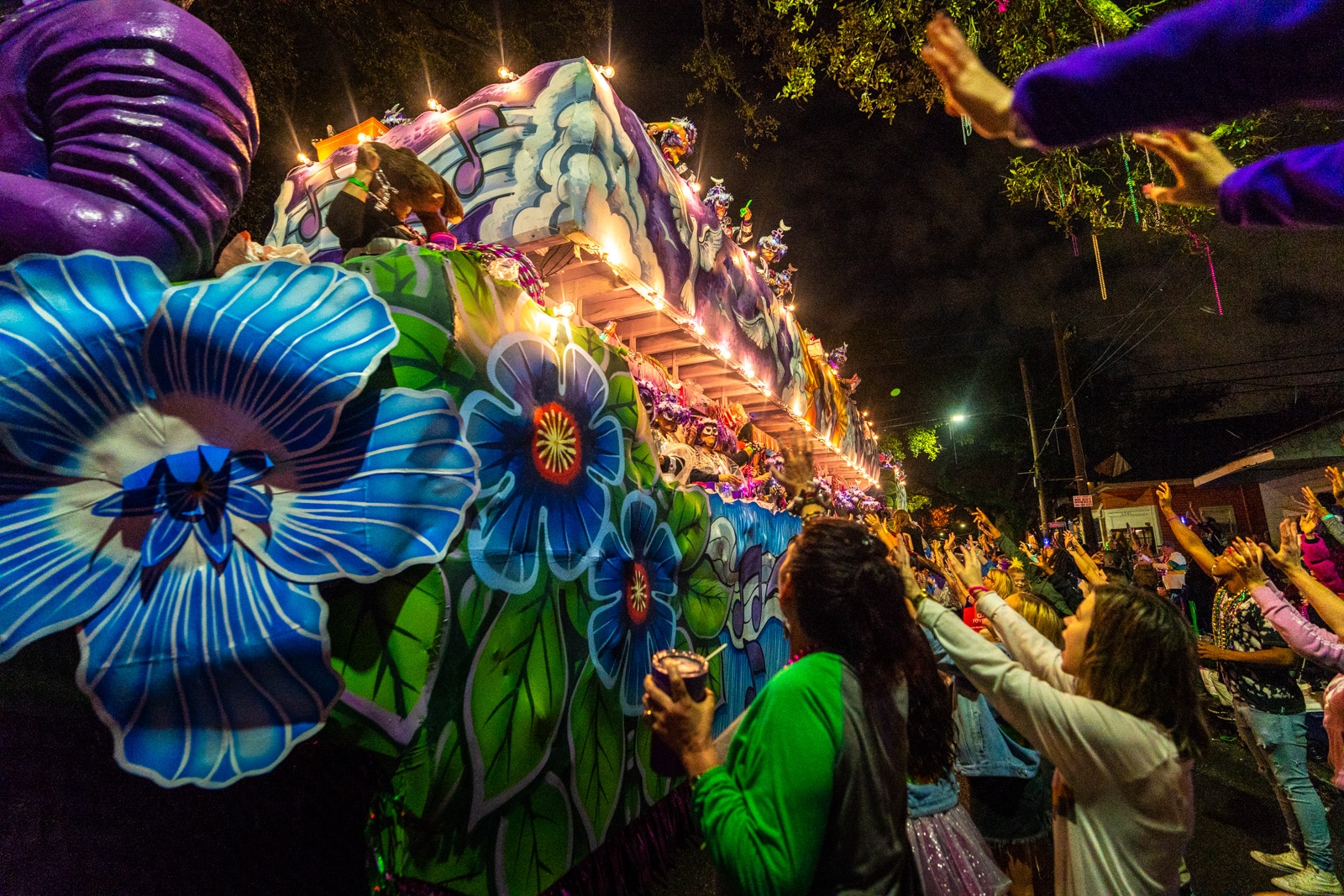 However, the date ain't so straightforward. Mardi Gras' date depends on the lunar calendar. The holiday marks the start of Lent, a 40-day period ending on Easter Sunday.
Though the date changes from year to year, you can usually count on Mardi Gras falling on a Tuesday in February or March. Mardi Gras dates for the coming years are as follows:
2020: February 25
2021: February 16
2022: March 1
2023: February 21
2024: February 13
Getting there and where to stay during Mardi Gras in New Orleans
Once you've committed to the idea of Mardi Gras, get on buying a plane ticket stat. Plane ticket prices can and will skyrocket for dates around Mardi Gras weekend, and you don't want to be sucked dry last minute; you need that money for debauchery! Be smart, get yourself cheap plane tickets on JustFly before prices go up.
The second most important item on the list: finding a place to stay in New Orleans! If you know you're coming for Mardi Gras in New Orleans, book a place to sleep ASAP. Accommodation fills up fast, and will only get more expensive closer to the day.
Many people stick to the French Quarter when looking for accommodation, but I recommend getting out of the Quarter. It can be chaotic at the best of times. If you want to be close to parade action without the clusterfuck of the French Quarter, consider…
The Marigny: Neighborhood next to the French Quarter with plenty of adorable houses, and within easy walking distance of the always hopping Frenchmen Street. Browse hotels in the Marigny now.
Uptown or the Garden District: Endless parades run along St. Charles and a part of Magazine street, so staying in the west of the city will keep you close the the action while far from the French Quarter chaos. The buildings in these areas are beautiful, and Magazine Street is full of shops and restaurants to peruse. Browse Uptown and Garden District hotels now.
The Bywater: An up and coming neighborhood with rainbow shotgun houses for days. Some parades run through here, and there are many cute shops and cafes in the area south of St. Charles Ave.  Browse Bywater hotels now.
There are plenty of other boutique and unusual places to stay in New Orleans, so shop around if the above doesn't strike your facny.
Costume like a boss: what to pack for Mardi Gras in New Orleans
Dress code for Mardi Gras is simple: go crazy. No costume is too wild, no notion too absurd. And no, you don't necessarily have to wear purple, yellow, and green. Dress like it's your last Halloween on earth.
Read this: A Mardi Gras packing list so you can do Mardi Gras like a bo$$
At the very least, I recommend bringing a fanny pack or small bag, a wild wig, and some body glitter. You'll want a warm outer layer, as New Orleans can still be chilly in February/March. Leave your fancy shoes at home; instead pack good walking shoes that you don't mind getting dirty. New Orleans gets messy during Mardi Gras.
If you're looking for costume supplies, Jefferson Variety Store in the west of the city has the most fabulous assortment of wild fabrics, sequins, glitter, and decals I've ever seen, plus a wide selection of other bits and bobs. Bargain Center in the Bywater has all kinds of random costume-able things. Goodwill and Salvation Army are always good bets, though they'll be stripped clean of fun clothes before Mardi Gras is over.
Learn the lingo: Mardi Gras words you need to know
Wanna walk the walk? Gotta talk the talk! Before we dive in deep, here are words you need to know:
Mardi Gras: "Fat Tuesday" in French.
Krewe: A themed parade group. There are hundreds—if not thousands—in New Orleans. Namesake krewes of large parades are often made up of many smaller sub-krewes.
Throw: Stuff thrown from parade floats. Can be anything from plastic beads to handmade statues to LED swords.
Balls: Ticketed parties held by krewes to raise money. Some are swanky, some are wacky. Some are easy to get into, other more popular balls sell out quickly.
Lent: A Christian 40-day period of fasting beginning the Wednesday after Mardi Gras.
King cake: A sweet breaded cake usually topped with icing and sprinkles sold only during carnival season. Traditionally contains a tiny plastic baby; the person who gets the baby in their slice must buy the next cake!
Krewes for youse
Every krewe is different; every krewe has a theme. I certainly can't list them all—I'll leave that to this list—but here's a rundown of some larger krewes you should know about:
Rex is one of the oldest krewes, dating back to 1872. They're responsible for several Mardi Gras traditions, including making standard colors purple, green, and gold. The king of the Rex parade also oversees all of Carnival.
Endymion, Orpheus, and Bacchus are the three "super krewes" of Mardi Gras. They're the oldest and certainly some of the biggest krewes in the city. Their parades roll during the final days of the Mardi Gras season/on Mardi Gras itself.
Zulu is the city's biggest and oldest predominantly black krewe. The Zulu warrior-themed krewe began from a social club, an organization meant to support impoverished members of New Orleans' black community. Keep an eye out for their decorated coconut throws; not only are they in demand, they also hurt if you're not looking.
Muses is a krewe made up of only women! Their signature hand decorated shoe throws are some of the most coveted of all the parade throws.
Krewe de Vieux (pronounced "voo") is one of the city's raunchier parades with primarily adult themes. Maybe leave the kiddos at home for this one.
Mardi Gras must dos
Catch a signature throw at one of the big parades… if you can!
Eat damned good King Cake. Bywater Bakery has a great assortment that you can buy by the slice. Of the multitudes of king cakes I had, Dong Phuong's cakes were my favorite.
Encounter a random parade on Mardi Gras day… and follow it!
Devour New Orleans' best fried chicken while watching a parade.
Drink a dangerously alcoholic daiquiri while parading.
Make one fabulous makeshift costume using only items you find in the city.
Get a bit of back/black history on at the Backstreet Cultural Museum 
Offbeat things to do during Mardi Gras season
Big name parades are a fun spectacle, but there are myriad other Mardi Gras events aside from headline parades. Why not venture a bit away from the parade routes from time to time? Here are some other Mardi Gras events worth checking out:
Meet the King of Rex after he crosses the river.
Around 6 P.M. on Lundi Gras (the Monday before Mardi Gras), the King of the Krewe of Rex crosses over from Algiers Point on a boat. Upon reaching the annual Lundi Gras Festival at Riverfront Park, he will officially declare the start of Mardi Gras.
March along with young musicians.
In the days leading up to Mardi Gras, dozens of school marching bands traverse the French Quarter and Marigny, practicing their pieces for the upcoming parades. Follow your ears, you'll surely find one.
Greet the dawn with a skeleton gang.
The North Side Skull & Bone gang traditionally gets up before dawn on Mardi Gras day to knock on doors and let folks know the day's begun! It might sound like a task to get up at dawn on THE day, but know that parades will already be roaming the streets by sunrise, and most celebrations die down by the time the sun sets.
Find some fighting Indians.
Mardi Gras Indians are blacks who create stunning feathered and beaded costumes as a homage to Native Americans and their traditional styles. Occasionally spotted at other events throughout the year, their costumes are a sight to behold, but on Mardi Gras day they kick it up a notch. Mock fights are held under overpasses in honor of their darker history. Locations and routes of Mardi Gras Indian parades and gatherings are usually kept secret until the day of, so if you see some, follow!
Be your gluttonous self at a cake festival.
In case you haven't figured out how much New Orleans loves its king cake, know that there's an annual King Cake Festival at the Superdome stadium… and thousands of people attend in true New Orleanian fashion. It's the perfect venue to sample king cakes from bakeries all over the city without having to commit to an entire cake.
Get evicted from Bourbon Street.
At midnight on Mardi Gras, mounted police ride down the infamous Bourbon Street to ceremonially close it for Lent. If you're strong enough to last to that point in the day, don't worry—you can still get your drink on elsewhere in the Quarter.
One of my favorite random outings during Mardi Gras was an unexpected party by Krewe Du Poux (yes, pronounced "poo"). Someone in a car handed my friend a crude party flyer while she was out and about on her unicycle. The location was vague, but we decided to try to find the fest. After following a girl in a pointed clown hat down a side street, we entered a junk-filled backyard overflowing with eccentricity: vacuum races, DJs spinning otherworldly records inside a dilapidated orange convertible-cum-DJ booth, an old man in a tailcoat serving mystery beverages in glasses of all shapes and sizes.
Unusual Mardi Gras parades worth checking out
New Orleans is a wacky place. Traditional parades are fun, but there are plenty of smaller and more bizarre parades you should check out to get a feel for just how quirky the city can be.
Chewbacchus: The first parade of the carnival season is also the geekiest! Running through the Marigny, expect things such as troupes of Princess Leias, a merry band of Mario Kart racers, dancing Hogwarts students, and more.
Society of St. Anne: Parading around the Marigny early in the morning on Mardi Gras day, this musical squad attracts all kinds of crazy people in costume. Don't hesitate to join!
Red Beans: An entire parade of… beans?! The costumes here are particularly clever; you'll be amazed to see what people can craft with dried legumes. The parade ends in the Treme neighborhood, near the Backstreet Cultural Museum. Anyone can join in so long as they have a bean-themed costume!
Krewe of Barkus: Furry friends, it's your time to shine—er, bark! Barkus is a parade for dog owners and their dogs. If you want to ogle adorable dogs in incredible costumes, this is the place!
Things you need to know about Mardi Gras in New Orleans 
Things can get a little chaotic during Mardi Gras. Here are some things you should know to maintain a semblance of order and sanity during the holiday:
Parade tracker apps list parade schedules and show you where parades are in real time, regardless of whether or not there's good signal available. Download them!
Portopotties are set up at strategic points along major parade routes, but expect a wait.
Parade routes are closed to vehicle traffic for a time before, during, and after parades. Plan your journey so you don't have to drive across a route.
Prepare for grueling waits at popular French Quarter restaurants. Ideally eat outside the Quarter.
Streetcars don't run their full route when near parades. They stop two hours before parades along their line, and don't resume until two hours after it's over.
Celebrations on Mardi Gras day don't go particularly late; better to start early and end early.
Mardi Gras DON'Ts
You want to enjoy the holiday just as much as the next person. Do your part to make it a success! Don't…
Buy beads. Trust me. You'll have more than you know what to do with by the end of your Mardi Gras.
Flash your boobs. People really don't whip their ladies out except on Bourbon Street. If you want beads, just put your hands up.
Harass people. Revealing costumes are NOT an invitation to touch, grab, or heckle people. Don't be a prick.
Carry glass containers. Broken glass is not fun in a crowd. Use a reusable bottle or drink pouch to minimize waste.
Hang out on Bourbon Street the whole time. There's so much more to New Orleans than Bourbon Street, and it's dull compared to what you'll find in other parts of the city!
Drive drunk. Please don't. Lyft, Uber, and Blue Bikes are your friends.
Mardi Gras DOs
On a more positive note, do…
Be yourself! Don't be afraid to express yourself. At this point in time, Mardi Gras is celebrated by anyone and everyone regardless of age, gender, race, or religion. Just don't be a hater.
Dance and make eye contact with people on the floats. You'll get all the throws if you do!
See where the celebrations take you. If you see a band, go after them!
Eat a big meal before going out. New Orleans is filled with delicious food; line your stomach with it so you'll survive to the next day.
Drink all the water. Water is your friend.
Recycle beads. bead recycle binsArcGNO sponsored around the city in 2019.
Share! Mardi Gras brings people together, and sharing is caring.
Take care of each other. See someone who needs help? Give them a hand, else they can get lost in the crowds. If traveling with people, make sure you and your friends know where to meet or how to find each other if someone gets lost.
Useful resources for planning your Mardi Gras trip
You mean this guide wasn't enough? Gee, thanks.
… no, I jest. There's all kinds of awesome resources online to help you plan your Mardi Gras adventures. Some of my favorites include:
The official New Orleans Tourism site overflows with advice on planning trips to New Orleans, especially during Mardi Gras.
Facebook events are a great way to find out about more niche parties, balls, and events during the holiday. Browse "Events Near You" and see what comes up!
Reddit's /r/NewOrleans is my go-to for local tips and discussions about New Orleans, and people post all kinds of recommendations and events during Mardi Gras.
WWOZ is New Orleans' greatest radio music channel, and they list all of the music events happening in the city periodically throughout the day.
Lyft and Uber are must-have rideshare apps for getting around the city. Even if you have a car, using these is usually easier than finding parking around parade routes… and then you can drink to your heart's content!
New Orleans' Blue Bike system is another option for getting around the city safely while sloshy. But not too sloshy.
Yay transparency! This post contains affiliate links, which means I'll make a small bit of change if you buy something using my links. No worries, it doesn't cost you anything extra—this is one of the ways I fund the blog.