A story meets photo essay showing all visitors in India's Northeast why you need to visit Loktak Lake, Manipur at least once in their lives. Includes a practical guide for visiting Loktak Lake at the end of the article. 
The air is still, and the sun hides beneath the hills on the horizon. It feels as though the earth is holding its breath, waiting for the first warmth of day before beginning its routine.
From this viewpoint atop a hill, all of Loktak Lake spreads before me. Locals told me this lake is the jewel of Manipur state, and right now, I'm forced to agree. The lake's glassy waters reflect the soft lavender color of the dawn, and it seems as though the famous floating islands, known as phumdi, are hovering in the sky. In a few hours, the lake's surface will be busy with fisherpeople boating about, but for now, only a few lonely souls float over the waters.
A man named Mr. Maipakchao is my companion for this sunrise jaunt. A short, Asiatic man in his 50s with a great sense of dry humor, he's also our homestay host here at Loktak. He reminds me of a wise old sage with his soft-spoken yet deliberate manner of conversation.
Summiting the hill to watch the sunrise was his suggestion, and he sits serenely in the grass, hmm-ing and hum-ing periodically. Every once in a while he asks me questions about my country or provides snippets of information about the lake. True to sage form, he ponders my responses slowly and thoroughly before nodding and returning to content contemplation as I prowl through the long grass in search of photo angles.
As the sun rises, so, too, do the people of the lake. Long, slim wooden boats drift out onto the water, each captained by a fisherman or -woman with a single paddle. They float from spot to spot, carefully checking fishing nets set by floating phumdis the evening before.
Looking for more inspiration? Check out our article on why you need to visit Northeast India!
Trouble's brewing under the surface
Fishing, Mr. Maipakchao tells me, is the main livelihood at Loktak Lake… for a lack of other options.
There are no factories or industry hubs in the vicinity—at least, nothing significant enough to provide employment for the 100,000+ lakeside residents. The land under the lake's waters was once farm and grazing land, but after the construction of a hydroelectric dam in 1979, the lake's perimeter swelled, and unofficial estimates claim more than 80,000 hectares of arable land were submerged. Farmers became fishermen, and so the current state of things came to be.
Problem is, the current state of things is destroying the lake and hurting its residents.
Though the largest freshwater lake in Northeast India, the surface of Loktak Lake only spans 236 km2 (91 mi2). Given the number of people living on, fishing from, and dumping waste into the lake, that's really not much water we're talking about.
Overfishing has become a large concern. People now need to fish to survive, but the balance of the lake's ecosystem is suffering because of it. Loktak Lake used to be a haven for migratory birds from the far north, but bird numbers are falling with each year. Why nest in a lake without enough fish to feed your flock?
Fish are not the only resource running shallow in the lake. Loktak was never particularly deep to begin with; according to Mr. Maipakchao, decades back the deepest parts of the lake only measured about 10 meters (33 feet). These days, you'd have trouble finding water more than 3 meters (10 feet) deep. Several rivers drain into Loktak Lake, and polluted silt is accumulating in the lake, making for shallower waters and increased plant growth.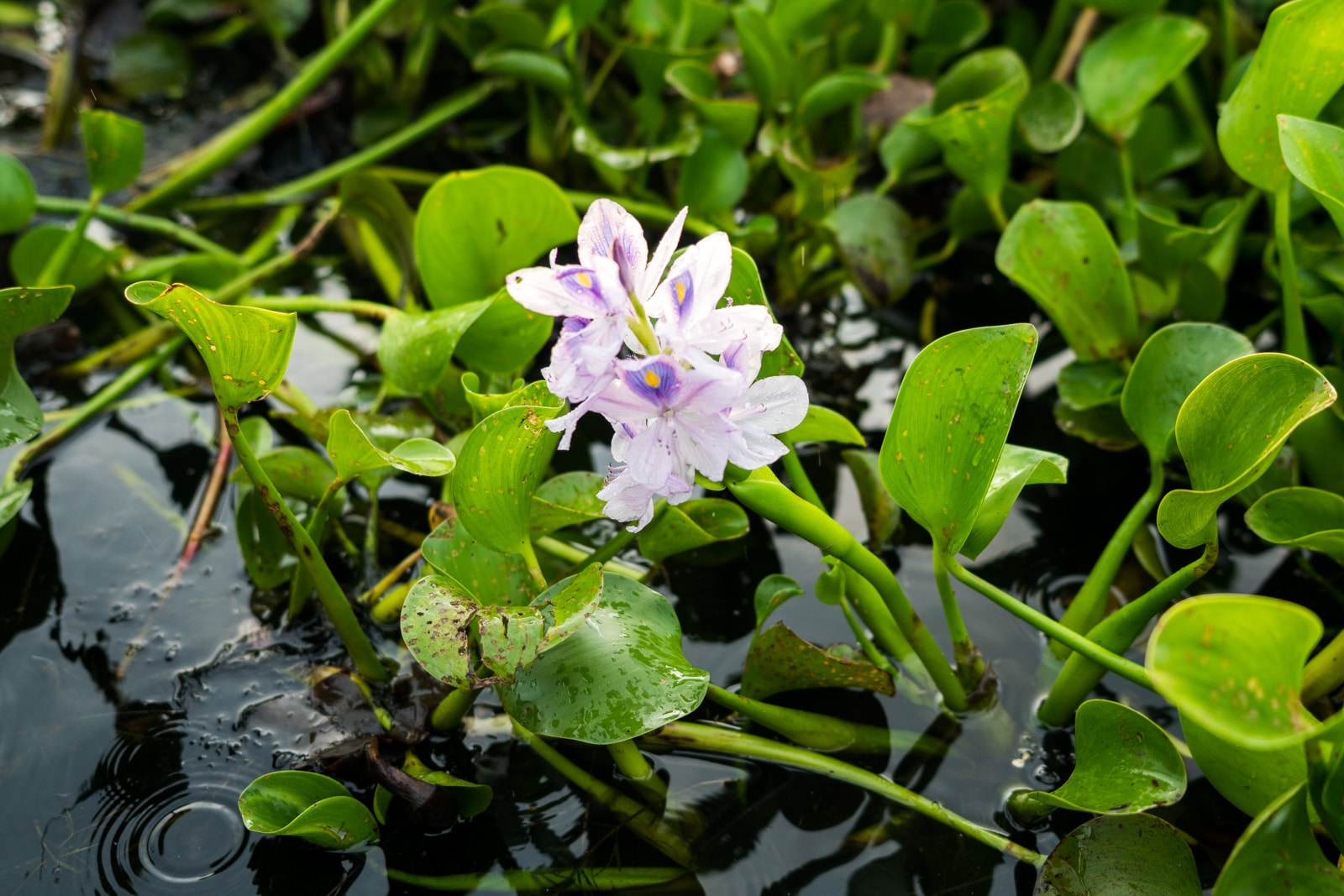 It's possible his estimates are exaggerated in typical subcontinental form, but Mr. Maipakchao is the president of the Loktak Eco-tourism Development organization, and has lived on the lake for his whole life. I'm inclined to believe he's in the right ballpark.
Rampant growth 
My eyes support his claims a few days after our sunrise adventure. Helping us on our quest to find a good place for a dip, Mr. Maipakchao and a friend volunteer to boat Sebastiaan and me out to the lake's center. Bright sunlight warms our necks as the hollow canoes glide over the water, and the rays illuminate the underwater world below.
No matter where we paddle, thick, tangled forests of plant matter lurk below the surface, caressing the bottoms of our boats as we pass over. Sometimes our way is blocked by overgrowth, and paddles are necessary to clear a way through.
After a time, we stop at a ramshackle red-roofed fisherman's hut on one of the floating islands. Mr. Maipakchao and his friend look on with amusement as Sebastiaan and I jump into the water with glee… to find our feet entangled in slippery plants on the bottom mere milliseconds later. It's not enough to deter us from enjoying the lake's warm and still waters, but it's undoubtedly eerie to feel vines slithering up against our toes every time we tread water too deeply, especially since we're smack in the middle of the lake.
On the one hand, this rampant growth is part of what makes Loktak Lake famous. The floating islands of phumdi are entirely composed of plants (and perhaps a rogue bottle or two). Loktak Lake is home to the world's only floating national park, Keibul Lamjao, a habitat for the endangered Sangai deer composed of one massive phumdis spanning 40km2. Once upon a time, thousands of families lived in fisher huts carefully perched atop the islands of vegetation. These days, India's first floating elementary school is found near one of the lakeside villages.
Quintessential as the floating masses may be, they're strangling the lake. The high levels of pollution and silt are sickly fuel for the plants' growth. As the water's toxicity rises, so, too, does the plant population, and down goes the water levels.
Bringing Loktak into the clear
Governments have made some efforts to tackle the overgrowth, in the hopes of clearing the way for tourism. In 2011, they embarked on a cleaning spree, clearing out more than 13.2 million cubic meters of phumdi… and hundreds of homes in the process. It was a poorly organized operation, and resulted in a scandal after it was discovered that much of the project funding was siphoned off into questionable pockets. Beyond the commonplace corruption, local families were promised compensation packages and new land to live on, yet many are still displaced today.
The lake is now divided into two sections: a no-development zone, and a conservation zone. The conservation zone is (relatively) clear of phumdi, and nothing may be built in the area. Fisherman huts and fish farms still float through the no-development zone—the rule is that no more structures may be built in the future.
It's more of a Band-Aid on the problem than a full solution. More active measures need to be taken to save Loktak and help its people. The lake needs to be properly cleaned, proper (and permanent) living spaces must be provided for residents, fishing activity must be regulated, and waste streams need to be managed.
Easier said than done.
Can tourism save Loktak Lake?
Though "tourism" was one of the motivators behind the government's mismanaged and damaging operations in the past, it shouldn't be discounted as an opportunity. Tourism can help support Loktak Lake and its people… if developed properly.
Loktak's tourism industry is still very much in its infancy. Local tourists from the northeast come to admire its waters in season, but that's most of the story. Some Indians are apprehensive about Manipur due to issues with violent insurgencies. (Don't worry, it's safe to visit.) Many more aren't even aware that Manipur state is part of India at all! As for foreigners, it takes a certain kind of tourist—and a good amount of vacation time—to venture all the way out to Manipur's borders.
Not that the area is ready for mass tourism. To my knowledge, the only accommodation opportunities are Sendra Resort, run by a large (and semi-luxurious) hotel chain, and Mr. Maipakchao's homestay near Thanga village. Most visitors stay at Sendra, as Mr. Maipakchao's home isn't very well advertised on the internet… yet. There's certainly room for more homestay players on the lake's islands and surrounding towns.
An increase in tourism to the lake could provide income to currently unemployed locals through means such as homestays, boat rentals, tour guides, etc. Beyond that, if enough tourists came—especially foreign visitors—it would also bring the lake to the forefront of governments' attentions, and force their hands. Properly cleaning and managing a simple lake isn't so important, but sprucing up a tourism cash cow… well, that's another (more profitable) story.
The responsible way to visit Loktak Lake  
Tourism can also be a curse, as we all know. Pollution levels from tourist motorboats have been a problem in the past, and large influxes of tourists strain waste management systems. Tourists in India have a knack for rolling in with endless amounts of plastic wrappers, bags, and bottles… and leaving them behind in the worst possible places (translation: the ground).
If you decide to visit Loktak Lake—as I urge you to do—please do so consciously. Here are some things you can do to have a positive impact:
If possible, choose a homestay over chain accommodation to incentivize the creation of more family-run homestays.
Avoid using tourist motorboats. You can pay fishermen to row you around in their wooden boats, or Mr. Maipakchao can help you arrange something.
Limit the amount of plastic-wrapped products you consume. Filtered and boiled water can be found, and there's plenty of fresh fruit to go around—no need for biscuits wrapped in plastic!
Carry bags to collect your (or others'!) waste when walking around, then bring them back to your accommodation so it can be incinerated properly.
Use environmentally friendly soaps and shampoos while staying on the lakeside. The products you use will end up in the lake eventually.
Talk to the local people. They are not zoo animals—they have stories to tell, and are happy to meet people from far away places.

(Yes, other parts of India count as far away places!)
Tourism won't solve all of Loktak Lake's problems, but responsibly developed tourism is a very good start. Waiting for governments to step in and resolve problems rarely works anywhere in the world—change begins with people.
So what are you waiting for? Loktak Lake is calling.
Things to do at Loktak Lake
The lake and the surrounding areas are perfect for exploring by foot, on a bike, or by boat. There's also plenty of shared taxis puttering around on all the roads. Some ways to pass the time include:
Visit the small island of Karang. A local "passenger" boat is 10 Rs per person, and there are several vantage points from where you can get a good look at the lake and the phumdis (small floating islands of vegetation and organic matter).
Rent a boat and go for a swim, or just enjoy a boat ride. The water temperature is pretty perfect thanks to the shallow lake depth, and a boat ride is the perfect way to appreciate how big the lake actually is.
Visit Keibul Lamjao National Park, the only floating national park in the world. To get there, head back to Moirang and ask for Keibul Lamjao to find a shared taxi.  Entry is 200 Rs for foreigners (30 Rs for locals), with a 250 Rs camera charge (50 Rs for locals). The gatekeeper was lax, though, so if you put your camera in a bag you can probably avoid the camera fee. Ask Mr. Maipakchao for more information.
How to get to Loktak Lake
From Imphal to Moirang
The best place to start your journey to Loktak Lake is Imphal. From Imphal, your first destination is Moirang. Moirang is a nondescript town on the border of the lake, and serves as a drop off point for visitors. There's not much to see in Moirang itself.
Shared taxis ply the roughly 30 kilometers between Imphal and Moirang, and take about an hour. They leave when full from the Jiribam – Imphal road, close to the intersection near the Ima Keithel Women's Market. The taxis will have "Moirang" written on their windshields, but if you can't find them, just ask one of the many minibusses along the road. They'll show you the way. The shared taxi from Imphal to Moirang costs 50 Rs per person.
From Moirang to Thanga
From Moirang, you'll have to take another shared taxi to Thanga. Thanga is the name of several clusters of villages that make up a peninsula on Loktak Lake.
To get to the taxi stand, walk straight from where you're dropped off, past the market, and then turn right. Cross a small bridge, and there will be several colorful shared taxis on a road to the left. These leave to Thanga. If you're not sure, just ask anyone for Thanga, and they'll point you in the right direction. The taxi ride costs 10 Rs per person, and takes about 15 minutes. Make sure to ask the driver for Maipakchao Homestay (see below).
Where to stay in Imphal and Loktak Lake
Imphal
Imphal has several mid-range hotels, but lacks budget options. Luckily for you, there's an excellent homestay: Aheibam Homestay. It's about seven kilometers outside of the city center, but shared taxis go past every five minutes or so. Sanji, the manager, is a gracious and friendly host, and his mother whips up delicious Manipuri dishes.
Give Sanji a call before you come (+918731871324), and he'll pick you up if you have time. Otherwise, a private rickshaw from the bus stand costs 200 Rs, and a shared taxi costs 10 Rs per person (although getting your bags on one will be problematic). The price for the homestay depends on the season, but we paid 1,000 Rs, which included two meals per day. The guest room is very comfortable, and has TV, AC, and wi-fi.
Thanga
Thanga offers two options: Sendra Cottages and Maipakchao Homestay. Sendra Cottages is part of the luxurious Classic Hotel chain, and Maipakchao Homestay is run by the affable Mr. Maipakchao.
Needless to say, we recommend Maipakchao Homestay. To get there, tell the shared taxi driver you're going to Maipakchao, and he'll drop you off at the right turn. There will be a sign pointing to the homestay down the hill.
Mr. Maipakchao's homestay is well known by locals, and they can guide you there. The homestay is found on the way to Thanga, a village on a peninsula in the lake. There are two very large signs marking the entrance. Accommodation costs are on a per-person basis, in the range of 1,000 – 1,500 Rs per person, and includes 3 meals a day and a room with a private toilet. You can call Mr. Maipakchao to confirm there's space at +9198563 56993.
Yay transparency! There are affiliate links in this post. If you buy or book something using our links, we'll make a bit of change at no extra cost to you. It's how we cover the costs of running the blog!