Tatev is probably the most famous monastery in Armenia. Below you can find a guide to Goris and visiting Tatev monastery.
Goris is quite possibly the most stunning city in Armenia and is the base from where to travel to Tatev monastery. The city alone is nothing special–it's all about location, location, location. The city is encircled by mountains, some of which rise up right from the city's perimeter.
Below you can find a guide to visiting Goris, Armenia. This guide to Goris includes things to do in Goris, where to stay in Goris, and how to get from Goris to Tatev Monastery.
Things to do in Goris, Armenia
Visiting Old Goris
The mountains around Goris are covered in towering limestone spires, chock-full of cave dwellings. The cave-city complex is known as "Old Goris", as the caves used to serve as homes until the 18th century… or so the guides say. Though many of the caves are now bare, there's still a decent number of resourceful people that have built modern day houses up against the spires, so they can continue to make use of the caves. You can literally see the past meeting the present as you wander throughout the rocky outcrops.
You can easily spend an entire day just wandering among the rocks along the edges of the city. We did encounter some kind of marked path in one or two places, but it's not really necessary. There are ridges to troop along all over the mountainsides, thanks to years and years of people and various hoofed creatures wandering along the slopes.
Pro tip: if you have a chance to buy a bottle of wine while passing through Areni, home of one of the oldest wineries in the world, save it for Goris and go for a super epic picnic atop the mountain! It's a great (and cheap) way to spend the afternoon. Just be careful not to fall over the edge when you're stumbling down the mountain 😉
Visit the museum of Axel Bakounts
Granted, we don't really go to museums much. But if you're interested in Armenian poetry, this museum might just be for you. Axel Bakounts was a controversial figure, spending time in jail for his mocking of the mayor of Goris, and ultimately murdered in 1937 by Stalinist's. His museum is set in a lovely villa with a timber veranda.
Visiting Tatev Monastery
Tatev Monatery is Armenia's most famous site–an old monastery on a plateau overlooking a vast gorge. Many people solely travel to Armenia to visit Tatev monastery.
Some quick facts: its construction began in the 9th century, it used to house one of the most important medieval monasteries of Armenia, and is now marginally more famous because it's at the end of the longest cable car line in the world, which clocks in at 6 kilometers.
But all you need to know for now is that Tatev is most definitely, undeniably, the tits. I'll let the pictures do the rest of the talking.
How to get to Tatev Monastery from Goris
To get to Tatev, we recommend you take a taxi to the Wings of Tatev, the Guinness World Record-listed 5.7km cable car starting in Halidzor. It's also possible to take a car/taxi up to the monastery, but the cable car offers much more epic views… and cheesy music combined with overly posh British narration as you soar through the skies.
A taxi to Halidzor from Goris cost about 2500 AMD one-way. A ride on the Wings of Tatev isn't cheap, at 5500/7000 AMD one/two-way as of April 2019, but the views are definitely worth it.
Getting back to Goris from Tatev
We opted for a one-way ticket and hiked most of the way back to the base station of the cable car, from where we took a taxi back to Goris. The walk was a very hilly and zig-zagging 10km. If you're walking, be sure to stock up on water before embarking on your mountainous voyage. We forgot to (derp), and it was a struggle.
The walk, though long, is worth your while. You pass a series of pools near a feature called Devil's Bridge that you can theoretically swim in (if you dare). You'll also get a view of some abandoned monastic cloisters, and pass a Lord of the Rings-like watchtower atop another mountain.
The views from the watchtower, about 3/4 of the way back to Halidzor, are epic, and completely justified our trek. Not that justification was necessary–we're die-hard hikers, so walking that far was no big deal. /sarcasm
If you're not interested in the long slog back, just lurk for a while around the Tatev complex. As the day goes on, there will be a decent number of taxis driving to/from the area, as well as a few enterprising Armenians that will be happy to pretend they are taxis for a short while.
Goris and Tatev are definitely in my top three favorite sites of Armenia (the other two being Haghpat monastery and Yerevan, Armenia's capital city). If you ever visit the country, make sure to make the time stop by–you'll be glad you did.
Where to stay in Goris, Armenia
Goris is a great base to visit Tatev monastery from. It's also in a beautiful location, and we recommend taking a day or two to relax and enjoy nature.
And so end our guide to visiting Goris and Tatev Monastery. Let us know in the comments if you have any more questions.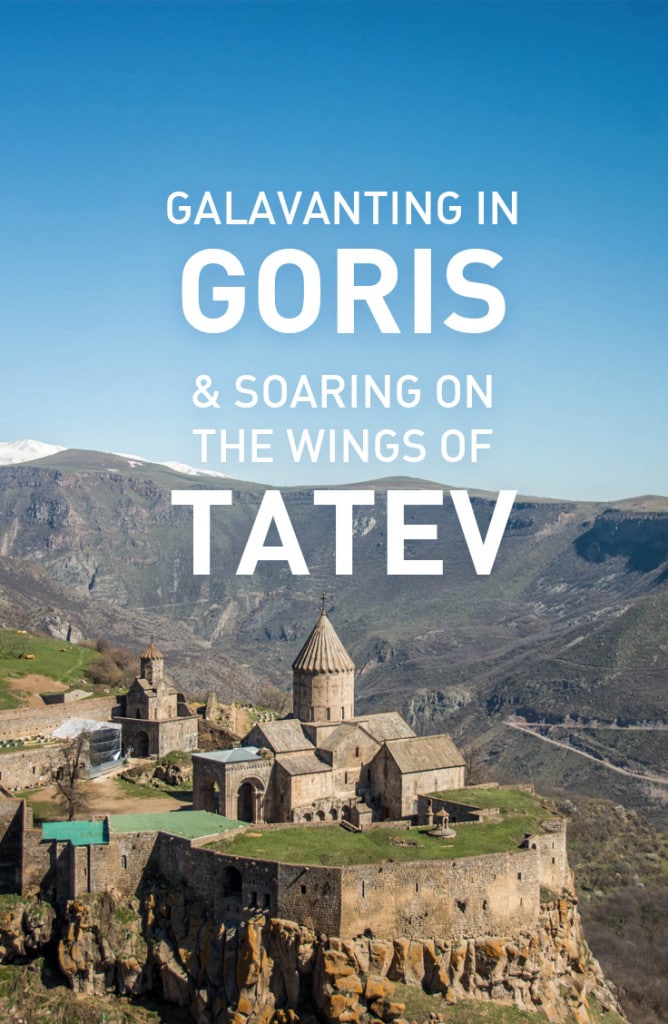 Yay transparency! There are affiliate links in this post. If you book a stay after clicking on one of the links, we get a small commission, at no extra cost to you. Think of it as a way of supporting our blog!