A complete guide to how much it costs to travel in Ukraine by Sebastiaan. Includes a breakdown of average costs for accommodation, food, transportation, entertainment, and everything else you need to know.
As of 24/02/2022 Russia has invaded Ukraine. Ukraine's airspace is closed and there is open armed conflict. We don't recommend anyone to visit right now.
Ukraine is the next greatest destination in Eastern Europe. Once thought too dangerous to travel in after the 2014 annexation of Crimea and the war in the east, these days more and more people are realizing Ukraine is an incredible country to travel.
Because of the 2014 annexation and the war in the east of the country, the local currency, the hryvnia, lost a lot of its value. Terrible as this may be for locals, it's a real boon for travelers from countries with strong currencies: traveling to Ukraine is now relatively cheap.
I give a basic overview of prices in my general guide to travel in Ukraine—don't miss it if you're planning your trip!—but this budget travel guide will go a little deeper into how much things cost in Ukraine.
Read on to find an overview of general costs travelers will incur when visiting Ukraine. These prices are based on prices in the main cities, and are for one person. The further off the beaten track you go, the cheaper things get; secondary cities and rural areas are more affordable than metropolitan areas.
Exchange rate: At the time of writing, $1 is ~27 Ukrainian hryvnia (UAH)  and €1 is ~33 UAH. You can check the current exchange rate here.
Note that prices may be rounded to make things easier to read.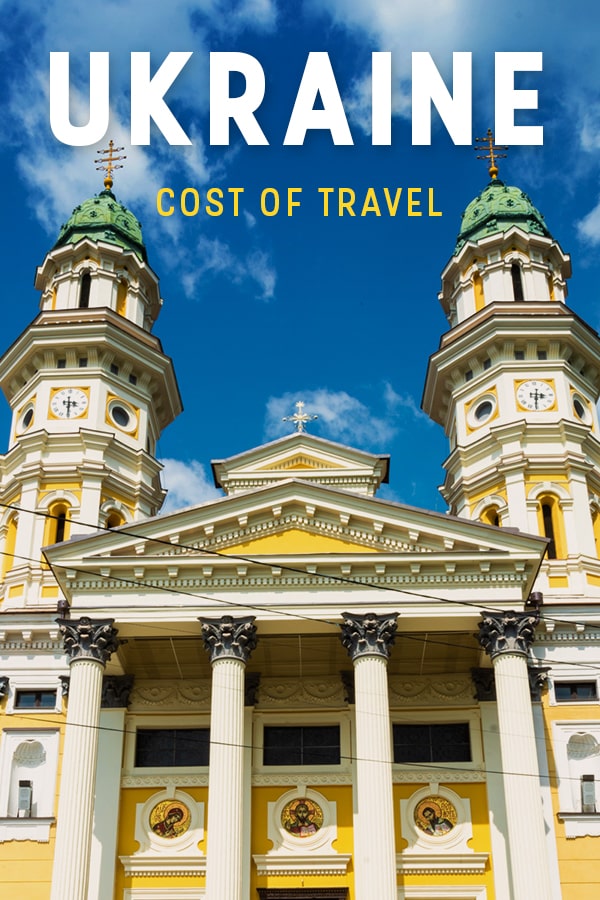 Index
How much does it cost to travel in Ukraine?
The short answer: you can travel in Ukraine on a backpacker budget for about US$20-25 a day.
The long answer: Ukraine is affordable, but how much it costs depends on you. Read on for a more in-depth look at how much it costs to travel in Ukraine.
Cost of accommodation in Ukraine
Ukraine offers all kinds of accommodation options, from budget hostels to luxury hotels… and everything in between.
Though cheap, you should know many budget hostels are more akin to boarding houses. They're popular with Ukrainian workers—don't expect an international party hostel if the hostel price tag looks too good to be true. If you plan to stay in a hostel in Ukraine and want to meet people, make sure to pick one geared towards travelers. Here's a list of my favorite traveler-oriented hostels in Kyiv.
Below are average prices for a night's stay in different kinds of accommodation in Ukraine. Note that hotels usually charge per room, not per person.
Hostels: 150 – 300 UAH/$6 – 12 /

€5 

– 9 per dorm bed
Budget hotels: 300 – 500 UAH/$12 – 19/€9 – 15 for a budget room

Mid-range hotels: 500 – 800 UAH/$15-  25/€9 – 25

Luxury hotels (5-star): 2000+ UAH/$75+/

€60

+
Besides traditional hostels and hotels, there are also plenty of Airbnb listings in Ukrainian cities. Prices start around 700 UAH/$25/€23 per night for an average Airbnb in a city like Kyiv.
For more accommodation in Ukraine check out Booking.com.
Cost of food and eating out in Ukraine
From cheap cafeterias to fine dining, there are all kinds of restaurants and places to feed for travelers of every budget… in the big cities. In Ukraine's rural areas pickings become a bit slimmer.
The most famous cafeteria chain in Ukraine is Puzata Khata. Cheap and tasty with decent variety, it's easy to see why it's become Ukraine's fast favorite. If you're visiting Ukraine, I recommend eating at a Puzata Khata at least once.
Of course, there's more to Ukraine than cafeteria noms. Here's how much you can expect to spend on food when traveling in Ukraine:
Simple lunch or dinner at a cafeteria: 50 – 150 UAH/$2 – 6/

€1.50

– 4.50
Fast food: 30 – 70 UAH/$1 – 3/

€

1 – 2.50
Lunch or dinner at a nice cafe: 250 – 400 UAH/$9 – 15/

€8

– 12
Fancy dinner in Kyiv: 600+ UAH/$22+/

€18

+
Cost of drinks in Ukraine
Lovers of coffee and (alcoholic) cider can rejoice: you can find both relatively cheaply in Ukraine!
But if you're looking for other kinds of refreshments, don't worry, most drinks are relatively cheap. As far as cheap places for nightlife, Ukraine is pretty hard to beat.
If you're on an ultra-low budget, go to the supermarket and buy a big plastic bottle of beer for 30 UAH (a little more than a dollar) or a bottle of cheap wine for 60 UAH… at your own risk, of course. Don't say I didn't warn you when your headache kicks in the next day.
Here are some more average costs for drinks at cafes, bars, and restaurants:
Good coffee: 30 – 50 UAH /$1.50 – 2/

€1 – 2

Cider of beer at a bar in Kyiv: 30 – 60 UAH/$1.50 – 3/

€

1 – 2
Cocktails at a fancy cocktail bar: 200 UAH+/$6+/

€

7+
Bottle of wine at a wine bar: 300+ UAH/$11+/

€

10+
Check out my guide with the best bars in Kyiv to for some night(or day)time inspiration.
Cost of transport in Ukraine
It's generally easy to get around in Ukraine—train systems are good, buses are comfortable, and cities are well-connected by buses, trams, and metros.
Though manageable without, it does help to learn the Cyrillic alphabet, especially if you plan to travel by bus in the more rural areas. There, all the signage will be in Cyrillic. You can learn more about transport in Ukraine in my guide to travel in Ukraine, but for time's sake, here's how much you can expect to spend while traveling around:
Bus, metro, or trolleybus in a city: 8 UAH/$0.30/

€

0.24
Comfortable six-hour bus ride: 300-400 UAH/$11 – 15/

€

10 – 12
Cross country train ride in 2nd/3rd class: 200-500 UAH/$8 – 19/

€6

– 15 (more expensive with newer, faster trains)
Uber in a city: 150-300 UAH/$5.50 – 11/

€5

– 10
Heading to Ukraine? Check out my Kyiv itinerary for tips about what to do and where to go.
Cost of sightseeing in Ukraine
Many of Ukraine's major tourist sites are religious in nature, which (usually) means they're free. Even if a site is ticketed, prices are generally low. There is no dual pricing in place, so the price for locals and tourists is the same.
Some sites do have tiered entrance tickets. For instance, at St. Sophia's in Kyiv, it costs 20 UAH to enter the grounds. However, to go inside the cathedral or climb the clocktower, you have to buy extra tickets. Combination and family tickets are usually available in situations like these.
Museums are generally affordable, although there aren't always English descriptions available. Some art centers, such as the Pinchuk Art Center in Kyiv, are free.
Here's how much you can expect to spend while sightseeing in Ukraine:
Religious sites: Usually free
Major religious sites such as St. Sophia or Kyiv Perch Lavra: 50 – 350 UAH/$2 – 13/

€1.50

– 11
Minor sites: 50 UAH/$2/€1.50
Museums and art centers: 30 – 60 UAH/$1 – 2/

€

1 – 2 (more for English audio tours)
Cost of connectivity in Ukraine
It's easy to get online in Ukraine, and it ain't too expensive either.
Almost all cafes have free high-speed WiFi, and buying a local sim card is super easy. You can check out my guide to everything you need to know before going to Ukraine for more on getting a local sim card; all you need to know now is that a sim card costs around 30 UAH.
The prices below might fluctuate due to limited time offers, but give a good indication of how much data costs in Ukraine.
3GB of data 30 minutes of calling for 4 weeks: 125 UAH/$5/

€

4
Unlimited data and 300 minutes of calling for 4 weeks: 300 UAH/$11/

€

10
Tips for staying on a budget
Ukraine is already quite affordable, but if you really want to stay on budget, here are a few more tips for you.
Eat pastries for breakfast and lunch. Most underground passageways, especially at metro stations, have small stalls selling breaded delights and pastries. These are cheap and often quite tasty.
Buy fruit and snacks from babushkas on the street. Walking around in cities and towns, you're likely to see babushkas on the street selling everything from socks to flowers to fruit and snacks. So instead of going to the supermarket, buy your fruit and snacks from them.
Travel by slow night train. Ukraine is modernizing its rail infrastructure, but there are still plenty of slow sleeper trains. They're cheap and help you save on accommodation. Book ahead!
Go to the

€

1 cafes. In cities, there are plenty of places such as Bilyy Nalyv or Flower Mafia where you can get ciders, beers, and snacks for ~28 UAH. So if you feel like some drinks head there.
Or better yet, buy drinks in the supermarket. Drinking on the street is technically not allowed, but few people care. So head to a park with a cheap bottle of beer or wine and enjoy yourself.
And there you have it; now you know how much it costs to travel in Ukraine! Let me know in the comments if there's anything else you'd like to know about the cost of travel in Ukraine.