A shortlist of cafes with wifi for digital nomads in Cartagena, Colombia. Includes a map at the end of the post.
Warm sun and sands, a colorful coiffed old city, and ceviche for days—it's easy to see why Cartagena is one of Colombia's most beloved hot spots.
Most of the wandering souls in Cartagena's old city are there for a few days of easy rest and relaxation and to enjoy some of the many things to do in Cartagena.
But not all! Digital nomads like myself (and likely you, since you've found this article) need to squeeze in a few hours/days/weeks behind computer screens in between gorging on fresh seafood and soaking up rays. Indulgence doesn't pay for itself just yet.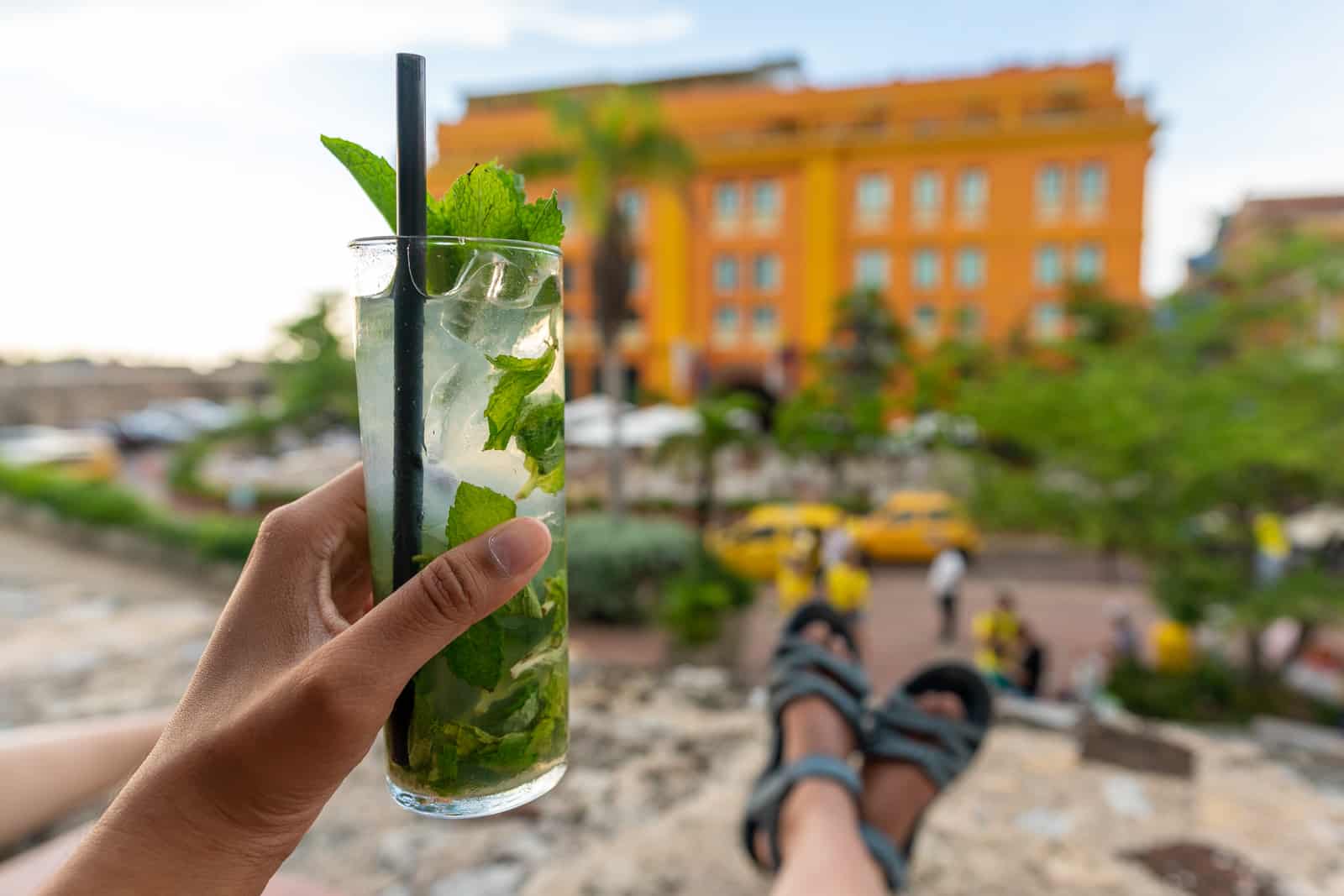 Luckily for us nomadic workers, Cartagena's old city is brimming with adorable cafes where you can disappear into an alcove and work for a few hours. They're all well and good for those working with their hands or on pen and paper… but if you're a denizen of the internet—and who isn't, these days?—you'll also need working wifi in said alcove. There go your options.
Headed to South America? Make sure to check this very useful backpacking advice for South America!
Many cafes advertise wifi and magic and excellent food, but not all deliver. I worked from Cartagena for more than one week, and found a few reliable cafes with wifi that I'd recommend for work in the process. In the name of helping out fellow DNs, here's where you should head for a productive morning… and a damn good coffee of course. This is Colombia!
Cafes with wifi for digital nomads in Cartagena, Colombia
Folklore Colombian Café
Hands-down my favorite place to work, simply because it has boatloads of space and excellent wifi. Who isn't titillated by 40 Mbps download speeds? It's also open early, well before other cafes.
There are a variety of tables where you can stake out your spot/spread your things, and most are close to outlets. It's located on a subtle side street, so there isn't too much foot traffic or noise, and you shouldn't be too concerned about someone coming in and swiping your laptop if you go to the toilet.
A small courtyard offers just enough light in the center of the space, and the baristas are friendly when you speak to them, but won't bother you if you sit there for hours on end. The sweet treats on offer aren't anything to write home about, but the coffee certainly makes up for it.
Folklore Colombian Cafe opening hours:
Monday – Thursday: 7:30 – 20:00
Friday: 7:30 – 19:00
Saturday – Sunday: 9:00 – 17:00
Café San Alberto
Agreed to offer one of the best cups of coffee in Cartagena, but also the most expensive of the lot.
The damned good coffee is enough to bring me back (even if it broke my bank account), but what sells it as a workspace is its excellent wifi. I can't figure out why a luxury coffee shop would need to have fast wifi, but… well, it does. Who are we to question the coffee gods?
Loud groups of visitors and a lack of space are the big downsides to working here, not that they deter everyone. I certainly wasn't the only person working in Café San Alberto. Nevertheless, you'll want to stake out your spot early, or make sure to bring a minimal amount of work materials with you when you do come.
Cafe San Alberto opening hours:
Monday – Sunday: 9:00 – 19:30
Beiyu Slow Food & Coffee
Beiyu is situated somewhat away from the main tourist drag in Getsemane, a more local- and backpacker-oriented neighborhood. As a result, it's a bit more fun to sit and people watch through the window as you slave away on the internet hustle to make your living.
There's a cute little street-facing café area, plus a garden courtyard if you want to be more secluded. The cafe area has plenty of outlets to go around, and the ladies working the place prepare food right there so they can keep an eye on your things. Wifi can be a bit spotty if the café is truly busy, but its coffee is competitively priced for the area, and their wholesome health-oriented food is blissful if, like me, you spent several days in Cartagena stuffing yourself with cheap as chips arepas.
Biggest downside: no AC. When I was there, they had a fan blowing mist in the cafe for reasons unknown. As if it's not humid enough in Cartagena already.
Beiyu Slow Food & Coffee opening hours:
Monday – Saturday: 8:00 – 22:30
Sunday: 9:00 – 18:00
Abacus Books & Coffee
Book lovers be warned: this place is orgasmic.
Abacus is basically a cavernous den of books with a bar and some tables for sitting. Unfortunately, many of the books are wrapped in plastic (… but why?!) making for restricted free browsing, but the staff is very friendly and totally cool with you sitting and working or chatting for hours.
The wifi works well enough for basic internetting, and you can purchase coffee, alcohol, and basic pastries from their café bar. (I'm not one to say no to a little wine during evening work hours.)
If you like a little bit of atmospheric peace and quiet to work in—or just need a good Instagram photo of yourself working because of the shallow world we live in—this is the place.
Abacus Books & Coffee opening hours:
Monday – Saturday: 9:00 – 21:00
Sunday: 8:00 – 20:00
Other cafes with wifi in Cartagena
Not sold on any of these? Still on the hunt for a new haunt? Give these places a try:
Cafe del Mural: Damned good coffee, decent wifi, but not open til 15:00. If you're an afternoon owl, this one's for you!
Juan Valdez Coffee: Like the Starbucks of Colombia, it's a ubiquitous chain, but it has space to spread out, workable wifi, and… air conditioning!
And so concludes my guide with the cafes for digital nomads in Cartagena? Let others know in the comments if you think anything is missing!