A guest post from Tanya of Looking for Dongxi travel blog on exploring off the beaten track villages in Guizhou, China.
Guizhou is a province in southwestern China that most foreign tourists haven't even heard of, let alone visit.
That's not much of a surprise when there are already so many other must see places in the insanely vast and varied country.
Between cuddling pandas in Chengdu, scaling the peaks of Zhangjiajie (the "Avatar mountains"), sipping cocktails on the Bund in Shanghai, discovering the Terracotta Warriors, and devouring copious amounts of dumplings, why on earth would you squeeze in poor little Guizhou?
Because you're adventurous, aren't scared of a challenge, and love being in the great outdoors?
Or perhaps you want to discover the real China? Not the Disney-fied, overcrowded, over sign-posted China that you have to battle through at some of the aforementioned sights, but the sub-tropical green part of China, where dozens of ethnic minorities still follow old traditions passed down through generations.
After living in China for a year, I made a solo trip to Guizhou to explore the province known for its ethnic minorities and traditional crafts. Here's how you can do the same.
Starting your trip: Guiyang to Kaili
I flew into Guiyang, the capital city of the province, and headed straight out to Kaili by train.
When I went it was a slow but beautiful train journey between the 2 cities. Luckily for you, there is now a high speed train that takes about 45 minutes, rather than three hours.
How to travel from Guiyang to Kaili
The train is the best way to reach Kaili, and you have two options for departure stations. To get to either railway station from the airport, I suggest taking a taxi.
To get to Guiyang Railway Station, a taxi costs between 30 and 40 RMB ($5 and $6.50), and takes about 20 minutes to get to the station. A taxi to the North Railway Station will cost around 60 RMB ($9.50) and it will take you around 30 minutes to get to the station.
High Speed train from Guiyang North to Kaili South
Takes 38 to 46 minutes, and costs 60 RMB (USD$9.50) for a second class ticket. It leaves every 30 minutes or so.
Normal train from Guiyang to Kaili
The cheaper option takes about 3 hours, and costs between 15 and 30 RMB (USD$2.50 – $5) for a hard seat. Beware, as the departure times are not as regular as the high speed train.
Booking train tickets
I recommend using Ctrip, an English language website, for booking either kind of train ticket.
Kaili
I loved Kaili. It was so lively, and a brilliant city to wander around, especially at night.
Families would all come out and take part in the games vendors set up on the pavement, there were loads of street food to try, and it felt like there was a fair in town every night.
The Sunday market is another must in Kaili. You can see women from the surrounding villages with stretched ears and tattooed foreheads hawking their wares. But I do have to warn you: there's a fair bit of dog meat being prepared and sold, which might be a bit much for some people!
Kaili is not everyone's cup of tea. I tend to like places often overlooked, and Kaili does fall into that category. It isn't beautiful, but it does have a lot of character, and is a brilliant base to explore the surrounding villages.
Where to stay in Kaili
I stayed at the clean, cheap and conveniently located New Mill Inns. Book a room at New Mill Inns.
Off the beaten track villages in Guizhou, China
Now onto the real reason you're checking out this article! Here are the villages I recommend visiting to get a glimpse of this hidden corner of China.
Matang
Matang was my favourite village to visit, and is the home of a subgroup of the Miao, called the Gejia.
Distinctive due to their traditional costume of indigo and bright orange, the Geija were a lot of fun! As soon as I walked into the village, I was invited to sit down, join in the gossip, and munch on sunflower seeds.
Matang is a village famous for wax batik. If you're in the mood for shopping, this is where you can buy some beautiful, handmade pieces.
… or maybe you'd prefer trying it out yourself? I asked someone if I could join them, and spent the afternoon batiking some very wonky lines. They were excited to share their knowledge, and dyed and dried my material for me, ready to pick up the next day.
How to get to Matang
To get to Matang, you need to take a mini-bus headed to Longchang from Beijing West Road.
It may take some asking around to find out exactly where the bus stops, but I found people pretty helpful, walking me to the actual place I needed to be.
It's only about 25 minutes away, and the driver will tell you where to get off the bus for Matang. Once you get off the bus, it's a beautiful and easy 2 km walk to the village.
Langde
Langde is one of the better known villages around Kaili. As a result, you do get some tourists visiting, although I didn't see any when I went.
Langde is one of the more picturesque villages with well-maintained, traditional Diaoujiaolou houses, which are wooden houses set on stilts. Langde is not big, and a stroll amongst the houses doesn't take long, but it's a fantastic starting point to hike along the river and out into the rice fields.
Don't come to Langde to do lots of sightseeing and be entertained; come to be out in nature and experience the slow pace of village life. If you're lucky (or unlucky, it was pretty painful) you might be given a traditional hairstyle adorned with flowers and jewelry!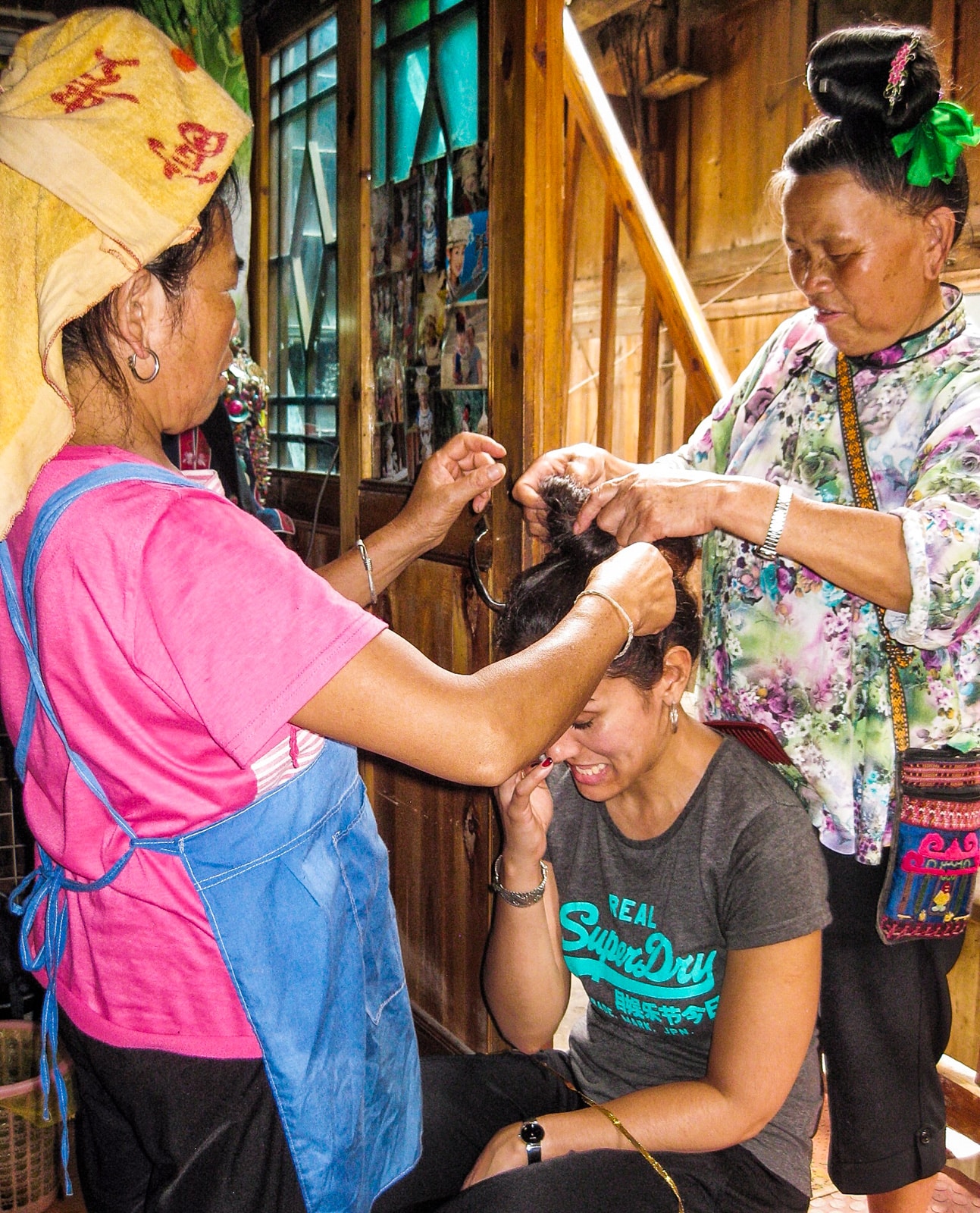 Where to stay in Langde
I didn't stay in Langde, but you can arrange homestays with a local family through Louisa, a Miao woman fluent in English and based in Kaili. You can email her at [email protected].
How to get to Langde
To get to Langde from Kaili, it takes about 40 minutes by bus from the station on North Wenhua Road. A ticket costs 10 RMB ($1.60).
Ask for the bus to Leishan, letting them know you want to be dropped off at Langde. From the bus stop, it's approximately a 20 minute walk by the river to the village.
Zhouxi
When I got off the bus at Zhouxi, I worried I'd been dropped off in the middle of nowhere.
But after a quick look left and right, I realized the village is split in two by the road! The massive water buffalo fighting ring is down by the river on the right, and the houses are up a steep hill to the left.
Zhouxi is a village of indigo dyeing, and you can see women rolling out their lengths of material to dry by the river. After an easy stroll by the river, you can head up the hill to walk amongst the traditional houses, and pop your head in to say hi!
This was by far the most chilled of the villages. As a tourist, no one will mind you, but people are still polite and greet you.
If you want to go off the beaten track, Zhouxi feels like the place. Compared to Matang and Langde, it seemed as though it received less visitors, which is something I really liked. But if you want to see examples of traditional dress and crafts, make sure you head to one of the other villages, too.
How to get to Zhouxi
Zhouxi is the closest village to Kaili, only 15 km to the southwest.
To get there, take a mini-bus from the corner of Huancheng West Road and Beijing West Road in Kaili. Let them know you want to be dropped off at Zhouxi, and in about 20 minutes you'll be there!
When is the best time to visit Guizhou?
This is up to your availability and what kind of experience you want.
If you want to be guaranteed of seeing everyone in their traditional costumes and performing a traditional dance, it's best to go either in Golden Week—a week-long national holiday in October–or during the Lusheng festival, which falls in February or March depending on the lunar calendar.
I went when it wasn't a Chinese national holiday, and I was the only tourist in any of these villages. Because of that, I could walk around taking photos, talking to people, and learning a little about their lives.
This is the kind of travel I'm all about, and I absolutely loved it.