Below you can find a quick guide to travel in Orchha, Madhya Pradesh, the fort-filled former capital of a Rajput kingdom.
On the banks of the Betwa River in Madhya Pradesh lies the village of Orchha. Roughly 400 km from Delhi, the village served as the capital of Bundelkhand between the 16th and 18th century. The rulers were a clan of Rajputs friendly with the Mughal emperor Jahangir. Though distinctly Rajput in style, their architecture was also heavily influenced by the Mughals.
Today, Orchha is a chill town centered around the Ram Raja Temple, a temple where Lord Rama is worshipped as a king. Both the town and the surrounding countryside are dotted with forts, temples, and tombs; the area is well worth a day or two of Indian adventuring.
To help you make the most of your Orchha adventure, here's a quick guide to travel in Orchha, Madhya Pradesh.
How to get to Orchha
To get to Orchha, you first have to head to Jhansi, a city about 30 minutes from Orchha in Uttar Pradesh.
Jhansi is on a major rail line from Delhi; many trains heading further south stop at Jhansi. The train takes only five to six hours, but beware: tickets sell out fast in high season! It's also possible to get to Jhansi from Bhopal by train, or from Khajuraho via Chhatarpur.
From Jhansi, you can get a private rickshaw to Orchha for about 300 Rs. It's also possible to get a shared rickshaw from Jhansi bus station, which should cost you around 30 Rs. There are shared rickshaws from Jhansi railway station to Jhansi bus station for 10 Rs.
Things to do in Orchha
Most people travel to Orchha to bask amongst the multitudinous palaces and temples. That's all well and good, but know there's much more to Orchha than its monuments!
Roam about the palace area
The palace area, situated on a small island across from Orccha, is home to two grand palaces: the Raj Mahal and the Jahangir Mahal.
Both mahals are in great condition, and house plenty of intricate archways, lovingly painted murals, and little lookout spots great for photographic eyes. The island is filled with other smaller temples, havelis, and palaces in varying states of upkeep.
See more: if you're visiting Madhya Pradesh, don't forget to check out the Bandhavgarh National Park, home of Panpatha Sanctuary and Bandhavgarh Tiger Reserve. It's definitely worth the trip
Walking around the grounds of the palace area is free, as is entering most of the buildings. But if you want to enter the Raj Mahal, Jahangir Mahal, and several other sights, you have to buy a ticket.
There is a combi ticket available for the two palaces, plus several other sites including…
The camel stables and Rai Praveen Mahal (both in the palace area)
Cenotaphs of the Rajput rulers
Chaturbhuj Temple
Lakshmi Narayan Temple.
The combi ticket price is 10 Rs for Indians, 250 Rs for foreigners, plus 25 Rs per camera if you have one. The ticket is only valid on the day of purchase.
Check out the view from Chatarbhuj Temple
Another good reason to travel to Orchha is the magnificent temple dominating Orchha's skyline.
Chatarbhuj was built in the 16th century, and was supposed to house an idol of Lord Rama. The best part: you can climb the narrow stairs to the roof for an incredible view of Orchha and the surrounding countryside.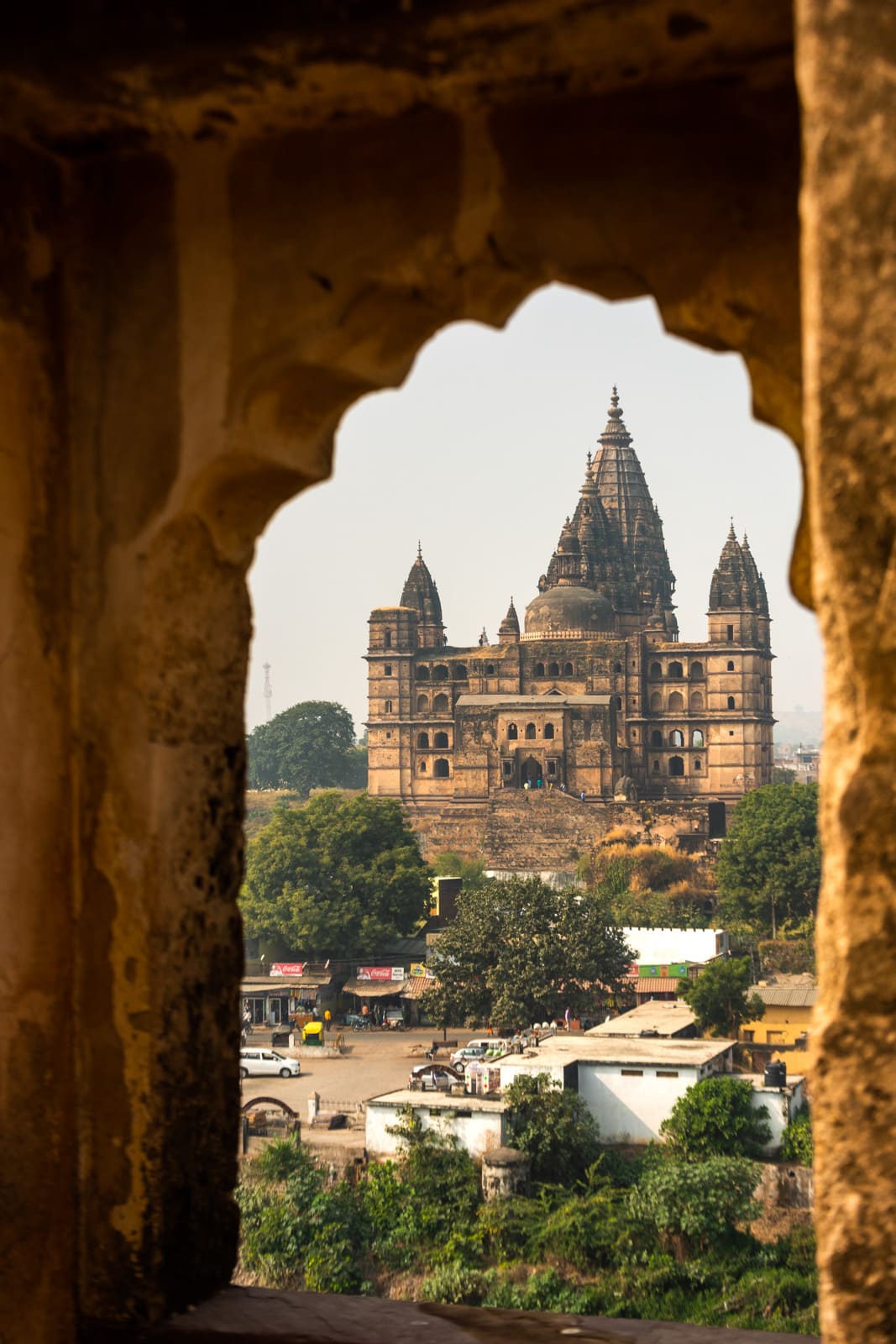 Get lost in Ram Raja and the surrounding bazaar
The Ram Raja temple is situated next tot he Chatarbhuj Temple, and houses a revered idol of Rama.
The temple and the surrounding bazaar are a hive of activity, with devotees jostling to get a glimpse of the idol, and milk-sweet vendors vying loudly for your rupees. Vivid colors pop in the bazaar, which nevertheless has a chilled out atmosphere by Indian standards.
Close to the temple and further into the bazaar you can find Phool Bagh, a small garden with the tomb of a local hero.
Weave through the Orchha Cenotaphs (Chhatris)
The tombs for the former rulers of Orchha can be found at the southern end of the town. The main cluster is situated in a calm Mughal style garden, offering serenity away from the town. Great place to hang out at sunset. The Orchha Cenopaths are part of the combi-ticket that can be purchased at the entrance of Raj Mahal.
Climb to the top of Lakshmi Narayan Temple
Impressive temple on a hill at the eastern edge of town. Offers great views from the roof, to which you can climb, and has well-preserved murals inside. Don't forget to take off your shoes. Part of the combi-ticket that can be purchased at the entrance of Raj Mahal.
Delve into nature (and sites within)
Besides the above mentioned there are plenty of other temples, palaces, and tombs to explore in and around Orchha. Many of these are abandoned or taken over by farmers who, in some cases, have made their home inside the temple. One such example is the Shiv Temple, a bit north of the Palace Area. If you have the time it is worth seeking out some of the further sights, as they offer a slice of tranquility while exploring rural India.
Across from Orchha there is also a nature reserve with several hiking paths. Entry fees are 15 Rs for Indians and 150 Rs for foreigners. If you don't feel like walking, there are several bike rental shops in town. It is also possible to swim in the river, as the Batwa is one of India's cleanest rivers. There are also plenty of secluded spots for 420 lovers.
Where to sleep and eat when traveling to Orchha
Orchha Homestay
Orchha has a wonderful homestay program run by the Friends of Orchha organization.
Located in the small village of Ganj, 1 km outside of Orchha, Orchha Homestay gives you the opportunity to stay with local villagers. They operate six homestays with a total of nine rooms. The homestays are mostly run by low-caste people who otherwise have difficulty making a living. A single is 750 Rs and a double is 950 Rs. Rooms can be booked online, by email, or by phone.
Other guest houses and hotels
If you don't want this, there are several guesthouses and hotels in Orchha itself.  Temple View Guest House is a solid option (book Temple View Guest House), and so is Hotel Sunset (book Hotel Sunset). Those wishing more luxury can stay at the Sheesh Mahal, a literal palace in the palace area (book Sheesh Mahal Hotel).
Food and drinks
Orchha offers the standard variety of temple town food stalls and restaurants serving Indian, Chinese, and Continental food. Many places serve beer off the menu. The restaurant at the Sheesh Mahal offers more fine dining options. If you're staying at an Orchha Homestay it's likely you will eat there.
So there you have it. A quick guide to travel in Orchha. Let us know in the comment if you have any more questions.