Pakistan women's tour itinerary
Considering joining our Pakistan women's tour? Here's our full Pakistan women's tour itinerary to help you decide. Spoiler alert: it'll be a blast.
Anything is possible in Pakistan. This is our planned itinerary… but things don't always go according to plan! From chai invites to landslides, delays can happen anywhere; flexibility is key.
Think of this itinerary as a guideline rather than an exact schedule. If we have to make changes on the fly, we'll still try to do everything mentioned.
---
Day 1: Islamabad
We all meet in the real world!
Shopping for salwar kameez (local clothes)
Shah Allah Ditta caves
Golra Railway Station
Faisal Mosque
Sleeping: Islamabad hotel
Signal: Wifi, 4G
Our tour kicks off to a start in Pakistan's calm capital. Straight roads, less traffic, and leafy tree coverage make your first day a gentle one. You'll be jet lagged most likely, so we'll take it easy.
Note: If possible, it's useful to arrive a day or two early to get acclimated to the time change and rest up before the tour begins.
---
Day 2: Taxila & Rawalpindi
Driving time: 2 hours round-trip
Taxila, UNESCO Buddhist sites more than 1,000 years old
Walk through old city of Rawalpindi
Sleeping: Islamabad hotel
Signal: Wifi, 4G
Time to venture out of Islamabad and see… Buddhist history?!
Yep, Buddhism was widespread in the region before Islam's introduction. UNESCO-listed Taxila is one of the country's biggest Buddhist sites, spanning hundreds of square kilometers. We'll visit the museum to peep at their vast collection of Buddhist relics, then head out to poke around in a few of the major archaeological sites.
In the evening, we'll head to Islamabad's little-visited neighbor city: Rawalpindi. Far older than Islamabad (and much less planned), Rawalpindi is a proper Pakistani city. While dodging traffic and ignoring inevitable stares, we'll roam around Rawalpindi's bazaars and admire old architecture.
Risk takers can snack on street food. We'll finish off our evening with dinner in a famous Rawalpindi restaurant (safer for the stomach than street food).
---
Day 3: Drive to Chilas

(long driving day)
Driving time: 14 – 17 hours (spring), 12 – 15 hours (fall)
Picnic lunch
Sleeping: Chilas hotel
Signal: Spotty 3G/4G in towns
Alas, it's a long drive north… but it'll be worth it, we swear! The drive is broken up into two days for your comfort and safety. Driving late at night is risky due to poor roads, and our driver needs to sleep, too!
Driving time depends on how often we stop, weather and road conditions, etc. The road is very bumpy and winding. If you have back problems or other issues with transportation, keep this in mind. We've tried to time the tours to avoid rains and landslides (the biggest delays), but you never know in the mountains.
Mountain scenery will entertain you on the way, and we'll stop for a picnic lunch and chai whenever you feel like it.
---
Day 4: Drive Chilas to Gulmit

(long driving day)
Driving time: 5 – 7 hours
Photo stop at junction point of Karakoram, Hindu Kush, Himalaya mountain ranges
Lunch and photo stop at Rakaposhi viewpoint
Boating on Attabad Lake, time permitting
Sleeping: Gulmit traditional homestay
Signal: Bad wifi in Gulmit, bad 2G mobile signal
Now we're talking mountains! It's another long day of driving—though less than the previous day—but we'll be treated to such fantastic views by the end that your butt won't notice. Almost.
We'll break up the drive with photo stops at mountain viewpoints and lunch or chai at roadside shacks with the prettiest backgrounds you've ever seen. Oh, and boat across Attabad, one of the bluest lakes in Pakistan… if we don't get too distracted by everything else.
After the long and arduous drive, we'll finally reach the first place we can call "home" on this trip: a traditional Hunzai home in the village of Gulmit in upper Hunza Valley.
---
Day 5: Gulmit

(Upper Hunza)
Women-run carpet weaving center
Oldest house in Gulmit village
Local lunch at women-run café
Trek to Ondra Fort ruins for sunset (3km/1.8mi, 1 to 2 hours)
Sleeping: Gulmit traditional homestay
Signal: Bad wifi, bad 2G
Our first day in Gulmit is all about wandering around and getting a feel for this idyllic Hunzai village. Old stone and mud houses, winding dirt paths lined with trees, and both men and women out on the streets always ready with a smile and greeting—what better introduction to Pakistan's north could you ask for?
The day will be distinctly female in flavor, with visits to both a women-run carpet center (great place for authentic souvenir shopping that directly supports local women) and a women-run cafe serving up all kinds of local Hunza food.
After that, it's time to burn off some calories (necessary, at this point) by trekking up a dirt road to the mysterious ruins of Ondra Fort. Even locals don't know exactly how old it is, but the views from the top are spectacular—you can see Gulmit, Attabad Lake, and the Passu Cones from the top—and it's not every day you can have an entire ancient fortress to yourself!
---
Day 6: Passu & Suspension Bridge Trek

(Upper Hunza)
Village walk in Passu
Hussaini Bridge to Passu Bridge trek (8km/5mi, 3-5 hours)
Sleeping: Gulmit traditional homestay
Signal: Bad wifi in Gulmit, 4G in Passu
Time to venture to one of the oldest and most picturesque villages in Hunza: Passu. Situated riverside near the feet of the famous Passu Cones, the village is a collection of cute stone houses, farm fields, and fruit trees.
After a filling lunch, we'll head out for an afternoon trek between two suspension bridges: the Passu and Hussaini bridges. Perilous and nerve wracking even for the most confident adventurers, the bridges are a sight… and make for excellent bragging and/or Indiana Jones references for friends and family at home.
The trek between the two bridges isn't too steep nor difficult by local standards, but it includes a long, gradual uphill.
---
Day 7: Borith Lake & Glacier Trek

(Upper Hunza)
Trek to Borith Lake, White Glacier (7km/4.4 mi, 2-3 hours)
Sleeping: Gulmit traditional homestay
Signal: Bad wifi, bad 2G
Pakistan has more glacier coverage than any other country; it's time to see one up close!
We'll first walk up a series of dirt switchbacks to Borith Lake (2,600m), about 1.5km or a little less than 1 mile from the Karakoram Highway. Bold souls can go for a dip in its chilly waters—alas, you'll have to keep all your clothes on because #modestlife—and we can all have chai at one of the guesthouses overlooking the little lake.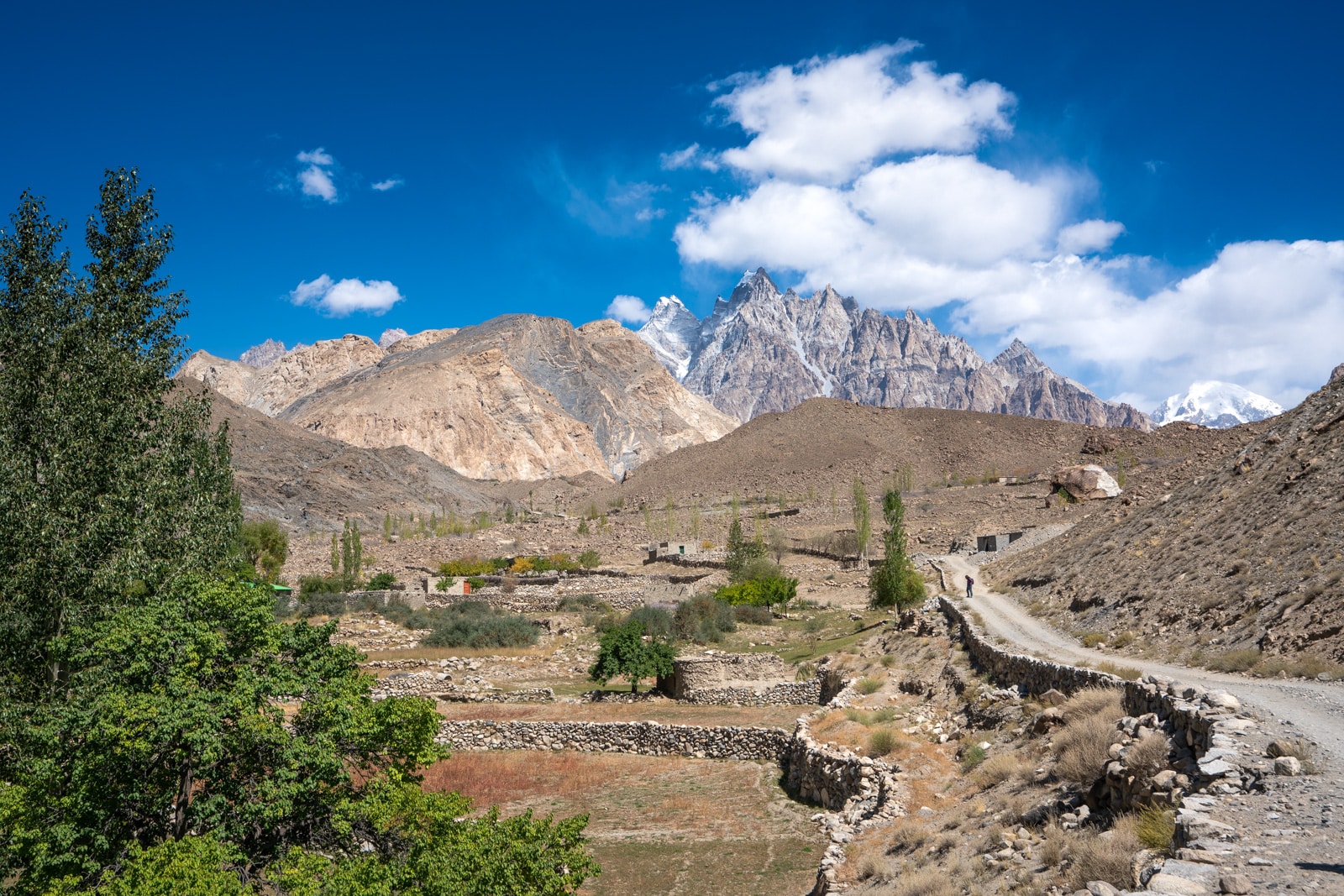 We'll carry on with the relatively easy walk to the vantage point above the glacier, about one hour beyond Borith Lake. It's sometimes possible to walk on the glacier. However, we only recommend this for the most fit participants, as the way down is extremely steep and loose.
---
Day 8: Khunjerab Pass
Driving time: 5 hours round-trip
Drive up to Khunjerab Pass (4,733m/15,528ft)
Sleeping: Gulmit traditional homestay
Signal: Bad 2G and wifi in Gulmit, 4G in Sost (border town)
As far as border crossings go, it doesn't get much cooler than Khunjerab. Literally and figuratively.
The Khunjerab Pass between Pakistan and China is the highest paved border crossing in the world. It's so high, there are oxygen machines in the border waiting area!
Obviously we won't be able to cross the border—unless you have a Chinese visa and want to run away from us—but we can drive through Khunjerab National Park to the border gate with China. It's a long drive, but the road is good and the views, epic.
---
Day 9: Karimabad & Altit

(Central Hunza)
Driving time: 45 minutes to Karimabad, 2 hours to Danyor
Baltit Fort
Lunch at a women-run cafe
Altit Fort
Local women's empowerment initiative
Sunset at Eagle's Nest
Sleeping: Danyor homestay
Signal: 4G
When Pakistanis tell you "You must visit Hunza!!!", this is where they're talking about. By far the most popular place in Hunza (which actually stretches all the way to Khunjerab, but not many people realize that), Karimabad and Altit are as close to touristy as it gets in Pakistan.
We'll divide our time between Karimabad, home to Baltit Fort, and Altit, where a fort of the same name is located. Beautifully restored by the Aga Khan Foundation, the forts are some of the best-maintained historical sites in Pakistan! In between fort visits we'll hit the town for local food and shopping, and meet a local women's empowerment organization.
To finish the day off right, we'll watch sunset at a place called the Eagle's Nest, then drive down south to a town called Danyor to rest our weary heads at a local home.
---
Day 10: Darkot

(Yasin Valley)
Driving time: 5 hours to Taus, 2 hours to Darkot
Village walk through Darkot
Sleeping: Darkot homestay
Signal: 4G in towns, none in Darkot
Finally, the off the beaten track part of the tour can begin! Onwards to my favorite valley in Gilgit Baltistan: Yasin.
Aside from serious trekkers and the occasional domestic tourist, few people visit Yasin. Here, we'll trade towering Karakoram peaks for a narrower, more intimate mountain valley. Most importantly, we'll meet some of the friendliest people in the region. Yes, even by Pakistan standards!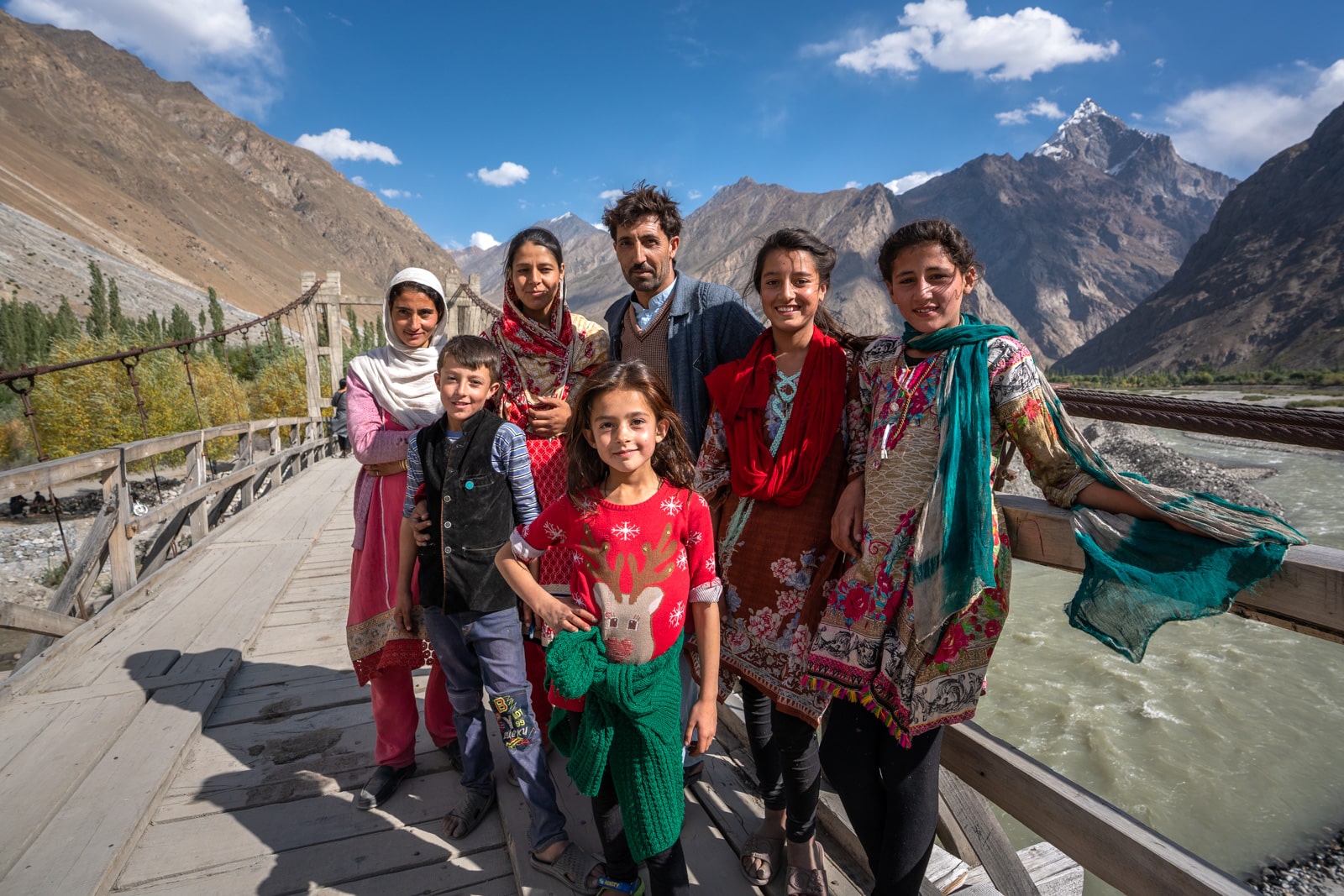 Your introduction to Yasin begins in Darkot, the last village in Yasin. It's a 4-5 hour drive from Danyor to central Yasin. We'll have to change vehicles for the last two-hour stretch of rocky roads to Darkot village. Our journey ends at the home of an impossibly sweet local family.
---
Day 11: Darkot
Trekking around Darkot (7 km/4.5 mi, 2 – 3 hours)
Sleeping: Darkot homestay
Signal: None
With the assistance of our local family, we'll do a day hike in the Darkot area. Weather conditions can complicate things, so if it's too snowy we'll do an easier trek. If you're not up for an entire day of walking, you're welcome to stay in Darkot and relax in the village instead.
---
Day 12: Taus

(Yasin Valley)
Driving time: 2 hours
Village walk in Taus
Trek to Muduri Fort for sunset
Sleeping: Taus homestay
Signal: Bad 2G/3G
A little hop today to reduce driving time for the next day. We'll be heading back towards the start of Yasin to a village called Taus. Filled with trees and perched on a scenic spot overlooking the Yasin River, we can kick back and wander around for a bit.
In the afternoon, we'll hike to the best view in Yasin: Muduri Fort. Though "fort" is a bit of a stretch—there's only one wall left of the 19th century fort—the views from the hilltop ruins are unrivaled.
---
Day 13: Drive to Astore

(long driving day)
Driving time: 8 – 9 hours
Sleeping: Astore guesthouse
Signal: 3G in Astore
Ack, a long driving day! It'll be rough (leaving Yasin always is), but this saves us from having two long driving days in a row. Ew.
We'll break up the drive with a scenic lunch somewhere, never fear.
---
Day 14: Tarashing

(Astore Valley)
Driving time: 2 hours (Jeep)
Village walk through Tarashing
Trek to viewpoint (1 km/0.6 mi, 30 minutes)
Sleeping: Tarashing guesthouse
Signal: Sometimes 2G
One last hop in some colorful jeeps and we'll touch down in Tarashing, a charming village at the foot of Nanga Parbat, 9th highest mountain in the world. Village views can't get much better than this.
We'll be tired from all the driving, so we'll take it easy upon arrival. You can walk around the village as much or as little as you want. Motivated souls can trek up a track to a viewpoint overlooking Tarashing on one side, and Nanga Parbat and a glacier on the other.
---
Day 15: Nanga Parbat Base Camp

(Astore)
Trek to Base Camp 1 (12 km/7.5 mi one way, 3-4 hours)
Sleeping: Tarashing guesthouse
Signal: Sometimes 2G
Get yer trekking boots on, we're going for a jaunt!
Weather permitting (it can be fickle in Astore) we'll be trekking to Nanga Parbat base camp. The walk is gentle uphill, with only one steep slope near the end, and it takes you past several pretty villages. You'll be rewarded with pastures, glaciers, and an even more epic view of Nanga Parbat.
It's also possible to jeep most of the way to the base camp in fall season, with a short but steep two kilometer walk after. In fall, those who are motivated can trek the whole way, and eventually be joined by those who want to drive. Then, we can all drive back to Tarashing together… unless you feel like walking back!
---
Day 16: Rama Lake

(Astore Valley)
Driving time: 2 – 3 hours (Jeep)
Trek to Rama Lake (4 km/2.5 mi, time dependent on season)
Sleeping: Rama hotel
No trip to Astore is complete without a visit to Rama Lake—we wouldn't do that to you!
We'll take jeeps from Tarashing village up to Rama Meadows, about one hour's drive above Astore town. The hotel where we'll stay is in a forested area, within trekking distance from the lake.
In spring, we'll likely have to trek through snow to the lake, and the walk takes 3-5 hours.
In fall, the road will be clear. If you want to walk, the trek will take about 1 hour. If not, you can take a 20-minute jeep ride up to the lake.
---
Day 17: Rama to Besham

(long driving day)
Driving time: 12 hours
Sleeping: Besham hotel
Alas, all good things must come to an end, including our time in the mountains. We have to begin our journey back down south to Lahore! We'll take jeeps down to Astore, then get back on our trusty tour bus.
Much like the drive up north, this day will be long. Prepare your podcasts and ready your snacks, we've got a drive ahead of us.
---
Day 18: Besham to Lahore

(long driving day)
Driving time: 12 hours
Picnic lunch
Sleeping: Lahore hotel
Signal: Wifi, 4G
We're almost there! Don't worry, we'll make regular chai stops and try to find a pretty place for a picnic lunch to save us from going mental with boredom.
---
Day 19: Lahore
Offbeat sites in Lahore:

Bibi Pak Daman shrine
Shalimar Gardens
Mian Mir shrine
Etc.

Musical night
Sleeping: Lahore hotel
Signal: Wifi, 4G
They say if you haven't seen Lahore you haven't lived. We agree! Lahore is Pakistan's cultural capital, brimming with things to do both historical and modern.
Of course, we'll still be weary from the drive down. No need to rush to do everything on our first day here! We'll take our time checking out some of the city's lesser known sights, with a healthy dose of culinary exploration in between.
Come evening we'll dine to Sufi music at one of the city's coolest cafes. Never fear, this is no awkward touristy music night—this is live music you won't be able to resist dancing to.
---
Day 20: Lahore
Traditional breakfast
Historic walk around the Walled City

Lahore Fort
Shahi Hamam
Wazir Khan Mosque
Badshahi Mosque

Lahore food street
Wagah Border ceremony
Farewell dinner
Sleeping: Lahore hotel
Signal: Wifi, 4G
On our final full day of tour, we'll do a deep dive into Lahore's Walled City.
We'll begin with a typical desi nashta, local breakfast, right next to the fort. Lahoris go big with breakfasts, so afterward we'll need to walk it all off as we roam through the old city. We'll see centuries old mosques, an intricate Persian bathhouse, busy markets overflowing with colors and sounds… and then some!
After another delectable Lahori lunch—food is everything here—we'll head towards the bizarre but bumpin' Wagah Border ceremony. You can cheer on Pakistan as Pakistani and Indian border guards strut their stuff for the daily closing ceremony of the India-Pakistan border.
Finally, it'll be time for our final family dinner with a view of Badshahi Mosque on Lahore's most famous food street. Whether we're sad the tour is ending or rejoicing in being free of each other, the food will be delicious and the view delectable.
---
Day 21: Fly home

(oh nooooo!)
And so ends our time together!
If you're flying from Lahore, we'll arrange an airport transfer for you. If you flying out of Islamabad, we can arrange an airport transfer from Lahore for you for an extra fee. Then it's smooth flying for you all the way home!
For those who have a bit more holiday time available, I highly recommend spending a few more days in Lahore to explore the city on your own! You'll be confident navigating the streets of Pakistan by then, and there's far more to do in Lahore than just the places we'll be visiting. Give it some thought!