Yes, women can and do travel solo in Mongolia! Here's a guest post and travel guide from Ana of Parenthood4ever on solo female travel to in Mongolia and her trip to the Gobi Desert to help y'all on your merry way.
As an expat living in China, I used to travel out of China at least four times a year.
The first reason: it's often cheaper to travel outside of China than within the country. Second: leaving is a necessity when living in a country like the PRC!
After traveling seemingly everywhere in East and South East Asia, I wondered where else I could go that felt unique and adventurous enough. My eyes then fell on Mongolia.
I had no plan and no accommodation, only a return ticket to Ulaanbaatar, the capital of Mongolia. Little did I know I'd end up exploring the Gobi Desert for seven days without electricity, water, or internet… and that the trip would be one of the most fantastic experiences of my life.
Guide to solo female travel in Mongolia and the Gobi Desert
Is it safe for women to travel to Mongolia?
Yes. Travel to Mongolia is safe for women if you take precautions, like everywhere in the world.
Locals may stare at you, but it's mostly harmless. The most common crime in Mongolia is pickpocketing. Sometimes people may follow in the hope that you'll forget to zip your pocket. It reminded me of traveling in South America, especially Buenos Aires, where I had to always be on the alert and trust my instincts. I had one experience where I was followed, and the guy pretended to tie his shoelace when I turned. Be cautious!
Note that it's absolutely safe to travel in Mongolia if you take a tour.
When is the best time to visit Mongolia?
Summer is the best time to travel to Mongolia. The climate is ideal for traveling the Gobi Desert; it won't be too cold at night, and average daytime temperatures are around 20°C (65°F). You may also enjoy the Naadam festival in July, a three-day festival that has been celebrated in various forms for centuries.
However, the travel season for the Gobi Desert begins in May and ends around early October. It all depends on the year's weather conditions. When I travelled to Mongolia, I visited the Gobi Desert in the second week of October. Regardless of when you go, make sure you have the right outdoor gear for traveling in Mongolia.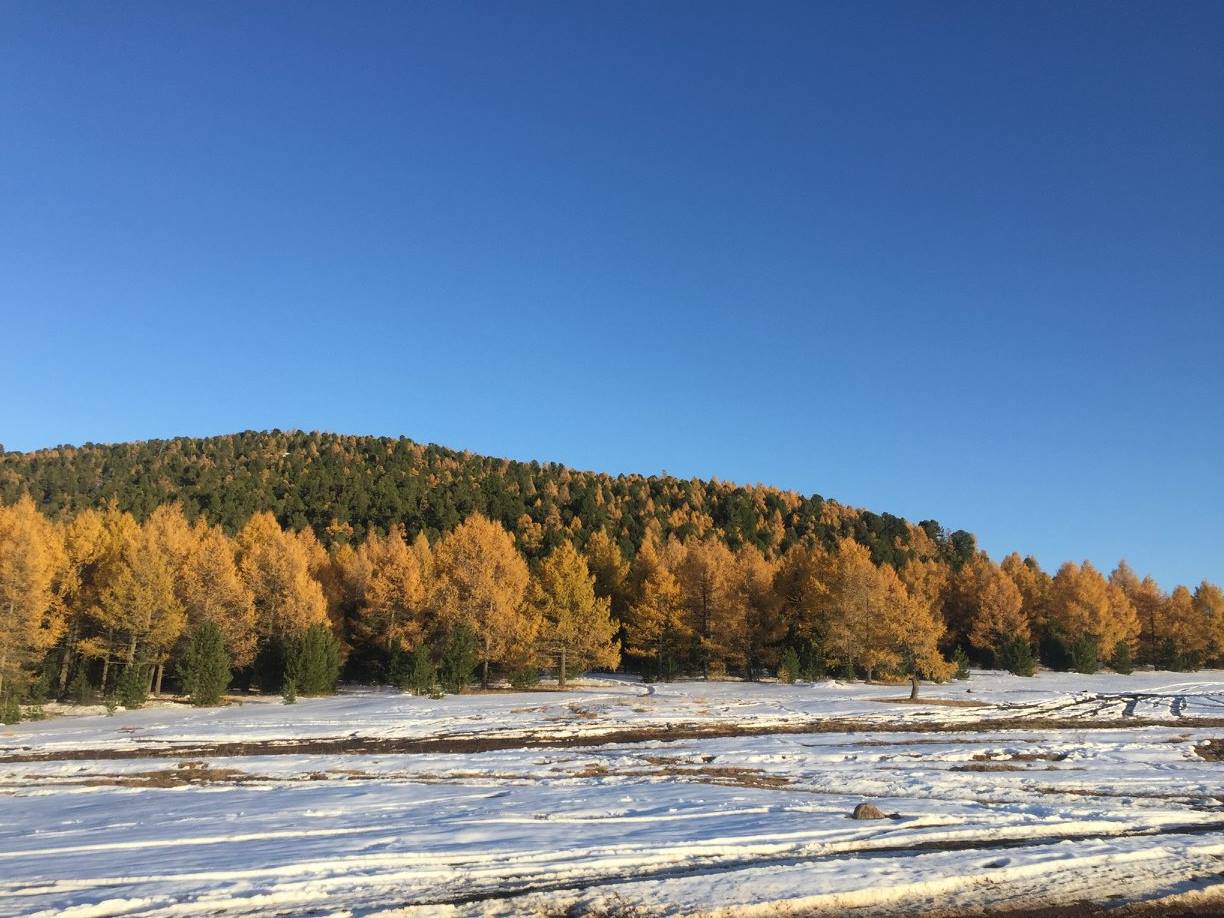 Is Mongolia expensive to travel?
How expensive it is to travel Mongolia is depends on where you're from, of course.
For people with strong currencies, the short answer is no. Apart from the flight, accommodation in Ulaanbaatar will cost you less than $30 USD per night. Food is relatively cheap, so it won't be necessary to cook your own meals to save money.
Read: Paradise naught: the privilege of being a tourist
How much does a tour to the Gobi Desert cost?
Tours to the Gobi can be quite costly. The price of a Gobi Desert tour depends on how many people are in your group, the season, and the length of the tour.
For a group of five people, expect to pay around $400 to $500 USD. Final price depends on the tour agent and your negotiating skills. Don't be afraid to bargain!
Tours can be booked on arrival through your accommodation. Everyone knows everyone in the city. If you stay in a popular backpacker hostel, the chances that you'll find enough people for a group of five is very high. Even at the end of the season in mid-October, I managed to arrange a tour with two backpackers from Switzerland and Australia. As it was the last trip of the year, we got a good discount, too!
How to find accommodation in Mongolia
In the 21st century, booking accommodation is not a difficult task, even in Mongolia. There are multiple platforms for you to find hostels, apartments, or hotels that fit your budget.
As a solo female traveler, I preferred to stay somewhere where I could meet more people, so hostels were the best option for me.
Since I didn't have anything booked, I looked up where the popular backpacker area of Ulaanbaatar is. Surprisingly, when I arrived, I saw nine-story residential buildings! When I looked up, I saw huge signs everywhere on the windows saying the name of the accommodation written with a blue pen or a marker. It turns out this is common in Mongolia.
Locals often rent out their own apartments and sleep on the floor if they do not have more space left. This was a unique way to dive into Mongolian culture, and get a chance to talk to and live with locals.
Read: Legit sustainable accommodation… and how to find it.
Best guesthouses in Ulaanbaatar for solo female travelers
If you prefer to book ahead, I recommend booking a bed at these local guesthouses:
Gobi Girl: A woman-run guesthouse in a beautiful new space with views over the city. The hostess, Boogii, speaks English well and cooks fantastic breakfasts every morning. She can also help you book tours to the Gobi as well as other places in Mongolia. Book a bed at Gobi Girl.
Top Tour & Guesthouse Mongolia: Another guesthouse run by a woman, Mugi, with friendly English-speaking staff who will go above and beyond to help you book everything you need. It's also close to the city center, ideal for exploring Ulaanbaatar on foot. Check prices at Top Tour & Guesthouse.
Things know before traveling to the Gobi Desert
Since you'll be spending at several days (at the very least) in the Gobi, here are important tips for you to truly enjoy the experience:
Take a shower before you leave. You likely will not be able to shower until the last day of the trip… for an extra charge.
Charge all your devices before leaving and make sure you have a power bank with you. I didn't get a chance to power my devices at all during my trip.
Protip from Alex: I use and highly recommend this Anker power bank when traveling in places with limited electricity. I also recently purchased their travel solar panel for charging the power bank in remote areas.
Keep your devices turned off. Turn them on only when you need to take a photo.
Pack warm clothes and woolen socks. It gets very cold at night, even in summer.
Bring your sleeping bag if you have one. Yurt camps provide bedding, but an extra sleeping bag can be helpful and sometimes more hygienic.
Prepare to spend most of the time on the road. You'll be driving very, very long distances.
Enjoy the experience! Tours to the Gobi should cover everything from food to accommodation to transportation so you don't need to think about anything.
Pro tip from Alex: Make sure to clear your memory cards before going! When I travelled to the Gobi back in 2007, I had a moment of crisis when I ran out of space on my SD cards… and ended up loading photos onto my iPod to make space! (Yep, it was that long ago – I travel with very different camera gear now.)
Can I go to the Gobi Desert independently/on my own?
Though it's technically possible to self-drive in the Gobi Desert, it's a bad idea. Frankly speaking, you will be lost before you even start your journey. There are few roads and signs in rural Mongolia, and most drivers use routes and landmarks that a tourist will never notice.
Not to mention the fact that we changed tires four times in seven days. Would you be able to handle that?
Some tourists do cross Mongolia on purchased horses or camels, but venturing into the Gobi Desert alone is a different story. One that should not be attempted lightly.
Read: Peril in the Pamir – my brush with death in Tajikistan
What is it like to travel to the Gobi Desert?
The Gobi Desert is a vast, arid region spanning northern China and southern Mongolia. It's known for its dunes, mountains, and rare animals such as snow leopards and Bactrian camels (two humps).
It's enormous, there's a lot to see, and most importantly, it's very diverse. One day you might wake up in the snow, and by the evening you'll be climbing up sand dunes.
As you drive into the Gobi Desert, at first all you'll see is vast steppe with nothing else in sight. It remains a mystery how my driver could navigate through the desert, especially at night!
A sample five-day Gobi Desert itinerary
The following Gobi Desert itinerary is quite standard, and covers the major must-sees in the region. Every day includes a visit to a major site. You can opt for a shorter version of this tour, but then you won't be able to see the some of the best sites, as they're the furthest from Ulaanbaatar.
Day 1: Tsagaan Suvarga
Travel to Tsagaan Suvarga, where you can explore 30-50 m (100-160 ft) high white limestone formations. Tsagaan Suvarga is also known as a "ghost city" because of its white appearance.
Day 2: Yol Valley in Guryan Saikahn National Park
One of the tour's highlights! You'll arrive at Yol Valley and take a few hours to walk through the entire valley in the Gurvan Saikhan National Park. The guide usually stays in the car. Yol Valley was magical in October; it was covered in snow and ice. You will literally wake up in the fall, and arrive in freezing cold winter a couple of hours later.
Day 3: Khongor Sand Dunes
You'll be sweating from the heat when you reach Khongor Sand Dunes. I was told the dunes are only 400 m (1,300 ft) high, but don't let the height fool you: climbing the dunes was one of the hardest and most challenging activities of the entire trip. It's worth doing to enjoy miraculous views of the Gobi Desert from the top, though.
We finished the day meeting a nomadic family. It was an amazing experience to walk with them, learn about their nomadic life, gaze at the stars, cook a traditional Mongolian dinner, and drink milk tea with goat cheese and fat—a local alternative to cookies! (Soak the fat in your tea and enjoy the unique teatime.)
Depending on the family and your time of arrival, you might be able to help them with their farm animals, plus learn a couple of tricks for taking care of them. Horse and camel riding are also an option for those interested.
Day 4: Flaming Cliffs of Bayanzag
Bayanzag, also dubbed the "Flaming Cliffs" by an American scientist, are red stone cliffs internationally known for the remarkably intact dinosaur fossils that have been found within.
Apart from breathtakingly fiery Mongolian scenery, you will be able to visit a local market in the Gobi Desert. There are only a few of them, but it's a nice opportunity to get some meat and cook together with your nomadic family. They'll be happy to receive meat as a gift, and they'll ensure your stay is unforgettable in thanks.
You will also visit the Ongi Monastery, the ruins of two Buddhist monasteries facing each other along the river Ongi.
Day 5: Karakorum
Before returning to Ulaanbaatar, you'll have an option to shower for an extra charge. This is to encourage cleanliness before arriving in Karakorum, the ancient capital of Mongolia.
The city is home to Erdene Zuu monastery, believed to be the first Buddhist monastery in all of Mongolia.
Enjoy your nomadic adventure in Mongolia!