A poorly planned endeavor to exile myself to northern Lake Baikal in Siberia, Russia, turned out to be exactly the mental health boost I needed. Head to the end of the post for a travel guide to Severobaikalsk and northern Lake Baikal.
Ninety two hours. Two toasty trains. Three melted chocolate bars. Four nights in slightly too short platzkart bunks. Dozens of cups of tea. Too many cups of instant mashed potatoes.
That's what it took to reach the northern shores of Lake Baikal, Siberia, the deepest lake in the world.
Was it worth it? Yeah, I'd say so.
The plan is… no plan
Admittedly, I had no idea reaching Baikal would be such an endeavor. In true form, I didn't actually plan anything at all.
At the start of July, I found myself in Moscow, Russia with no plans, no itinerary, and a lot of mental baggage and stress. Not the best state for making life decisions, I must admit.
The only concrete notion in my mind was curiosity about Siberia. Shout out to Elena Eduardovna, my charming forest witch-like Russian language professor who raved about her research in Siberia to me in 2009.
A post on /r/Russia asking for offbeat Siberian recommendations didn't reveal much, aside from one Redditor recommending northern Baikal, Severobaikalsk, to avoid summer crowds.
As someone who devises travel plans based trivial things like photos hanging in hotel hallways, the off handed recommendation was all I needed. One week later, from the porch of a new friend's vacation hut near Kazan, I booked a train to northern Lake Baikal.
My eyes bulged when I saw the total travel time: three days and 20 hours from Kazan to Severobaikalsk. Holy long train rides, Batman!
… but I'd already made my decision. Overland travel always wins over flying, no matter how arduous. Besides, four days wasn't that long… right?
Train to nowhere
Though four days is an ungodly amount of time in any transport, my days in the train passed by surprisingly quickly.
A man who spoke thickly accented Russian far too fast drilled me with questions for two days straight. He asked about my love life, how I finance my travels, and how he could get a US visa—exasperatedly face palming when my very rusty Russian stunted conversation.
The last two days I alternated between writing, eating ice cream at stations, ODing on tea, peeing it all out, and loathing the grumpy frumpy woman in the bunk below me who periodically snarled at me and never made space for me to eat. Aside from when she went to secretly vape in the toilet.
Could be worse.
Almost four days later, under the dark blanket of midnight (and possibly an alcohol blanket from my secret stash of cheap vodka #classy), I toppled out of the train and into Severobaikalsk, utterly spent. I passed out in a hostel overnight; the next day began my exile.
Read: My full account of my accidental 4-day Trans-Siberian train journey
Simple, yet satisfying
There is not much on Baikal's northern shores. Aside from the "city" of Severobaikalsk, there's one more tongue-twister town named Nizhnengarsk, then nothing but the occasional dacha or village.
In my case, exile meant lurking like a ghoul in the upstairs of a simple wood cottage owned by a soft-spoken Russian man named Juri.
Juri picked up my still drunk hungover self early the next morning. After a quick trip to a desolate supermarket, Juri, his son Arseni, and I drove out of Severobaikalsk and into the nothingness of northern Baikal.
We cruised to a house Juri's father built decades ago on the outskirts of Dushkachan, a 300-year-old village of several dozen charming—if tired—wooden houses, copious weeds and wildflowers, and a menagerie of rusty Soviet cars.
It wasn't quite on Lake Baikal, but rather on the marshlands on the lake's northern shores. There was not much in walking distance, aside from a trail along the riverside frequented by fishermen, and forests filled with swarms of mosquitoes. Only chirping bugs and the occasional passing train rattling the cottage's walls broke the silence.
I loved it.
Days were simple. I'd wake up and read the New York Times over coffee. Share a modest breakfast of bread and cheese, tvorak cottage cheese and jam, or Russian blini pancakes with Juri and Arseni. We'd all go our separate ways for a time: I holed up upstairs writing articles and freelancing, Juri puttered about the house fixing things up, and Arseni devoured gigabytes of tank videos on YouTube.
Once we all tired of our respective missions, we adventured by car in search of swimming spots to satisfy Arseni's fish-like tendencies. We often shared pelmeni dumplings for lunch, and promptly pass out in food comas after eating too much of the doughy, meaty comfort food. Sometimes I'd run them off in the evening along the riverside, sometimes not.
It felt like time stood still. After years of full-time travel, never-ending blogging and freelance work, confusing personal matters, and dealing with the stress of being a public figure on the (rather ruthless) internet, the peace of north Lake Baikal was the soothing salve my mind needed.
Doing nothing is everything
See, contrary to what Instagram might tell you, travel is not about ticking items off a bucket list. In my opinion, travel is about experiencing the local culture of the place you visit, whether that be hitting up a list of restaurants and parks or simply hanging out.
It would be easy to say I didn't do anything in northern Baikal, but that's the beauty of the experience. I rejuvenated my body and my mental health, while simultaneously experiencing Russian culture in full.
Though I didn't hit up every museum and monument in a 20-kilometer radius, I warmed my tired muscles lounging in a backyard sauna heated by a wood stove.
I didn't go on any organized hikes or tours of the region, but I barbecued fresh omul fish over a campfire on an empty island beach with Juri, Arseni, and a local man named Ilya.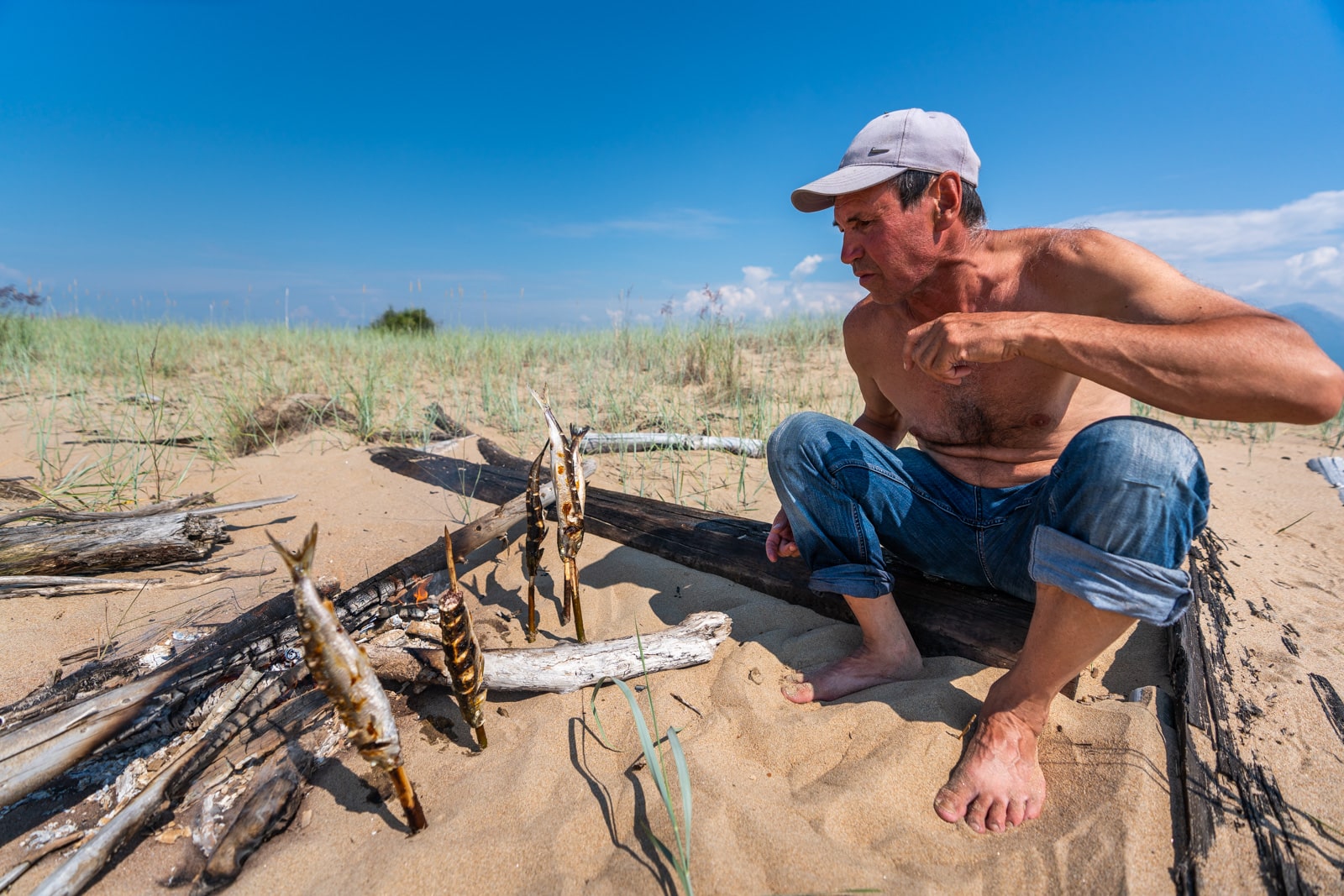 No running down the list of must-visit restaurants in the region… just harvesting wild raspberries from silent forest paths dotted with muddy bear prints.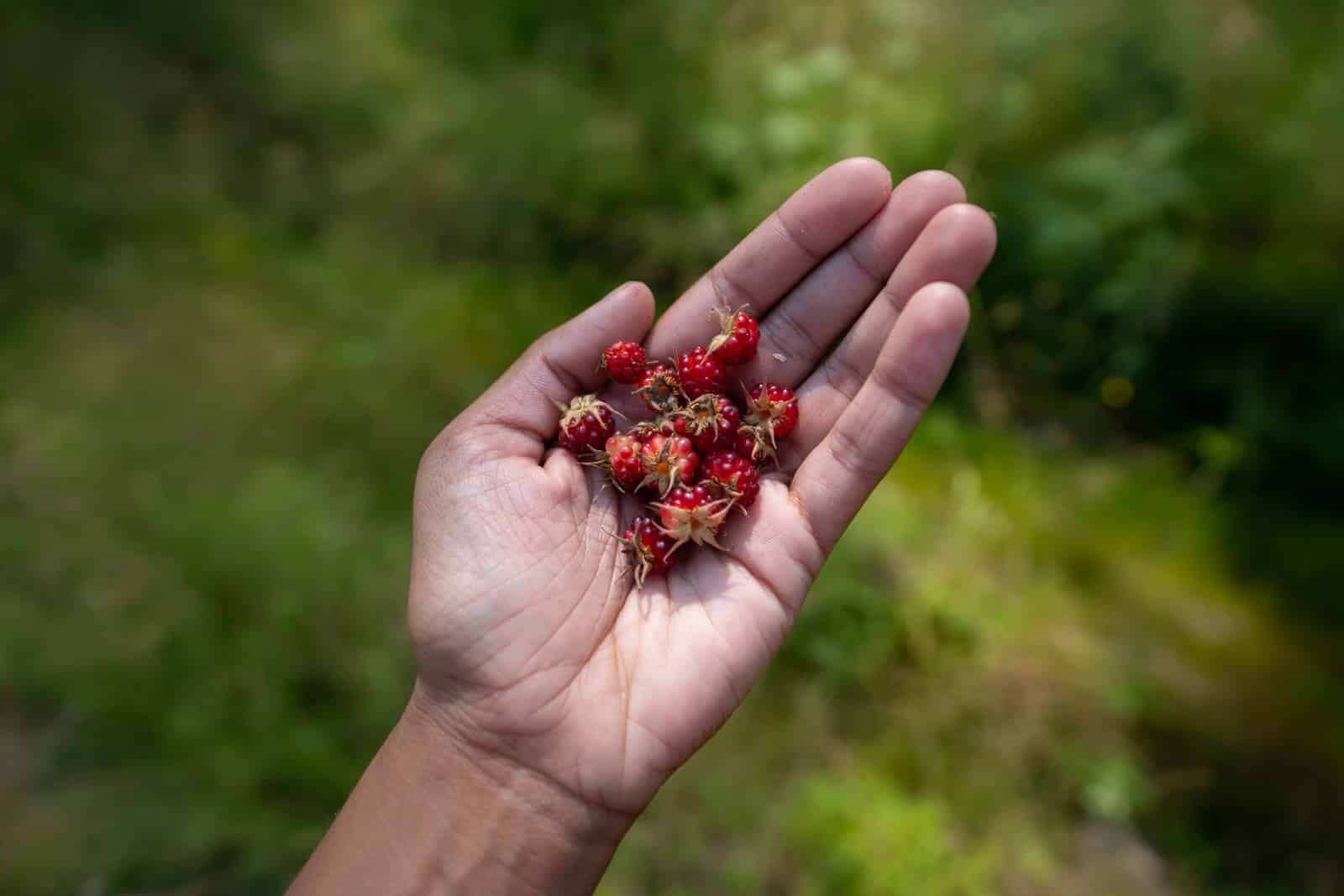 I may not have done shots under strobing nights in the popular nightclubs, but I did sip Russian wine while watching Juri teach Arseni chess under the warm glow of a hearth fire.
There are endless ways to dive into a culture. Some people like to pore over blog posts and guidebooks ahead of time, carefully crafting plans for the perfect immersive experience. But sometimes you just need to get on an endless train to nowhere, then see where the destination takes you.
Travel guide to Severobaikalsk and Northern Lake Baikal
Want to get off the beaten track in Russia and escape the crowd in the south of Lake Baikal near Olkhon and Irkutsk? Head to the northern side of Baikal!
How to get to Severobaikalsk and Northern Lake Baikal
Severobaikalsk is the biggest "city" in the area. It has both an airport and a train station, which sees a decent amount of train traffic from major stations.
Marshrutka minibuses run between Irkutsk and Severobaikalsk, leaving in the afternoon and arriving the next morning. The journey is a painful 18 hours, so better to take a train if coming from Irkutsk.
Where to stay in Severobaikalsk and North Lake Baikal
There's only one hostel in Severobaikalsk: Hostel03RUS. It's tidy, smack in the middle of the city center, and affordably priced. No complaints here!
However, if staying on longer I recommend booking a cottage or something similar on the lake through Booking.com or Airbnb. There's nothing quite like being right by the water!
Things to do in Severobaikalsk and North Lake Baikal
Like I said, Baikal is a place for relaxation, not ticking items off a bucket list. But that doesn't mean there aren't things to do in Severobaikalsk to add to your itinerary!
Visit the market in central Severobaikalsk. It's surrounded by produce stalls selling everything from fruits to bread to fish, and the market in the center building has the cheapest groceries in the city.
Learn about Buryat culture. Though they're now more concentrated in other places such as Ulan Ude, Buryat people are indigenous to the Lake Baikal region.
Head to the beach. There are sandy beaches near Severobaikalsk, while Nizhnengarsk and beaches more to the west are home to rockier pebble beaches. The water is crystal clear no matter where you go, though!
Hike around in the forests. There are several hiking trails in the mountains around the lake, though they don't yet connect to the Great Baikal Trail, to my knowledge.
Boat out to Irgi island. The long strip of forested sand is peaceful and sees few tourists; there are only 7 houses on the island! I paid 4,000 rubles for a full day of boating for three people with a local guide and fresh omul fish for lunch.
Go fishing. Omul fish from Lake Baikal are famous… and delicious!
Drive or hike up to the Buddhist stupa in the hills. It offers a gorgeous view of the town and surrounding area. There are also hiking trails in the forests around it.
Camp on the lake shore. You can camp pretty much anywhere you'd like in Russia, and a spot by the lake is the perfect getaway!
Tips for visiting Severobaikalsk and Northern Lake Baikal
Pack bug repellent. The mosquitoes were out of control in summer. At one point, I had to turn back from a hike in the forests on the mountains because they were so bad.
Use the public buses running between Severobaikalsk and Nizhnengarsk. They run every once in a while during the day in summer. You can't miss them.
Get a Megafon SIM card. I had reliable 3G throughout the area most of the time.
Beware of bears. I saw several sets of prints (and other less savory evidences) of bears while walking in the forests.
More on traveling Northern Baikal
Privet Baikal – The most comprehensive English-language website for tourists I found on Northern Baikal
Have you been to North Lake Baikal? Do share! I'd love to hear about your experience in the comments.
Yay transparency! There are affiliate links in this post. If you book something using one of my links, I'll get a small chunk of change at no extra cost to you.