Here's my take on what it's like to travel in Saudi Arabia, after 3+ weeks of independent travel there in 2019.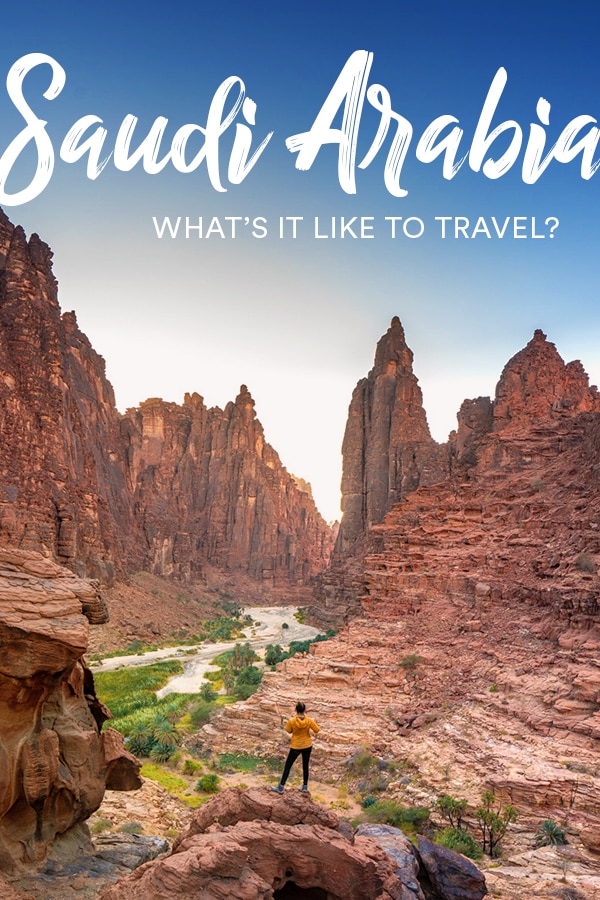 In 2019, Saudi Arabia opened its metaphorical doors to international tourists of all backgrounds, not just Muslims on pilgrimage. Its shiny new—and insanely simple—tourist e-visa system means more than 49 nationalities can now get an e-visa in less than 15 minutes. A far cry from recent years when tourist visas literally did not exist.
You might've noticed when seemingly every big name influencer ended up in Saudi Arabia on some of the most controversial sponsored trips of the year. Most spouted positive banalities about deserts, hospitality, and vague challenges to preconceived notions about Saudi Arabia. To be fair, they were contractually obliged to do so… and were reportedly forbidden from discussing further. Hmm.
I enjoy photos of hot people in deserts just as much as the next person, but they're not very helpful in a country as complex as Saudi Arabia. They certainly don't answer the question: what's it really like to travel in Saudi Arabia?
Well, after backpacking independently all over the country for more than three weeks, here's my take on what it was like to travel in Saudi Arabia. #NotSponsored, of course.
What is it like to travel in Saudi Arabia?
There's a lot more than sand dunes.
"You will see many kinds of sand in Saudi," a Couchsurfer told me on one of my first days in the country. I laughed, thinking he was joking.
… he wasn't. #Dunes4dayz y'all.
But that doesn't mean Saudi is only dunes! Lush oases of date palms and tall grasses sway between craggy rock canyons. Terraced green mountains wrapped in clouds kiss southern Saudi skies. Impossibly clear waters, white sands, and colorful corals brimming with fish line Saudi's coastline. (And very few people swim; you'll have the beaches to yourself.)
Changes are taking place faster than anyone can keep track of them.
In a push to improve the country's international image and increase tourism, the Crown Prince is relaxing many restrictive laws.
Foreign women don't have to wear abayas (robes). Unmarried foreign men and women can share hotel rooms. Foreign and local women can drive, and no longer need a male guardian for travel. Restaurants are no longer required to keep separate entrances for men and women. Cinemas, music events, and festivals are now permitted. To name a few.
… in theory, anyway. In practice, implementation takes time. Saudi Arabia is an extremely conservative country; drastic changes won't happen overnight despite what laws may say. So many changes are happening so quickly that people are often not entirely sure what is and is not acceptable these days.
It's extremely segregated by gender.
Men and women are kept separate in Saudi.
Inside the home, there is often an area for men/guests and a separate area for women. Female family members of age are often hidden from extended male family.
Outside the home, it was illegal for unrelated men and women to mix publicly until recently. Men work and walk out in the open, while in many places women are visible only inside cars, shops and malls, or restaurants, usually in full black niqab. (They do work, however.) Schools and universities are separated by gender. Though no longer required by law, most restaurants are separated into men's sections ("singles") and women/family sections. If there's a women's section at all—many cheap places don't have one.
Read: A guide to female travel in Saudi Arabia
It's got allllll the post-apocalyptic vibes.
Saudis like to drive everywhere. Eeeeeverywhere.
This means in many places there are few people on the streets, aside from migrant workers from other countries. Combine the empty streets with Saudi's curious obsession with excessively large playgrounds and parks—often equally empty—and crumbling villages between cities, and the end result is eerily apocalyptic.
Saudi feels like… the United States?!
A strange association to make, but hear this American out.
Everyone drives gigantic cars everywhere. No one walks—it's not pedestrian friendly at all. Every American chain ever can be found in Saudi somewhere; there is literally a Krispy Kreme next to the Prophet's mosque in Medina.
Distances are too vast for anything except cars and flights, its impressive highways punctuated only by rest stops and gas stations. Public transport is not a thing.
Tired, empty towns and bizarre roadside attractions are aplenty outside of cities. Malls are some of the few places where people can hang out and socialize. Oh, and brown people are considered servant or working class (sigh) and many Saudis have a superiority complex over other ethnicities.
Have I convinced you yet?
This is partially because many Saudis were sent to the United States to study with the intention to ultimately bring American education and knowledge back to the country. Seems the plan worked.
Read: Road tripping Saudi Arabia: a travel guide
People must be cautious when speaking.
Critical commentary in Saudi Arabia is dangerous. Insulting or speaking critically of the royal family or the state of the country with the wrong people can get you into a lot of trouble. Homosexuality, feminism, and atheism are all classified as extremist ideas punishable by imprisonment, flogging, or sometimes death.
It's best not to put locals into a dangerous position discussing sensitive subjects unless they already showed they're willing to do so.
Tourism is moving toward luxury.
Saudi Arabia hopes to attract high value tourists with its tourism push. Luxury hotels and beach resorts are under construction. Calendars are filling with expensive ticketed events. A Dubai-like "smart mega city", NEOM, is being built from scratch in the north, promising robotic dinosaurs, flying cars, and holographic teachers (?!).
In my experience this mindset is leading to sites feeling Disneyfied rather than historic. It's hard to ~feel the history~ among gift shops, fancy cafes, excessive lighting, and lawns that'd make a golf course jealous.
Read: How much does it cost to travel Saudi Arabia?
Eating is glorious. 
My favorite part of traveling in Saudi Arabia was the FOOD (#glutton). Endless flavors intermingle, brought by the mixture of cultures coming to the region over centuries.
Rich plates of rice and meat center Saudi meals, ideally with a side of thick, creamy laban yogurt. Spiced Yemeni cuisine is everywhere in the country, particularly in the south near the border.
Turkish shawarma and Egyptian fuul are beloved staples in every city. Pakistani, Indian, and Bengali aromas are everywhere due to the large diaspora.
Fresh seafood is on offer all along the Red Sea coast. And, of course, the dates in Saudi are to die for—to be paired with golden Arabic coffee, of course.
It's all good… if you're white and/or blonde.
Saudis can be quite hospitable… to the "right" people. Fairness is a ticket to royal welcome, and a get out of jail free card for a cultural faux pas. White travelers can expect invitations to tea and food, gifts, and a million Welcome to Saudi Arabias.
Others? Erm… not so much. Racism runs deep in Saudi Arabia. The more melanin in your skin, the less likely you are to see hospitality from strangers in Saudi Arabia. (And the more likely you are to experience a less charming side of the country.)
Extreme contrasts are everywhere.
You'll see Disneyfied tourist sights next to crumbling ruins and trash. Luxurious cars speeding down highways, destroyed by reckless driving. Sweltering coastal cities a stone's throw away from frigid mountain villages covered with clouds. Cities glittering with skyscrapers close to mud villages succumbing to time.
In Jeddah, Saudi Arabia's most liberal city, women are outside. Uncovered hair and open abayas (robes) flutter as they do everything from driving to riding bicycles along the Corniche. A few hours south, you'd be hard pressed to see any women outside at all.
Big city compounds are enclosed worlds of their own where people can wear what they like and do as they please. Men and women can jog publicly in immodest clothes, alcohol is served at parties, and foreigners are free to live the way they want. Meanwhile, conservative life goes on as normal outside compound walls.
There are many faces to Saudi Arabia. What you see depends on where you are, what you look like, and how much money is in your pocket.
It's hard to meet Saudis.
Meeting locals isn't always easy. Saudis stay in their cars when going around, and much of Saudi social life takes place behind closed doors of homes. You're more likely to meet foreign workers—think Egyptians, Pakistanis, Filipinos—on the street and working in establishments than you are Saudis.
If you want to meet locals, I recommend using Couchsurfing to meet Saudi travelers.
There are drinks and drugs.
If there's one thing I've learned in my travels, it's that no matter where you go, no matter how conservative, there is always someone drinking or smoking. Saudi Arabia is no exception.
Alcohol is available under the table. Some people brew their own, and international branded booze is available… if you can afford it. Local liquor known as siddiqi is common. Many foreign expats drink freely in their compounds, and people often head to neighboring Bahrain to get their drank on.
Hashish is widely available, though it's become more expensive since the war with Yemen began. Khat is a plant stimulant common in the south of the country; it's even cultivated in the mountains of Jazan province. 
It's still highly illegal to possess and consume drugs in Saudi Arabia, so if you do dabble in the dark, be careful.
Saudi Arabia was in some ways what I expected, in other ways not at all.
I expected a land of strict conservatism and regulation. Though I met many exceptions—ranging from solo traveling women to secret atheists—my expectations and reality weren't vastly different.
What I didn't anticipate was the diversity of landscapes. I knew there was desert, obviously, but I didn't expect crystal waters filled with corals, or misty mountains blanketed in green. Saudi Arabia's natural landscapes were truly a treat.
Does that mean I recommend traveling to Saudi Arabia?
… honestly, I don't recommend Saudi Arabia as your next great vacation destination (until Al Ula reopens in October 2020, perhaps). But if you're a traveler curious about complex cultures, interested in visiting a country very few tourists have traveled, well… Saudi Arabia's got your name on it.
Have more questions about traveling Saudi Arabia? Ask them in the comments!