Planning travel to Saudi Arabia? I got you! This crazy comprehensive one-month Saudi Arabia itinerary covers some of the best places to visit in the kingdom… and then some. Includes an interactive map. Buckle in, you're about to go on a trip!
Psychedelic desert sunsets bathing date palms in gold. Kilometers of turquoise waters lapping at white sands. Culinary scenes influenced by pilgrims and travelers for centuries. A deep and complex culture unlike any other in the world.
This is but a taste of what awaits you in this interesting country.
Problem is, figuring out where to go in a country as vast and off the beaten track as Saudi is tricky! But don't worry, I got you: here's a one-month Saudi Arabia itinerary you can use to plan your trip.
Index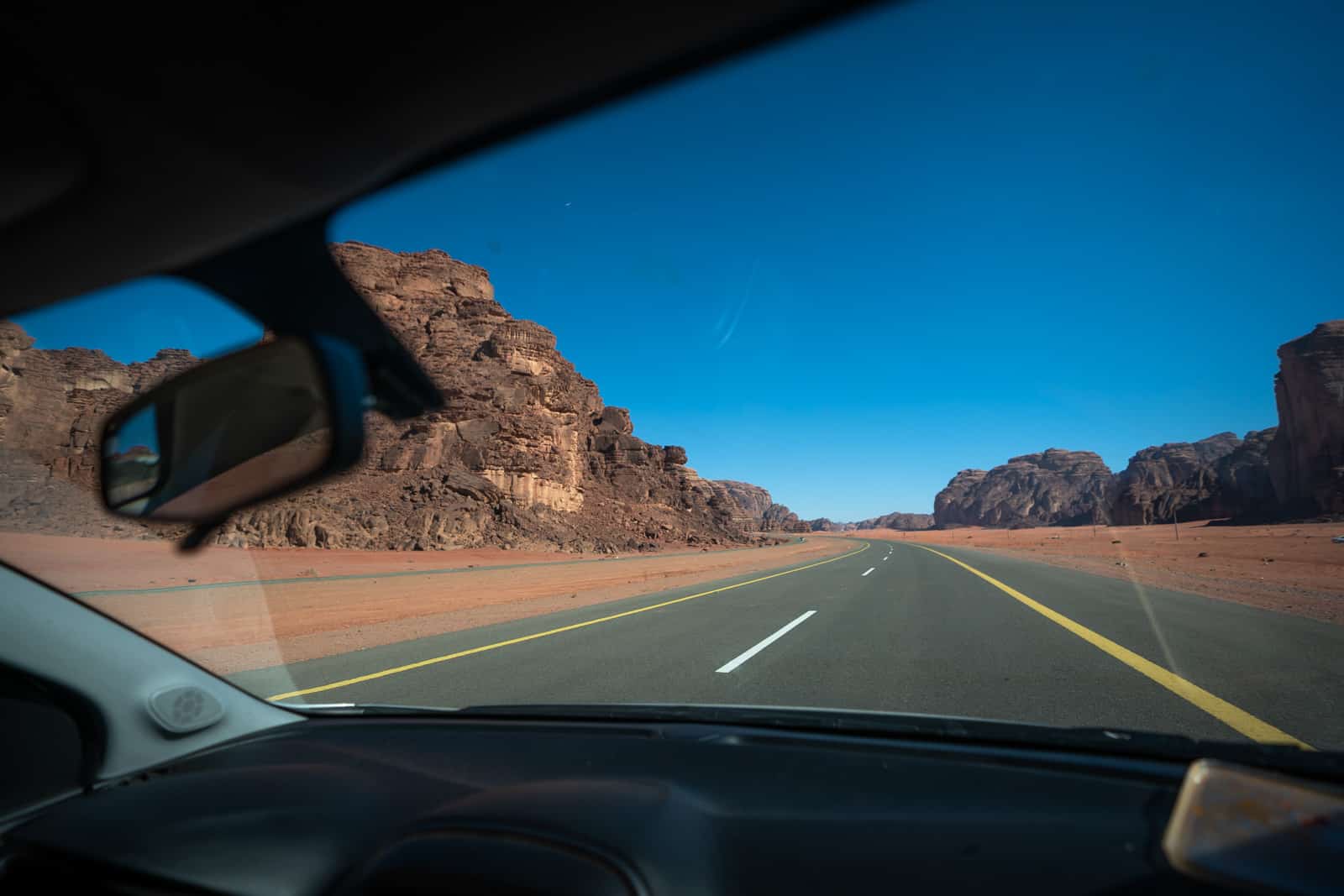 Do you really need a car to travel Saudi Arabia?
Renting a car and road tripping is, hands down, the best way to travel around the kingdom. It'll make your travels significantly easier: distances are large, sites remote, and public transportation is limited. If traveling with multiple people, renting a car is actually cheaper than other options.
However, it is possible to follow these itineraries using a mixture of long-distance buses (or flights, though I don't recommend nonessential flights for environmental reasons) and car/guide hire or hitchhiking. Bus and flight times are listed if the option exists.
Stay safe, stay connected while traveling
It's a good idea to get a local SIM card to stay connected in case of emergencies. STC offers the best coverage in the country; I rarely went without signal for more than a few minutes on the major roads, and had data almost everywhere.
Pick up an STC SIM card in international airports upon arrival, or at any branch in the cities.
Essential Saudi: a one-month Saudi Arabia itinerary
Start: Riyadh
End: Riyadh
Time: 3-4 weeks
This is basically the route I took when traveling Saudi Arabia in 2019, based on recommendations from locals and travelers. It covers central Riyadh, the mountainous southwest, the western coast, the remote north, and then some! If you have a month or so and want to travel a large part of the country, this one-month Saudi Arabia itinerary is your jam.
Speed things up a bit by spending one night per location, or extend your trip by taking more time in destinations where you can relax. Your call.
Days 1-4: Riyadh
Saudi's capital is a curious combination of crumbling old and glittering new. Personally, I found it a bit soulless, but it's a logical start to any Saudi Arabia itinerary and there are several interesting sites nearby suitable for day trips.
Where to stay in Riyadh
As it's the capital, there are endless online options in Riyadh at all price points starting from about $30/night. Nothing is close to anything in Riyadh; don't worry about location much. Click here to browse Riyadh hotels on Booking.com.
Things to do in Riyadh
Kingdom Tower Sky Bridge: Open from midday until night, the tower accessed through a massive mall offers stunning views over the city. Ideal for sunset!
Diriyah: Historical home of the Saudi state, this massive heritage maze of traditional mud brick architecture is under restoration.
Masmak Fort and souk: Small fort in the city center containing a free museum. An old souk (market) area still buzzes to one side of the fort.
National Museum: Well-organized museum offering background on the history of Saudi Arabia, Islam, and the Arabian Peninsula.
Driving in the dunes: Towering sand dunes sit outside Riyadh. People camp and go driving in them on weekends. Beware, they're pretty but filled with trash.
Camel trails: Three camel trails were built in years past for camel caravans needing to climb cliffs to access the Riyadh plateau. Camel trail #1 is scenic and accessible even by sedan.
Day trips from Riyadh
Ushaiger (200 km): Atmospheric partially restored heritage village about 2 hours from Riyadh. Contains several family-run heritage museums. You'll also pass old abandoned villages on the way worth stopping for.
Edge of the World (100 km): Epic cliffs about 2 hours from Riyadh. Requires at least one hour of off-roading on a difficult track. It's safest to go with a tour company to ensure you don't get stuck or lost; book a tour to the Edge of the World here. However, if you want to rent a 4×4 or chance it with a normal car (it's been done) you can rent a car from Rentalcars.com. Make sure to leave before sunset so you can see the trail.
Transportation from Riyadh
Drive to Najran: 10 hours (950 km)
Bus to Najran: 13 hours
Flight to Najran: 1.5 hours
Drive to Jeddah: 9 hours (950 km)
Bus to Jeddah: 12 hours
Flight to Jeddah: 1.75 hours
Days 5-7: Najran
Driving to Najran from Riyadh takes a long while (about 10 hours), but it's worth it. If you want to break up the drive, stop at the Hima wells and Bar Hima petroglyphs nearby.
A stone's throw away from the Yemen border, Najran is a beautiful city and the region offers a look into Yemeni culture and architecture within Saudi. Though Najran is officially on travel advisory lists due to the ongoing Yemen war, tourists can still visit. It's forbidden to visit the border itself.
Where to stay in Najran
Cloud and Stars Hotel is one of the most budget friendly options in Najran, sitting right in the "city" center. Al Fakhriah Suites is a more upmarket option to pamper yourself after the long drive.
Things to do in Najran
Al Ukhdud: Sprawling archaeological site mentioned in the Quran. More than 2,000 years and still under excavation, it contains petroglyphs and human bones.
Aba as Su'ud village: Pretty village overflowing with leafy palms and traditional Yemeni mud architecture. Across the river from the main city.
Al Aan palace: Centuries-old palace and heritage museum on a hill overlooking the city.
Ra'um castle: Small fort built by the Yemeni army when it invaded Najran in the early 1900s offering dramatic views. Requires half an hour of uphill walking.
Emara palace: Grand 1900s palace meant to house politicians and royalty in central Najran. Contains a museum.
Note: Avoid the dam in Najran. Though supposedly scenic, the army doesn't want foreigners visiting.
Transportation from Najran
Drive to Fayfa: 5 hours (250 km)
Drive to Jazan: 5.5 hours (340 km)
Bus to Jazan: 10 hours
Drive to Riyadh: 10 hours (950 km)
Bus to Riyadh: 13 hours
Flight to Riyadh: 1.5 hours
Days 8-9: Fayfa
Time to live above the clouds! Mountainous Fayfa (Faifa, Fifa) scatters across terraced hills of coffee, khat, and other farm greenery. It's where southern locals go to escape the heat. Saudi Arabia's famous dagger toting "flower men" live in the region.
Where to stay in Fayfa
I stayed at this simple hilltop apartment/hotel for 150 SAR/night. A variety of different levels of rooms offered excellent views of the area. Faifa Hotel is the largest and most comfortable hotel in town.
Things to do in Fayfa
Fayfa isn't overflowing with official things to do. Just hop in your car and drive around to appreciate local villages and scenery, Saudi-style!
If you're looking for something specific, nearby Al-Dayr (Addayer on Google Maps) is famous for Khawlani coffee production. Khat, a stimulant plant illegal in Saudi but grown in Fayfa, might be offered to men who hang around long enough.
Transportation from Fayfa
Drive to Jazan: 1.5 hours (100 km)
Drive to Najran: 5 hours (250 km)
Days 10-12: Jazan and Farasan Islands
Seaside Jazan (Jizan) is the capital of Jazan province. Its heat and humidity might be a shock after foggy Fayfa! Like the majority of cities, it's not the most thrilling… but it has some of the tastiest cuisine in Saudi, and it's the jumping off point for the Farasan Islands.
Where to stay in Jazan
I stayed in Jazan Heart Hotel, a comfortable and budget-friendly option in the city close to many small restaurants. For something more luxurious, Al Borg Al Watheer is right on the Red Sea with views that can't be beaten.
Things to do in Jazan
Fish market: In the center next to an old produce market. You can buy fresh fish in the market, then bring your catch to one of the small restaurants nearby and have them cook it Jazani style!
Corniche: Seaside boulevard busy with families and people exercising in the evenings. Watch the sunset if nothing else.
Sabya flower market: Neighbor city Sabya has an old central market where you just might find some flower men selling their floral crowns.
Day trip/overnight from Jazan: Farasan Islands
Visiting the remote Farasan Islands can be an overnight or a day trip. Foreigners must register to get a (free) ticket from the port office ahead of time. You can bring cars on the ferry… if there's space! Ferries leave Jazan at 7:00, returning from the island at 15:30. There are a few shops and small hotels in the main tourist area of the island, but camping is best. Here's a guide from Unusual Traveler with information on Farasan.
Transportation from Jazan
Drive to Abha: 3 hours (200 km)
Bus to Abha: 4 hours
Drive to Jeddah: 7.5 hours (700 km)
Bus to Jeddah: 14 hours
Flight to Jeddah: 1.5 hours
Drive to Riyadh: 11.5 hours (1,140 km)
Bus to Riyadh: 18 hours
Flight to Riyadh: 1.75 hours
Days 13-14: Rijal Alma and Abha
Back into the hills you go! Rijal Alma is one of Saudi's prize restoration projects, thanks to initial efforts by the local community to restore the stone village. It's quickly becoming one of the most "Instagrammable" sights in the country. The village is best visited en route to Abha, a misty hill city that gets quite cold! Get your jackets on, kids.
Where to stay in Abha
I put up at OYO 350 Ramz Abha, a neat and tidy budget option inside the city. Al Muhaidb Residence is a bit more expensive, but more attractive and comfortable.
Things to do in Abha
Rijal Alma: On UNESCO's tentative heritage list, this village of fortress-homes has lasted the test of time. Though no one lives in the restored historical area, there are normal homes surrounded by lush greenery and hills outside the perimeter.
Al Nasb and Al Bastah: Two historic neighborhoods in the city center filled with mud architecture traditional to the region. Now equally full with South Asian residents, making it a good place to find cheap food!
Khamis Mushaiyt: Abha's neighbor city 20 minutes' drive away is home to one of the country's more lively historic souqs.
Habala hanging village: Cliffside hanging village once (allegedly) only accessed by ladders, now connected by cable car. The flower men of Asir used to reside there… until the government kicked them out. Popular spot with Saudi tourists.
Transportation from Abha
Drive to Al Bahah: 5 hours (320 km)
Drive to Jazan: 3 hours (200 km)
Bus to Jazan: 4 hours
Bus to Jeddah: 10 hours
Flight to Jeddah: 1.25 hours
Flight to Riyadh: 1.75 hours
Day 15: Dhee Ayn and Al Bahah
Dhee Ayn, AKA the "Marble Village", is a collection of slate houses on a marble outcrop close to Al Bahah. Around 400 years old, the village was abandoned decades ago. Now partially restored, it's open for visitors to wander freely. You can enter many houses—though they're all empty—and the views of the mountains from the top are superb. Don't miss the spring below the village.
Where to stay in Al Bahah
There's nowhere to stay near Dhee Ayn, so nearby Al Bahah is your best bet. I stayed at Patto Suites, a basic but sufficient apartment hotel for an overnight stay.
Transportation from Al Bahah
Drive to Jeddah: 5 hours (400 km)
Bus to Jeddah: 7 hours
Days 16-18: Jeddah
There's a saying in Saudi: Jeddah ghair, Jeddah is different. It ain't wrong!
As the starting point for Hajj pilgrims, Jeddah has welcomed visitors for hundreds of years. Influence from Islamic cultures worldwide is evident in faces and foods. Mixing ideologies make Jeddah more liberal than other cities in Saudi; take time to enjoy its chill atmosphere.
Where to stay in Jeddah
I stayed at the Al Fanar Global Inn, a neat budget hotel in north Jeddah near the airport and right next to a supermarket. There are plenty more accommodation options in Jeddah, including heritage hotels in the old city. Browse Jeddah hotels on Booking.com.
Things to do in Jeddah
Al Balad (old city): Endless maze of Hejazi architecture (towering houses with intricate woodwork) with more mosques, mansions, and markets than you can shake a stick at.
Nasseef House: Massive heritage museum with rooftop access in the center of Al Balad.
Corniche: Alive in the evenings, this corniche has a different feel from others in the country. You'll see men and women jogging, cycling, and hanging out with friends and family.
Fatima Al-Zahra Mosque: Sunset at the "floating mosque" protruding into the sea can't be missed.
King Fahad's Fountain: Supposedly the biggest fountain in the world… if that's your thing.
Eat at Al Baik: Saudis always recommend Al Baik fried chicken. I thought they were overhyping it… but then I tried it. Ya girl CONVERTED! Al Baik hails from Jeddah; try it there.
Snorkeling or diving: The Red Sea brims with fish and coral for those willing to plumb its depths (… ruling out most Saudis). Day tripping to nearby Rabigh for diving or snorkeling in the Red Sea is worth looking into. Desert Sea Divers is a good place to start.
Can non-Muslims visit Mecca and Medina? Non-Muslims are not allowed to visit the holy cities of Mecca or Medina… but some tourists slipped in anyway. Whether or not you're willing to break the rules is up to you. The penalty if you're caught is likely deportation.
Transportation from Jeddah
Drive to Mecca: 1 hours (80 km)
Drive to Medina: 4 hours (415 km)
Bus to Medina: 5 hours
Drive to Riyadh: 9 hours (950 km)
Bus to Riyadh: 12 hours
Flight to Riyadh: 1.75 hours
Days 19-20: Medina
Medina is one of the two holiest cities in the country; Mecca is the other.
Wait Alex, you might be thinking, didn't you just say Medina is off-limits to non-Muslims?
… sort of. Though it's officially stated non-Muslims can't enter Medina, hotels allow non-Muslims. There isn't signage about non-Muslims like in Mecca. Non-Muslims aren't allowed in the Haram complex at the center, but no one seems concerned elsewhere. Checks at the Haram entrances are lax; if you're dressed modestly it's not hard to blend in.
Disclaimer: If you're willing to risk it, Medina is incredibly significant with a fascinating mixture of people. However, I do not condone breaking the law. Feel free to skip this part of the itinerary and head to a town on the Red Sea (Umluj, Yanbu) or to Al Ula to see Madain Saleh (if it's open).
Where to stay in Medina
Blue Diamond is a sufficient budget option outside "the ring" (thus probably fine for non-Muslims). However, if you're Muslim (or passing) and views of the Haram, Pullman Zamzam Madina offers fantastic views of the mosque.
Things to do in Medina
Al Masjid An Nabawi (Prophet's mosque): Towering minarets mark where the Prophet Muhammed is said to be buried; a major pilgrimage place for Muslims. The complex is filled with pilgrims at all times of day.
Quba mosque: Supposedly the first mosque in the world, where Muhammed laid the first foundation stone upon arriving in Medina in 622 AD.
Quran exhibition: Collection of original Qurans dating back hundreds of years.
Al Baqi cemetery: Modest but important cemetery next to the Haram, said to contain graves of Muhammad's friends and family. Only men may enter at specific times.
Miqat mosque: Massive mosque on the city's edge where Hajj and Umrah pilgrims must attain ihram, purity, before continuing their pilgrimage.
Transportation from Medina
Drive to Wadi Disah: 6.5 hours (600 km)
Drive to Yanbu: 2.5 hours (220 km)
Drive to Umluj: 4 hours (350 km)
Drive to Al Ula: 3.5 hours (320 km)
Drive to Jeddah: 4 hours (415 km)
Bus to Jeddah: 5 hours
Days 21-22: Al Ula

Madain Saleh, located near Al Ula, is that place you see in promotional photos of Saudi Arabia—you know, that big rock city in the desert that kinda looks like Petra.
Unfortunately, I did not go to Al Ula and Madain Saleh; it was closed to tourists as it's undergoing renovations to prepare for more tourists (ironic). It has since reopened for tourists. Check out the official Al Ula website for more info.
Hotels and tent camps are still being built. If you visit independently, bring a tent.
Once it is open and the tourist infrastructure is complete, it's sure to be the top tourist destination in the country. This article from The National gives a rundown of the developments, and the wide variety of sites to visit besides Madain Saleh.
Transportation from Al Ula
Drive to Wadi Disah: 3 hours (270 km)
Drive to Jeddah: 7 hours (675 km)
Day 23: Wadi Disah
Surreal rock towers and lush green grasses line Saudi's most stunning wadi (in my opinion, anyway). The protected area in the Prince Mohammed Bin Salman Nature Reserve only gets more stunning the further in you go.
The canyon is accessible from two directions, but you absolutely need a 4×4 to drive its length (unlike the Edge of the World). If you don't have a 4×4, don't despair; drive the paved road to the canyon entrance, then hitch a ride with one of the many Saudis driving through.
Where to stay in Wadi Disah
I camped in Wadi Disah, but there are a few accommodations marked on Google Maps; this is the only one I actually noticed that could be a guesthouse. Camping is your best bet, so stock up on supplies in the shops in Disah. Watch out for dogs and donkeys in the night!
Things to do in Wadi Disah
Enjoy the nature! The valley is kilometers long—perfect for hiking—and the rock walls are immensely climbable. Go nuts!
Disah, the village by the valley entrance, is a pretty oasis town. It's said there are ruins in the village dating back to the Nabatean era if you want to hunt some history.
Transportation from Wadi Disah
Drive to Al Bad': 3 hours (285 km)
Drive to Tabuk: 3 hours (260 km), less if entering from northern side of wadi or driving a 4×4
Drive to Jeddah: 10 hours (1,000 km)
Days 24-25: Al Bad' and Tabuk region
The remote Tabuk region feels like the Wild West. Empty roads stretch for miles past epic coastlines where mountains meet the sea and vast deserts filled with rock formations begging to be explored.
Where to stay in Al Bad' and Tabuk
Al Bad' makes for a good, if quiet, base. I stayed at this modest but sufficient apartment (Google Maps) behind a chicken restaurant for 130 SAR/night.
Tabuk is a better choice if you want to stay in a bigger city with more amenities and transportation options. Al Mawasem Al-Arbaa Hotel Suites is an affordable aparthotel in the city center.
Things to do in the Al Bad'/Tabuk region
Madyan tombs: Everyone knows Al Ula, but few know about this collection of Nabatean tombs in Al Bad'. Though entrance hours are strange and often unreliable, entrance is free.
Georgios G shipwreck: Small shipwreck meters off the shore, cordoned off to prevent climbing (… with few officials around to enforce rules). Driving to the ship takes you along the stunning Red Sea coastline; stop for a picnic or swim in some of the prettiest sea in Saudi. Look for Egypt's mountains across the water.
Catalina seaplane wreck: Haunting skeleton of a tourist family's plane shot down by the Saudi military on a pretty expanse of beach.
Wadi Tayyib: If you can get there, I was told this valley is stunning. However, I couldn't access it because the military closed the coastal road around Magna. Road closures are apparently unpredictable; you might as well try if already there.
Transportation from Al Bad'/Tabuk
Drive from Al Bad' to Tabuk: 2.5 hours (230 km)
Drive from Al Bad' to Dumah Al Jandal: 6.5 hours (660 km)
Drive from Al Bad' to Jeddah: 10 hours (975 km)
Bus from Tabuk to Jeddah: 14 hours
Flight from Tabuk to Jeddah: 1.5 hours
Bus from Tabuk to Riyadh: 17 hours
Flight from Tabuk to Riyadh: 2 hours
Day 26: Dumah Al Jandal (Dumat al Jandal)
This oasis town on the edge of the desert was an important stopping point for traders for centuries. Occupied for more than 2,000 years thanks to the residents' ability to harness water through complex systems of wells and underground aqueducts called qanats, everyone from Romans to Nabateans to Assyrians have lived here or passed through.
Where to stay in Dumah Al Jandal
I stayed at Wings Dryer Apartments (weird name, I know) in the center. Nothing to write home about, but comfortable.
Things to do in Dumah Al Jandal
Marid Castle (Qasr Marid): Small fortress atop an acropolis overlooking the city dating back to the Nabatean era. Open all day; entrance is free.
Omar Mosque: One of the oldest mosques in the country, from the 7th or 8th centuries AD. Next to Marid castle, the interior is nicely restored.
Old market: Remnants of one of the city's oldest souqs, near the castle.
Zaba'al Castle: Watchtower-meets-castle in nearby Sakaka (50 km from Dumah Al Jandal) overlooking old village ruins. Houses petroglyphs from the Neolithic era (6-9000 years ago).
Transportation from Dumah Al Jandal
Drive to Hail: 3.25 hours (365 km)
Bus to Hail: 5 hours
Drive to Riyadh: 9 hours (950 km)
Bus to Riyadh: 14 hours
Flight from Al Jowf to Riyadh: 1.5 hours
Day 27: Jubbah and Hail (Ha'il)
Pronounced hay-el, this city is a good stopping point after visiting UNESCO World Heritage-listed rock art (ancient petroglyphs) at Jubbah. If you're extra motivated, you can dive into the deserts of the area via a tour from Hail.
Where to stay in Hail
For those on a budget, Al Eairy Apartments (there are several locations in Hail) are the best cheap accommodation option. For something a bit less barebones, Desert Rose Hotel is comfortable and close to restaurants, petrol stations, and other amenities.
Things to do in Hail
Jubbah: Home to some of the most well preserved ancient petroglyphs in Saudi Arabia, plus a scattering of family-run heritage museums (prepare to be offered more coffee and dates than you can handle). Visit en route to Hail.
Flea market (haraj): Hail's hodgepodge flea market—one of the few decently-sized secondhand markets in Saudi Arabia—sits on the edge of the city.
Aarif Castle: Mud fortress offering 360° views over Hail. Used to be a location where people watched for the new moon to signal the start and end of Ramadan.
Qishlah Castle: Now closed to the public, but impressive enough from the outside for a visit.
Shuwaymis: More ancient petroglyphs—also a UNESCO World Heritage site—to the west of Hail. Less accessible and frequented than Jubbah; you might need special permission to access the site.
Transportation from Hail
Drive to Riyadh: 6 hours (620 km)
Bus to Riyadh: 9 hours
Day 28: Back to Riyadh
You'll be utterly knackered by this point—you've traveled pretty damn far!
Passing through Qassim province, on this day you'll head back to Riyadh, O Arabian Adventurer. Drop your car off, dump your bags, and chill; your grand introduction to Saudi Arabia travel is complete!
Whether you're flying out, staying on to explore more of the region, or figuring things out from here, take a rest before you go. You deserve it.
Extra places to visit

(if you have time and energy)
Have some extra days to visit more places? Here are a few more places to add to your Saudi Arabia itinerary:
Buraidah, capital of Qassim province, hosts a three month-long date festival starting in August every year. Qassim claims to have the best dates in the country; definitely worth looking into! You can stop in Buraidah on the way from Hail to Riyadh.
Hofuf has a scenic old city close to the port city of Dammam on the eastern coast. The city center offers winding alleys and the Qasr Ibrahim Ottoman fort; Al Qara is a maze of curious caves and rock formations outside the city. Best visited from Riyadh, can be combined with a trip to Dammam.
The Empty Quarter is the vast expanse of desert in southeastern Saudi Arabia. It's where you'll find all the ginormous sand dunes you could ever hope for. Though some paved roads run through the area, for the ultimate desert experience, it's best to visit from Riyadh with a 4×4 and tour guide who knows the area.
More posts on travel in Saudi Arabia
Have more questions about this Saudi Arabia itinerary? Ask them in the comments!
Yay transparency! There are affiliate links in this post. If you book something using my links, I'll make a bit of cashmonies at no extra cost to you. Think of it as a way of saying thanks for the free information!