Thatta and Makli are home to some beautiful historic sites, namely Makli Hill, a UNESCO World Heritage site, and the Shah Jahan Masjid. Here's how to get from Karachi to Thatta by public transport.
Karachi to Thatta: finding the right bus stop
How to get from Karachi to Thatta by public transport? When we tried to look this up, we got nowhere. So we decided to do it the old fashioned way: ask around.
The first person we asked wrote down an address. "They go from here, every hour!" he assured us. Later on, we showed the address to the worker in the hotel. He agreed that buses to Thatta go from there.
… turned out they were wrong. We arrived, and about 50 different bus and minibus drivers storm us. Hyderabad! they shout. Thatta! I shout back. They walk away.
After a couple of minutes, some of them realize we are absolutely clueless, and take pity. Unfortunately, they aren't in agreement about where we have to go. One says it leaves from a square close to where we are. The other says we need to go the exact opposite direction. The third shouts at both of them and tells them they are absolutely wrong.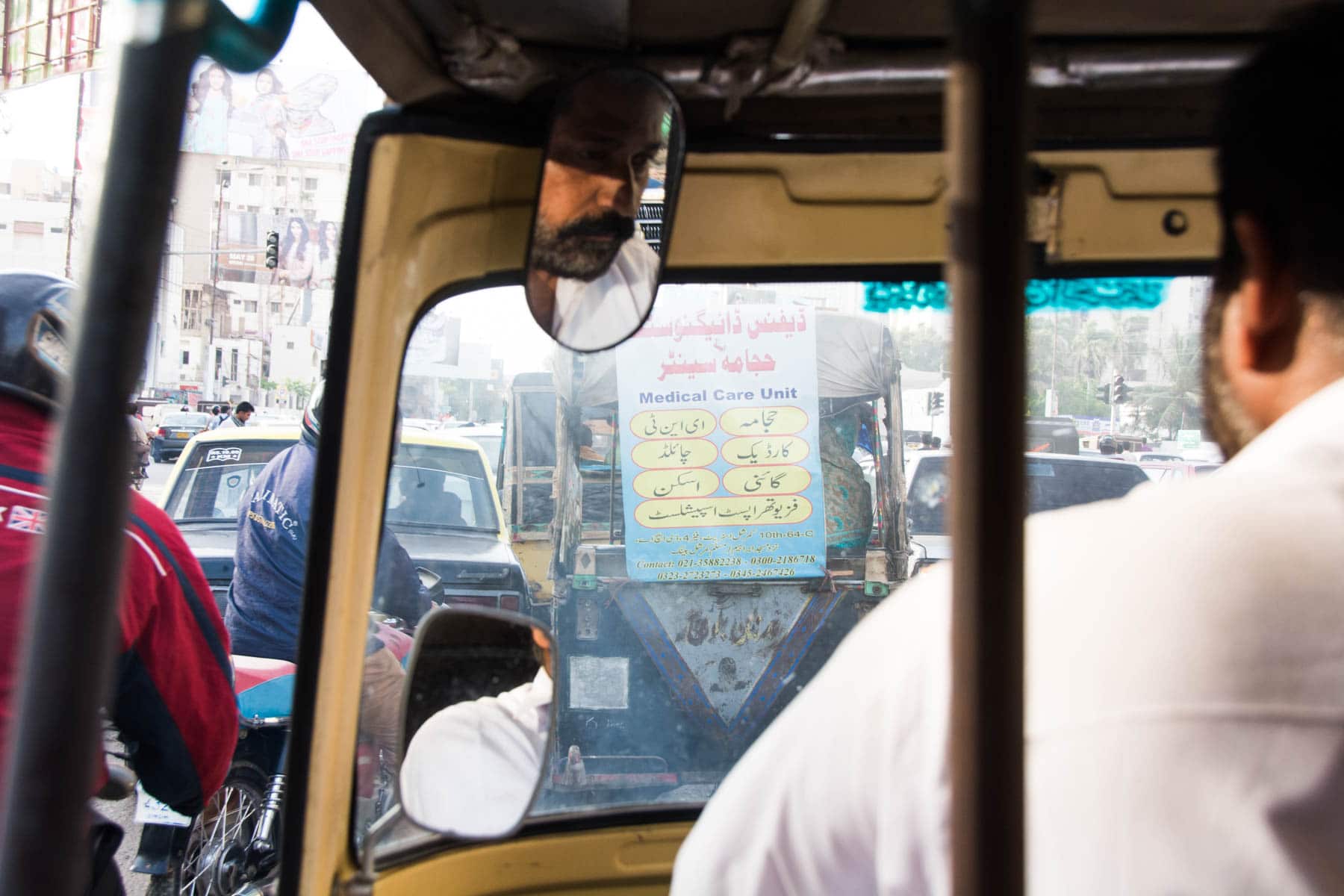 After ten minutes the drivers and hawkers finally seem to be in agreement. About seven rickshaws are hailed, and a lot of shouting and gesturing ensues. In the end, a friendly man ushers us into a rickshaw. 100 Rs and he will bring you to the right bus stop. Sure, we're already too bloody hot to bargain about it.
The rickshaw man brings us to the supposed bus stop. It's a small minivan parked under an overpass on the outskirts of Karachi. Here we find out that this bus doesn't go to Thatta–it passes Makli, which is four kilometers away from Thatta. This minibus costs 250 Rs per person. It takes about two hours and gets real cozy (read: hot).
A rickshaw to the above-mentioned bus stop should be about 100 Rs from the Regal Chowk Saddar district, where a lot of budget hotels are concentrated. A rickshaw from Thatta to Makli or the other way around will also cost about 100 Rs.
Staying in Thatta or Makli
Arriving in Thatta, we were denied from every open hotel. We ended up having to go back to Makli, where we stayed in SRO Guest House, the only accommodation open to foreigners. The rooms there are nice, with a big bed, flat screen tv, AC and western style toilets. The owner is also extremely friendly and has good connections in other cities in Sindh. A room is 3,000 Rs per night. Pricey for us backpackers, but well worth the value (not that we had much choice).
We do believe there are buses that go directly to Thatta from Karachi, rather than Makli. Unfortunately, we have no idea from where. At the time of writing, it doesn't really matter though, there is nowhere to stay in Thatta. Make sure to do your research before you go, or head to SRO Guesthouse.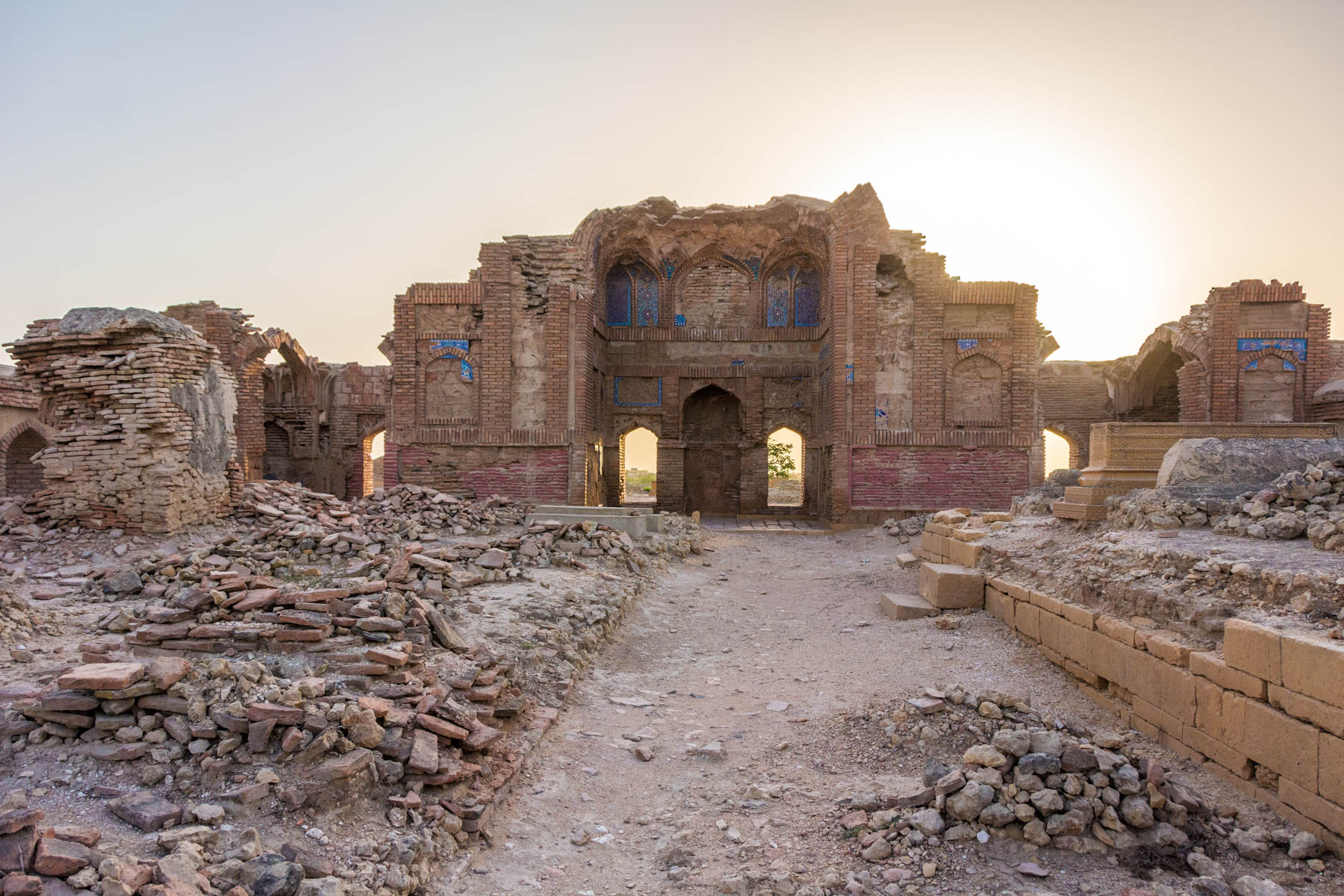 Visiting Makli Hill, a UNESCO Heritage Site
You can walk to Makli Hill, a UNESCO site and one of the largest necropolises in the world, from SRO Guesthouse, or take a rickshaw for 50 Rs or less.
There isn't any kind of entrance fee to the area–walk through at your leisure. You will, however, have to find the gatekeeper and give him a tip to get him to open some of the graves/temples for you.
Security note: At some point in the evening, while lounging at a shrine on Makli Hill, we were told by a police constable that we were supposed to register at the local police when we arrived in Thatta. We are not sure how we should have done this, and since there was very little English spoken, we didn't get much further than "for your security". In the end we showed him the NOC we got in Quetta and told him the name of the guesthouse we were staying. This seemed to appease him.However, when we left the shrine he was waiting for us, and hailed a rickshaw to bring us to the guesthouse. We are still confused about what was going on, and recommend you to pretend your nose is bleeding if someone asks you about the "security protocol".