Straight from a local: a travel guide to Kaliningrad, Russia by Daria of The Discovery Nut.
The most western region of Russia, Kaliningrad, is slowly becoming known to tourists, though it's still outshined by major destinations such as Moscow and Saint Petersburg.
While it's not a major destination for travelers who visit Russia, Kaliningrad boasts unique history, plenty of charm, and close proximity to Europe. Unlike other cities in Russia, it offers a mix of historic landmarks alongside skyscrapers and huge blocks of apartment buildings. It's also widely known as the city of amber—a fossilized resin sometimes called "sunstone"—as this stone is one of the major exports from the region.
Interested in visiting an off the beaten track city in Russia? Here's my local travel guide to Kaliningrad, Russia.
Index
Where is Kaliningrad, Russia?
Sandwiched between Poland and Lithuania (and separated from the rest of the country), this small enclave takes time and effort to get to if you are traveling from mainland Russia. It's actually easier to access from Europe via several flights, or one of the border crossings with Poland or Lithuania, than it is from mainland Russia. The location of the city makes it a quick trip from Gdańsk, Poland, or Vilnius, Lithuania, if you have a Russian visa.
Surrounded by the Kaliningrad region, the city is just an hour away from the Baltic Sea and its many beachfront resorts. In addition, the entire Kaliningrad region boasts many quaint towns that offer a glimpse into the region's history. If you are going to stay in Kaliningrad longer than just a few days, I suggest touring some of them.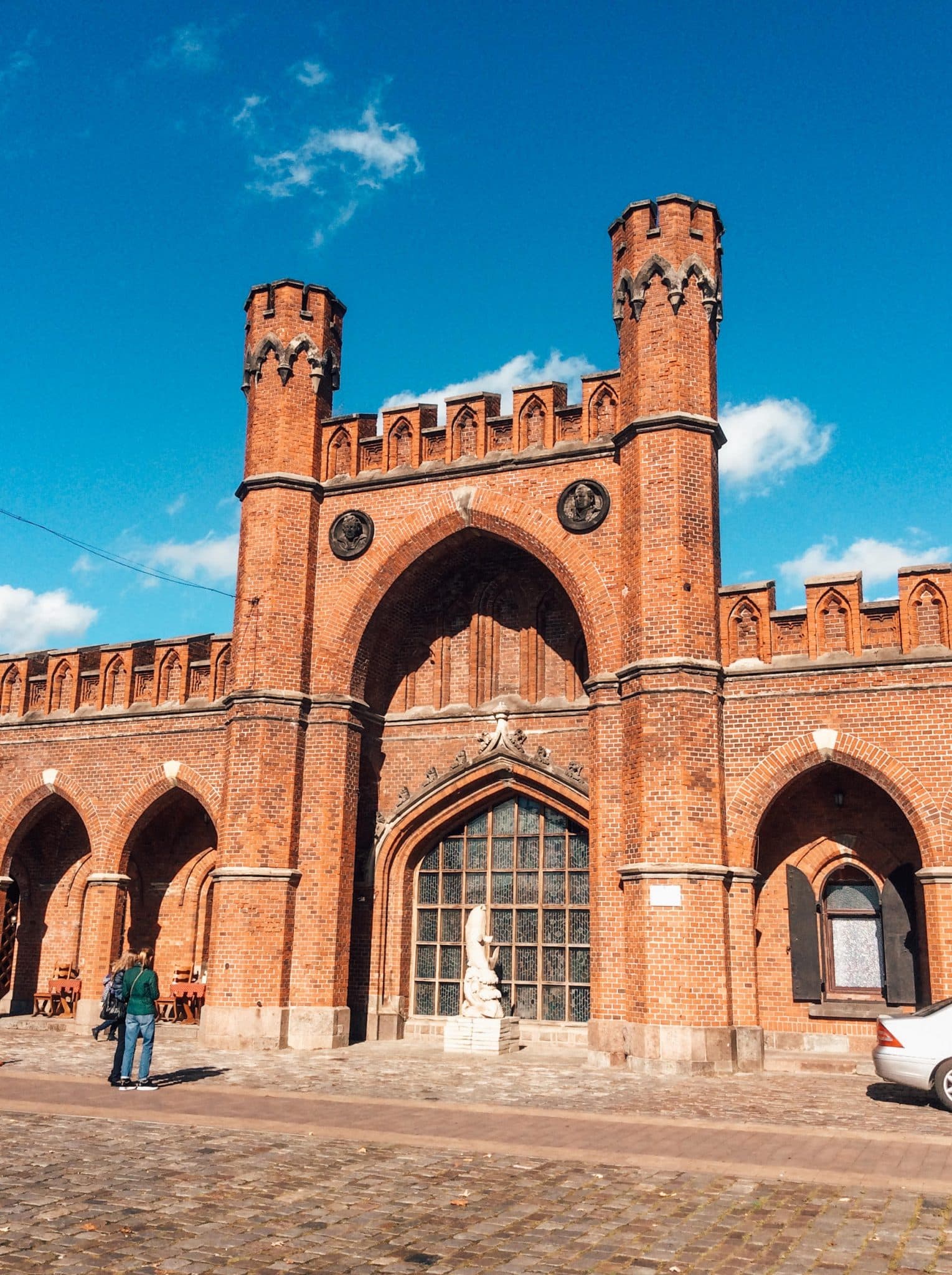 History of Kaliningrad, Russia
You might be wondering this part of Russia is separated from the rest of the country by two other European states. Well, Kaliningrad was not always a part of Russia. As a matter of fact, it used it to be called Konigsberg, and belonged to several countries before Russia.
The city was founded by Teutonic Knights, and was known as Twangste before 1255 when it belonged to East Prussia. Later it became Konigsberg when under German rule.
During World War II, the city was bombed by Soviet troops from the air. Unfortunately, most of Konigsberg was destroyed. Only a small number of historic landmarks survived.
When the map of Europe was redrawn, the Soviet Union took over Konigsberg, and the city was subsequently renamed Kaliningrad after Mikhail Kalinin, a Bolshevik revolutionary. The German population of Konigsberg was then expelled by the Soviet authorities.
When the Soviet Union crumbled in 1991, Kaliningrad formally became an exclave separated from Russia by several countries.
Also read: Is Russia safe to travel?
Best time to visit Kaliningrad, Russia
Summer is the best time of year to visit Kaliningrad, especially if you want to visit the Baltic Sea beaches.
Kaliningrad has a moderate climate. While summers have the most sun and warmest temperatures, you should be prepared for overcast days with the rain.
Winters in the region are not exceptionally cold and snowy, but they can bring a lot of overcast and chilly days. Shoulder season in Kaliningrad (especially fall) brings a fair amount of rain, so don't forget your umbrella.
How much time do you need to travel to Kaliningrad?
I recommend travelers take at least four days to visit Kaliningrad and the surrounding areas.
While Russia's westernmost city is relatively small (less than 450,000 people live here), it offers enough to keep you busy for a couple of days at the very least. I also recommend taking a train or bus to one of the seaside resort towns and staying there for at least two days.
Also read: An accidental ride on the Trans-Siberian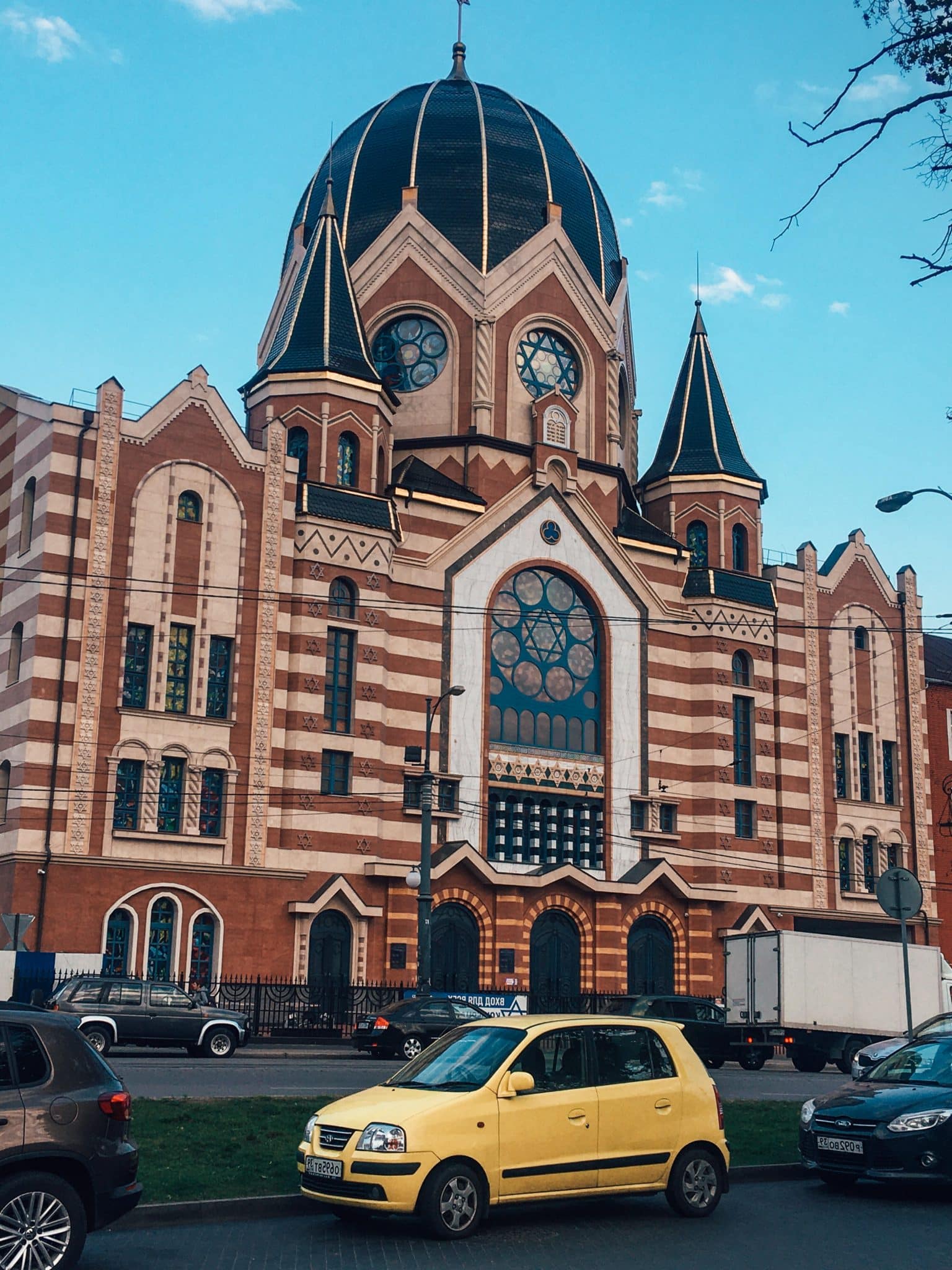 Top things to do in Kaliningrad, Russia
The city has a number of landmarks and points of interest that should be on your list if you're planning to take a trip to Kaliningrad. While the city lost a significant portion of its cultural heritage during wars and reconstructions, many of the remaining buildings have been carefully restored, and now play a big role in Kaliningrad's tourism scene.
Here are my recommendations for things to do in Kaliningrad:
Konigsberg Cathedral
This cathedral is one of the most important pieces of architecture in Kaliningrad. While it was neglected by the Soviet government, in the early 1990s the crumbling cathedral was finally restored. Today, it's a symbol of the city and it often hosts major events and organ concerts.
On the north side of the cathedral, you will find a tomb of the famed philosopher Immanuel Kant, who lived and worked in Konigsberg his entire life. The top floor of Konigsberg Cathedral is devoted to the famous philosopher, and even has his death mask.
Fishing Village
The cozy Fishing Village has been carefully rebuilt in the old style. Today, it's an important landmark where tourists come to shop for souvenirs and dine on local chefs' creations. It's about 3 minutes away from the cathedral by foot, and can be reached via Honey Bridge, one of the city's oldest bridges.
Amber Museum
The Kaliningrad Regional Amber Museum is one of the most popular attractions in Kaliningrad thanks to its extensive collection of amber artifacts. It also offers several exhibits on geology, natural history, and culture of the region. Here you can also check out pieces of resin with fossilized insects, plants, and other prehistoric organisms.
What makes the museum special is its location: the museum is located inside the Dohna Tower, the 19th-century red brick fortification surrounded by canals. After admiring all of the amber masterpieces, take some time to walk around the museum and check out the impressive location along the Upper Pond.
The Brandenburg Gate
One of the seven gates remaining in Kaliningrad, this gate dates back to 1697. What's really cool is that the gate is still operating as a railroad station. Don't be afraid to hop on a tram and take a ride around Kaliningrad!
Victory Square
The main square of Kaliningrad is home to a column that celebrates the anniversary of the end of WWII. Located in the heart of the city, it's also close to many stores and restaurants. Another major landmark on the square is Christ the Savior Church that was built in 2006.
The Church of Queen Lisa
This Protestant church was severely damaged during World War II and today it is home to a puppet theater. After visiting this historic landmark, take a walk through the city's Central Park where you can also find a concert venue, a Munchausen Monument, and popular attractions.
The Kaliningrad Regional Philharmonic Hall
Built in early 1900, this ancient cathedral was one of the few buildings that not only survived the WW II bombings but also remained completely intact! This concert hall is considered to be one of the main landmarks in Kaliningrad with its two-level scene and great acoustics.
The Curonian Split
Separating the Baltic Sea from the Curonian Lagoon, the UNESCO-listed Curonian Split is a national park famous for its sand dunes, clean beaches, and hiking trails. Many people come to this narrow strip of land—maintained and sculpted by locals for centuries—to relax and unwind and enjoy a quiet atmosphere.
To get to the Curonian Split, you will have to take a bus, rent a car, or book a tour to the lagoon.
If you continue driving along with the Curonian Split, you will eventually get into Lithuania. But before you continue your trip north, don't forget to check out the famous Dancing Forest where trees have been bent in all sorts of forms for a reason yet unknown.
While there are plenty of beaches facing the Baltic Sea in the region, the Curonian Split boasts some of the most pristine of them, as it's well maintained and protected.
New Synagogue
Rebuilt in 2018 to resemble the original 1896 New Synagogue, this is a fairly new addition to the collection of Kaliningrad's architectural treasures. It's located near the Fishing Village, and boasts a unique architectural style.
King's Gate
The revamped gate is another great piece of architecture that's worth visiting if you want to learn more about the culture of the city as well as learn about the gate's long history. Inside the gate, you can find several exhibits featuring the key figures in the region, as well as key historic events.
Day trips from Kaliningrad, Russia
Zelenogradsk and Svetlogorsk are some of the most popular destinations with tons of amenities, hotels, and neat trails overlooking the sea.
Yantarny has one of the nicest beaches in the entire region. Walk around the beach here, and you're sure to find a few pieces of amber. Over 90 percent of the world's amber comes from this small seaside town!
While the Baltic Sea is notorious for being cold, in summer you can find many people splashing in its waters. If you are used to the warm waters of the Mediterranean or the even Black Sea, the Baltic Sea might seem cold to you, as its waters usually don't get warmer than 20°C (68°F). Still, taking a dip in the water is refreshing after spending enough time at the beach on a sunny day.
Best places to stay in Kaliningrad
Now that you've been convinced that there are all kinds of things to do in Kaliningrad, time to talk about planning your trip! Here are some of the best places for you to stay while visiting Kaliningrad, for travelers of all budgets:
Budget accommodation in Kaliningrad, Russia
Hostel Skvorechnik is a cozy hostel done right in the center of Kaliningrad. Situated in an old family home that's been converted to a hostel, its staff are willing to go above and beyond to make travelers feel welcome, and the spacious premises are always spotless. Check availability at Hostel Skvorechnik now.
Mid-range accommodation in Kaliningrad, Russia
Honey Bridge Hotel is in a renovated medieval-style building in the center of the old town, in an area known as the "Fisher's Village". Right next to one of the most famous bridges in the city, the hotel is right on the water. You can breakfast by the river, take boat rides right outside the hotel, and wander along the water into the city. Many of its modern rooms offer views of the nearby cathedral, too. Check room availability at Honey Bridge Hotel.
Luxury accommodation in Kaliningrad, Russia
Hotel Usadba is in a beautifully converted German mansion in a quiet wooded area just outside of Kaliningrad. Its large rooms look out over grassy grounds and gardens, and you can relax by a pool behind the mansion. If you want a unique—and quiet—escape while in Kaliningrad, this is it. Check availability at Hotel Usadba.
What to pack for your trip to Kaliningrad
Visa – While Kaliningrad is located in Eastern Europe, you still need a Russian visa to visit it, depending on your country.
Russian dictionary – It's a good idea to bring a Russian dictionary with you. While some people in Russia speak English, others don't. If you need directions, a small phrasebook, Google Translate, or a Russian dictionary will go a long way! This cheap phrase book is particularly popular with travelers.
Swimsuit and sunscreen – Going to the beach is like a rite of passage in Kaliningrad. While it doesn't get terribly hot here, you shouldn't forget to bring enough sunscreen and your swimwear!
Adaptor – Kaliningrad has standard European outlets with voltage. If you're coming from a European country, you won't need an adaptor, but people from the United States and other regions will. Get a universal travel adaptor now.
Layers and an umbrella (for summer visits)
The best souvenirs in Kaliningrad
When you think about a souvenir from Russia, you probably think about classic staples such as matryoshka, ushanka (the big hat), or balalaika. Although you can find all these things in tourist shops across Kaliningrad, the most famous souvenir from Kaliningrad is amber.
You can find many amber stores and galleries across the city. But don't think that it's just classic tourist trinkets that you can buy there: in Kaliningrad, you can buy anything from jewelry to home goods made from amber. Pens, amber-encrusted paintings, keychains, and magnets are some of the most popular items that visitors get here.
More on travel in Kaliningrad, Russia
I hope you enjoy your trip to Kaliningrad and everything this unique city has to offer. You can find more information and resources about visiting my hometown here: