The oh-so-NOT-romantic and very messy love story about how we met.
Ah, the first kiss: the peak of the whirling, tempestuous storm of sexual tensions and emotions that comes with attraction, lust, love. A moment glorified in film throughout the ages, fantasized about by young, pimply teens, and scoffed at by purists the world over.
Our first kiss? I'm pretty sure we were drunkenly making out underneath the balls of a bizarre dog statue outside a McDonalds.
How's that for romance?
One very messy love story
As you may have deduced, our story is not one of butterflies in pits of stomachs and hearts all aflutter. More like too much cheap Thai liquor in the pit of my stomach (damn you, Sangsom, you are too cheap and cheerful). Or eyelids aflutter as I dozed off in class, weary from the previous night's revelries.
Sebastiaan and I met while studying abroad at Mahidol University in Thailand. His school had a partner program there, while I ended up there because I wanted to eat sweeeet delicious Asian foods. It was also the first result to come up when I Googled "study abroad computer science".
~*MAYBE IT WAS FATE*~
(… but probably not.)
At risk of sounding cliche, we did hit it off from day one. We happened to sit next to each other during the first group outing to the local watering hole. Somehow we managed to survive each others' presence for most of the night, rambling about travel and accents and the Netherlands (where the fuck is that, anyway?).
When I ran into Sebastiaan the next day, hungover and flopped on the couch, I suggested we travel to Myanmar together at the end of the semester. He shrugged nonchalantly and agreed. Fuck it, why not?
Surprisingly enough, we actually stuck to our Day 2 Agreement.
Heading to Bangkok? Check out this guide on where to stay in Bangkok!
We are mature adults… right?
After that, we went through a long phase of emotional whackness—super legit phrase, I know—that consisted of my alternating between mooning over Sebastiaan and wishing death upon him and all of his offspring.
We were together constantly, partially out of attraction, partially because I liked how his ground floor room was delightfully cool and free of sunlight. I'm a golddigger/colddigger, what can I say?
… okay, sorry, bad word jokes, I'll stop. Maybe.
Fast-forward to Songkran, a massive Buddhist festival for the new year in Southeast Asia. We had several weeks off from university, and decided to travel together during that time. Being super mature and confrontational about our feelings, we were still in a phase of I like you but I refuse to admit it because temporary. Also I have the emotional maturity level of a two year old. That phase came to an end during Songkran.
Act 1: In Which Sebastiaan Saves Me From Myself (and Lecherous Thai Men)
To set the stage: Songkran in Chiang Mai is absolutely nuts.
Think pickup trucks driving up and down the streets armed with vats of icy water, everyone and their mother and their grandmothers armed to the teeth with water guns and buckets (and more icy water, cheeky bastards), massive crowds roaming on the hunt for their next victim, and booze–lots and lots of booze.
On one of the many holi-daze, we found ourselves riding around in the back of a truck with a bunch of Thai men. They were passing around a bottle of rice wine, which I guzzled happily because Thai rice wine is the tits delicious. Sebastiaan, on the other hand, passed, noticing that none of the men were actually drinking. Uh oh.
Sebastiaan began to lecture me about how I needed to be more careful. I, in all of my drunken pride and glory, told him to fuck off, and jumped out of the truck half for effect, half to look for a toilet.
… I would go on, but I can't say I have any idea what happened after that.
Sebastiaan apparently managed to find me, wherever I was, and carried me back to our hostel halfway across the city, where he waited by my side to make sure I was okay. Perhaps the boy did have feelings after all.
Act 2: Sleeping in the Trees, Karaoke Buses, Cheap Valium and Loose Tongues
Sebastiaan: I blame it all on cheap Thai valium.
After Songkran, we decided to relax a little.
(God knew I needed it, having to deal with this whackjob whom I was obviously falling for at that point.)
We travelled to a country which moves so slow that  it has its own passage of time: Laos.
Here, we decided to do as monkeys do and take to the trees with The Gibbon Experience. For three days, we slept in a treehouse and flew around on zip-lines through the lush Lao jungle. Amidst the constant exhilaration, and despite a close encounter with a hungry rat with an underwear fetish (…ugh), there was something beautiful brewing.
Listening to the sound of the jungle, the birds chirping and the trees rustling, I saw something. It was not, as you would expect, a gibbon. It was eyes sparkling with love, and those eyes were directed at me.
In the movies, this is where the actors say something pointed and romantic… then make out. And I have to admit, standing in a deserted treehouse overlooking the Laos jungle seems like the perfect moment to profess one's love, right?
But, if you recall, we had (have) the mental maturity of 2-year-olds—so obviously this didn't happen.
Our profession came at a later point, at the most romantic locations of all: on a night bus journey.
If you've ever been to Southeast Asia and traveled by bus, you know the struggle. The rickety buses are the worst of their kind, slowly antagonizing you to the point that you need to bang your head against the glass window until you pass out, wake up, and then do it again.
I am talking, of course, about the karaoke bus.
At 3 in the morning, with bodies laying literally all over the floor, the karaoke video volume was on eleven out of ten. Sleep was nowhere to be found. We did what any sane person would do in our position: take some (more) over-the-counter Thai Valium. This, however, brought no sleep.
What it did do was loosen our tongues.
Unfortunately, the blasting karaoke obstructed us from having any kind of normal conversation initially. But once we finally had some privacy—at the side of a random bus stop/tin sandwich shack, at three in the morning, hazy from the Valium, sleep deprived, and by then a little bit psychotic as well—we finally had the courage to sort-of tell each other we were in love and we should maybe give it a try.
… after that we went back in the bus and fell asleep. Cue the romantic music.
Act 3: "So hey, uh, about last night."
The next day was rather awkward. Kind of like when you're not sure how you ended up next to the person in the bed next you. But this time, you didn't have sex, you said the L-word (do people still call it that?) while on too much Valium. Neither of us was sure that the other remembered that it happened.
The joys of Valium are many indeed.
So, like the treehouse moment, we found ourselves in another cliche movie situation: uh, about last night…
Miraculously, we overcame the awkwardness (or perhaps it was haziness) and were thrilled to realize we both still remembered and, more importantly, also meant it. You would assume that this would lead us to think about what's next, but hey, 2-year-olds, remember?
We continued on the path we were already on, but substituted "I love you" for "I like you". We really weren't sure where things were heading, whether the love was real, and we strongly doubted it could even last. In a few months, we would be parting ways to travel, and then eventually return home on opposite sides of the world.
Then came Myanmar.
Finale: An Act of Explosive Love
Alex: That picture at the top of the page, the one of Sebastiaan's busted feet/top notch roadside (free!) Burmese health care, that's the day it happened.
We were somewhere around Hsipaw, in the eastern part of Myanmar. We decided to rent a motorbike and drive to nowhere in particular. After driving through the hot sun for hours, we needed to get some water since, being ever prepared as always, we did not have any.
One of the joys of traveling, especially in more rural areas, is meeting people in remote villages/in the middle of nowhere that are thrilled to meet you simply because you are from somewhere else.
We decided to stop in one of these villages to buy water from the local store. In seconds, we found ourselves surrounded by several excited women and their entourages (babies and children). Being gracious hosts, they sat us down and offered us something to drink. Being the good guests, we accepted their offer.
To our suppressed horror, they came back glasses of definitely-not-bottled water. Shit.
We found ourselves in a bit of a pickle: should we be rude and refuse their offer? Or do we suck it up and drink what is surely going to spell Utter Doom in 6 to 12 hours?
Being the nicest people ever (cough) we opted for the latter. Everyone was happy… for the time being.
At T+ a few hours, Sebastiaan was convinced that the water would've kicked in already, and that we were totally fine. Ready to be convinced that I was not going to die, I agreed.
Later that evening, while walking around town after dinner, my stomach started to protest. We assumed it was from too much sun, and went back to our hostel to rest. Something to note: being backpackers on a budget, we had a cheap room without a toilet. The closest toilet/hole in the ground was down two flights of stairs, across a yard, and located in a very slimy concrete cubicle. NBD, right?
I curled up in a ball on the bed, assuring Sebastiaan that I was Definitely Not Dying, and just needed to rest. Sebastiaan, seeing that I was Most Definitely Dying, went down to the reception and bought us a different room–with toilet. Ignoring my mumbling about it being unnecessary, he escorted me to the room where, after a very final sort of gurgle from my insides, I made a beeline for the bathroom and did not emerge for hours.
Double dragon • English, verb
1. To be violently ill from both ends of your body simultaneously.
I periodically emerged from the dragon's den throughout the night to collapse on the bed and ponder death. Sebastiaan stayed by my side throughout the whole night, rubbing my belly and repeating that no, it did not matter that I had rendered the bathroom unfit for human use for the rest of its days, he still loved me.
If that isn't love, nothing is.
From that moment on, we both knew we had to give it a try, no matter what.
And so we did.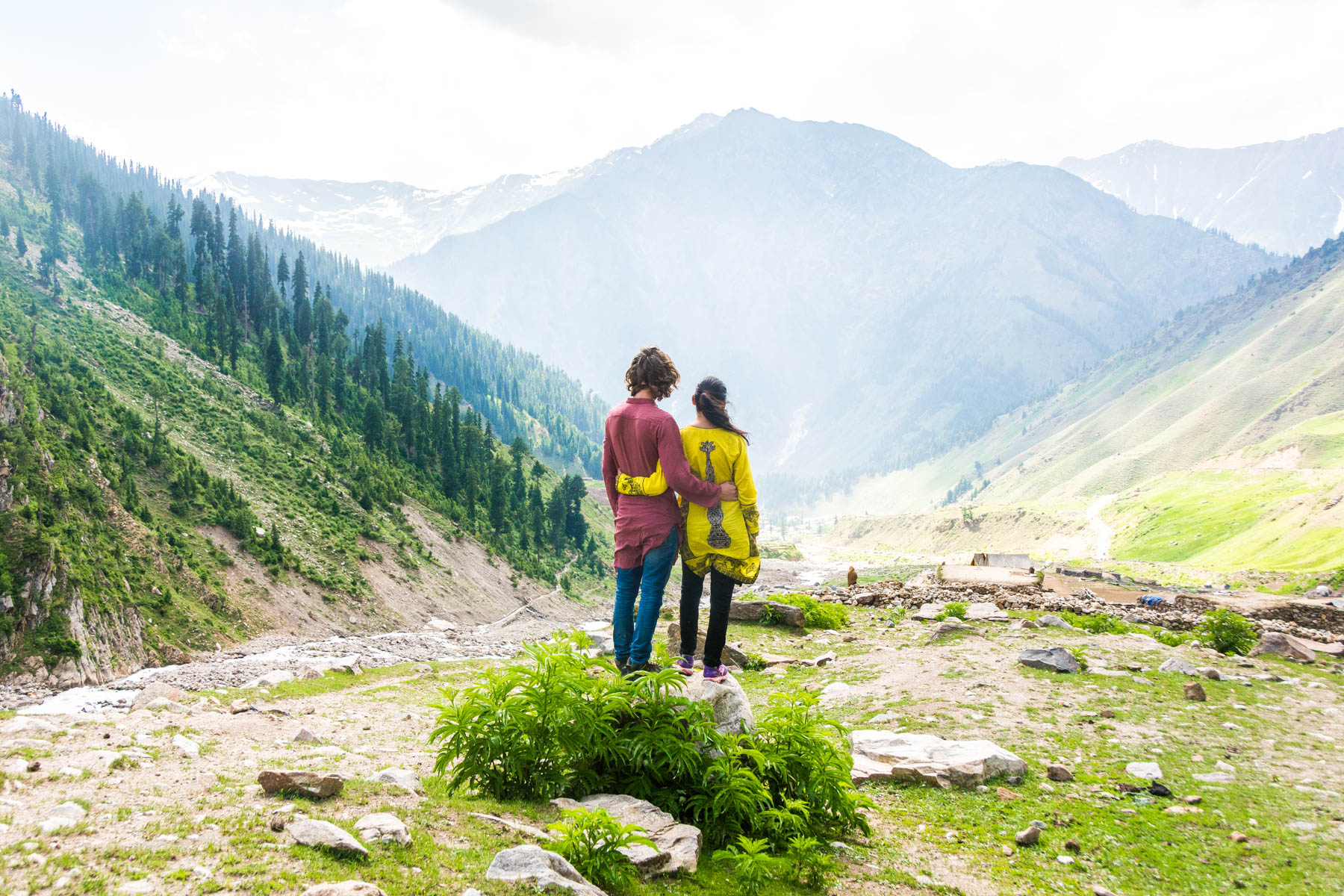 Epilogue: want to know what we've been up to since? Here's everything you need to know about us and our journey.