A report on applying for a Chinese visa in Tehran as UK and Dutch citizens in 2016. Includes requirements and costs, embassy information, and how to get a Letter of No Objection.
Update September 2016: As of September 2016 only Iranian citizens can apply for a Chinese visa in Tehran.
Tehran is probably one of the easiest–and cheapest–places to get a Chinese visa. You don't need any hotel reservations or flight confirmations, and it only costs $30 ($70 for express service).
What you need to get a Chinese visa in Tehran
A visa application form, filled in digitally with all capital letters, printed double-sided
Your passport
2x passport-sized photos – photo requirements
Visa fees in US dollars or Iranian rials – $30 for regular, $70 for express
1 copy of your passport
A letter of no objection from an embassy
How to get a letter of no objection
The letter of no objection (LNO) is the catch to the otherwise-simple process.
The LNO must come from your country's embassy, if your country has an embassy in Tehran. For some people this might be easy, for others a bit harder. Contact your embassy in Tehran before hand to see how it works. Caravanistan has a nice list of embassies in Tehran that people have used to get LNOs.
If your country doesn't have an embassy in Tehran, you might be able to get an LNO in your home country, but it may be harder to obtain a Chinese visa in Tehran. However, if you're from a country in the European Union, an LNO from any other EU-member embassy is valid.
This applies for UK citizens in particular–at the time of writing, the British embassy had only just reopened after being stormed in 2011, but was not offering any consular services. Alex had to get an LNO from the Danish embassy, instead of the British embassy. Being from the Netherlands, I used the Dutch embassy.
Update for British citizens: An LNO is also required for Tajik visas. We've heard that British citizens have been denied a Tajik visa because they don't recognize the the LNO from other EU member states. We've been told that it's possible to get a letter from the British embassy stating that your passport should be sufficient proof of your nationality, and that this is recognized by the Tajik embassy. Check the British embassy website for contact details. For Chinese visas you can still use an LNO from another member state's embassy. Thanks to Daniel Webb for providing us with the information.
Getting a letter of no objection from the Dutch embassy in Tehran
This is relatively straightforward. You must make an appointment at the embassy by email–here are their requirements for the email. The embassy usually replies swiftly, but make sure to do this a couple of days before you arrive in Tehran.
Before you go
Before going, be sure you have €30 in euros to pay for your letter. You can find exchanges that will change US dollars to euros along Ferdosi street in central Tehran. There are plenty there, so if one exchange won't give you euros, head to the next one. Remember that changing money on the street is illegal.
Getting to the embassy
Go to the embassy on the appointed day and time, and don't be late, they can be particular about time. The address: is 60 West Arghavan, Dibaji North Street, Farmanieh, Tehran, 1953623253.
The easiest way to get there is by taking a metro to Nobonyad station, then walking for about 15 minutes. Note that not all metro stations on Line 3 are finished. We traveled from Shahid Behesthi station to Nobonyad, and there were only two functioning stops in-between (the map depicts eight) at the time of writing. Don't freak out if the metro passes through several stations without stopping!
Once at the embassy, it will take about one hour before you get your LNO, which costs €30. You must pay in euros, not dollars. Make sure to mention for which embassy it is (China) and that it is for a visa.
Getting an letter of no objection at the Danish embassy as a UK citizen
Note: the British embassy did not offer consular services at the time of writing. However, this could change in the future–be sure to check their website beforehand to see if they're able to write you an LNO.

Update – June 2, 2016: The British embassy is now offering consular services, but will not be issuing LNOs to nationals just yet. Thanks Daniel for the tip!
Contact the Danish embassy beforehand by email to ask if they can write letters of no objection for British nationals. They will respond that they do, and that you can best visit them between 10:00 and 15:00, no appointment necessary.
The address is 10 Dashti St., Hedayat St. near Sadr Bridge, Dr. Shariati Ave, Tehran. A sign outside the embassy says it's not open on Sundays… which is a lie. The embassy is open Sunday – Thursday from 09:00 to 15:00.
Getting the LNO is straightforward, and takes mere minutes with the very polite consul officer. Alas, when we were there, it took two hours before it was our turn. Luckily, they felt bad about the delay, and gave Alex her LNO for free (…sweet). Normally it would cost $30, payable in dollars.
Getting a Chinese visa in Tehran
Before you go
Make sure that you have multiple photocopies of your passport AND your Iranian visa. You'll need them for walking around passport-less while waiting for your visa. We've read that it's no problem to get accommodation in other cities using just a photocopy.
Getting to the Chinese embassy
Once you have the necessary documents, you can head to the Chinese embassy. Don't forget to bring:
A visa application form, filled in digitally
Your passport
2x passport-sized photos – photo requirements
Visa fees in US dollars or Iranian rials – $30 for regular (4 working days), $70 for express (next open day)
1 copy of your passport
The letter of no objection
A bit more about the Chinese visa form:
The form has to be filled in electronically – no handwriting aside from the signature
Everything must be typed in English and in ALL CAPS
Don't leave any field blank – if it doesn't apply, just type "N/A"
The form must be printed double-sided
If you don't have glue to attach one of the passport photos, no worries–they'll glue it at the embassy when you apply
When filling in your itinerary, it's okay to just use cities rather than addresses, but avoid mention of Tibet/Xinjiang region. We wanted a 90 day visa, and used the following itinerary:

Beijing – Badaling (9 days). Tianjin – Heicheng, Sitem – Ulan Hot (9 days). Xi'an – Yan'an – Pingyao – Shanghai (30 days). Hangzhou – Heifei – Chao Lake (18 days). Chongqing – Sichuan (16 days).

You don't need any booking confirmations
Getting to the embassy
To get to the embassy, go to Nobonyad metro station, then walk uphill for about 20 minutes. The address is (add address). The embassy is open for visa applications on Sundays and Tuesdays from 08:45 – 12:15 and from 14:30 – 16:30, and on Thursdays from 14:30 – 16:30 for picking up visas.
Get there a bit early, as it's first come, first serve, with no real consideration for lines. In total, it took us about 10 minutes to submit the forms, and then pay the fee at a bank right across the street. We paid in US dollars, and were told to come pick up our passports the next open day (applied Sunday, pickup Tuesday).
Note: there seems to be no standard in the latest date of entry and duration of stay that you are given. Some people report getting three months to enter + a three month visa, others only one + one. We got three months to enter, but only one month in China–"extending it is easy" said the clerk when we asked for longer.
If you need 3 months to enter because you're traveling over land or spending a while in Iran, make sure to emphasize that to the clerk. We claimed that we were cycling (yeah right) and that we'd need a while to get there, which seemed to work.
Here's the Chinese embassy's website, in case you want more information.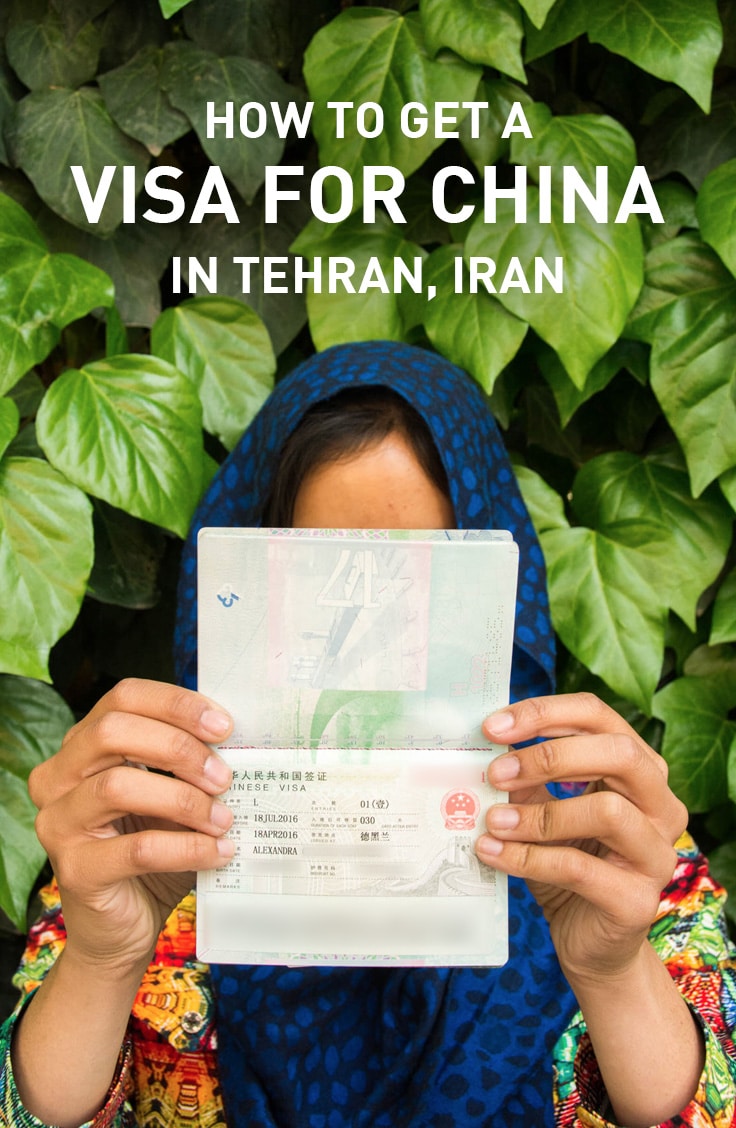 There you have it. Good luck with applying! If things change, please let us know so we can update this information.