Up next in my Bossy Travelers series: an interview with Aneeqa, the head of Pakistan's first female-run tour company and traveler extraordinaire. Who says Pakistani girls can't travel… and make a living from it, too?
Curious about traveling to Pakistan, but nervous about going alone? I started running female-only tours together with Aneeqa. Check out my women-only tours of Pakistan!
Women in Pakistan often tell me they dream of traveling like me… but can't because it's culturally unacceptable.
As an outsider, it's hard to respond properly. I can wave my feminist flag and preach empowerment, but in the end I'm still a foreign girl lecturing local ladies about what they can and cannot do at home. Awkward.
Their words are also grounded in truth. Claim what you will, but women simply aren't as welcome as men in many of Pakistan's public spaces. Roaming Pakistan as a foreign woman can be intimidating enough; traveling as a local woman can lead to even more judgement and scrutiny.
Some women let that deter them, and shelf their dreams. Others fight for their right to exist where they please, and pave the way for other women to follow in their footsteps.
Aneeqa is one such woman. Not only has she traveled solo throughout Pakistan—proving that yes, it is possible for local women to do so—she's also started the country's first fully female-run tour company. Take that, closed-minded men.
I unknowingly ran into Aneeqa on the streets of Lahore's walled city on my second visit to Pakistan, and heard of her travel company from my friend Rehman at his homestay in Gilgit Baltistan during my most recent visit. But it wasn't until Aneeqa reached out to me on my Instagram that I finally put two and two together… and knew I had to share her story.
Can you introduce yourself to everyone?
My name is Aneeqa Ali. I'm a 33 year-old woman from Lahore, Pakistan.
I'm an avid traveler and cyclist; my passion for traveling took me to the remotest corners of the country, and made me fall in love with the beauty, heritage, and diversity of Pakistan.
I strongly believe that you should always explore new opportunities in life. In March 2017, I decided to take the plunge and break free from the chains of corporate slavery.
I gave in to my love for travel by turning this passion into a career. This led to the formation of The Mad Hatters, a travel platform for all the wandering souls with an unconventional way of approaching life and its challenges. I aim to educate people about the beautiful landscapes, culture, lifestyle, crafts, and cuisines of this country—the side of Pakistan that doesn't get the limelight it deserves.
How did your love for travel start?
I had a keen interest in traveling since childhood, but wasn't able to actively pursue this hobby until I became more independent after university.
During my period of experimentation and self-discovery in my corporate career—and life in general—the only thing that helped me maintain my sanity was traveling.
Whenever I got tired from the usual routine and madness of the corporate culture, I took a break from the city and sought refuge in the mountains. Exploring the nature and interacting with people from different cultures always helped me find a new perspective and direction in life. My habit of running away from my worldly responsibilities to hide in the mountains became a hobby, and, with the passage of time, turned into my passion.
The frequency of these breaks kept increasing with time. They started causing problems in my daily life; it became difficult to manage my work responsibilities while getting frequent leaves from jobs!
What are some of your favorite places you've visited in Pakistan?
I have traveled all over Pakistan. In my opinion, every part of this country has something unique to offer.
I loved traveling to interior Sindh to experience the rich culture and warmth of its people. I visit Skardu and Deosai again and again because of their breathtaking—and haunting—natural beauty. I love how the people of Hunza are so progressive and actively involved in community development initiatives. I absolutely love the hospitality of Shimshalis; how everyone focuses on living a simple life, rich or poor, without dividing the society into social classes. I love the spiritual vibe of Chipursan Valley in Hunza.
I don't have a single favorite place. I love them all.
Tell me a bit about your travel style. You said you've done a lot of solo traveling? 
Roughing it out and backpacking all the way.
I went on a solo trip to various valleys of Hunza this summer. Got a seat in the NATCO bus from Rawalpindi, set out on my journey without any particular plan or destination in mind. This turned out to be an absolutely amazing trip. I met and befriended strangers, stayed at their homes, ate with them, trekked with them, and had the time of my life.
The hospitality and warmth of Pakistani people is unrivaled. You can't have this enriching experience anywhere else in the world, where strangers open the doors to their homes so readily.
Have you encountered major difficulties in your travels? How have your solo travels been received?
A lot of people think that traveling in Pakistan is not safe—especially for females—but I think this is a huge misconception. I have traveled to the most remote corners of this country alone, stayed at homes of people I did not even know, and felt completely at ease.
It is quite rare for females to travel solo in Pakistan, and it comes as a bigger surprise for people when a Pakistani girl travels alone. Locals are somewhat used to the idea of seeing foreign solo female travelers, but a local Pakistani girl on a solo trip is an idea that a lot of people find difficult to digest.
In my experience, for this very reason people were extra helpful and supportive, and went the extra mile to make sure that I had a safe and comfortable trip.
So you're the first woman in Pakistan to run her own tour company. Badass! Can you tell me a bit about the company? 
There are a few other females associated with the travel industry, but most of them are not very active, and the ones who are only look after back-end operations. I don't know of any other female in Pakistan who manages the logistics and on-ground operations of a travel business without any male partner or support.
My company, The Mad Hatters, is the perfect platform for adventure seekers, risk takers, and avid explorers looking for a chance to escape the daily grind, and journey into some of the less explored areas of Pakistan for a rich cultural experience.
We aim to create more awareness about our heritage and diversity on a domestic as well as an international level. We also aid local communities through conservation and community development initiatives by providing them an opportunity to gain recognition on a bigger scale.
What's it been like to head a female-run tour company? Positives? Negatives?
Even after the long struggle for women's empowerment and equal rights, it is still a rare sight to see women in public spaces in Pakistan. Women cannot enjoy the freedom of traveling as easily as men.
Men have marked the travel industry as their territory, and are usually quite hostile towards women entering in the field. Women are generally not encouraged to be seen in public spaces in Pakistan, so getting into a career path that requires you to be constantly out and about is challenging. Dealing with all sorts of men—drivers, guides, waiters, hotel owners, and competitors—for logistics makes women quite vulnerable to many forms of harassment in the travel industry.
But I strongly believe that you have to be the change you want to see in the world; if you are not part of the solution, you are part of the problem. The Mad Hatters is not only an attempt at opening career opportunities for women in unconventional fields, but also an attempt to make the travel industry more female-friendly.
A woman-led travel company is a rare phenomenon in Pakistan, so naturally it offers a comfortable environment for women and families. On almost all the trips I've organized thus far, there have been more women than men—an abnormality that says a great deal. This is a huge unexplored market.
The response from the market has been very encouraging so far; all the people who traveled with me have not only become repeat customers, but also recommended the venture to their friends and family. I take a lot of pride in the fact that most of my clientele come from referrals and word of mouth. There are plans to diversify into new product/service lines over the coming years by exploring new markets domestically and internationally.
Many other women in Pakistan—and the rest of the world—dream of doing what you have. What advice do you have for them?
Taking the first step is always the most difficult part whenever you are planning to embark on a new journey in life.
Gather enough strength and courage to take that leap of faith! One thing will lead to another, and eventually everything will fall into place. There will be hardships and setbacks; learn from those challenges and come out even stronger. Set an example for yourself, for the rest to follow.
Good things in life don't come easy; you have to make an effort to change things for the better. History shows that you will always be deprived of your rights if you do not fight for them. The time to start fighting is now. If you are not part of the solution, you are part of the problem—giving up is not a choice!
If you had to recommend a first destination (city, country, whatever) for a solo female traveler, what would it be?
Hunza, Pakistan would be an ideal destination for solo female travelers.
The literacy rate is more than 90%, and crime is almost negligible. A large number of tourists visit Hunza every year, which makes this place very tourist-friendly. The people of Hunza are actively involved in community development initiatives, and have a huge focus on women empowerment.
You will encounter many women-run businesses in the area. Local women of Hunza actively participate in sports and other extracurricular activities. They walk freely on the streets without having to face any problems. In addition to this, the people of Hunza are very loving and hospitable. You're bound to fall in love with this heaven on earth every time you visit.
Just for fun, if you had endless time and money—and no responsibilities, of course—where would you go?
I would hop on my bicycle and hit the road without any fixed plan or destination in mind.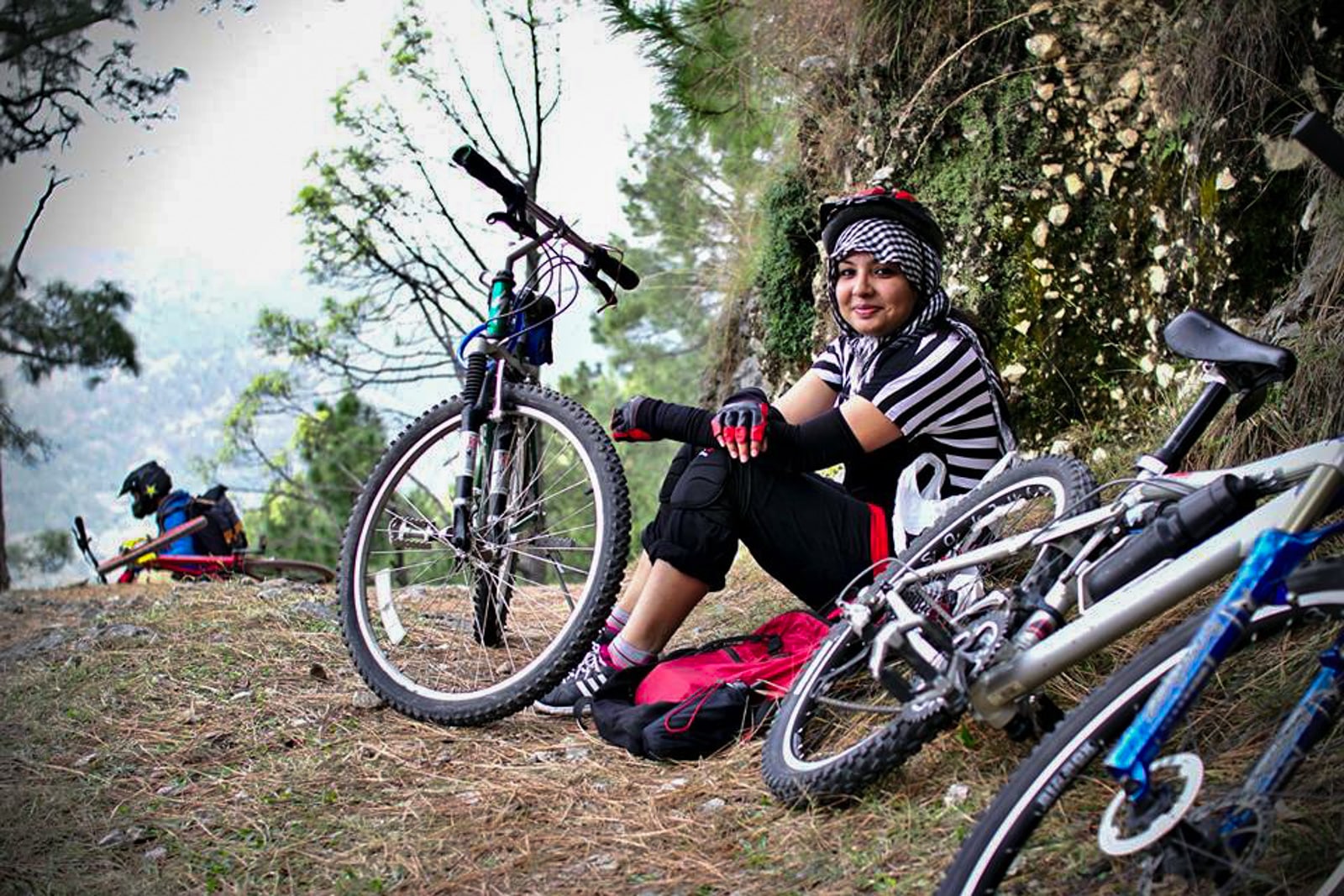 Sleep where I find shelter. Eat where I find food. Make new friends when I find like-minded individuals. Cross oceans, deserts and mountains to meet people from all over the world. Know about their stories, and share my story with them.
Final question! If people want to get in touch, what's the best way to contact you?
You can contact me on my phone at +92-320-8700800 or +92-355-5023109, email me at [email protected], or learn more on The Mad Hatters website, Facebook, and Instagram.