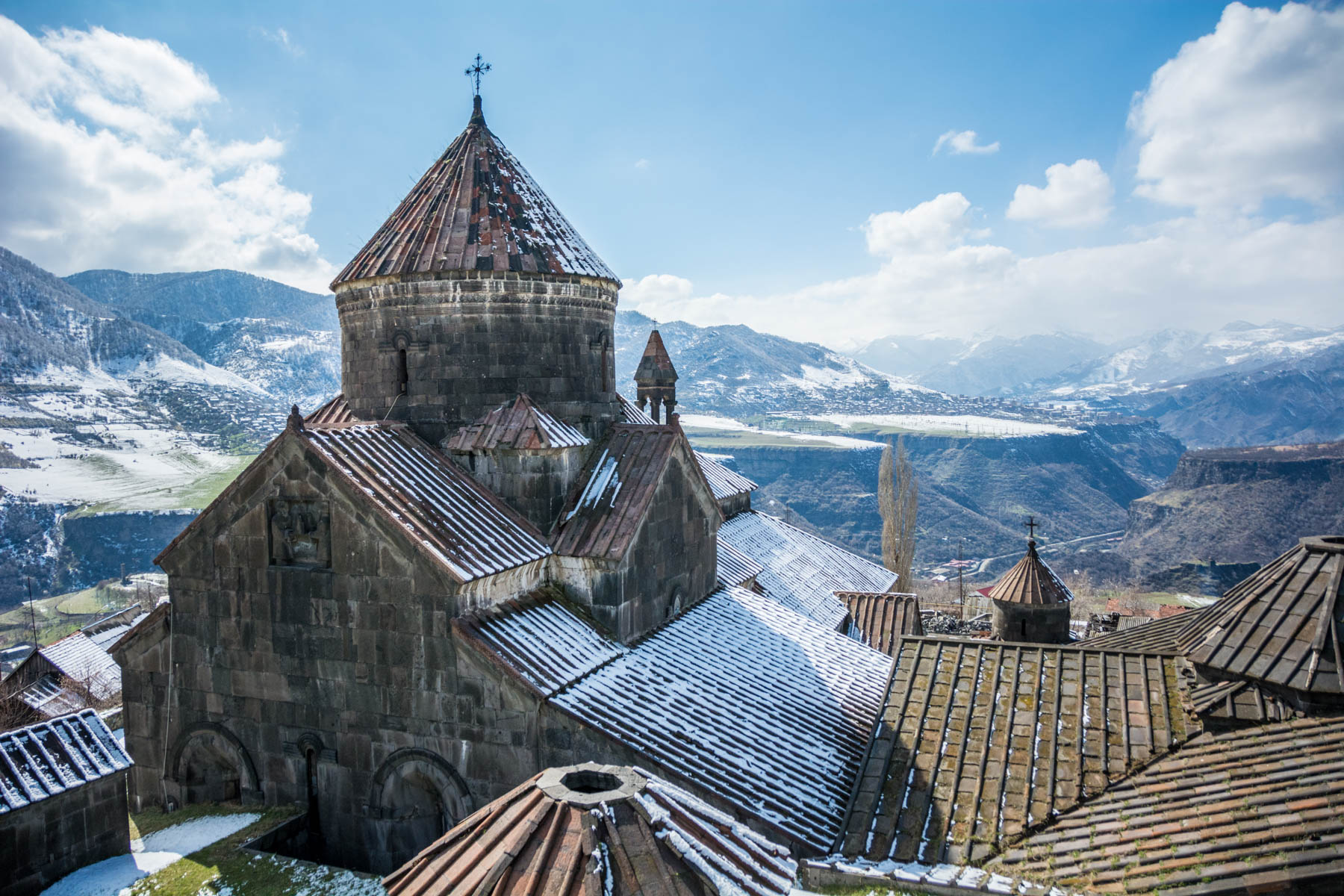 Armenia
Practical Travel Guide
Visas
These 40 countries don't require a visa to enter Armenia, and can stay in the country for up to 180 days.
Citizen of almost all other countries do need a visa. These can be applied for at any official border crossing, either for 21 or 120 days. These cost 3,000 and 12,000 AMD respectively.
Nationals of some countries have to get an invitation to Armenia to be able to apply for a visa. If you are a national of a country on this list, you should head to http://www.mfa.am/en/visa/ to see how you can apply.
---
Budget
Check out our Armenia budget report for a full breakdown on how much it costs to backpack in Armenia
Armenia is very friendly to budget travelers. Although not as cheap as Georgia, it is still very doable on a shoestring. At the time of writing €1 was 530 AMD and $1 was 480 AMD. The following overview is based on budget accommodation and food choices, and is for one person.
Food and drinks
Beer or soda: 200 – 600 AMD
1 L of water: 200 – 250 AMD
Coffee or tea: 200 – 500 AMD
Breakfast: 300 – 1,500 AMD (from pastries to full breakfast. Note that breakfast is often included with accommodation)
Lunch: 150 – 1,000 AMD
Dinner: 2,500 – 5,000 AMD
Accommodation
Budget hostel: 2,500 – 5,000 AMD per night per person (note that outside Yerevan hostels are in short supply)
Budget hotel/guesthouse/B&B: 6,000 – 12,500 a night (note that rooms are usually per person, not per room, the price mentioned here is per person)
Cultural outings
Museum: 300 – 1,000 AMD
Churches, cathedrals, monasteries: free!
We're keeping a detailed running tab on our day-by-day expenses.
---
Transportation
Armenia is serviced by bus, train, metro, taxi and marshrutka (minibus).
Buses and marshrutky (minibuses)
Buses and marshrutky (singular: marshrutka) are the cheapest way to get from city to city or town. Short distance marshrutka rides within cities are usually around 100 AMD a person–we're never entirely sure exactly how much they're supposed to cost. Longer distance rides are usually in the range of 500 to 1250 AMD, and you can buy tickets on board or pay ahead of time.
You can hail a bus or marshrutka from anywhere on the street; just make some kind of gesture and eye contact with the driver. To get off, move towards the front of the vehicle to show you want to get off. For short distances, you pay for the ride once you get off.
Taxis
Taxis range from around 500 to 1000 AMD within cities/towns, depending on your destination and bargaining skills. Most taxis do not have meters, so decide on a price ahead of time. No need to tip.
Taxi to Khor Virap, Echmiadzin, Zvarnots from Yerevan: 20,000 AMD (for 4 people), ~5 hours trip.
Metro
The metro in Yerevan is very cheap and easy to use. Metro rides are 100 AMD regardless of distance–you only need to check in, not check out. To ride, purchase pink plastic metro coins from the women behind the windows at ticket counters. One coin = one ride.
More details?
Check out our destination specific posts for price breakdowns from place to place.
---
Entering and exiting
Over land
Armenia has no entry or exit fees for entering/leaving the country, aside from any necessary visa fees.
Bavra – Ninotsminda (Georgia) border crossing
We crossed from Georgia into Armenia via the Bavra border crossing near Akhaktsikhe, Georgia and Gyumri, Armenia. This is a less common land border crossing in the mountains, used mostly by locals.
Bagratashen – Sadakhlo (Georgia)  border crossing
The more popular border crossing, for those heading from Yerevan or Alaverdi to Tbilisi. The same as our crossing at Bavra applies–smooth sailing and no fees.
Norduz-Agarak (Iran) border crossing
Bound to pick up now that Iran is opening up, but currently a quiet border crossing (except for the Nowruz holiday period, when many Iranians come to Armenia). Here's our report on crossing from Armenia to Iran via the Norduz-Agarak border crossing.
---
Culture
Tipping in Armenia
There's usually a 10% service charge added to the bill at eating establishments. If you do want to tip and a service charge isn't included, just round up to a nice round number (you decide what that means). Tipping in taxis isn't necessary, as you decide the cost ahead of time.
Dress code
Armenians are generally accepting of whatever clothing you want to wear on the streets (… with the exception of nudity, of course). However, you should dress moderately when visiting religious sites.
Girls: Covering your head in churches and monasteries is not mandatory in Armenia–generally you see older women doing it, and more respectful younger people. Most churches offer head scarves should you choose to cover up. Aside from that, make sure not to enter churches in shorts or shirts that bare your shoulders.
Guys: No shorts in churches.
---
How-to guides