Hidden Hunza – Pakistan Summer Tour
Sweeping mountain vistas dotted with fruit trees of every variety. Remote river valleys and tiny villages accessible only by jeep. Crinkles around people's eyes as they smile and invite you in for a cup of chai. All connected by one of the highest highways in the world.
Welcome to Hunza. Are you ready to be amazed?
---
Why this tour
The Hunza region is northern Pakistan's most popular destination… but most tourists don't venture off the beaten track. Baltit Fort, Altit Fort, Eagle's Nest, Khunjerab Pass—these are the only places tourists go to, but there's so much more hidden away in the mountains of Hunza!
On this off the beaten track tour of Hunza, we'll dive deep into northern Pakistan's most famous region. This isn't a standard north tour; we'll look beyond touristy Top 10s, stay in homestays, and trek in remote valleys of the north. Our goal is to immerse you in the region, and connect you with what makes it so famous: unrivaled hospitality and epic AF mountains.
This tour is designed responsibly, too! On this tour, we will…
Hire local guides whenever a guide is necessary.
Stay in traditional homestays and local guesthouses, not international hotel chains.
Eat local, seasonal food as often as possible.
Visit offbeat locations and better distribute our tourist money to remote areas.
Make an effort to visit women-run businesses.
Reduce our waste by providing filtered water, carrying reusable bags, and using reusable boxes and cutlery whenever possible.
Pay fair wages to all drivers, hosts, and guides.
---
Why you need to travel Pakistan ASAP
There's no better time to travel to Pakistan. The security situation has improved immensely. Foreign tourists are returning. The government is relaxing travel restrictions.
Both local and foreign travelers are learning that northern Pakistan is a fantastic place to travel… which means more and more people are heading to its mountains each year. Now's the time to see them for yourself, before everyone and their mom figures out how stunning they are!
---
Where are we going?
Islamabad
Our tour begins in Pakistan's capital Islamabad… which will be hot like fire because June is full on summer in Pakistan! We'll take it easy, eat some tasty things, and do some sightseeing if people are motivated despite the heat.
Gulmit
A traditional home in the village of Gulmit will be our first base for our adventures. We'll trek to fort ruins high above the village, cross suspension bridges that would make your mother faint, and get a first taste of Hunzai culture… both literally and figuratively!
Shimshal Valley
This idyllic valley is home to Pakistan's highest settlements. We'll do a bit of trekking, a bit of camping, and hang out with some local shepherds if we're lucky.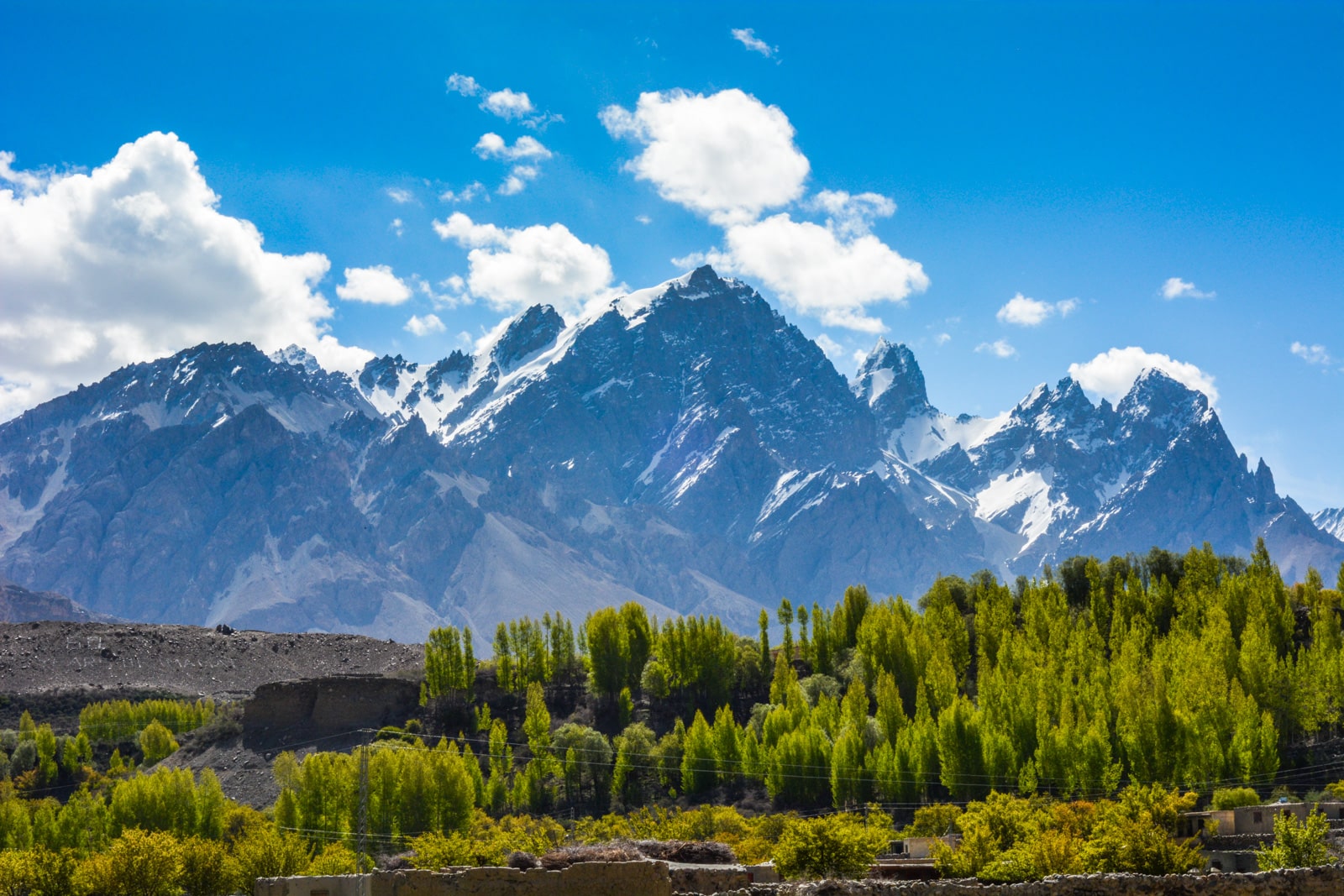 Misgar Valley
A little remote valley at the veeery edge of Pakistan—the last before the country's border with China!
Chapursan Valley
A seemingly impossible place to live, but nevertheless inhabited by many. It's so close to Afghanistan's Wakhan corridor that Kyrgyz nomads actually walk in from Afghanistan to trade with locals in summer.
Passu
This little village is the second oldest in Hunza… and one of the most scenic! Close to both glaciers and rivers, it sits at the base of the famous Passu Cones mountains.
---
How many people will be on the tour?
Big groups aren't fun and we want to encourage local interactions, so the tour is limited to 12 people.
We'll ask you a few questions before giving you a spot on a tour. Don't take it personally; we just want to make sure everyone is on the same page and likely to get along since the group is small.
---
Tour cost and what's included
The tour is US$2,750 per person.
Payments can be made by bank transfer, Transferwise (all major credit cards and most currencies), or credit card (Pakistani rupees). A deposit of US$500 is required to secure your position on the tour.
The cost includes: 
Letter of Invitation (LOI) for your visa
Airport transfers within Pakistan
Accommodation for duration of tour

Accommodation before and after tour dates can be arranged for an extra cost

Transportation within Pakistan for duration of tour

Accommodation before and after tour dates can be arranged for an extra cost

Breakfast, lunch, dinner
Entrance fees
The following aren't included:
Visa fees
Flight tickets
Souvenirs
Snacks
Alcohol
Tips for guides/workers (optional)
Note: If this cost seems too high to you, know it's priced for a reason. We're not racing to the bottom like other tour operators in Pakistan—this is what a unique, responsible, small group tour costs. Summer high season means sky high accommodation prices, and (costly) jeeps are required to reach the remote areas we'll visit on this tour.
Cancellation policy
If you need to cancel your tour for some reason, our cancellation policy is:
Cancel more than 2 months in advance: full refund minus deposit
2 months in advance: 50% refund minus deposit
Less than two months in advance: 25% refund minus deposit
Less than one month in advance: Too last minute! No refunds.
---
The perfect person for this tour
You're fascinated by culture and thirsty for adventure. If things don't go according to plan, that's okay: you're flexible, and like the challenge of the unexpected. You don't mind roughing it a bit, and aren't intimidated by squat toilets, no signals, and no electricity. Mountains thrill you, cultures intrigue you. Meeting locals and getting a feel for a place is more important than getting a perfect Instagram shot and ticking a million bucket list items. You're happy to hit pause on plans to have a cup of chai with a friendly local, and you'll go the extra mile to visit a place most tourists never get to.
If this sounds like you, this tour is made for you! Sign up now before spots run out.
---
This tour isn't suitable for…
If you need luxury and comforts of home while traveling, want to travel as fast as possible, or need everything to go exactly on time and exactly according to plan… this tour isn't the best choice for you.
Wifi, mobile data, and electricity aren't always available. You'll have to use (occasionally disturbing) squat toilets every once in a while. Local foods comprise the majority of our diets unless you have restrictions. Accommodations in remote areas can be basic at best. We'll be exploring at a relaxed pace; we're not trying to see every. single. sight. in Hunza in one day. Plans often change on the spot due to unforeseen circumstances, and things rarely—if ever—happen on time.
Sounds like a nightmare? You might want to pass on this tour.
---
Prepare yourself: what to expect from Pakistan and this tour
Most adventures require a sacrifice in comfort, but we'll do our best to make sure you're taken care of despite sometimes basic infrastructure.
Accommodation includes hotels, guesthouses, and traditional homestays. You'll have to share double rooms in hotels and guesthouses. In homestays we sometimes have to share one common sleeping space (how local people sleep).
Connectivity is limited at times—see the full itinerary for details on where there is and isn't signal. Though cities have decent signal and wifi, mobile signals in Gilgit Baltistan territory are unreliable. Wifi is slow (if available at all) and many areas have no signal. We'll arrange local SIM cards for you if desired, but in general don't count on Skyping home or uploading videos unless we're in Islamabad.
Hygiene standards can be poor in Pakistan. Our chosen hotels and guesthouses have clean facilities, but when we're out on the road we'll encounter restrooms in sometimes terrifying states. Food can be problematic, and upset stomachs are inevitable. We'll do our best to find clean food and help anyone who falls ill; just know it's a common side effect of traveling Pakistan.
Infrastructure is basic. Running hot water is not always available in the mountains. Some accommodation only has bucket showers (bucket of water and something to pour it on you). Squat toilets are common, toilet paper is not common. These are part of the challenges of traveling in a developing country; keep an open mind (and always carry hand sanitizer) and you'll be okay.
Electricity is not available 24/7 in the mountains. Many places only have electricity for a few hours each day. Some establishments have generators to provide electricity, but they don't run all day. Heating in remote areas is sometimes limited to wood stoves rather than electric heating. A power bank for small devices is useful (charge it before we leave the city!). We'll make sure you have access to outlets when electricity is available.
Roads are long and bumpy, particularly on the 20+ hour drive up to Gilgit Baltistan and in remote valleys. We'll use jeeps to reach many locations. Landslides often cause unexpected delays in the mountains. Prepare yourself for hours of bumpy rides, and know that plans may change due to road delays.
Trekking is part of our tour. You need to be fit enough to walk for several hours at a time. We won't be doing anything extreme—we're not fit enough to trek to K2 Basecamp, either!—but you should be fit enough to walk on uneven paths in the mountains for several hours, and camp for one night.
Weather is varied. Islamabad will be hot like fire (up to 30-40°C), while mountains will be warm during the day and chilly at night (sometimes 10-15°C). Pack warm layers.
Laundry services are offered by some hotels, but aren't something you can always count on. You'll be able to wash clothes in sinks or buckets and hang them out to dry when we're in the mountains.
Staring can be intense in Pakistan, especially from men. Streets are predominantly a man's world; many local women stay inside unless they have to go out for errands, school, or work. You'll be stared at because you're foreign, because you're a woman (if so), because people generally love staring, etc. It's an inescapable part of traveling Pakistan; ignore them. The further north we go, the less intense the staring and scrutiny will be.
Sounds brilliant? Sign up now before spots run out, or ask a question about the tour.