Finding the right gift for a backpacker is hard. Their load needs to be light, and they don't want to carry around anything they don't need. But never fear, I've got your back! Here are 10 actually useful gifts for backpackers, as chosen by… an actual backpacker.
The problem backpackers have with stuff is, obviously, they have to carry all of that stuff on their back! What starts as a loving memento suddenly turns into an Evil Lead Weight From Hell when you're trudging around with your pack for too long in extreme heat.
But that's not to say that all stuff is evil! There are some things  I've accumulated over the years that have actually been useful throughout my travels (weird, huh?). In the spirit of:
Saving backpackers from being weighed down with useless stuff
Saving gift givers from spending money on useless stuff
Making everybody happy
… I've put together a list of actually useful gifts for backpackers that you can reference this capitalist holiday season… or any time you need to buy the love of a beloved backpacker.
10 actually useful gifts for backpackers
Below you can find 10 useful gifts for backpackers. None of these gifts will disappoint, but I've ordered them starting with the gifts I find most useful as a backpacker.
This is, hands down, the most useful gift for a backpacker, and I'm not saying that just because I'm a blogger. Unlike other power banks, this one by Anker lasts for a million years, and you can charge your phone on these babies more than five times.
Never again will you have to worry about your phone dying before you can find the address of your hostel. Never again will you be without music on that sickly long bus ride. And never again will you need to fret if your GoPro dies mid-hike.
(You might, on the other hand, need to fret when you're battling it out with travel companions over who needs to use the power bank more. I am very familiar with this struggle.)
Perfect for: The iPhone photo-taking addict, hardcore Snapchatters, softcore mobile gamers
No good for: The technology-free travel purist
Interested? Buy a portable power bank right now!
Music is life, amirite? Unless you're deaf or filled with disdain for all things good in this world, you probably agree with me.
Headphones often suffice, but sometimes there are moments when you need to be marginally more inclusive of the people around you. That's when portable speakers come to the rescue.
Speakers are perfect for setting a soundtrack for your afternoon outside with new friends. Impressing your worldly backpacker date as you share discount supermarket snacks. Blasting your favorite guilty pleasures as you enjoy your first real shower in days (my favorite). Or you can just use them to passive-aggressively get under the skin of that one asshole in the dorm who keeps drunkenly shouting at 5 AM. That works, too.
Perfect for: Audiophiles, sociable humans, people with taste
Terrible for: People who will just use them to blast Skrillex all day
Sounds legit? Buy portable Bluetooth speakers now!
I'm part of the cult of money belts, I won't lie. They are one of the most important things a traveler can have, cheesy as they may seem.
A simple money belt protects backpackers' passports and money from thieves and forgetfulness (most of the time), but what about….
Intense monsoon downpour?
Copious amounts of sweat from traveling in extreme heat?
Tsunamis?
(Okay, it probably won't protect against tsunamis.)
A soaked passport is a destroyed passport. Get the money belt for your backpacker friend now.
Perfect for: All backpackers and seriously sweaty people
Terrible for: No one. Protecting your valuables is serious business!
 Sounds useful? Buy a waterproof money belt now!
This one isn't sexy. It's not cool. You can't wrap it in paper, hide it under a tree, tie a card on it, or coat it with cheap glitter glue. On the other hand, nothing says "I care about what happens to you" (… or your stuff) more than getting someone travel insurance for backpackers.
If "I care about you" isn't your style, think of the moment when you can smirk and say "I told you so."
Perfect for: Friends and family that attract disaster wherever they go.
Terrible for: People you don't actually care about.
Convinced? Invest in World Nomads travel insurance now!
One of the rules of the universe is that the electricity will always be dead when you need it most.
Most of the time, you can feel your way around and live to tell the tale. That is until squatty toilets are involved. Let's just say: friends don't let friends use squatty toilets in complete darkness.
I'm in love with this wee little headlamp. Mostly because it saves us from gristly squatty doom, but also because it doesn't get tangled up in the bajillion and one cables I have in my pack!
Perfect for: Klutzes with a tendency to get tangled up in everything, OCD packers
Terrible for: Backpackers traveling Europe. Europe was pretty set with electricity last time we checked.
Sounds handy? Get a retractable headlamp now!
My best friend gave me a Leatherman for my 18th birthday. At first, I just played with the endless array of knives and pretended to be outdoorsy. That's what it's for, right?
But now that I'm on the road, I've realized how insanely useful it is while traveling. I've used it to open cans, do DIY clothing fixes, saw through wood, fix wobbly bus seats, and most importantly, open bottles of wine. Just to give you some ideas.
Perfect for: Hikers, MacGyvers, anyone that ever needed a pair of scissors/knife/screwdriver/anything ever.
Terrible for: Carry-on only backpackers
Interested? Buy a Leatherman right now!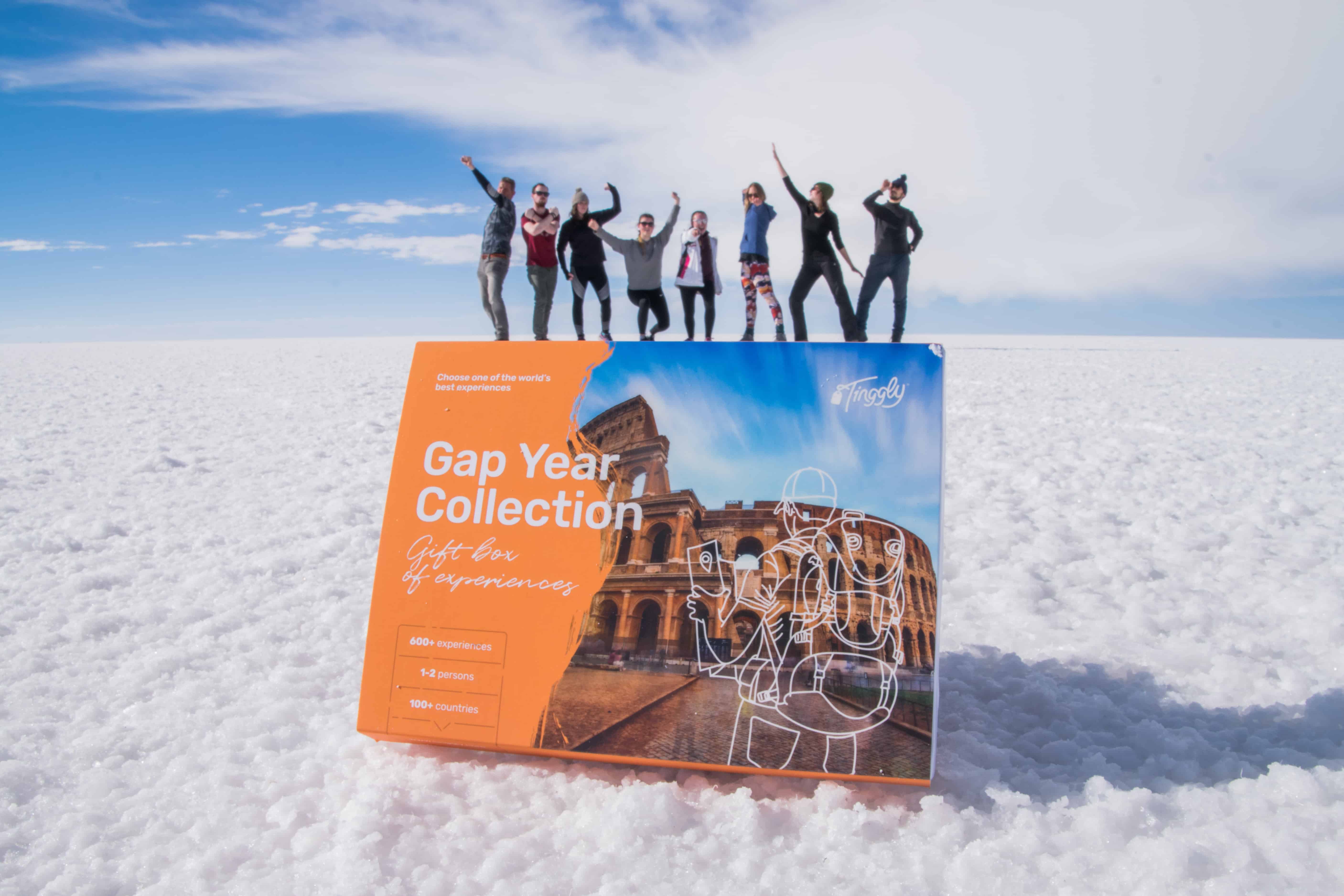 In the name of not overloading people with stuff, here's a great and mostly intangible gift. The Tinggly Gap Year Collection is a gift box allowing you to pick from 600+ experiences all over the world.
From canoeing and wild camping in Ireland to bungee jumping at Victoria Falls and cooking classes in Morocco, the box is basically stuffed with experiences that your beloved backpacker can choose from. You know what they say about blowing your money on experiences, rather than things.
Perfect for: People with a sense of adventure, people who don't like deciding what they want until later
Terrible for: Miserable materialistic bastards
Interested? Get the Tinggly collection right now!
Backpack space is precious… but books are precious, too. What do?
Sure, there are book exchanges in hostels, but experienced travelers know that most of the time those shelves are filled with crap John Grisham or Katherine Steele books. Hard pass.
Enter the Kindle! It's light, can hold literally thousands of books, charges with the same cable as Android smartphones, AND you can illegally download books for it for free it opens up a whole new world of book acquisition possibilities.
If you're an extra awesome gift giver, you'll load a couple of travel-related books onto it, too.
Perfect for: Bookworms, pretentious literary douchebags, introverts
Terrible for: Illiterate people, fans of 50 Shades of Grey (don't encourage them)
Desirable? Get a Kindle right now!
Travel is a cacophony of sounds—people hawking their wares, the honking of motorbikes, music playing on the streets, travelers chatting, the local lingo.
… and sometimes that cacophony is really freaking annoying.
As wide and wonderful and thrilling as the outside world is, sometimes backpackers just need to shut it out for a moment of peace and quiet or some bonding time with their favorite album. Noise-reducing earbuds are perfect for just that, but many a time they're forgotten from the packing list until it's too late. I promise you—these are one of my favorite purchases in the last few years.
Perfect for: Anti-social trolls, music aficionados, people that generally hate the outside world
Terrible for: Tech-free purists
Need to have? Buy noise reducing earbuds right now!
It's a bit like the portable power pack, except this one will make your beloved tree-hugging backpacker smile, too! (Just don't bring up the long-term costs of materials that go into solar panels.)
Easy to strap to any backpack big or small, this charger ensures you'll always have power in case you need to charge your GPS while hiking in Finland, power up your camera batteries at a monastery in Armenia, or drunkenly dial your friend that you just realized you haven't seen in two hours.
Perfect for: Hikers, beach bums, and general lovers of vitamin D
Terrible for: People traveling to grey, dark, or desolate countries such as the Netherlands or Iceland in winter
Interested? Buy a portable solar panel charger right now!
And those are my 10 most useful gifts for travelers and backpackers. Let me know in the comments if you love these ideas as much as I do, or if you are missing something.
Yay transparency! The links in this post are affiliate links. That means if you buy any of the products using my links, I'll earn a small commission at no extra cost to you. Never fear, I actually use and/or want all of these things. I hate crappy gifts just as much as the next person.